In the first part of this article, we analyzed the new retail model of live e-commerce and explored customer behaviors. In this article, we'll discuss the new "ecosystem" of live e-commerce.
The new "ecosystem" of live e-commerce
Industry Chain
Live commerce has completely transformed the retail industry and established itself as a major sales channel. It has given rise to new brands and shifted the industry landscape, providing more opportunities for retail players. The birth of the new live e-commerce ecology includes support from the upper, middle and lower levels, constructed by the three main live e-commerce platforms "Taobao / KuaiShou / Douyin" (known as the "three worlds" structure). Simultaneously, brands are also actively exploring Apps and WeChat mini-programs to build their own livestreaming channels. Major e-commerce and live broadcasting operators and service providers have also gradually entered the market to enhance brands' live broadcasting capabilities and supercharge brands' operation abilities.
* Overview of the live e-commerce industry chain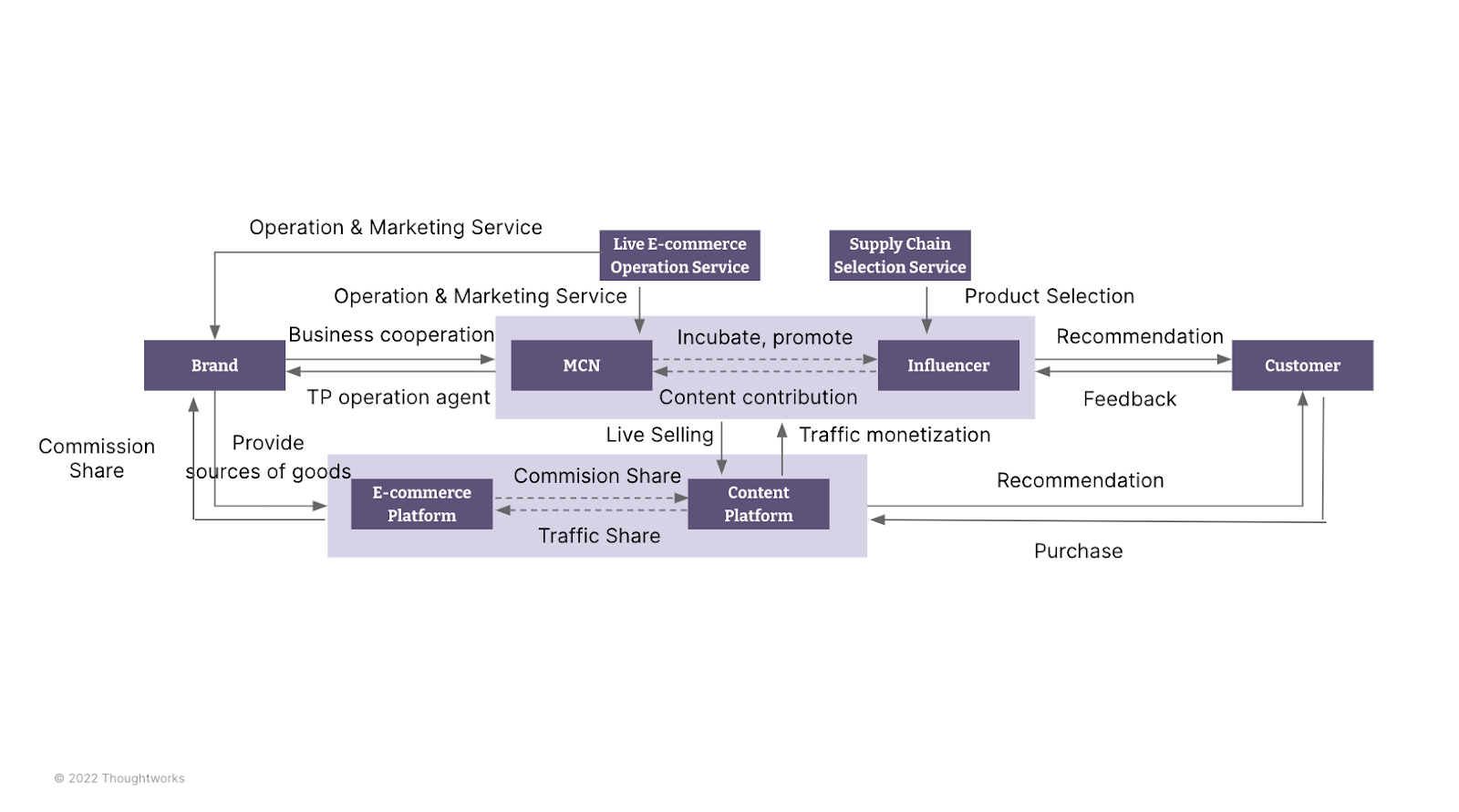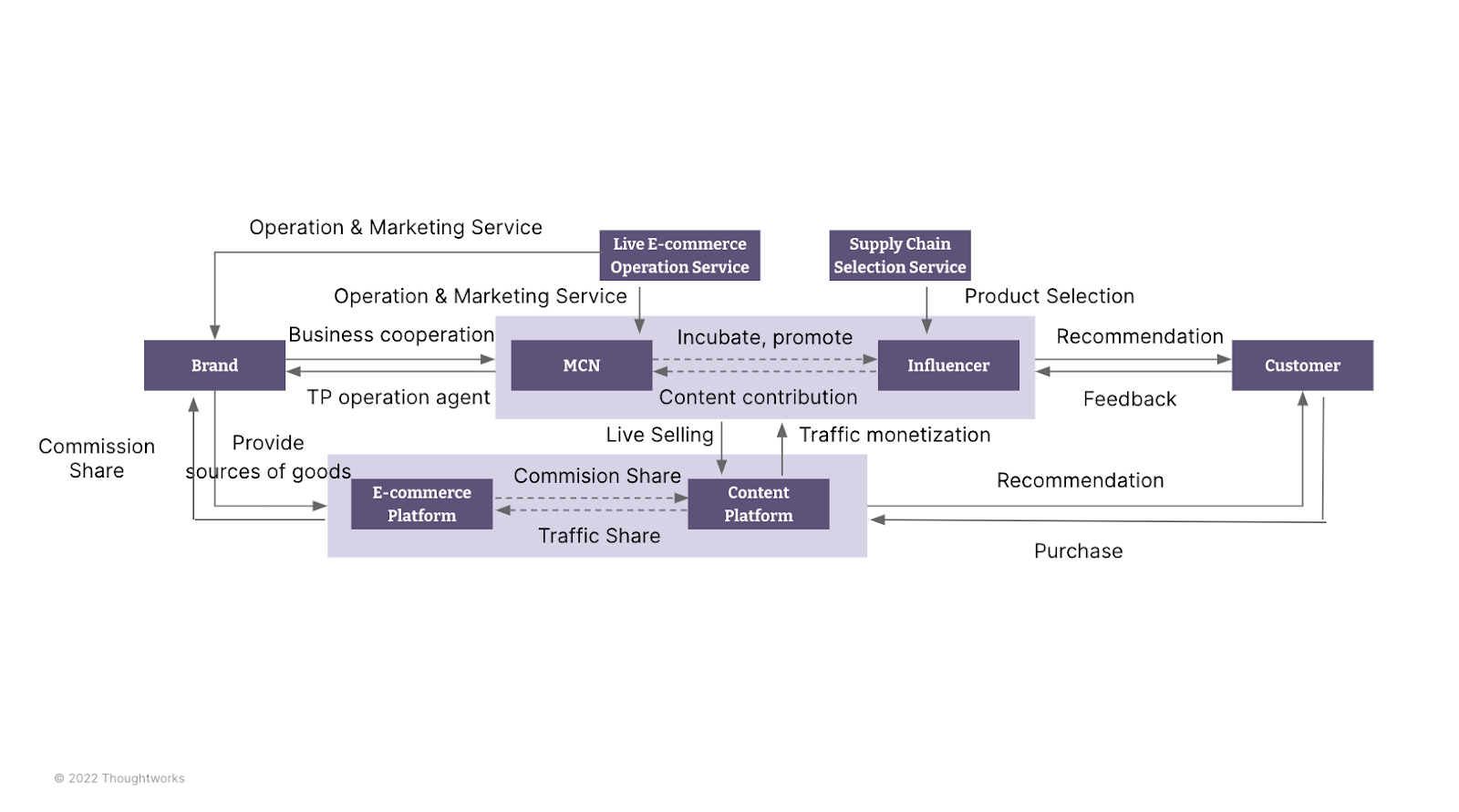 * Live e-commerce industry chain ecosystem
Platform
In 2020, Taobao Live, KuaiShou, and Douyin had a GMV of 400+ billion RMB, 381.2 billion RMB, and 500+ billion RMB, respectively, all of which accounted for about 90% of the industry's total market size. While Taobao Live's main feature is its large number of users, KuaiShou and Douyin's unique feature is their short-video format that delivers diversified content, supercharged by its powerful algorithm recommendation mechanism. Consequently, KuaiShou and Douyin are able to rapidly attract a large number of users and ultimately realize cash flow through live e-commerce.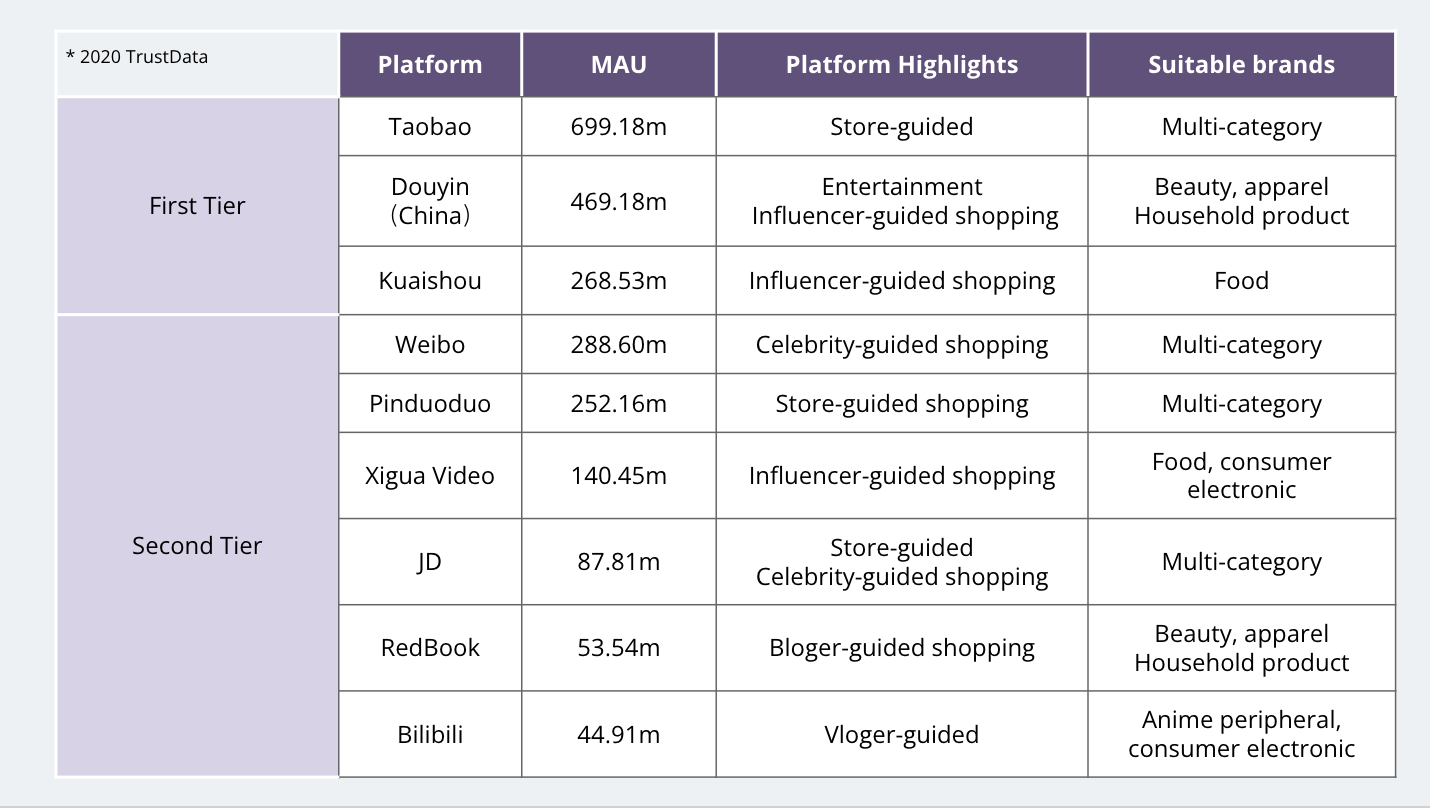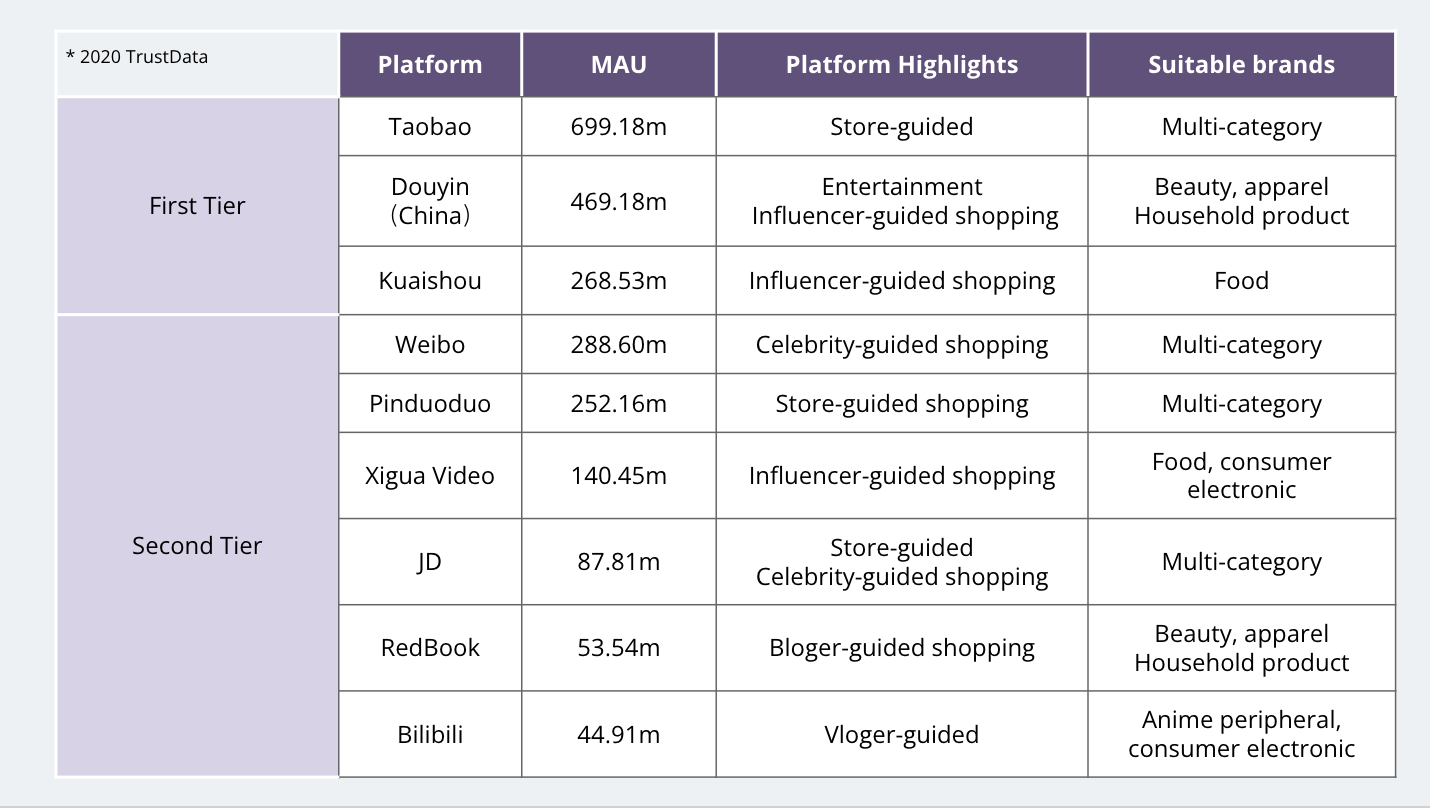 * Live platform overview
Service Providers
Throughout the live e-commerce ecosysten, service providers play a pivotal role. As early as 2020, some institutions' research data suggests that the market size of China's enterprise live streaming services will reach 19.129 billion RMB in 2024. So many players on this route's common goal is to become a first-tier live streaming enterprise. Among them, Weihao is a veteran livestream service provider that has been in the industry for many years; Weizhan, focusing on the WeChat ecosystem, provides private domain traffic solutions for enterprises through live streaming + SCRM operation.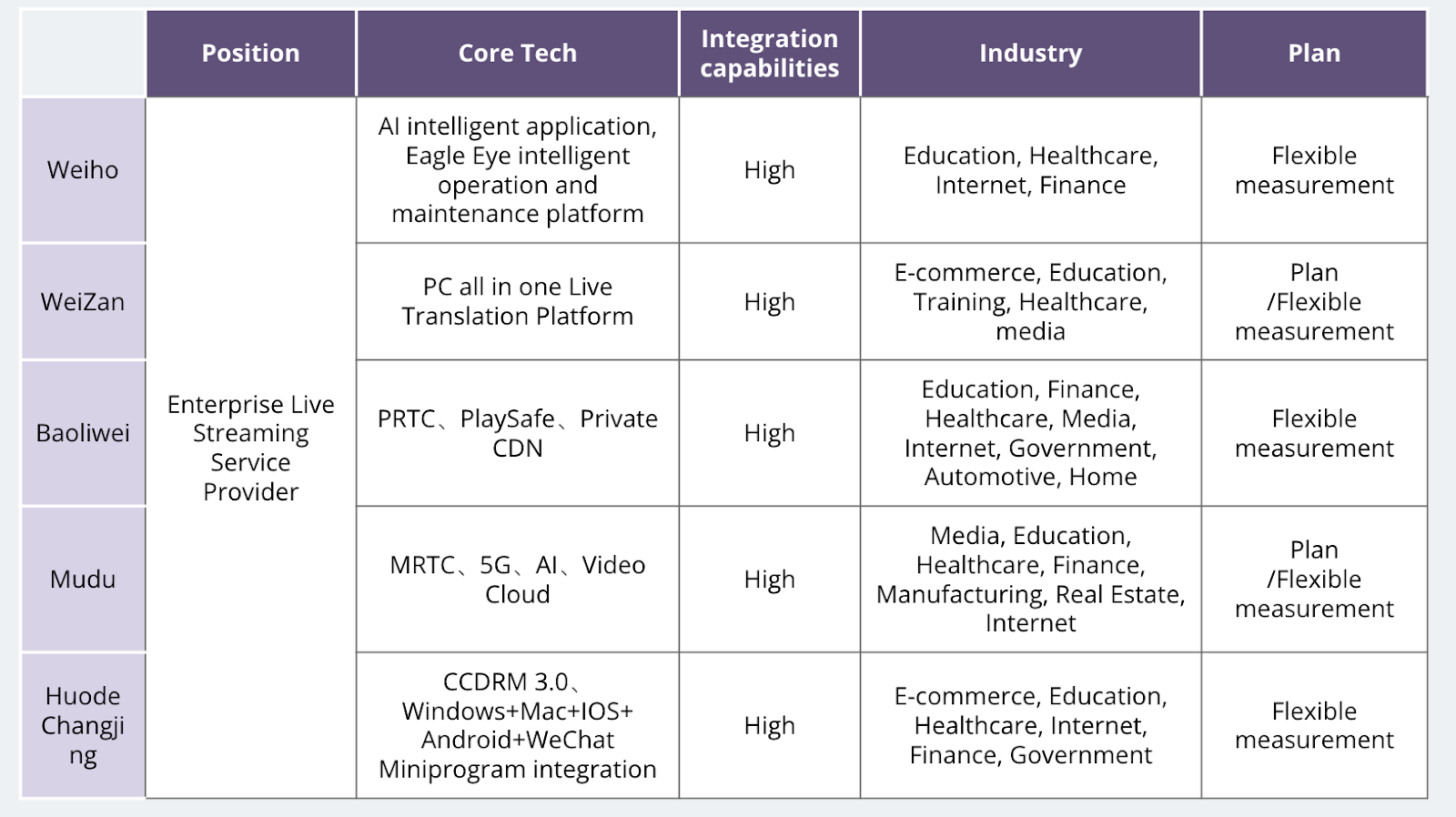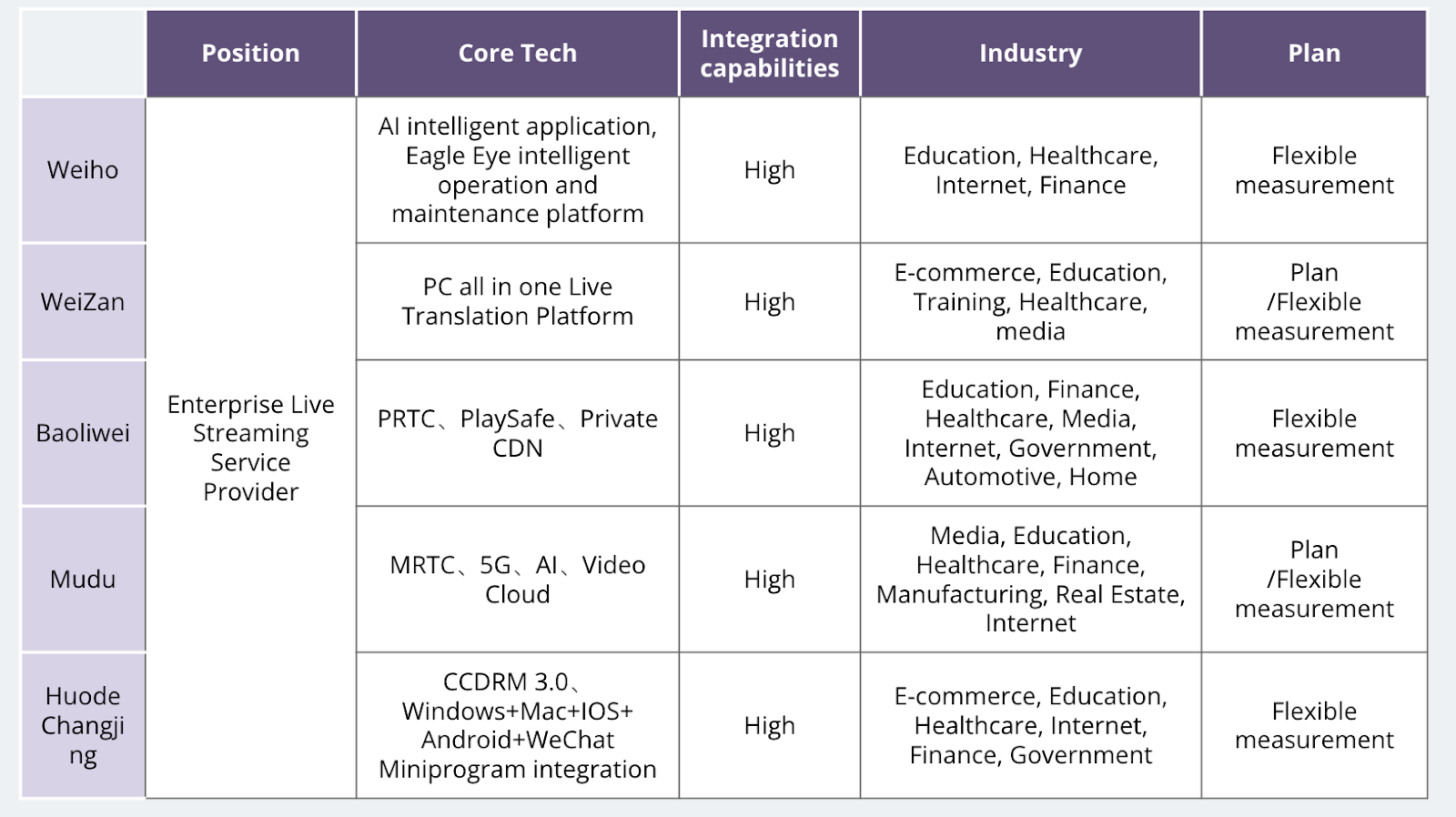 * Live service provider comparison overview
Retail categories
Currently, in the retail live e-commerce ecosystem,  the mainstream categories include clothing and footwear, food and beverage, beauty and personal care, household essentials, etc. Looking forward, kitchenware and kitchen appliances, consumer electronics, jewelry, glasses, pets, daily necessities, etc. are categories with  high potential. We also found that emerging categories such as hotels, cultural and travel services, knowledge consumption, books, etc., are also taking another form of  "scenario narrative" and are entering the live broadcast space where broadcasters are not just selling goods, but selling more intangible goods such as stories, poems, and faraway places.
The market usually divides live broadcasts into three modes: "livestreamer with goods"; "factory broadcaster" and "store broadcaster". The main "livestreamer with goods" are the "Quality Propaganda Channel", Li Jiaqi, and Viya who garner huge amounts of traffic and can play a very public role. However, the higher commission rate and discount rate make it difficult for businesses to directly profit.  As for "factory broadcaster", this refers to non-brand businesses who directly send out shipments through livestreaming, where the brand is not involved. Last but not least, "store broadcaster" is where stores and brands are guiding and doing the livestreaming. Taobao store broadcast is "class customer service" that provides detailed explanations of the goods and issues exclusive coupons to "increase conversion" rather than "attract traffic." Another example is Shake Shack's store broadcast, where its objective revolves around "product promotion + profit," attracting consumers through content that speaks to the brand style.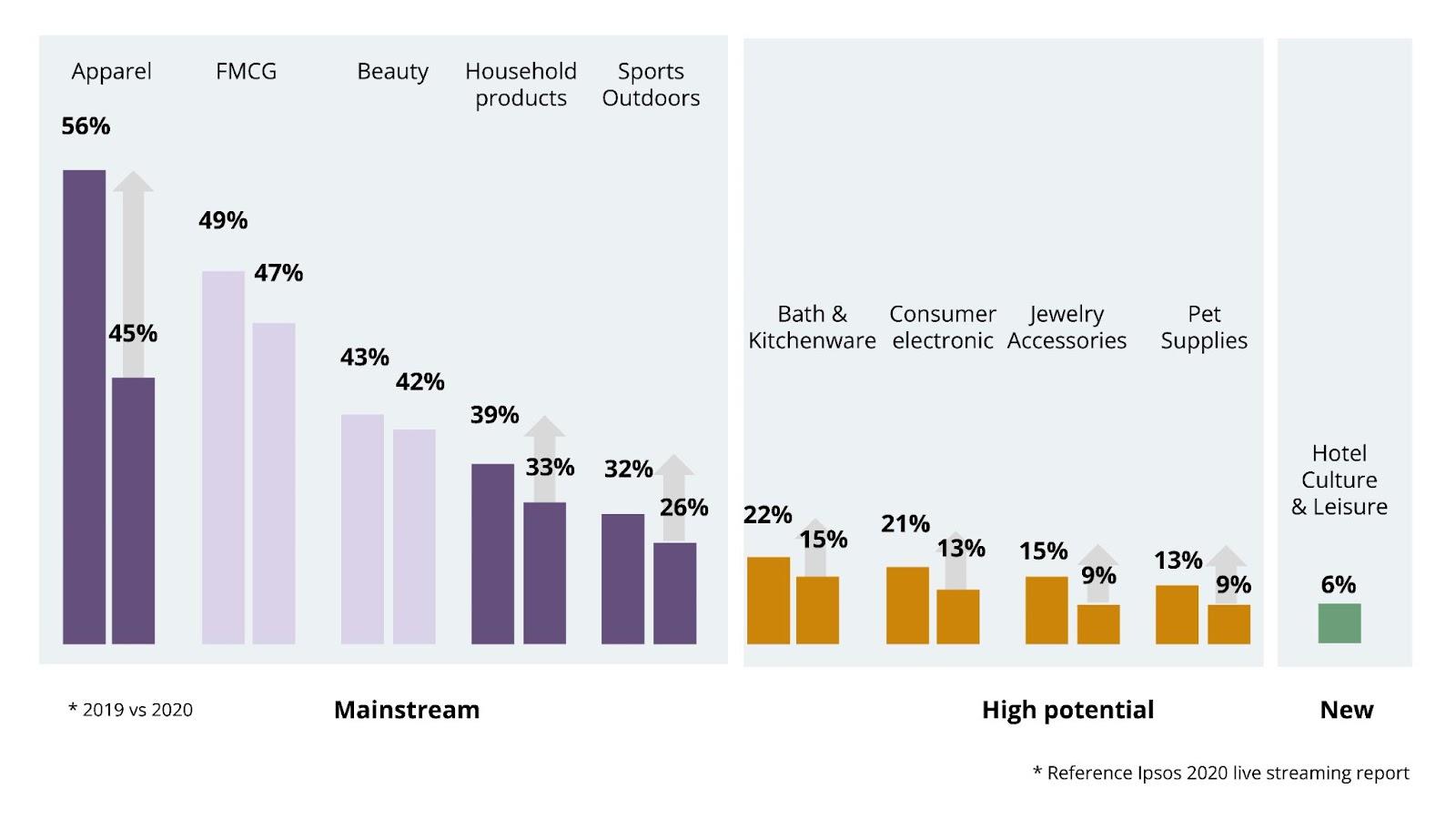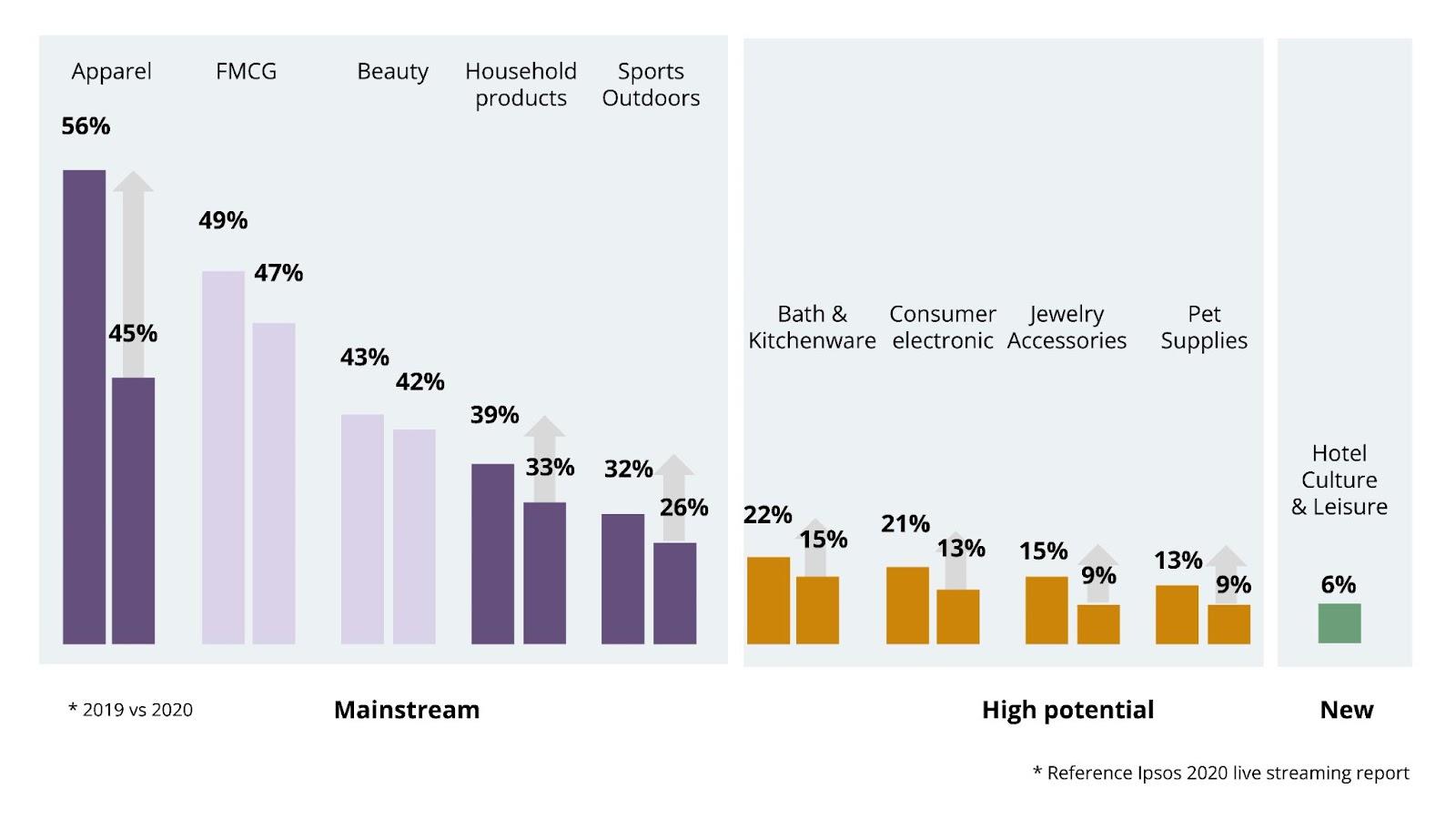 *Retail category purchase frequency growth trend
There are other livestreaming models, such as location broadcast and fixed live broadcast base, where broadcasters go to different locations to broadcast different products; the "grab model", where broadcasters and users deeply interact with each other to sell goods; and the "clearance model" focused on clearing inventory. Each category has different marketing strategies. The mainstream IP models: seconds flashsale model, influencer-guided shopping; vertical category livestreaming: price cut model, bidding model, founder model (founder IP, such as Dong Mingzhu).
The division of live broadcast categories is also very elaborate and granular. For the same category of products, such as all beauty or food, SKU is <10. For the vertical category pallets containing the same category of products or related products, such as all beauty or food, SKU is >30. Multi-category pallets usually containing five or more product categories, including food, beauty, home, jewelry, and apparel, are the most common types where SKU is between 30 and 80. Brand-specific grouped goods (i.e. all are from the same brand or derivative brand products) such as "China Gold" products or "Three Squirrels" products, the SKU is between 20 and 50.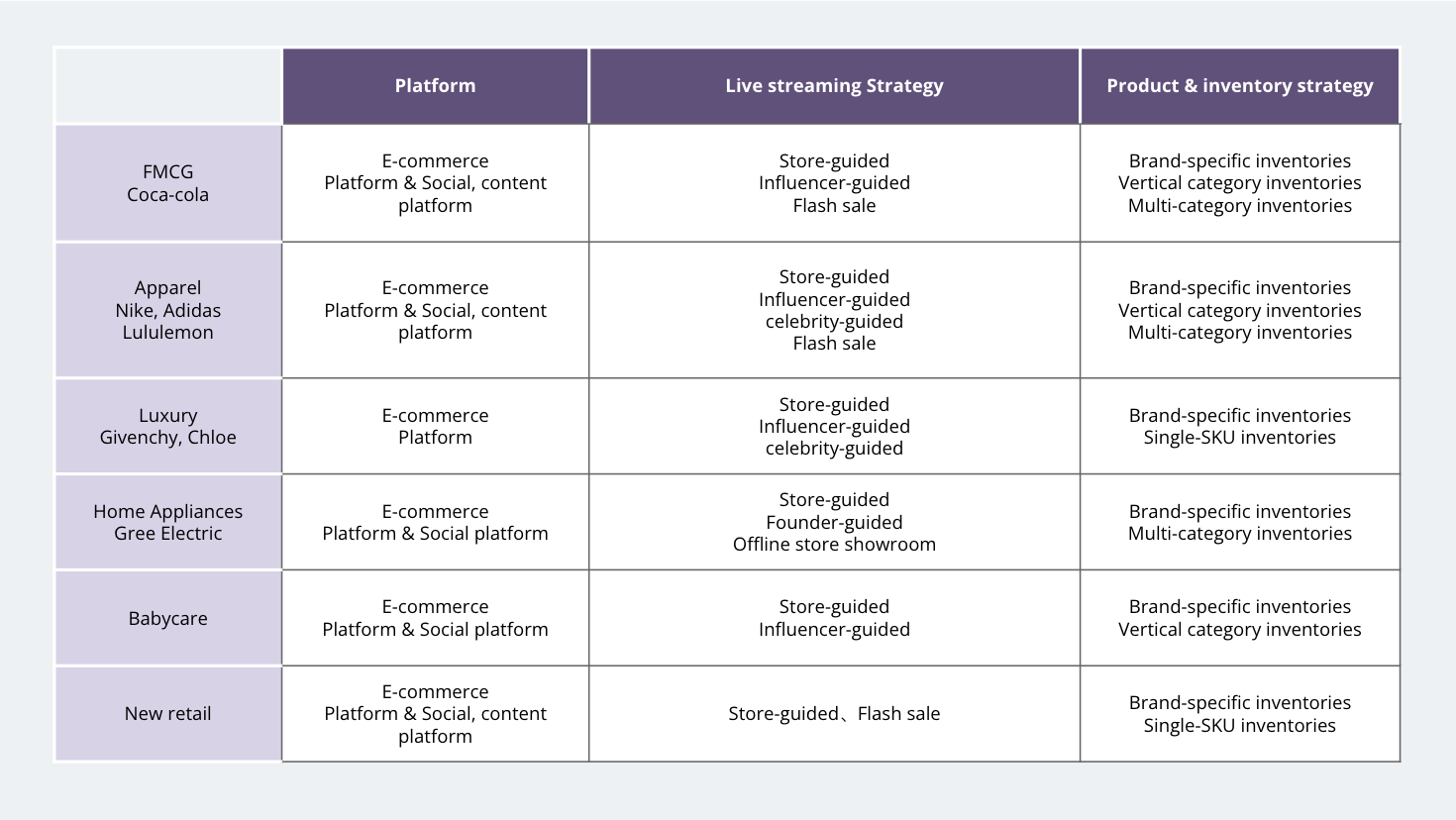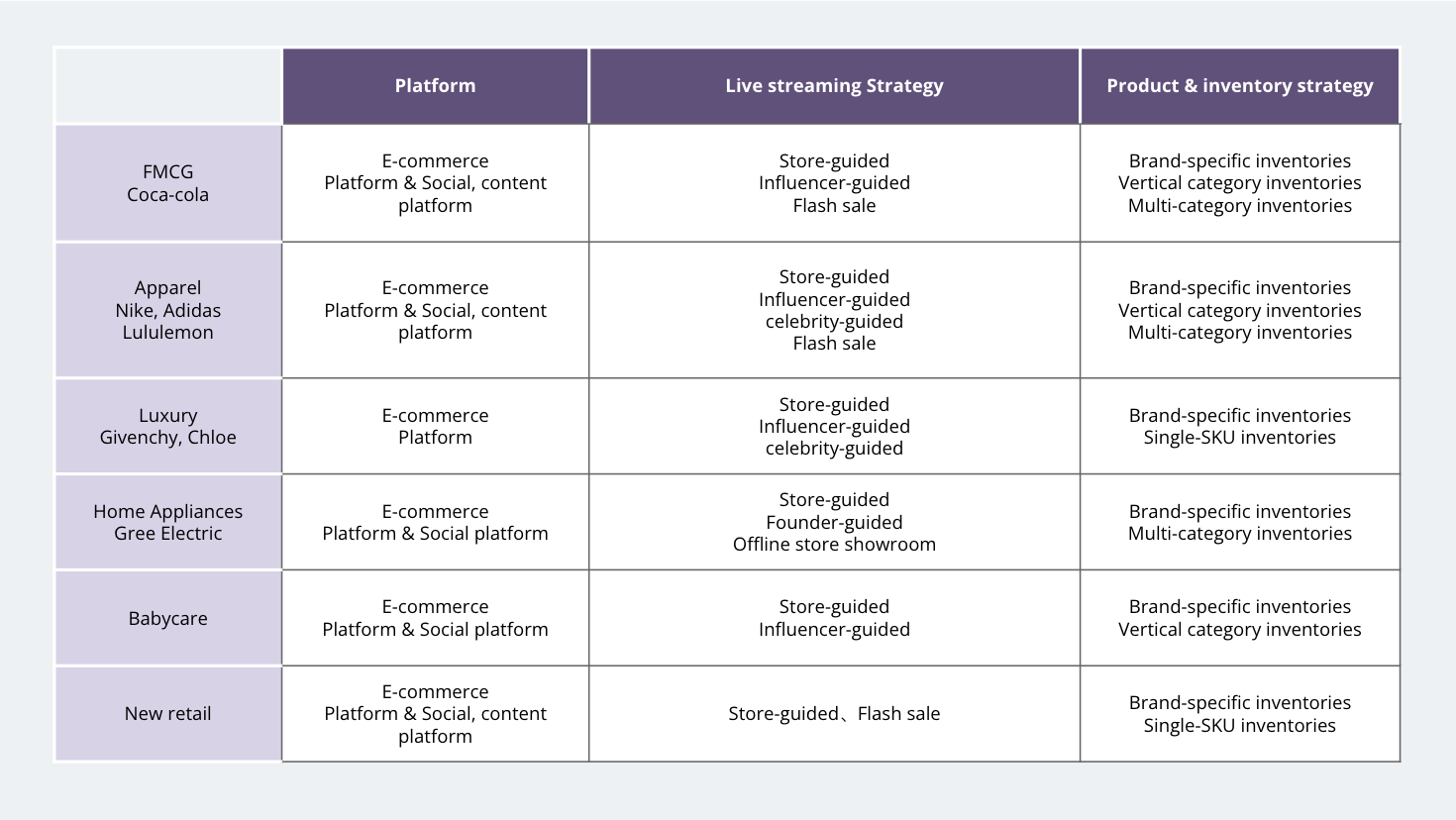 * Overview of live streaming in retail categories
Live e-commerce has become the standard for e-commerce platforms. In terms of GMV performance and conversion rate of merchants' investment, Ali Tao's store live broadcast is still the first choice for merchants' users across various categories.
In terms of livestreaming strategy, in addition to the homogenization of obvious traditional e-commerce live broadcast mode "store live + official shopping guide + brand special field group goods," the innovative live broadcasting strategy and format should be based on audience groups and product advantages. For example, the introduction of the GREE livestreamer with goods, Chairman Dong Mingzhu, through 13 live broadcasting sessions, sold 47.62 billion worth of orders. When the platform traffic bonus was declining, The GREE employed an innovative commodity pallet combination strategy (multi-category pallet, platform category pallet, etc.) to improve users' retention rate and conversion on the livestreaming platform. 
Concluding Thoughts 
After dissecting and analyzing the new live e-commerce retail model and respective consumer behaviors, we often find that every time a new form of marketing and sales tactic emerges, companies are forced to change their approach and solutions. Their thinking must adapt to the new underlying logic reflected in current consumers' mindsets as well as the industry trends. With every new retail model, comes a new challenge, testing each brand's operation and management abilities, including broadcasting capabilities, product selection, scripting, operations, influencer management, etc. It also poses a challenge to companies' supply chain and after-sales process. Moreover, the new retail model continues to affect the major platforms' iterative engagement mechanism, such as leveraging competition rules, benefits, incentives, and product tools to motivate more brands' participation in the live e-commerce game. Although some think that the new retail model is overhyped (out of ten live broadcasters, nine lose and one wins), we are still hopeful with this new retail model as it helps small and medium-sized enterprises.
Grateful acknowledgement is made to Jessie Lee and the rest of the China Retail team for their contribution to this article.
Disclaimer: The statements and opinions expressed in this article are those of the author(s) and do not necessarily reflect the positions of Thoughtworks.