As part of working for Thoughtworks, we have taken many organizations through transformations. Every organization is unique in their transformational journey. As part of this article, we highlight some common themes and patterns which helped us in successful transformation.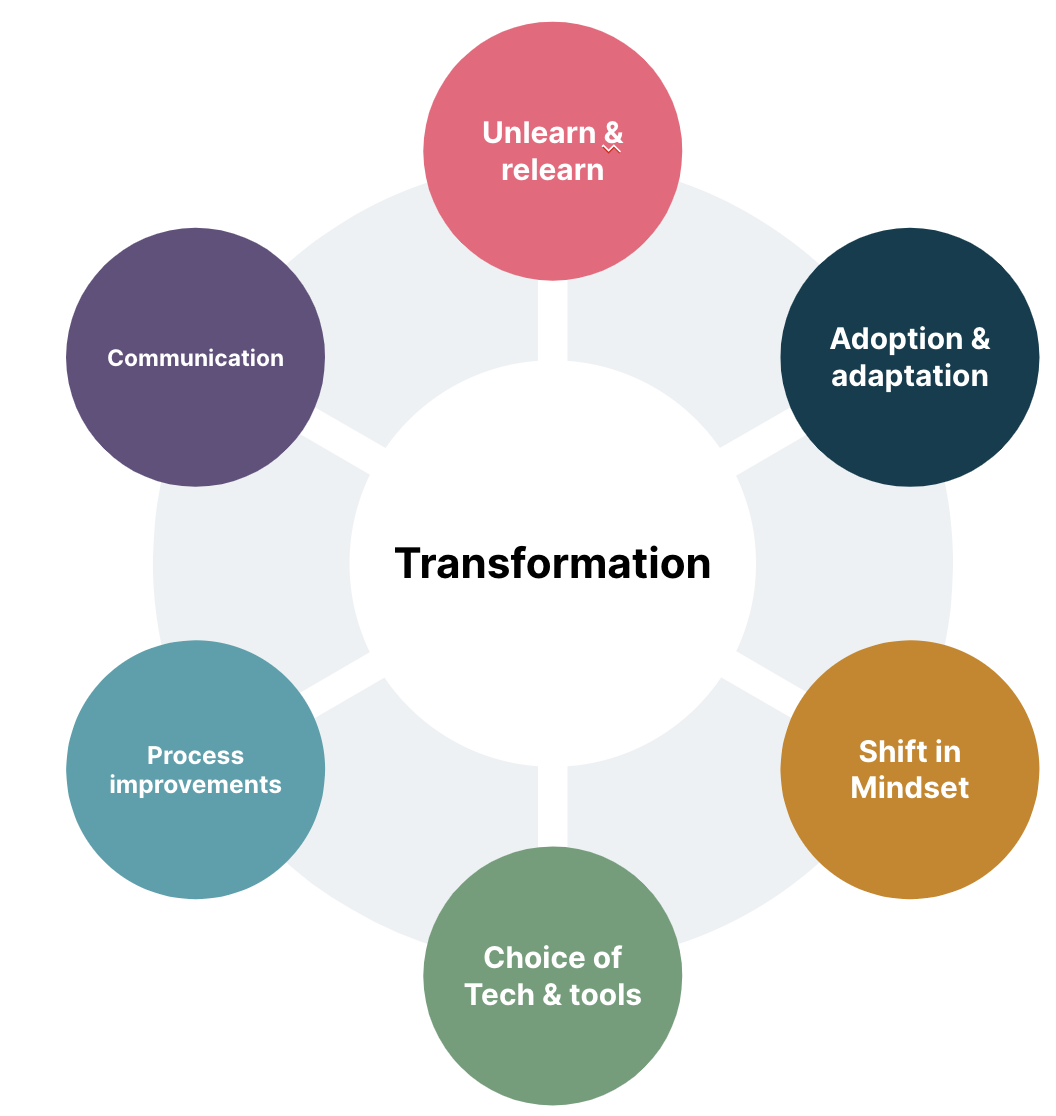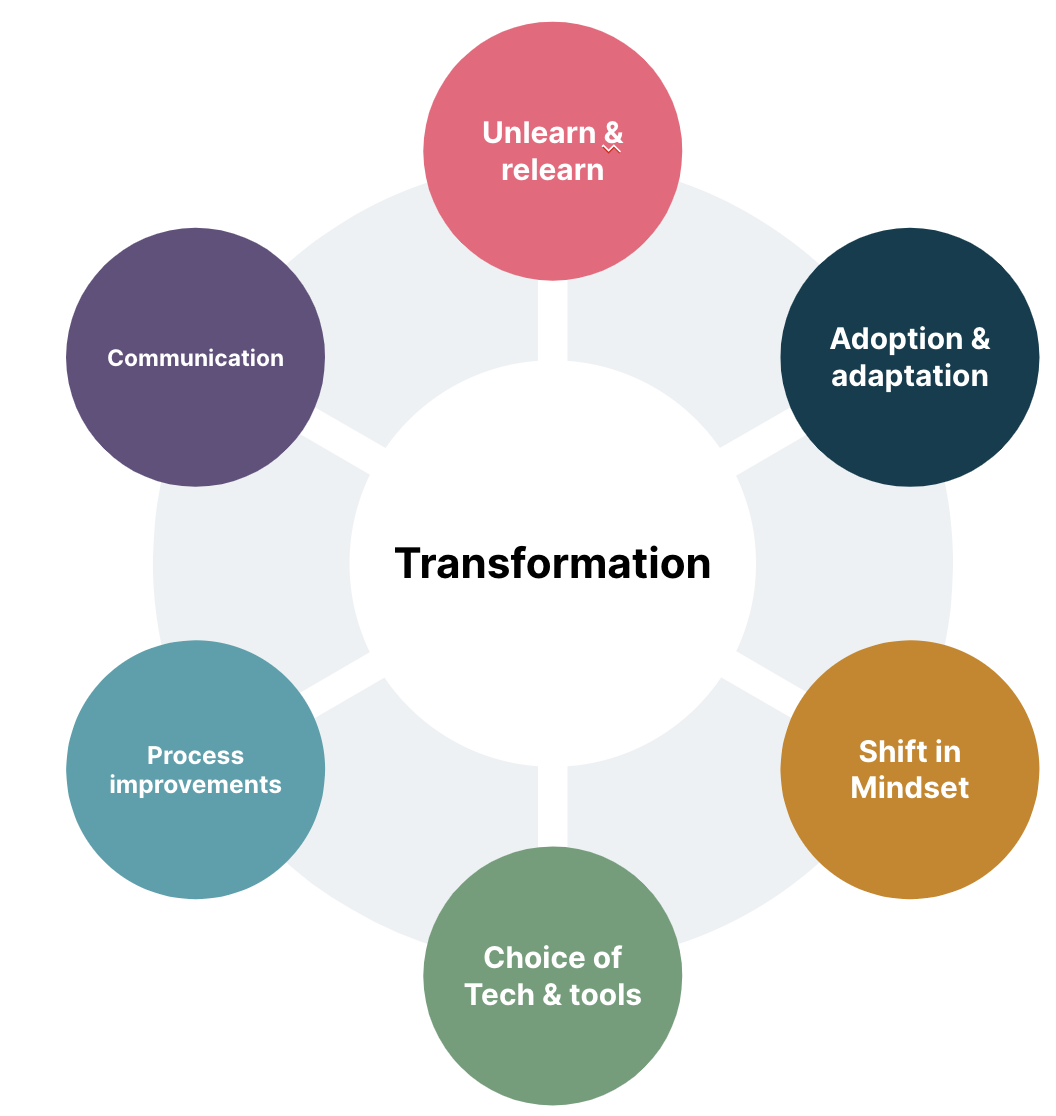 Fostering of an open and transparent communication
Melvin Conway had observed: "Any organization that designs a system (defined more broadly here than just information systems) will inevitably produce a design whose structure is a copy of the organization's communication structure." 
An organization which has transparent communication can have bilateral conversations, both by the leadership team to its employees and vice versa at all levels. 
The leadership team should be in a position to convey clear messaging of the organization's vision,  long / short term goals of the transformation and objectives, along with how it may impact the employees or how they might drive some of those changes. 
Similarly, employees should be in a position to voice their ideas, concerns and provide feedback about decisions and suggest any alternatives. 
This bilateral communication, by involving the employees and making them part of the change, helps in building trust between people in the organization.  
Openness to experiment, unlearn, and relearn
"You can't go back and change the beginning, but you can start where you are and change the ending" - C. S. Lewis
Many of us are used to thinking or working in a certain way for a long time. We are normally uncomfortable with change. But a change in mindset is required for something like an digital transformation as we have to constantly unlearn and learn new culture, processes and skills. Unlearning requires us to constantly question our current ways of working and challenge the current models and patterns.
In the rapidly changing world where it is not just technology that gets updated every few years, learning agility or ability to re-learn is a key in succeeding in an uncertain and unpredictable future. 
Innovative ways of thinking are necessary to revolutionise your products and services in any market conditions to deliver value both to the business and the users
Adopting & adapting to various situations
"The better adapted you are, the less adaptable you tend to be" - Weinberg
People will often find it comfortable being in their own shells, trying not to venture out. As consultants trying to enable clients we always come across statements from many, such as "We have always been following a certain process, so why should we change?" To be adaptable means to be comfortable in uncomfortable situations. 
Being responsive to change happens in two different ways. The first one is adapting to the market conditions and accepting that things could be done differently, to cater to those market needs. The second is to adopt new ways of working. 
Being agile is not following a set of instructions from a book or a prescriptive approach to executing projects, but more about understanding what works for the people, team, and organizations.
As part of this cycle of adopting and adapting, people are free to set-up processes as they see fit, which will help them achieve the organisational objectives and fine tune them when required. Have a process that provides the ability to reflect and permission to adapt. 
The process will follow a typical Plan-Do-Check-Act cycle. Creating such a process will help individuals and organizations change so that they can achieve their objectives.
Sufficient people with the right mindset
An organization going through a transformation will have changes occurring in its culture and ways of working. During such a time, people who are completely bought into the purpose and necessity for change are critical to its success. Constant resistance to the change will result in others losing confidence in it and will eventually result in its failure, or not as complete a transformation as first envisioned. There is a need to build cohesion within team members so that they all work towards the same end goal.
We have found people with the following abilities contribute heavily towards a successful transformation:
Ability to change and adapt their practises based on evidence

Ability to respectfully challenge the status quo so as to reach a goal

Ability to communicate the mission and its objectives with the wider organization so as to clarify its purpose 

Ability to lead and coach people in the mission so that the right challenges are tackled

Ability to understand and communicate the impact of new culture with the wider organisation

Ability to convert strategy into actionable tasks for teams and its members
Suitable time and effort for addressing gaps and improving the processes
"Testing for Quality does not lie just in the software but also the processes supporting it" - Srinivas
Processes are set to build a cadence and discipline in how we develop the product. If there are gaps in our processes, they trickle down into the product too. For instance, if the requirements gathering is not done properly, it leads to building a product that does not support the user or organization needs. In this scenario, we must make an effort to identify the gaps in understanding, and choose how to fix it. This might seem wasteful but in the long run save on costs by building, testing, and releasing a product that will actually be usable and increase adoption.
Also there is a need to introspect about the activities and practices of the team to understand where the gaps lie and what can be done to fix them so that the quality of the processes and services is consistently high. Continuously improving teams use techniques such as Root Cause Analysis, or 5 Whys to analyze and fix the issue so that it does not repeat. Futurespectives are also effective in issue prevention by orienting people's thoughts and actions towards looking ahead and preparing to do the right thing at the right time.
Once the gaps are identified, and preventive actions agreed upon; teams have to spend time and effort to implement the actions. It is upon the team and leaders to create opportunities for such activities
Right technologies & tools
As part of digital transformation, while selecting the tools and tech, it is vital to understand an organization's / team's needs and realizing that these needs may change over the years. Tools and technologies assist us in delivering a piece of work more efficiently. Some tools could be more expensive than others, performing similar actions and delivering the same results. The cost of a tool may not be directly proportional to the output it delivers. Sometimes maintaining a tool might be more expensive than the cost of the tool itself.
When it comes to software engineering, there are normally multiple options. Some of these can be open source, and some require purchasing instances or licenses.
There are many open source tools and libraries as well out in the market; which are being used by many organizations for effective software development and testing, of course by keeping security in mind. Like licensed software, open source tools also usually have a good support system through crowdsourcing. 
Some of the factors to look out when selecting tools and technology are
Do we have the right skills & capabilities in the team to work with the tool?

Do we have enough external or community support in case we run into issues?

Is this tool helping us deliver efficiently or is it hindering our speed to market?

Is this tool providing us a good return on investment

Is there enough flexibility to dump the tool and try something else?
In conclusion, for any organization seeking to change, it will have to be looked at from a  People, Process and Technology lens. Amongst these, the People aspect plays a major role from an organization's cultural perspective. Transformations can not be dealt with in isolation of a function or a department. There are usually interdependencies which have to be considered and dealt with holistically.
Disclaimer: The statements and opinions expressed in this article are those of the author(s) and do not necessarily reflect the positions of Thoughtworks.