This is the second part of 
How you can be an intersectional ally
(see
Part 1
if you missed it). In this part, we'll look at more examples of ways you can be an ally to three (of various) underrepresented groups including working mums, women and underrepresented gender minorities, and the LGBTQIA+ community.  
Working mums
Did you know: The Australian Bureau of Statistics revealed that since the 1996 census, the proportion of mothers active in the workforce has increased from 46.1% to 53.4%. Mothers are increasingly likely to be employers or self-employed, with this percentage rising from 3.9% to 6.7% in the last 20 years.There's also 114,800 mums who work, study and care for their children under the age of 15.

Here's three ways you can be an active ally:
Support working moms attending and/or speaking at conferences. Take a look at my colleague Sarah Taraporewalla's blog The Juggle is Real: Presenting at Conferences as a Mother where she gets into detail about how conference organisers can do this, with the biggest differentiator being empathy. 
Recommend a smart and capable working mom colleague of yours for a senior level position. Don't assume that working moms have 'too much on their plate' to handle leadership responsibilities. If you doubt that this is possible, check out Mother, Developer, Woman, a blog written by my friend and fellow Thoughtworker, Ann Mwangi on how she navigated coming back to work as a mother.
If you're a leader, model a sane work and family life by using the policies that are in place in your organisation – without consequences and stigma. If there are none, start by discussing flexible work options and creating policies and guidelines.
 
​Women & underrepresented gender minorities (UGMs)
Did you know: According to WGEA, women comprise 47.4% of all employed persons in Australia, 25.8% of all employed persons are women working full-time, and 21.6% working part-time.

Here's three ways you can be an active ally:
Colleagues and friends: Say something when you're in a meeting or social setting and witness a man talking over a woman, restating their idea and having it championed even though it wasn't his to begin with. If they have a good idea, echo the idea and attribute it to them. Find a way to amplify their voice. Talk about it as a team and normalise calling each other out for interrupting each other when you see it happening.
Leaders: Drive the change in your organisation by focusing on delivering the right enablement and empowerment through mentoring, coaching and development to continue supporting women and underrepresented gender minority leaders. If there are not enough women in leadership in your organisation, appoint external women to act as mentors for your future generation of leaders. This is a step to ensuring more women are in roles that are responsible for business decisions. 
In addition, leaders need to ensure women and underrepresented gender minorities are present in every hiring pool and pipeline and that interview hiring panels are diverse. Onboarding training should also include mandatory unconscious bias training. 
 
​LGBTQIA+ community
Did you know: According to this Pride in Diversity Index blog, only 47.4% of trans and gender diverse people feel safe and included within their immediate team and only 63.9% feel mentally well at work. This article discusses the extraordinary finding that suggests Australian employees were more likely to be in the closet and less likely to be completely out at work in 2020 than they were the year prior.

Three ways you can be an active ally:
Be aware of the space you take up. Read / listen / follow LGBTQIA+ voices yourself, and amplify / recommend / share them, ahead of your own perspective. If people ask you questions about the community or for your opinion on an issue, recommend LGBTQIA+ books, magazines, podcasts or social media accounts they can follow. This allows everyone to hear the people in the community speak for themselves.
Take care of the people in your life who need support. Whether it's friends, a family member or workmate who's recently come out, keep an eye on the people you know who are part of the LGBTQIA+ community. Part of allyship means being there for people when they need you. Offer your shoulder to cry on, give them space to vent or rage, or spend time with them doing something they enjoy, to keep their spirits up.
Share and introduce yourself with your pronouns, regardless of how obvious you may feel they are, to help normalise this process and make space for those who may appreciate the opportunity to share theirs.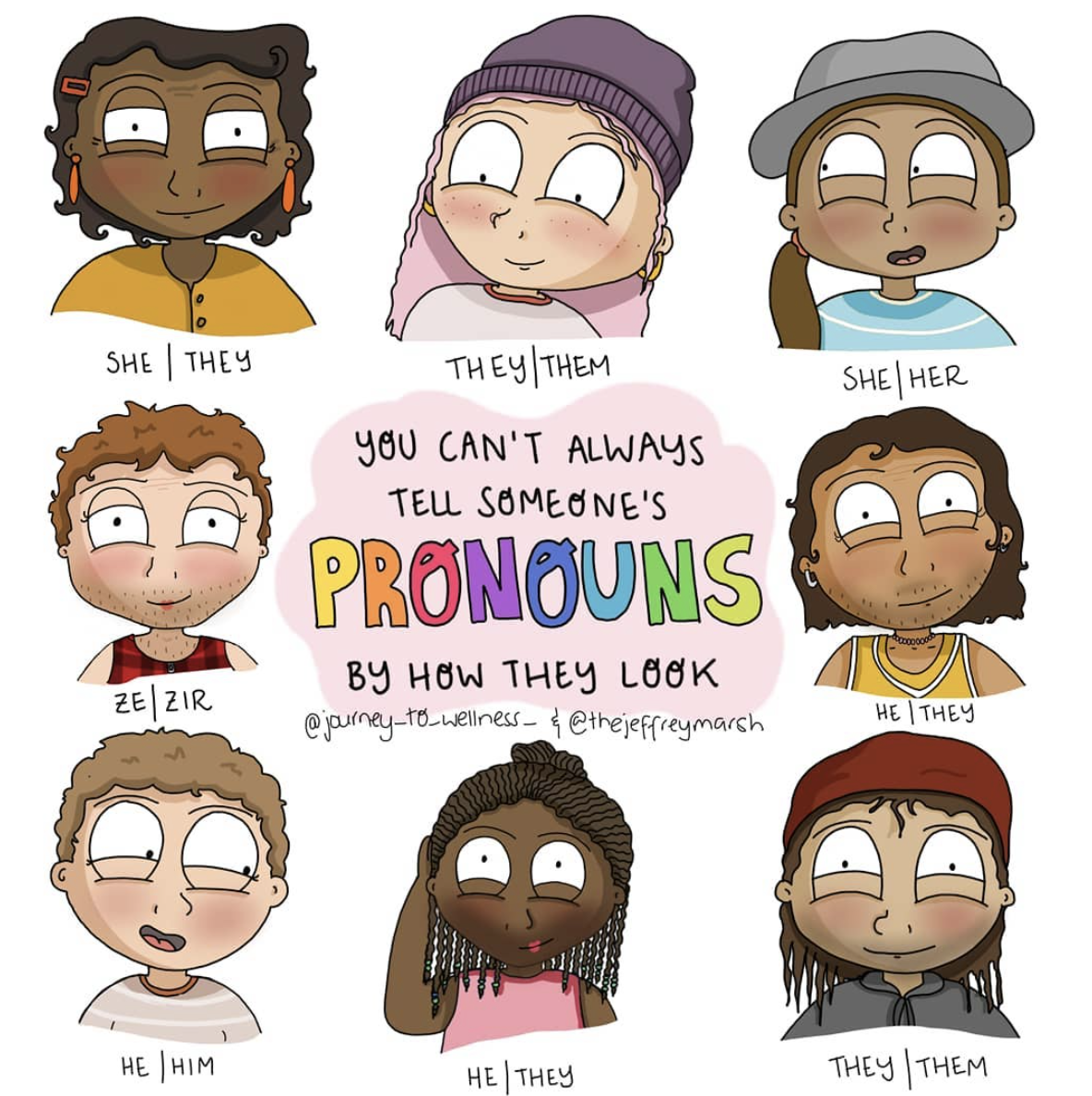 ​
Image by @thejeffereymarsh and @jouney_to_wellness
Whatever your reason is for being an ally, be it:
a) Fairness and social justice, because underrepresented groups have a long history of oppression and inequity that we need to work on together
b) Your children, so they grow up with equal opportunities, and they grow up creating equal opportunities for others
c) The business case: the data shows diverse and inclusive teams will be more productive, profitable and innovative

We need to fight injustice with a consciousness of grace. This is collective work that requires everyone to be all in. When you add your voice to situations that don't involve you - you inspire others to do the same. Be on the lookout for situations that aren't just about you, but where you see injustice and inequality happening. More voices raised as allies give communities hope and energy - we are weary of this struggle. Every new voice brings new energy to creating better, more equitable, more open communities and workplaces.
Disclaimer: The statements and opinions expressed in this article are those of the author(s) and do not necessarily reflect the positions of Thoughtworks.