Thoughtworks believes that technology should benefit all of society, creating a more equitable future. Our office of DEISSC drives coordination of social change projects and initiatives, providing a platform for Thoughtworkers to use their time and skills to make extraordinary impact. Our coleagues embrace all these initiatives, being committed to doing everything in their power to make the world a better place for us all. 
The last months of 2021 and the first ones of 2022 were particularly prolific for Thoughtworks Romania's social initiatives, and we are delighted to congratulate all our colleagues involved in social change projects throughout the last year. 
Here are some cultural, educational and inclusive activities that kept us busy in these last months:
1 -  Rate my reading is an app for evaluating pupils' reading competencies. 
This is an application based on a set of 30 questions created by the UBB Cluj (Babes-Bolyai University of Cluj) students with support and guidance from Thoughtworks Romania engineers. The app randomly selects 10 out of these 30 questions and generates a quiz for each book introduced in the program. Based on the pupils' answers, the app determines their level of reading competence. 
The app's features include e-books, a random questions generator, a means to calculate the individual percentages, labels like "Beginner'', "Medium'', "Advanced", "Expert" and a dashboard with various information for the users.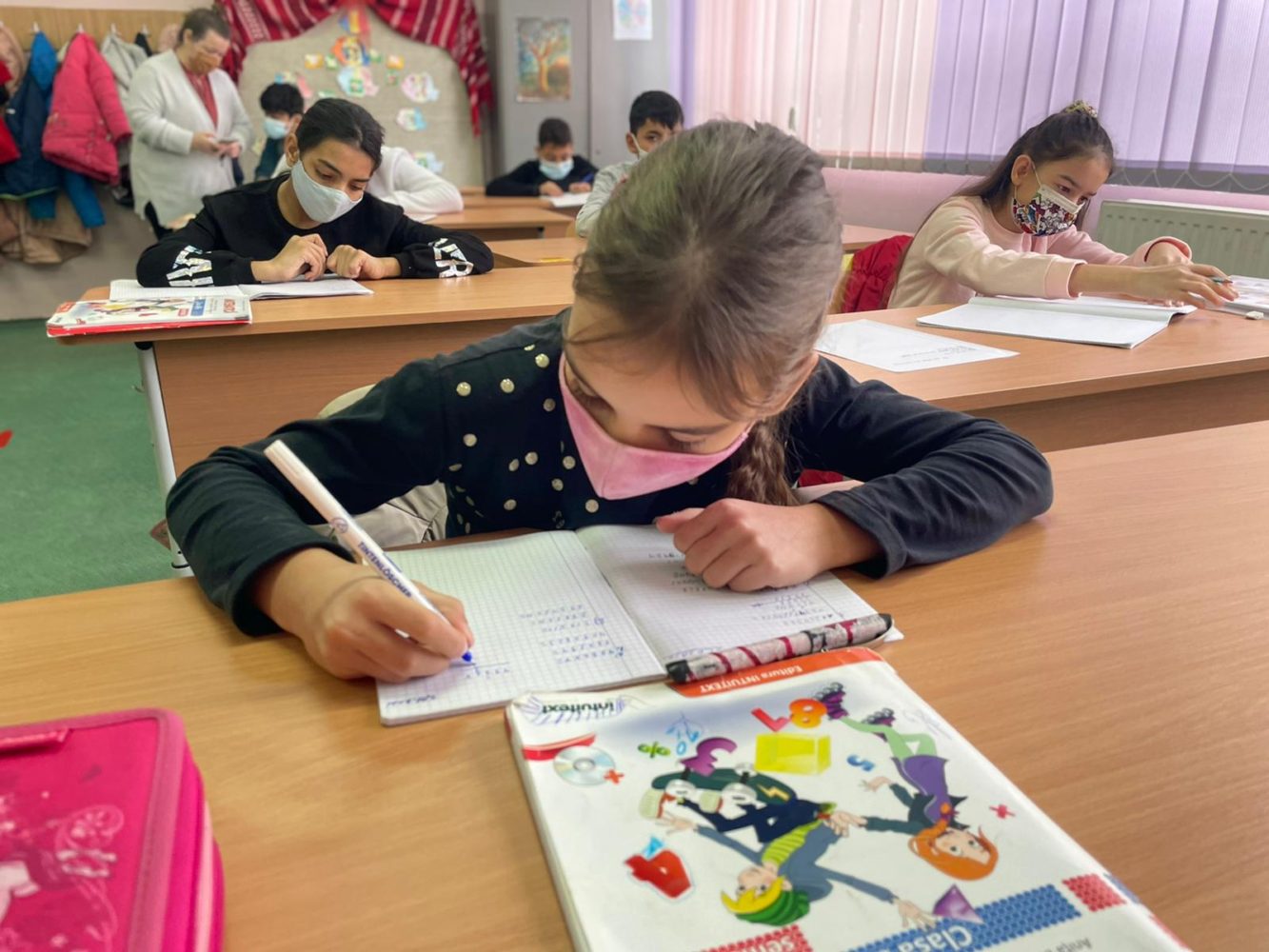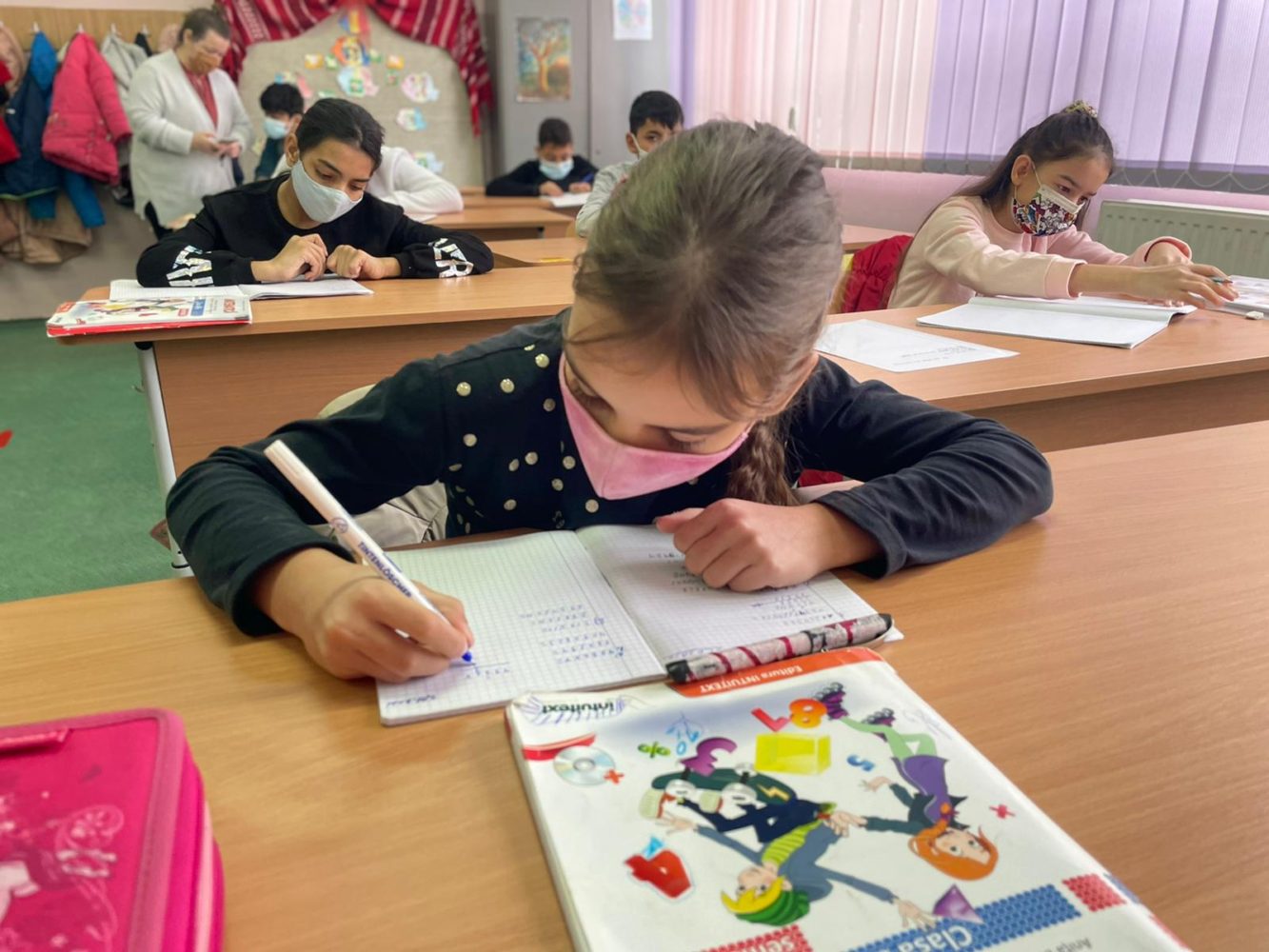 The main beneficiary of this project, Mihai Ciopasiu, Executive Director Providenta Foundation (RUTH Project) describes the app:
"Yet another step forward towards removing ethnic barriers and promoting education in underprivileged areas: Thoughtworks Romania, in partnership with a group of students at Cluj University, develops an educational application for reading and evaluating reading competencies for the children in the Romani rural community (disadvantaged children) around Bucharest. All these kids benefit from the educational and social programs provided by Providenta Foundation. Thank you for your support!"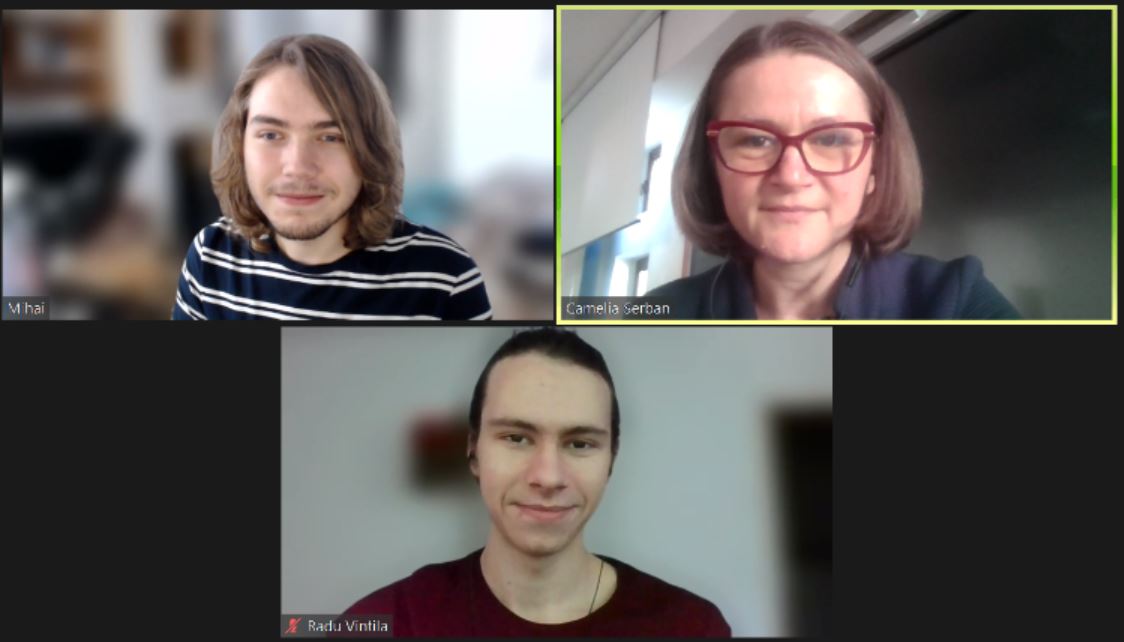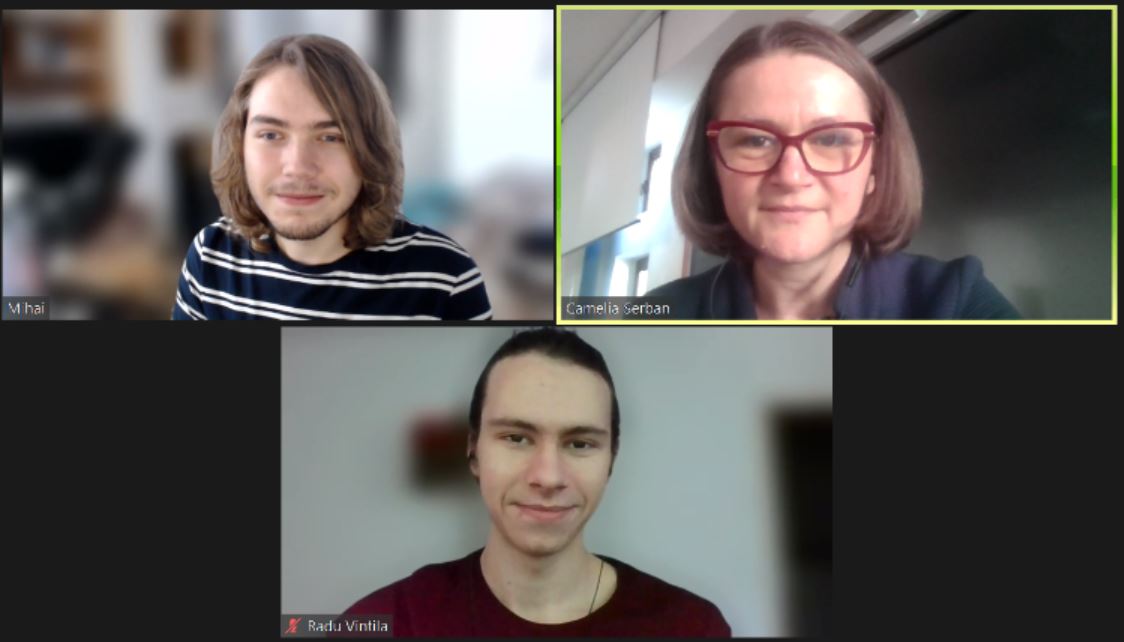 Our thanks go to Dr. Camelia Serban, Radu Vintila - Student,  Mihai Ungureanu - Student at the Babes-Bolyai University of Cluj, shown in the image above, and Cristian Cornea and Cristian Gherghe, our Thoughtworks Tech Engineers. 
2. Thoughtworks Romania is awarded a gratitude diploma for supporting the Științescu project.
The fifth edition of the Științescu Fund for Făgăraș County has recently selected the projects which will get funding and will be implemented by the end of the year. There were seven winning projects out of 13 applications, and the total budget for implementing them is around 78.800 RON (more than 15K EUR). 
The main topics of the selected educational programs include ecology and recycling, IT, robotics and engineering, astronomy, biodiversity, physics, mechanics, biology and experimental chemistry, and aim to promote closer collaboration between rural and urban areas. 
The projects are addressed to children and young people between 6 and 19 years of age, who will benefit from project management and direct support granted by experts in each of the specific fields of the programs.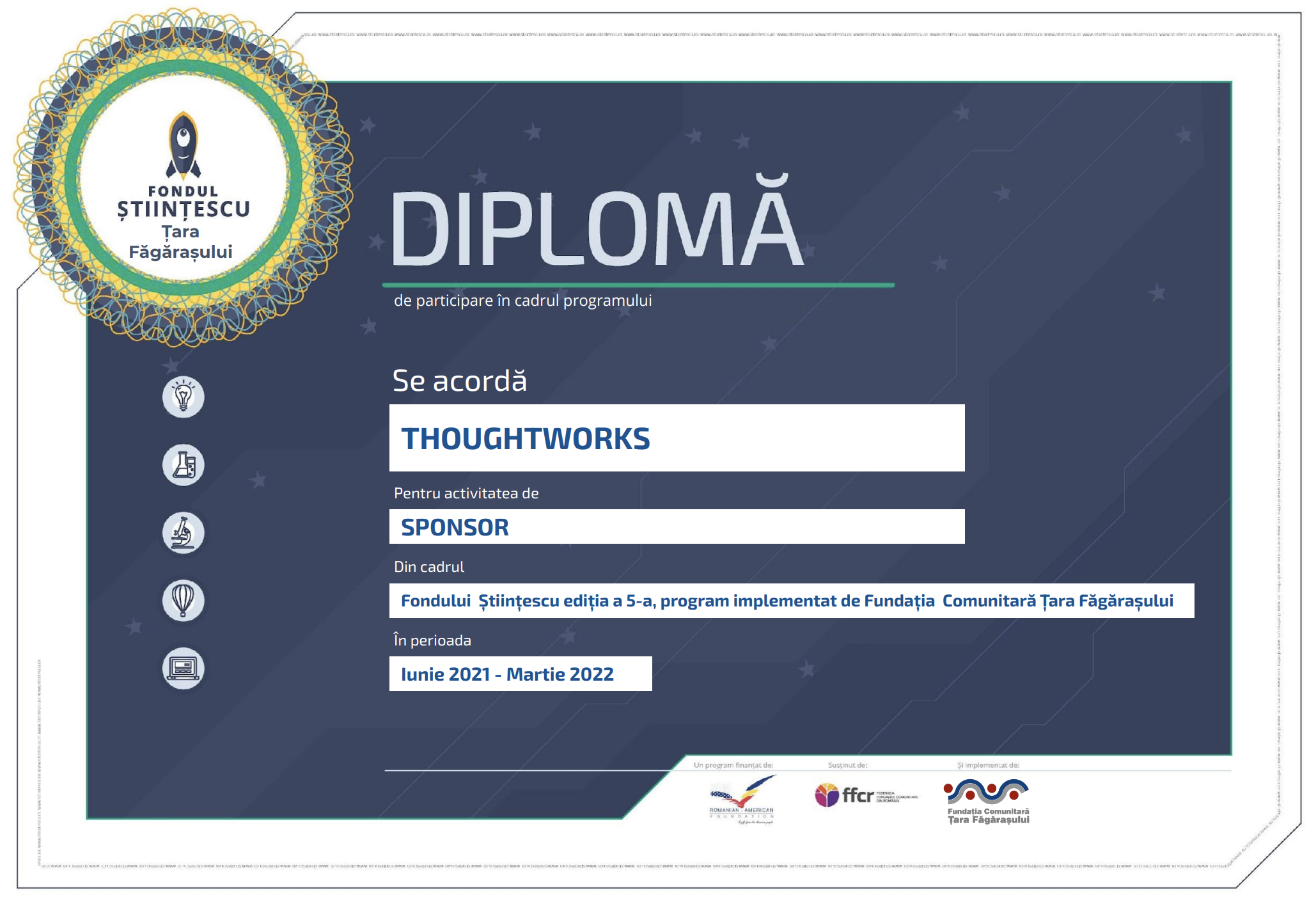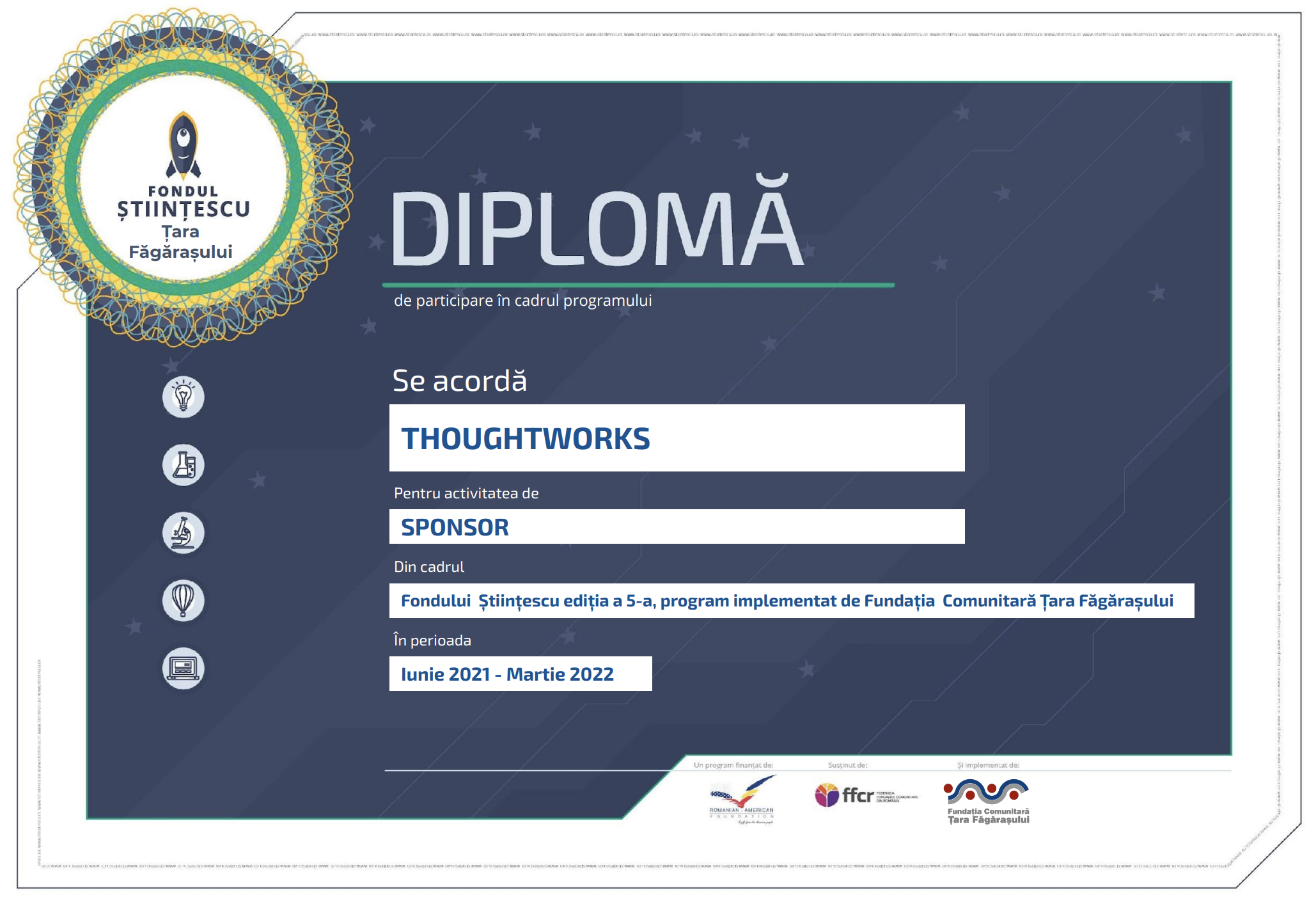 For our financial support and initiatives, Thoughtworks Romania received a personalized digital signature with the message: 
"I am a STEM (Science, Technology, Engineering and Mathematics) Education Ambassador in Făgăraș County through my contribution to the Științescu Fund."
We are thankful to the Științescu project for this great initiative and for giving us the opportunity to contribute to their inspiring program. 
3. Thoughtworks supports students with disabilities
In September, we launched a partnership with Informal IT School (https://scoalainformala.ro/) to support education for a group of 20 high-school pupils and students with disabilities enlisted in ASCHF-R initiative ( https://www.aschfr.ro/ ). 
With our financial support, the Informal IT School ran a special online introduction course for developing programming and testing skills, called "IT 4 Teens." During the first stage of training, Professor Ileana Oneata coached the students for eight weeks, two hours per week. There were two groups of students - beginners (eight) and medium/advanced (12). The second stage ended on Jan 29, and the students received diplomas from the Informal IT School, while the third stage, coordinated in partnership with the Ministry of Education and the Ministry of Labour, will allow the students to get hired based on their skills and training. Thus, they are welcome to become our colleagues at Thoughtworks, in case they choose to follow a tech career. 
Disclaimer: The statements and opinions expressed in this article are those of the author(s) and do not necessarily reflect the positions of Thoughtworks.