Dispatches from ParadigmShift Nashville
I have seen the future and it works.
– Lincoln Steffens, 1933
The notion that we are living in a world of continuous change was pervasive through all of the talks at ParadigmShift Nashville. I was incredibly drawn to the segment titled "Technology Rules The World." Within this theme, our attendees explored the forces of disruption that are acting upon their organizations. Our speakers offered expert observations of these forces and mitigation strategies for them.





First off, Mat Henshall, Thoughtworks' Head of Things, gave us a picture of how the Internet of Things represents automation on a scale never before seen. We began with a look at one of the major disruptions in the past century - the replacement of horse and buggy with the automotive. In this case we start from a position where our nation's streets are littered with horse manure, and city managers are desperate to get rid of it. Their concern was rendered irrelevant as automobiles flooded the streets, a mere decade later.

In recent years, this trend of automation has started to surface in one industry after another:  agriculture, professional services and home food preparation. As Mat pointed out, in the age of machines, capital is replacing labor, however, this is not without consequence. We are effectively racing toward an age where the value of labor will decrease. This will be followed by massive realignment of the workforce and the potential elimination of certain industries. Certainly, humans will have much more time on their hands, but at what cost?  

One sentiment that stood out to me during this talk was the question of why we as humans are pursuing so much automation. The answer seems to lie in having more free time, to spend with our families and friends. This point became clear to me during the segment on potential for automation in the kitchen; the concept of the "robo-chef" is an intriguing one. It's easy to imagine it being interpreted different ways based on whether one were optimizing for efficiency or experience (read: cafeteria versus fine dining). Arguably context will dictate the direction of robo-chef, but I think the data we have suggests that above all else, people would like to optimize for experience. It is up to us as leaders to optimize for the right kind of customer experience.



Beyond big data to real time insights
We live in an age where staggering amounts of data are created, promoted, and consumed every day. We are also well aware of the tragic punch line, that so little of that information is providing insight to help people improve their lives and their work.  There has been a glimmer of hope within a growing group of small data practitioners. These pioneers manage to look beyond the hype to unearth real value in the reams of web and social data generated by the modern enterprise. 

Brian Elliott, CEO of Periscope, offered a refreshing perspective on how his organization generates actionable insights from big data. In his talk, he took us through detailed examples of how organizations are pushing pricing power into the hands of front line employees. He explained how data insights, previously derived from direct consumer touch, are now being derived by search and sales analytics. Effectively, organizations are enriching their 'big data' assets with 'broad data' from public and subscription sources and new data from search and social media. This new data product is valuable even when anonymized. In the hands of front-line employees, companies from retail to finance can reduce time to value creation drastically.  

I found this notion of democratizing the power of data to be intoxicating. If we are able to help package this sort of analytical power in a way that makes it available to smaller businesses or consumers themselves, it could be transformative on a new scale. I for one will be on the lookout for technologies that bring advanced analytics to the small merchant and independent professional!



The value of the cloud is making your people more productive
In a lively Q&A, Adrian Cockcroft of Battery Ventures posited that organizations need to allow themselves to reap the benefits of the cloud and virtualization to offer value.  Painful areas such as PCI audits and creation of test environments for new services can be automated away, yet this requires a new way of thinking.  
 
It requires that we consider our systems as a platform for scaling value creation within the business.
Many organizations tend to make the mistake of thinking this platform is purely composed of technology, says Ryan Murray, Head of Thoughtworks Applied Engineering Lab. Successful platforms consist of technology, yes, but also people and capabilities. That is, one can invest in Platform-As-A-Service (PAAS) software to streamline business operations, but if your organization doesn't philosophically understand the benefits of
continuous delivery
, what have you gained?  
Companies that are disrupting their industries are able to do so by finding a key technology ingredient to scale their rate of growth in a nonlinear fashion. The creation of a platform is often the inflection point for this necessary growth. A fine illustration of this point, even if overdone, is Uber: their platform for automatically dispatching cars and collecting payments was what differentiated them and made it irrelevant that they did not own their own vehicles.  Their platform is quite literally expanding with the
opening of their API
to different service providers that want to leverage their transportation system on the backend for services like package delivery. 
Murray goes on to point out that technology capability must be complemented by a lean, experimental culture to achieve a platform for growth. That culture, comprised of people, capabilities, experiments and learning, is an investment that needs to be made by leadership.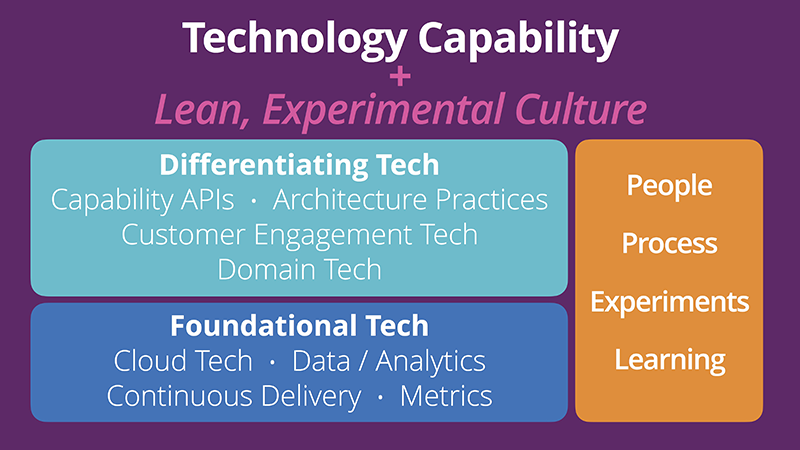 So, how do we begin to establish these platform linkages?  Break down barriers between I/T and business, urged Emre Ekmecki, President of Dogan Online in Turkey in a panel discussion. The two need to work together in cross-functional teams for innovation to happen.
Technology is often the simplest part of transformation
It's ironic, but once you find the right talent and acquire the best technology, you have barely scratched the surface of creating a high-performance delivery organization.  This sentiment was my core takeaway after listening to my colleague and Thoughtworks Head of Technology Rachel Laycock. Borrowing from Daniel Pink, she challenged the attendees to give their technical people autonomy to drive the solutions that make them be more productive and mastery of their craft by way of a continuous learning environment. She also noted that a sense of purpose, informed by the organization's overall vision, was essential to reinforcing the other elements. Rachel described this type of ecosystem as a "Continuous Learning Environment" that supports ongoing education for the individual and the enterprise as the work happens.
  




It was refreshing to hear Ms. Laycock's sentiment echoed in talks from other industry guests. Particularly, I found the talk by Stewart Holmes of Barclaycard to be very much aligned. He spoke of his organization's acronym for success: DDLA (that is, Design, Data, Lean and Agile).  In this model, people sit at the center of all solutions that the company designs, be they customers and clients, colleagues or citizens. Data about the interactions of these people is used to design better experiences. Lean is utilized to prioritize innovation solutions, and Agile provides the glue in terms of team management and engineering practices to bind everything together.



What leadership can do
My biggest takeaway from the two-day event was that leadership's main function in supporting the modern innovation enterprise is helping to provide this set of reinforcing structures that enable teams to do their best work.  We often hear about mission and culture as the pillars for a healthy ecosystem, but they are not enough. We need to think about the scaffolding that supports our people. This requires layers, not of management, but of feedback, performance and industry awareness to provide a continuous learning environment for individuals and the organization.  I'm looking forward to evaluating myself and my team, as I return to the office to see how much I can apply going forward. 
Disclaimer: The statements and opinions expressed in this article are those of the author(s) and do not necessarily reflect the positions of Thoughtworks.