"Everyone designs," declared economist and psychologist Herb Simon in 1968. Everyone, that is, who "devises courses of action aimed at changing existing situations into preferred ones." In a less-than-perfect world, we must conclude that we are all designers.
Yet when we consider conventional software development teams today, the observation seems misplaced. Usually only a minority in a team thinks of themselves as being engaged in design, and sometimes no one does.
While working on a client engagement together, the three of us — in our "roles" as Business Analyst, Developer, and Experience Designer — conceived a way of thinking about the collaborative process that seeks to dissolve our disciplinary silos, preferring to focus on how our goals and practices have more in common than we sometimes think.
Though we bring specialist perspectives, it is in the interplay of our points of view that we discover the most optimal problems, and find out how to solve them with the magic combination of feasibility, viability, and desirability.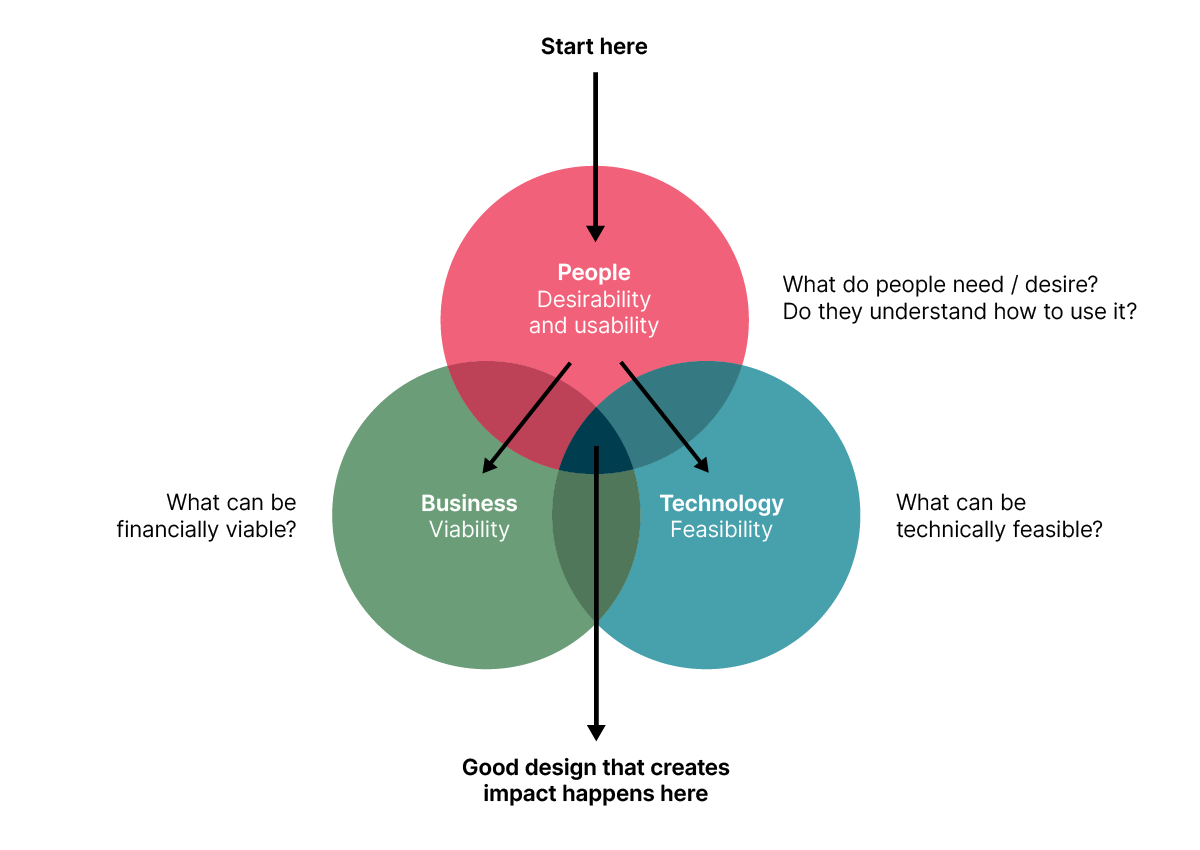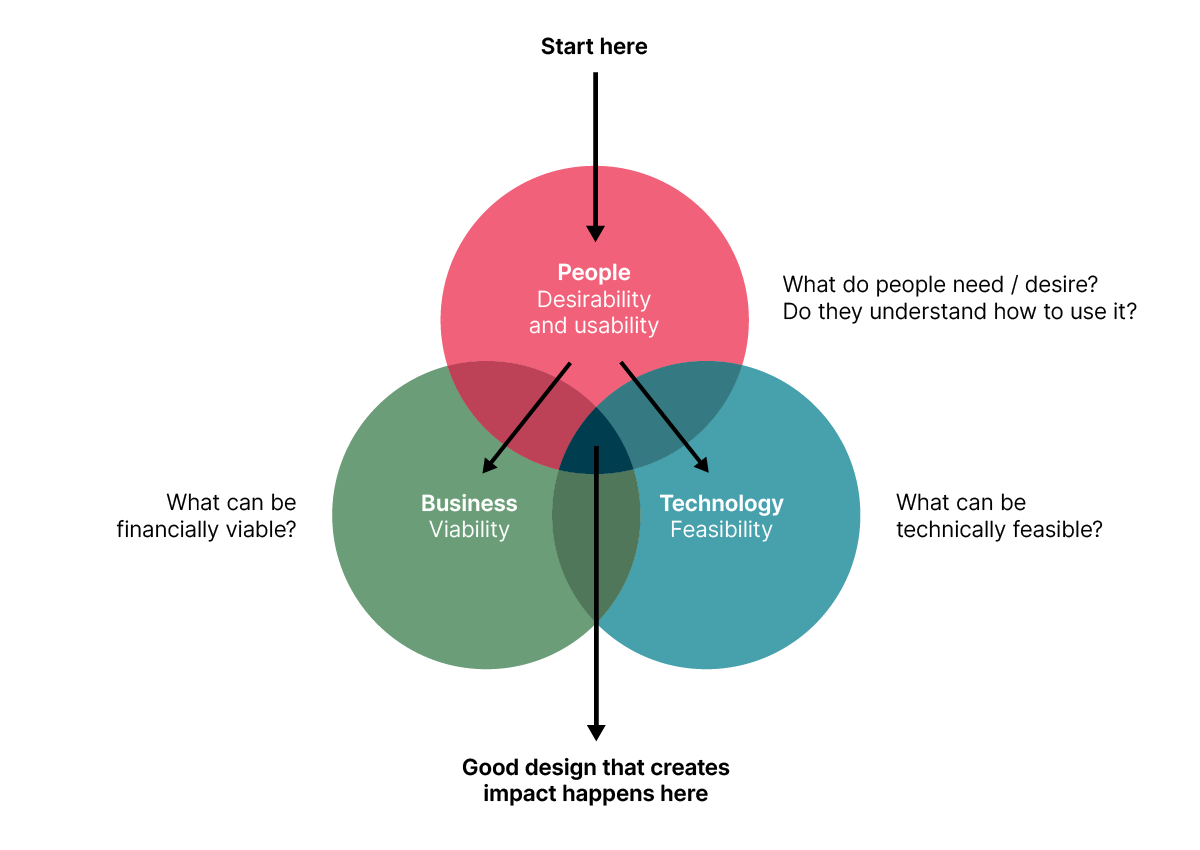 "Most people make the mistake of thinking design is what it looks like," Steve Jobs once observed. "That's not what we think design is. It's not just what it looks like and feels like. Design is how it works." To understand how something works, we must take things apart and see how all the pieces fit. We all do this in our different ways in our disciplines. The task for us all is to understand how to evolve a more perfect "fit" for the problem space that we define and redefine together. It is all design.
Reframing the problem
As consultants, we often step into projects that are full of ambiguity, in business domains overwhelmed by complexity. We have learned that the art of successful delivery depends on tackling that complexity head-on, usually by diving in with questions.
Consider the objective of transforming the experience of riding an elevator. Where might we start? Speed, aesthetics? We could tweak the floor-visiting algorithms to make wait times shorter, or create a new digital display panel with a stylish user interface. Technologically, the possibilities are endless.
But with a design mindset, we learn to ask harder questions: Who are we solving this problem for? And how can we solve the problem more effectively?
It turns out that the number one problem affecting people's experience of elevators is claustrophobia. This insight allows us to take a step back. The best answer might be more oblique: piping in music, or installing floor-to-ceiling mirrors to provide distraction. We achieve our goal by reframing the problem. We might not even need to write any software!
Cultivating collaboration
We recognize that this is hard to do. Often, complexity can overwhelm us. Our individual perspectives and habits of thought can obscure important insights. This is precisely why we need to work together. One method that we have used to bring different perspectives together is the "design studio".
This simple, lo-fi, fast-paced workshop involves framing the challenge and noting its constraints and assumptions. Participants each draw eight ideas in eight minutes, sharing afterwards. Each individual then goes deeper into one idea for five minutes, and all are then voted on. Finally, everyone works together on the winning idea.
We find this exercise unlocks individual creativity while exploiting the combined cognitive power of a group. We make leaps forward in our thinking when we see a problem from different perspectives. The trick is to apply this diversity of viewpoints in repeated cycles of iteration.
The fundamentals
We think the power of designing together is harnessed by teams that do three things:
CONNECT: Talk to people in other roles and inquire deeply about the perspective, knowledge, and experience they bring to the team. 
AMPLIFY: Show your support to diverse perspectives in the team, especially when they are in the minority. Use your voice to make theirs stronger and increase their impact. 
COLLABORATE: Even when we have a cross-functional team, it's easy to get sucked into a task and bogged down by pressure to deliver. We may think it's faster if we work on a problem alone. But this is a fallacy. Only by slowing down, embracing different perspectives, and bringing everyone along do we reach our desired outcomes.
So don't rush ahead alone. Stop and think first about what can be accomplished when we design together.
This article is a brief summary of our video presentation at Yconf 2020. 

Disclaimer: The statements and opinions expressed in this article are those of the author(s) and do not necessarily reflect the positions of Thoughtworks.