Gender affirmation and transition in the workplace guidelines
These guidelines outline the process and support available to Thoughtworkers in Australia when seeking to affirm or transition their gender or applying for transition leave. Permanent Thoughtworks employees can access up to 20 days of paid leave in their transition plans.
Thoughtworks Australia's Commitment
Thoughtworks has been and continues to be an advocate for diversity and equal employment opportunities for qualified individuals. Thoughtworkers share the same cultural characteristics and imperatives. We come to work as ourselves. We enjoy others company. We value honesty and transparency. Appearances and backgrounds aren't important to us; ideas and doing the right things are.
We recognise and celebrate the diversity of our employees, including our Lesbian, Gay, Bisexual, Transgender, Intersex and Queer/Questioning (LGBTQIA) employees.
These guidelines outline the process and support available to Thoughtworkers when seeking to affirm or transition their gender or apply for transition leave. Permanent Thoughtworks employees can access up to 20 days of paid leave in their transition plans.
Under laws in regard to equal employment opportunity (EEO) and anti-discrimination, a person's gender identity and their lawful right to live free from discrimination on the basis of that identity extends to their self-identification with a gender other than their assigned gender. It may (or may not) include interventions to alter physical characteristics.
The gender affirmation or transition process is different for everyone but it may involve Thoughtworkers changing their name, title, appearance, dress, use of pronouns and other aspects of themselves to align with their affirmed gender.
Supporting transgender and gender diverse employees
We advocate a culture that is supportive of transgender and gender diverse employees.
We recognise that Thoughtworkers may identify differently to the gender they were ascribed at birth and support them to affirm their gender identity in a fair, respectful and inclusive workplace, free from discrimination, harassment, and misgendering.
All Thoughtworkers are expected to treat each other with mutual respect and demonstrate integrity in everything they do. Decisions on behaviour must support the Code of Conduct, Non-Harassment and Discrimination Guidelines and other policies and processes.
Planning Thoughtworker gender affirmation or transition
There is no legal requirement for Thoughtworkers to inform Thoughtworks of their intention to affirm or transition, and we do not require them to do so. If they choose to disclose their intention to affirm or transition their gender and would like to discuss a gender affirmation or transition plan, they can do so with assistance from:
A member of our People team
The aim of a gender affirmation or transition plan is to:
determine administrative and practical steps associated with the process of the Thoughtworker's affirmation or transition;
ensure Thoughtworkers are treated with respect and dignity; and
ensure the workplace remains free from unacceptable behaviours.
A workplace affirmation or transition plan may include (but is not limited to):
identifying individuals who need to know about their affirmation or transition;
timelines for transitioning or transitioning milestones (if applicable);
what workplace flexibility or leave may be available to them (if applicable);
name and pronoun use; and
how and if this will be communicated to immediate colleagues.
Leave and working arrangements
Thoughtworks recognises that some employees may require transition leave for surgery, medical appointments, associated counselling or other related purposes. This leave will be kept confidential and will not be recorded as Transition leave. Permanent full-time Thoughtworks employees who have passed probation can access up to 20 days paid leave to be used at their discretion. This is a one-off leave allocation and the duration will be as confirmed by Thoughtworks depending on the purpose of the leave. Employees may be asked to provide relevant documentation to confirm the period of leave required. The amount of paid leave will be pro rata for part-time employee reflecting the standard hours of work.
Workplace Dress Code
Thoughtworks recognises that all employees have the right to work in an environment that is free from discrimination. We support employees to present themselves in a manner that is consistent with their gender identity, including those who identify as non-binary. This includes dressing in a way that aligns with their gender identity while remaining appropriate to their working environment. Employees are required to continue to comply with the occupational health and safety requirements and standards of dress applicable to where they are staffed (e.g., in client site) and in the Thoughtworks offices.
Use of facilities
We support Thoughtworkers' to use facilities that align with their gender and/or make them feel safe.
Client interactions
Thoughtworkers have the right to unrestricted gender expression, be called by their chosen pronouns, and be referred to by their preferred name, including when working at a client site. Communicating with clients may require a number of conversations, so Thoughtworkers are encouraged to work with their project team leadership and/or contact a member of the People team for coaching and for assistance in developing an appropriate communication plan.
Privacy
Transgender employees have the right to be who they are without unnecessary disclosure of medical information. In addition, current and prospective employees who encounter problems concerning identification documents (such as payroll, employment verifications, background checks required for project staffing) should feel comfortable raising those concerns with the People team directly and Thoughtworks will use best efforts to resolve any such situation with the relevant third parties.
The transgender status of an individual is considered confidential and should only be disclosed on a need-to-know basis with the consent of the individual. Transitioning individuals are encouraged to participate in supporting education of their coworkers at whatever level they are comfortable. In addition, Thoughtworks will continue to support education and training opportunities so the burden of instruction will not fall on the individual(s) transitioning alone.
Experiencing and reporting unacceptable behaviour
We are committed to creating a safe, inclusive and respectful environment for all Thoughtworkers. Our Code of Conduct outlines behaviours that are not acceptable within our workplace.
Employees are entitled to a workplace that is free from unacceptable or unlawful behaviour, including harassment, bullying and discrimination regarding their sexual orientation, gender identity or intersex status. If Thoughtworkers experience or observe unacceptable behaviour we encourage them to:
Take appropriate action to protect themselves;
Tell someone and let others help. Employee safety and attention to their immediate needs is important.
To seek support, advice or to report unacceptable behaviour speak to a member of the People team.
External support services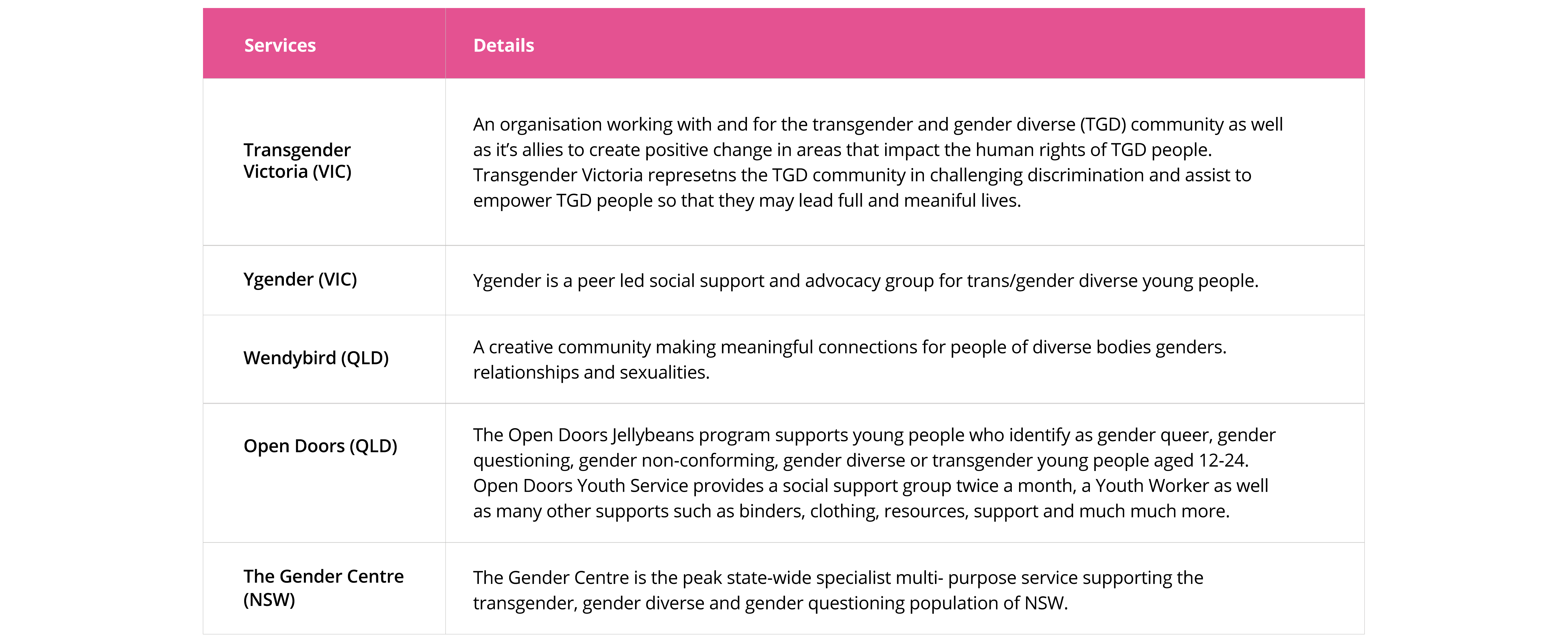 Note: for the purposes of sharing this policy externally, certain personal information and company specific information have been removed from our policy. For Thoughtworks Australia employees, please refer to our internal version for more details. These guidelines are current at the time of publication, and Thoughtworks may review and update its policies from time to time.