MTV and Pepsi have their finger on the pulse when it comes to appealing to the youth of today. MTV is the world's premier youth entertainment brand with a global reach of over half a billion people - and Pepsi, the global food and beverage conglomerate, has been a household name for over a century. 
Joining forces, the iconic brands wanted to spark a trend across India by introducing Indie music and creating a subculture that appeals to the youth of today. The aim is to engage this subculture to discover a wide variety of music and indie art, stay connected and have a seamless experience anywhere & everywhere. 
To achieve this, MTV adopted mobile as the core of its digital strategy, for building and promoting the Indie subculture amongst their target audience, and creating a unified experience across the 24x7 TV channel, web and mobile.
Digital is an integral feature of the Pepsi MTV Indies experience. With mobile at the core of our strategy, we envisioned a superlative product that would not just deliver great curated content but also aid indie fans and music lovers in discovering it.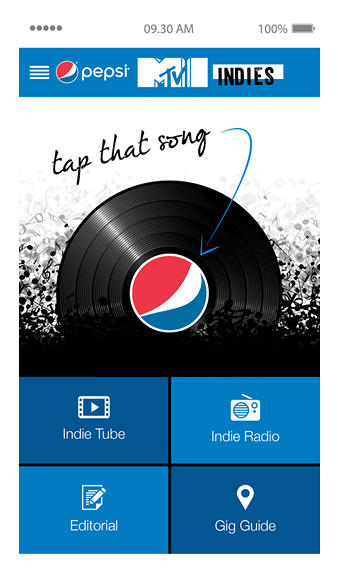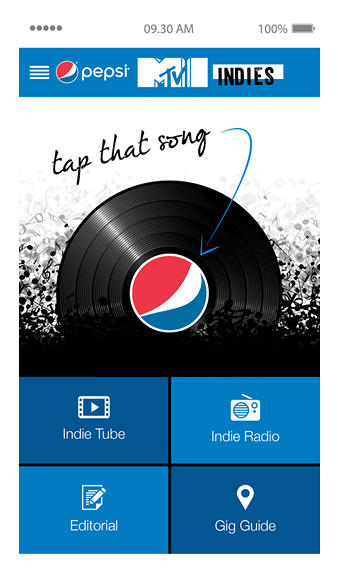 The mission was set on launching the channel and a mobile app in time for Republic Day of India - just three weeks away. 
MTV chose Thoughtworks as their digital partner and the engagement started off with an inception involving the core teams. User experience, strong design concepts and robust problem solving shaped the product. Continuous software delivery methods ensured the work got done iteratively and quickly. 
The results? The first release of the mobile application on iOS and android was delivered in just 15 days - right on time to meet their goal of launch on Republic Day of India. The complete functionality was developed over three months, within three releases. 
With just one tap from the user on their smartphone, the app helps to identify any Indie song along with the artists' name and lyrics. The app also features video content from the TV channel, radio with curated playlists, and an events and gig guide – a personalized experience, on demand. 
In Thoughtworks we found a partner that shared our vision and had the drive and technical expertise to develop a highly sophisticated app - under challenging timelines with no compromise on utility or design. Working with Thoughtworks has been a great experience. The team's efficiency and problem solving ability is commendable.