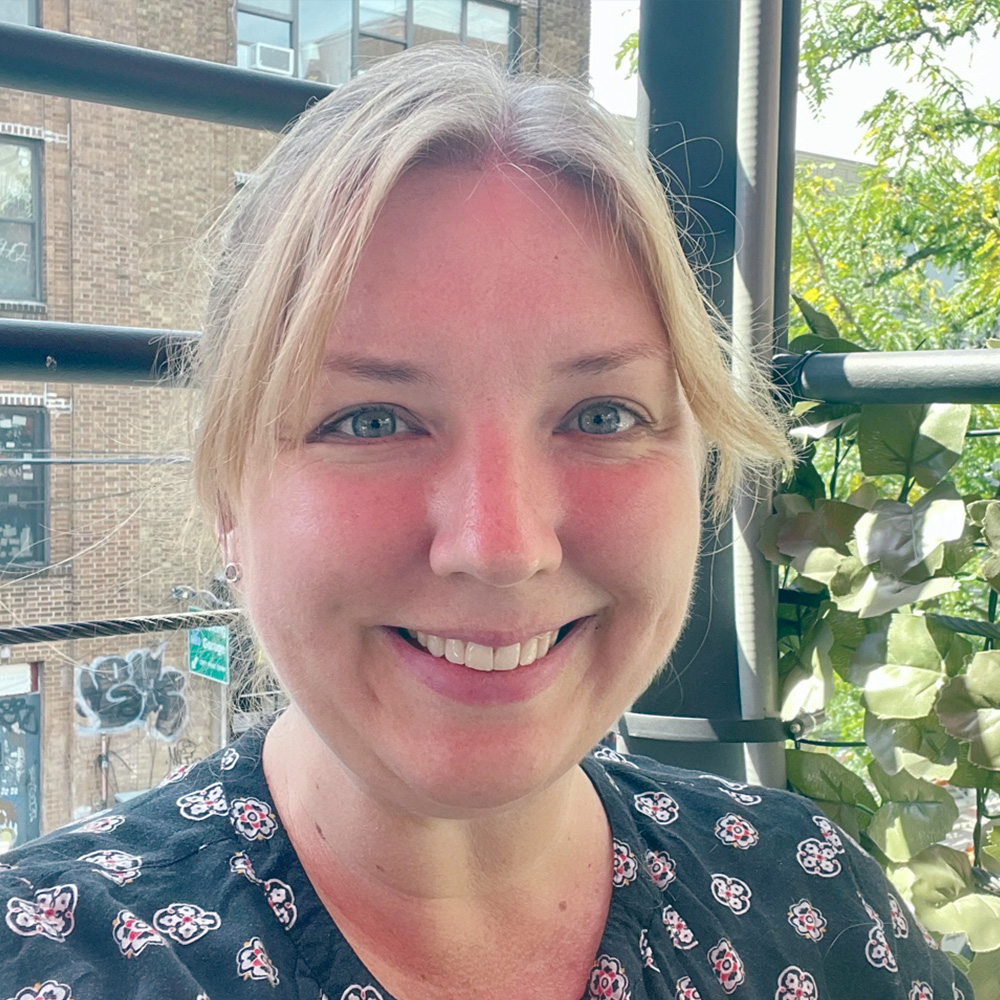 Name: Kristin Burns
Pronouns: She/Her
Role/Title: Lead Associate, Global Digital Content Operations
Office Location: New York

Home Location: New York
Describe your First Year Experience in one or two words: Rewarding and satisfying
I'd love to hear about your career journey. Can you talk about what led you here and your decision to join Thoughtworks?
My career journey led me to Thoughtworks. I was recruited from a large telecom, where I had been in the frustrating position of loving my team but feeling stifled. There was no room for growth.
When Thoughtworks found me, they had seen my potential and knew I could transfer my skills to an exciting new role. I was able to bring my photo, digital, technology and operations skills to help modernize our internal content management platform.
What was surprising was how supported I was despite the recruiting, interviewing and onboarding occurring remotely during the pandemic. The day it finally felt real was once my laptop and Thoughtworks swag arrived.
Ok take me back to your first day at Thoughtworks. Your first week. Your first month. How has your onboarding and First Year Experience differed from previous onboarding at other companies?
I was quickly welcomed onto the team and felt useful right away. The FYE program gave me support on day one in parallel. The combo of group zooms, documents, Trello board, sites and chat group meant answers could be found using a variety of methods. In a fully remote environment, I still had my concerns addressed quickly and thoroughly. I continued to grow through the combination of our excellent training and opportunities for personal development outside of Thoughtworks. 
What has been your favorite part of your Thoughtworks career to date? Any milestones? "Ah-ha" moments? 
My favorite part of Thoughtworks has been the culture. Somehow we've figured out how to deliver excellence while rejecting the stereotype of overwork. We can still connect as people for the first few minutes of a call before getting down to work, pick up slack when a teammate needs a break and in turn ask for support when we need it. This was hard for me to believe at first. But whenever I asked, my team had my back.
The culture is collaborative, even apart.
Outside of my team, Thoughtworks has backed up its commitment to the environment and social change with action. I have volunteered as a co-chair of Tilt Shift, our W&UGM ERG, which has shown me the ways that Thoughtworks is committed to hiring and retaining women and underrepresented gender minority employees.
As for milestones, the days around our brand refresh and site launch in Summer 2021 then going public a couple of months later were both memorable. Going public and the events around it - plus finally meeting our leadership team and extended marketing organization in-person - were both thrilling and gave me a sense of belonging.
What advice would you give to someone who is starting their first day at Thoughtworks?
On your first day at Thoughtworks, you will be overwhelmed, but focus on the people. Like every company, there will be new systems to learn, new terms for benefits and new people to meet. Give yourself time to learn the essentials and schedule as many 1-on-1 calls as possible for the weeks to come. I learned more about both my role and the company through 1-on-1's than large group calls and meetings. Get to know your team as people.
As a list-maker, I loved the interactive to-do lists the First Year Experience team gave us, along with timelines. And our chat group filled in anything I'd missed during onboarding. Both fellow newcomers and our people team were generous with sharing what they knew.
Anything else that you wanted to add?
I joined Thoughtworks during a tumultuous time and quickly realized that I had made the right choice. Thoughtworks has done very well with supporting their employees while revitalizing our brand and going public. The amount - and quality - of new hires in the year that I've been here is encouraging. As I look ahead, I see opportunities for growth in my career.