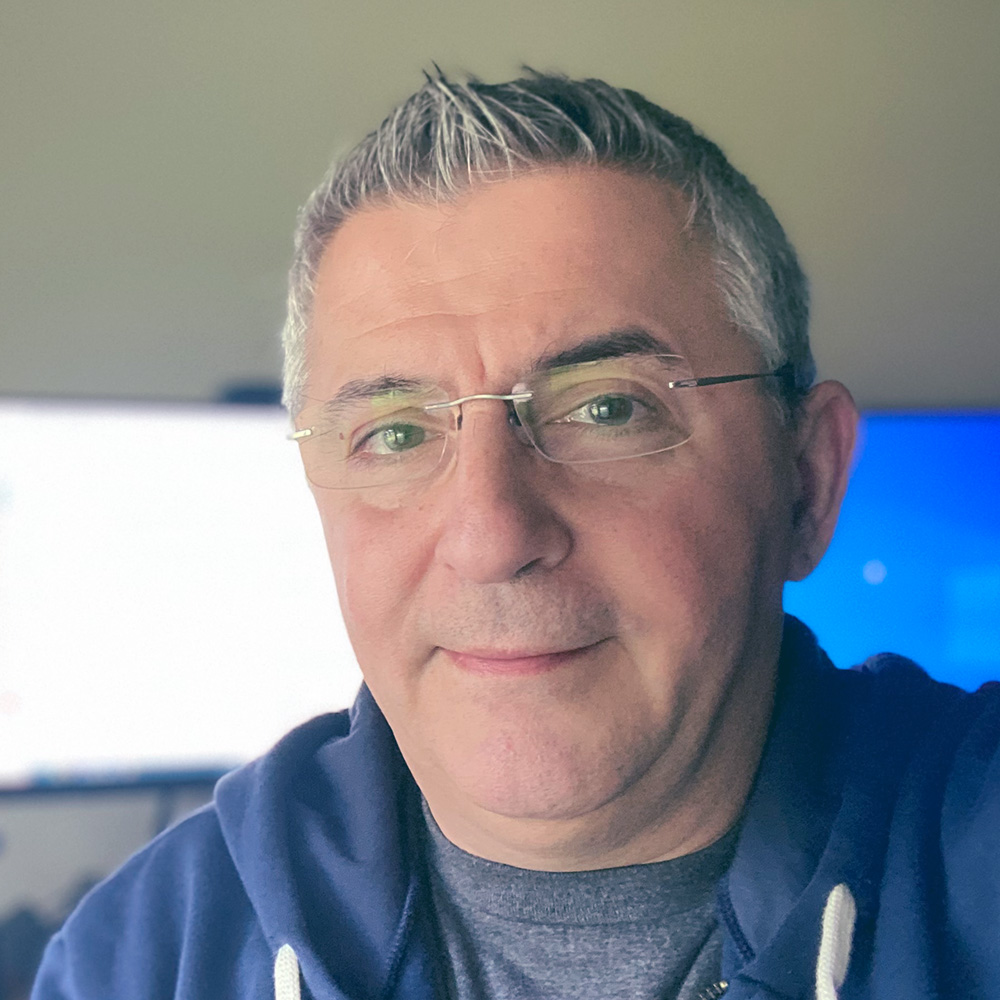 Name: Frank Caico 
Pronouns:  He/Him
Role/Title:  Lead Consultant, Developer
Office Location:  New York, New York

Home Location:  Rochester, New York
Describe your First Year Experience in one or two words: Refreshing
I'd love to hear about your career journey. Can you talk about what led you here and your decision to join Thoughtworks?
I had recently left an 18 year long stint working for a local software company and as that company's culture began to change I found that it was time to look elsewhere.  I followed an old boss (whom I knew very well and respected) to another large company (one you probably have heard of) and found this new environment to be even worse! There was very little collaboration, no team spirit and it was certainly not a fun environment to spend day after day in.   On a particularly bad day, I saw a job posting on LinkedIn from Thoughtworks and I was intrigued by the company mission and the role description so I applied.    The interview process was long, but surprisingly enjoyable and the people I met and the values that seemed to be evident in the questions and content of the interviews made me only more interested as things progressed.    It was a fairly easy decision to take the job once it was offered to me.
Ok take me back to your first day at Thoughtworks. Your first week. Your first month. How has your onboarding and First Year Experience differed from previous onboarding at other companies?

My first day at Thoughtworks was a bit of a blur.  I was relieved to see that the onboarding process at least was scheduled and organized! Having started one completely remote position during the pandemic before this, I found my first week experience here to be the polar opposite.  My previous one was disorganized, there was little to no personal touch to the experience and it left me feeling confused and unsettled. The normal processes of working at a company (e.g. filling out IT requests, signing up for benefits etc.) were not thought out and were clearly afterthoughts.  At Thoughtworks, not only were these questions thought out and documented but the way the onboarding process was documented and organized into tasks on a Trello board inspired confidence, made me feel like the company was taking care of me, and would be there to help me succeed as a consultant and in an all-remote atmosphere.  Though this first week was packed full of things to do, I think it really made it a more comfortable transition to a new company.  
At the end of the first week I was given an assignment and found the team to be incredibly helpful and fun to work with.  Spread between the US and India, the team still had a cohesive feeling and I immediately felt welcomed and supported.  My project manager and the technical principal on the project were super helpful and gave me all the tools and advice I needed to knock it out of the park for my first client.
What has been your favorite part of your Thoughtworks career to date? Any milestones? "Ah-ha" moments? 

Not any single moment, but more the overall experience.  I'm super pleased to see that the company, even though it is very large, still feels very people-centric and puts a high value on respect and inclusion.  It's been great to see that all the claims and promises that were teased during the interview process were not false advertising. 
What advice would you give to someone who is starting their first day at Thoughtworks?

Buckle up, it's a busy first week!  Take advantage of the time to get to know other people in your cohort and don't be afraid to talk to other more experienced Thoughtworkers and get their advice and thoughts about where and what you might feel passionate about. Most of all, don't let the flood of information intimidate you.  Even if you don't get through it all before you start an assignment, there will be people who can support you and help you fill in the gaps as you go.