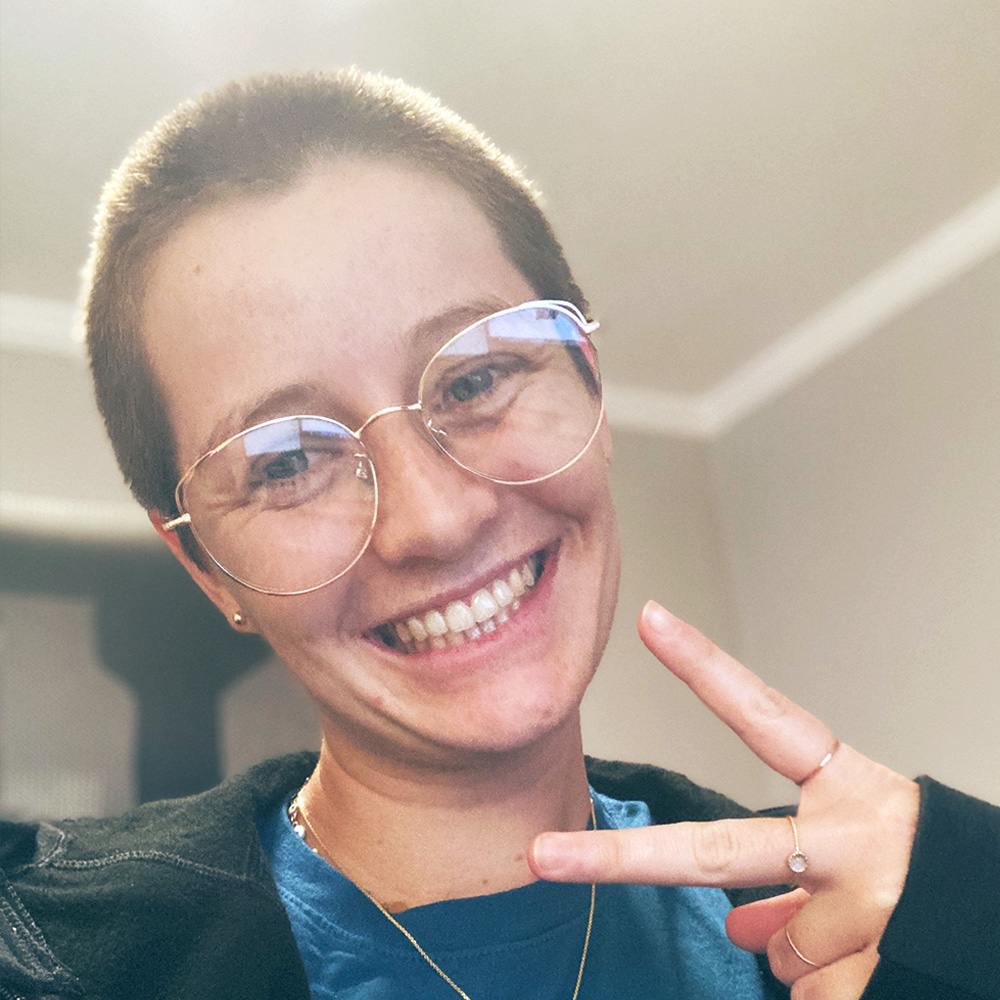 Name: Frances Henshall
Pronouns: She/Her
Role/Title: Consultant, Developer
Office Location: Atlanta, GA

Home Location: Atlanta, GA / Greensboro, NC
Describe your First Year Experience in one or two words: Full-stack, Dreamteam 
I'd love to hear about your career journey. Can you talk about what led you here and your decision to join Thoughtworks?
I met some lovely Thoughtworkers during one of their showcase events, right on NC State's centennial campus while I was completing a summer internship. Although I never considered consulting, or realized that I had been consulting before I even knew it, I thought Thoughtworks aligned really well with how I preferred to work: in pairs, thinking out loud, and collaborating as a team to build something better than any of us could have produced alone. I decided on the spot that I was interested, and they generously offered me to apply. All the while I had nearly accepted a different job offer! The fact that the interviewing team accommodated me on such short notice because of my other offer deadlines, and still offered me the job even after I made a mistake and showed up 30 minutes late to the interview, told me everything I needed to know: this culture and these people were a better fit for how I operate and what I value than I had ever seen or imagined in the tech industry.
Ok take me back to your first day at Thoughtworks. Your first week. Your first month. How has your onboarding and First Year Experience differed from previous onboarding at other companies?
My first day at Thoughtworks was long awaited, since I accepted the offer in December 2019, was set to graduate in May 2020 and start in August 2020. But of course nothing went as planned during the pandemic, and my start date was pushed back by six months to February 2021. It was nerve wracking to wait those six months with the fear of the offer being rescinded, but the first day finally came! I remember showing up to the first zoom call two hours early because I miscalculated the time zone.
Within the first month of starting at Thoughtworks I was halfway through the intensive 7 week mock-engagement training program called Thoughtworks University (TWU). A fun fact was that I was also part of the first remote cohort, TWU72! My teammates and trainers at TWU were really amazing, and overall the experience was really special. I loved how the organizers still helped make it a global experience by training NA new hires along with incoming Thoughtworkers from Brazil, Chile, and Ecuador. I was also worried that since it was such a condensed program that we would work really late hours and burn ourselves out trying to finish our project, but the expectations were reasonable, working past our core working hours was not allowed, and there was even built-in time to hang out and do fun team bonding activities together.
What has been your favorite part of your Thoughtworks career to date? Any milestones? "Ah-ha" moments?
My favorite part of my Thoughtworks career to date was probably the three months I spent working on my first account. The entire team was really supportive, collaborative, and hard working. I especially admired and loved working with the tech lead from that team. I received a lot of mentorship from some amazing tenured Thoughtworkers, and we got to work on designing and implementing a brand new front-end app, API, and data product. After talking with the end users, it was clear that the need for this product was acute. This also was an "ah-ha" moment about the ephemeral nature of consulting work! With the highs, come the lows, and all good things eventually have to come to an end. But the whole experience raised my expectations of how great a team can really be, and how much value you can deliver in a short amount of time!
What advice would you give to someone who is starting their first day at Thoughtworks?
I would advise someone just starting out at Thoughtworks to make an effort to foster connection among the new hire cohort. Connect with your new hire cohort to help each other during the onboarding process, and stay in touch throughout your first engagements. Going to local office meetups is also a great way to start cultivating some in person connections!
Some other advice is to meet often with your First Year Mentor to discuss everything from onboarding to staffing to your time on your first engagement. They are a great resource in getting comfortable advocating for yourself throughout the staffing process and making sure you're getting access to the mentorship you need as you begin your career.
Anything else that you wanted to add?
Don't ever be afraid to ask for the support that you need!