Migration & Identity
Conversations through experience
In Germany, nearly every 4th person has an immigration background. "Essentially, we are already a land of immigration", those were the words of chancellor Merkel in 2015, yet we see rise to conservative political ideas and the far right.
As a company, Thoughtworks not only bases its success on its diverse workforce, but also we are committed to becoming aware of our own privilege and striving to see the world from the perspective of the oppressed, the powerless, and the invisible.
With this event series, we want to raise awareness, help to decrease discrimination, and to sensitize people without migration backgrounds to the challenges faced by people with migration backgrounds here in Germany. We are inviting speakers to share their voices and experiences in support of these goals. We hope to challenge our cosmopolitan (oftentimes color-blind) worldview that blocks us from gaining a real understanding of challenges experienced by the various vibrant communities inside of this country.
"Social Justice isn't just about doing work for good causes. It's also about looking at our core work and asking how it can benefit society."
Martin Fowler, Chief Scientist at Thoughtworks
Upcoming Online Events
June 24, 2021 | 6:30pm CEST
"We Are Here: A short introduction into the current and historical situation of Romani people in Europe."
with RomaTrial e.V.


For centuries, Roma were subjected to exclusion and persecution that ultimately ended in extermination. Also today they continue to be strongly affected by racist discrimination. Even though Roma are Europe's largest ethnic minority, most people are not familiar with the terms Antiziganism or anti-Gypsyism - they seem to be absent from Europe's collective consciousness.
We invited Hamze Bytyçi and Lisa Smith, two activists and members of the organization RomaTrial e.V., to talk about racism that Romani people experience. After a brief overview of the history of Roma in Europe, Hamze and Lisa will give us some insights into their own experiences and talk about how they became involved in anti-racism work. This includes the work of RomaTrial e.V., a transcultural Roma self-organization and interactive platform, that is actively working in combating anti-gypsyism.
February 20, 2020:
Migration & Identity with Gesa Dreckmann and Christoph Hassler
Growing up with Caribbean roots in Herzogtum Lauenburg in Schleswig-Holstein, the "Dorfperle" Gesa Dreckmann shares her experiences as a comedian on stage and as an author in her book "La Dorfe Vita" - with an ease that makes even stoic Northern Germans smile.
In a conversation with Christoph Hassler, who had a similar experience, we want to find out what it's like to grow up as an Afro-German on the country side, far away from urban multiculturalism.
Listen to the different stories born of similar circumstances and start a discussion with us.
July 28, 2020:
Migration & Identity with Tuğba Yalçınkaya and İrem Aydın
Migration from Turkey to Germany has a long history; starting with the first migration flow of the "guest workers" in the early 1960s up to the latest "New Wave" migration. These migration flows have created different diaspora communities in Germany. Within the framework of the event we will have a closer look at Turkey diaspora by focusing on questions as e.g.:
How did Turkey diaspora shape itself in recent years and how do these flows differ themselves from each other and why? How does political polarization in Turkey affect diaspora in Germany and the position of Germany in between?
September 10, 2020:
Migration & Identity with Peter Donatus
The conversation revolved around the intersections between environmentalism, climate change, colonialism and migration with a focus on the relationship between Africa and Europe. We talked about connections between the Fridays for Future / Extinction Rebellion and the BLM movements and critically discussed the role of big businesses in each. The event was moderated by Christoph Hassler.
October 8, 2020:
"Making Germany home. What will it take for Black Professionals?"
with BlackinTech Berlin
In this conversation our speakers will share with us their migration background, how they are able to establish new identities in every country they decide to settle into. We will also explore the complexities of identity and why it might be wise to actually specify what you mean when asking people "Where are you from?"
December 10, 2020:
"Refugee activism from a feminist perspective"
with Jane and Grace from
Women in Exile
This practice-oriented lecture not only illuminates instances of obvious racism, but also deals with the effects of structural racism and is intended to encourage "white" socialized people to question their everyday working standards, mission statements, thought patterns and privileges in dealing with each other.
May 20, 2021:
Migration & Identity with Queer Refugees
For this panel conversation we invited Baküs and Lilith, two activists and members of the project Queer Refugees Deutschland, to discuss with us the importance of IDAHOBIT* - the International Day Against Homophobia, Biphobia and Transphobia - how society perceives us, what impact it has on our lives and how this might have changed over time. 
* While IDAHOBIT refers to the term phobia implying fear, we believe the term misia, e.g. homomisia, meaning hatred is a more reflective description of our reality.
Hamze Bytyci
Hamze made his first steps as an activist when he was 8 years old in the church asylum in Tübingen, when his family fought against their own deportation. Today Hamze works as an independent theater and media educator at various Berlin schools, as well as an intercultural family helper. In 2012, he founded the association RomaTrial e.V., where he manages the online station Radio Corel and organizes international film summer schools under the label Balkan Onions. In 2012, he developed his own interactive performance format, Hilton 437, in which he explores social and political issues. Since 2017, he has been organizing the AKE DIKHEA? Festival of Romani Film. In 2018 and 2021 he is co-curator of the 1st and 2nd Roma Biennale, the self-organized biennale by and with Roma artists from all over Europe.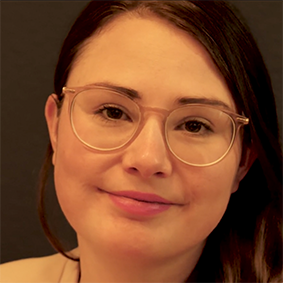 Lisa Smith
Lisa has a Masters in Inclusive Education and is chair of ACERT (The Advisory Council for the Education of Romani & other Travellers). Lisa has over a decade of experience working in Roma and Traveller civil society organisations committed to improving outcomes for young people. She is also a filmmaker and is currently working as a festival programmer for Berlinbased organisation RomaTrial.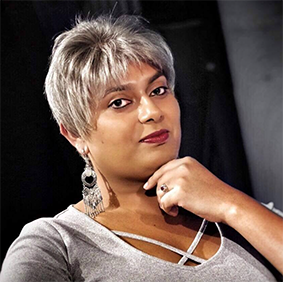 Lilith
Lilith is a trans * rights activist with migration background. She has been campaigning for the rights of LGBTI refugees and asylum seekers in Germany since 2015. Since November 2017 she has been working for the German-wide LSVD e.V project "Queer Refugees Deutschland". Other than that, she is a board member of the "Queers Network NRW eV". She is also involved in the "Queer European Asylum Network", where she provides information about the queer refugees and their needs in Germany so that the project can continue to support the federal government in Germany. She has a degree in environmental science with a focus on climate change and migration in the island states. She is an advisory member of "Säkulare Fluechtlingshilfe e.V." as well as the advisory board member of "New Women Connectors" in the Netherlands.

Baküs
Baküs is a queer activist and refugee. In Tunisia he worked in Shams, which is the first association that openly defends LGBTI people, their rights and aims to abolish article 230 of the penal code and other morality laws which imprisons queer people for up to 3 years, as well as the barbaric dehumanizing forced anal tests. In 2018 he had to seek asylum in Germany because of intense governmental and social persecution and imminent danger to his life. In Germany he's been taking part in LGBTI, migration and refugees related events organised by Amnesty, Internationaler Bund, LSVD and others mainly to advocate for the tunisian queer cause. Also he is active in the LGBTI organization PLUS Mannheim within the self-organizing group Unicorn Refugees and since 2019 he's been part of the LSVD project Queer Refugees Deutschland supported by BAMF.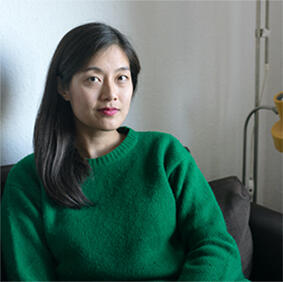 Victoria Kure-Wu
Victoria works as a User Experience Designer in Berlin (GER). She initiated www.ichbinkeinvirus.org in March 2020 as part of the #WirVsVirus hackathon of the German government, with which she and her team were twice rejected for funding. The website provides people who face corona-related racism a public space for their experiences and offers them experts and support. She expressed her discontent about ignorance on the matter of racism in "social" tech via Twitter where she met her ally Ilona.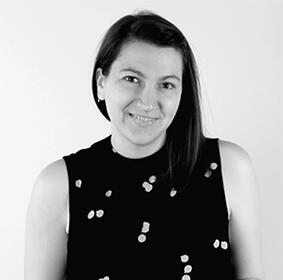 Ilona Stuetz 
Ilona is a media educator who lives and works in Berlin (GER) and Linz (AU). She studied arts, as well as the teaching subjects of visual education, textile design and media design. Her thematic focus is on the vast field of diversity, intersectionality, technology, feminism and digitalization.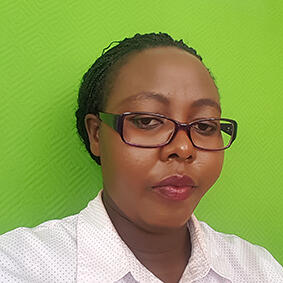 Jane Wangari
Jane, a kenyan born, is a community developer and social worker by profession. She migrated to Germany in 2015 and works with a non governmental organisation. She is an activist who believes in social change and the development process of the marginalised and excluded women from the society, enabling them to gain self confidence.
Grace Nganga
Grace comes from Kenya and is currently in her tourism industry studies. Being a feminst activist is a part of her. Fighting for women rights is a passion that drives her because she sees and feels the gap between women living in this society.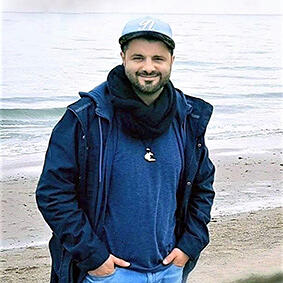 Hamed Abbaspur
Hamed Abbaspur is a trainer and process facilitator for sustainable development, diversity and transformation. As a person of color and through his studies in organizational development and business ethics, he has specialized in developing and strengthening sustainable structures and processes as well as diversity-conscious teams and organisations. With the aim of sensitizing many people to the issues of discrimination and structural violence, he gives workshops and lectures throughout Germany and works with organizations to promote greater participation and equal opportunities.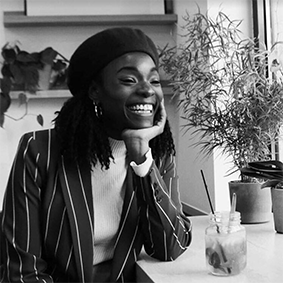 Hannah N. Marc
Hannah is a Uganda born, Germany raised Illustrator. For her, the world of colors has been shaping her since early childhood. The love for illustration was discovered while graduating BA fashion design. Being able to question and redefine norms through art in a predominant white society allows her to enjoy the many facets of creating. It allows her to challenge taught realities and the associated limitations and welcome Redefinition a. A journey of identity, connection and ultimately home. Hannah lives with her husband and son in Berlin.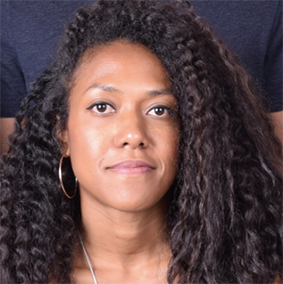 Akiko Ondiege
I was born to a Japanese mother and Kenyan father, and raised in Nairobi, Kenya. I moved to Montreal, Canada to study and then to London, UK for my work and finally to Berlin in January, 2017. I have been working in tech since 2011 and until my move to Berlin, I mostly moved in very diverse and inclusive 'bubbles'. Only recently have I really begun thinking about what identity even means, and how that affects the advancement of Black professionals in Berlin. Having these conversations is critical if we are to make any moves towards a more inclusive work space for Black people in the Berlin tech scene.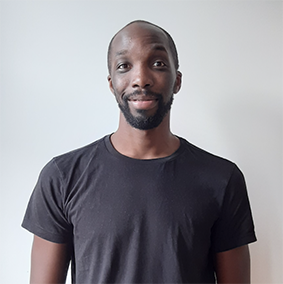 Jonathan Passé
Jonathan is a Software Developer at Thoughtworks, he was born and raised in France, and moved to Germany in 2017. In the range of his interests are the evolution of cultural grouping, their social and political impacts.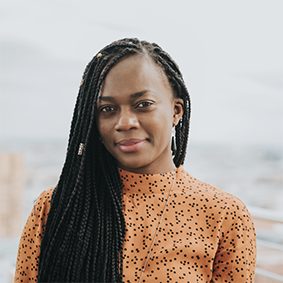 Kave Bulambo
Kave moved to Germany six years ago to pursue a Masters degree in Public Management at the University of Potsdam. Kave wrote her dissertation on The Governance of Mixed Migration in South Africa. Since completing her studies Kave has been working in the tech industry mainly in Talent Acquisition. As an activist and advocate of diversity and inclusivity she founded BlackinTech Berlin and other communities geared to empower, educate and uplift minorities. Kave was born in DRCongo but spent most of her life in South Africa before moving to Berlin.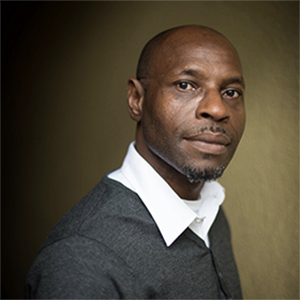 Peter Donatus
Peter Donatus is a Nigerian born freelance journalist and human rights activist. He has dedicated the last 30 years to environmental activism against the environmental damages caused by oil production in the Niger Delta in Nigeria.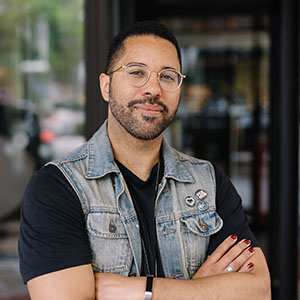 Christoph Hassler
Christoph Hassler is a UX Consultant and Lead for Social and Economic Justice at Thoughtworks, working in the field of design since the early 2000s, active in the struggle against racism and capitalist exploitation since the 90s. Thinking a lot about the future of work and the role technology might take to free or condemn society.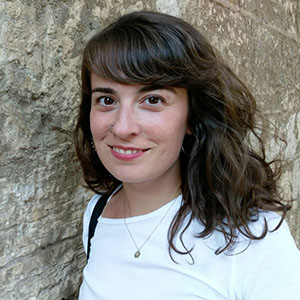 Tuğba Yalçınkaya
Tuğba Yalçınkaya received her MA in Migration and Diversity with a focus on Turkey at Christian-Albrechts-Universität zu Kiel and Sabanci University in Istanbul. She is the co-founder of the German-Turkish cultural platform Maviblau where she promotes dialogue between both countries in the fields of education, arts and culture. Furthermore, her interests include racism, anti-discrimination and post-migrant societies. Besides, she is the project coordinator of the programme "Blickwechsel:
Contemporary Turkey studies" at Humboldt-Universität zu Berlin.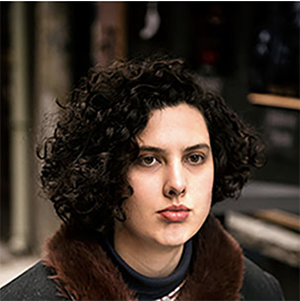 İrem Aydın
İrem Aydın studied Spanish Language and Literature at Istanbul University and attended the Master Program in Theater Creation at University Carlos III de Madrid in Spain. She wrote and directed plays such as Above the Ground Under the Clouds, TürkLand (an adaptation of Dilşad Budak's autobiographic novel), and Golem at independent theater in İstanbul called Entropi Sahne where she worked as artistic director. She participated in festivals such as the MOT International Theater Festival, the International Forum at Theatertreffen, and the Interplay Young Playwrights Festival. She produces performative and poetic works trying to focus upon and to understand the tragedy of her age and generation. Her works mostly deal with the topics "migration," "digitalization," and "traumatic experiences." Currently she lives and works in Berlin.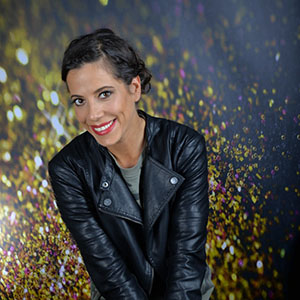 Gesa Dreckmann
Who actually says that a Northern German girl from the plains always has to be blonde and blue-eyed, dreaming of finding love with a farmer in the stable on the stool? "Such pigeonhole thinking can't be camouflaged by any amount of cowhide", thought Schleswig-Holstein's Gesa Dreckmann, who doesn't fit into any pigeonhole at all: Her father is a Northern German blockhead, her mother a Haitian hydrangea. What a combination, stronger than any countryside Cola-grain concoction! But how does a Caribbean pearl in the 1960s find herself in a coffee house with 500 inhabitants north of Hamburg and marry into a liquor dynasty? Love transcends all boundaries! And humour of course - Gesa Dreckmann, the youngest (and darkest, as she says) of three colourful Dreckmann kids, knows this too well.
Code of Conduct
A primary goal of Thoughtworks' events is to be inclusive to a diverse group of people from all walks of life. Therefore, we are dedicated to providing a friendly, safe and welcoming environment for all, regardless of race, ethnicity, national origin, sexual orientation, gender identity, gender expression, age, appearance, disability, marital status, socioeconomic status, and religion (or lack thereof).
Our code of conduct outlines our expectations for all those who participate in our events, as well as the consequences for unacceptable behaviour.