By educating and empowering girls and young women, and providing positive female role models, we can change the face of IT. It's about encouraging girls to be bold in their ideas and reassuring them that they are capable of creating software that can change their communities.
One way you can help is by getting involved in Technovation, a global technology entrepreneurship program for women ages 10 to 23.
I recently spoke with Amy Schantz, office manager for our New York office, about her experience mentoring a group of girls from North America all the way to the finals.
Read more about how non-techies can get involved and make a difference. I was inspired; I hope you are too.

Caption: Amy Schantz (far right) with the SafeTeen team. 
Heather Malec: How did you get involved in Technovation?
Amy Schantz: Last year, Thoughtworker Natalie Hollier mentored a group of girls who won with their app 'Arrive'.  This year, Natalie encouraged more women to mentor within our community and I raised my hand to help.
At first, I was unsure how I would be able to help with this process since I am not a 'techie', but Technovation offers so many more opportunities to work with these girls far beyond technical skills. Rachel Laycock was my counterpart for the high school division team.  Along with the girl's supervising teacher, Dan Ristea, Rachel worked with them on the technical aspects of their app and I helped read over and develop their business plan and communication skills.
The project I worked with, SafeTeen, made it to the finals this year in California and I went with them to mentor through the process of the week.  We worked heavily on public speaking skills and confidence building. 

HM: Tell us about SafeTeen. What makes it so special?
AS: SafeTeen connects teenagers on a national level to hotlines and safe places through partnerships with nonprofit organizations. The girls incorporated Google Analytics to track their user database in order to help agencies maximize their effectiveness among youth populations. They developed their app using HTML 5, CSS3, Java Script, J Query Library, J Query Mobile Frameworks, Google Maps API, and Google Analytics.
While the high school division team SafeTeen did not win this year's competition, the growth and dedication that the girls exhibited is what Technovation is all about. I'm thrilled to still be working with the girls on improving their app and presentation skills.
HM: What did the Technovation week consist of?
AS: The week started with the girls touring Draper University, Stanford, Facebook, Mozilla Firefox and Google. Throughout the week, the girls were not afraid to ask tough and thought-provoking questions to the CEOs and representatives of these companies regarding gender gaps in the workplace and how they face the ever present issue of data privacy.
Both the middle and high school teams worked late into the nights practicing, rehearsing and optimizing their presentations. Their final products on the World Pitch stage were the epitome of inspiration.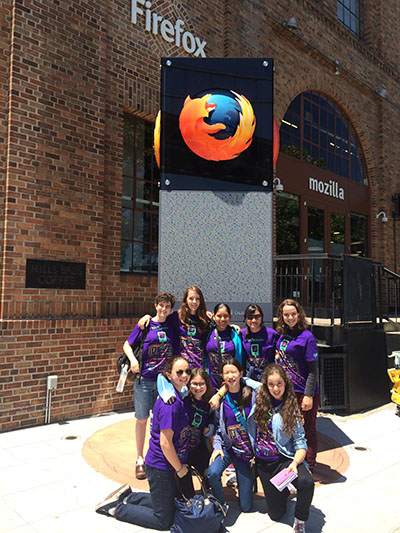 HM: Tell us about the app that won this year.
AS: The girls that won this year came all the way from Moldova with their app apa pura. These young women created an app that would attempt to solve the contaminated water issues in their village wells. After the buzz and pressure of the competition was done, emails and contacts were exchanged. The New York girls mingled with the South Korean and Brazilian teams to bond over their commonalities and differences. Let's imagine what these relationships could mean for the future of creativity, and for the future of women in technology!
This year Technovation Challenge started with approximately 850 sign ups and 350 complete submissions, 10 national finalists, and 3 competition winners (middle/high school/college).  The finalist groups came from Brazil, Moldova, Nigeria, South Korea, Canada, and the US.
HM: Would you do it again?
AS: I would definitely mentor another group of girls for Technovation.  It is cliche, but Technovation is really about the journey you take with the girls.  From the ideas, to the building, to the implementation and presenting of the app, the process is just as important as the outcome.  I would encourage more technologists and even non-techies to get involved and allow more youth to see what tech companies have to offer for their future.  

HM: What advice do you have for future mentors?
AS: Become as involved as you can. Allow the girls to take the wheel, but be there to lend support wherever they may need. Introduce them to contacts that you may know, and encourage them to network.
I found that confidence building was one of the key takeaways from this entire process.  Encourage the girls to be bold in their ideas and assured that they are capable of creating software that has the ability to change their community.   
Technovation Challenge Expands Throughout Brasil [Insights]
Q&A With The Winning Team from The Tehnovation Challenge [InformIT]
SafeTeen [Official Site]
Disclaimer: The statements and opinions expressed in this article are those of the author(s) and do not necessarily reflect the positions of Thoughtworks.