Across the globe, digital healthcare ecosystems are being strengthened to address the challenges of the post-pandemic world. Recently, India announced an important intervention from the ramparts of the Red Fort on August 15th. Its primary mission is to make healthcare accessible to every citizen and make the sector technologically advanced, inclusive and transparent.
Based on the guiding principles of digital healthcare, the National Digital Health Mission (NDHM)/Ayushman Bharat Digital Mission (ABDM) envisages a health ID for every Indian, creating a centralized system for healthcare delivery. It will simplify access to health records and enable these to be shared digitally with various healthcare entities. It would also ensure thorough monitoring of an individual's health and continuity of care. To make this happen, however, the NDHM needs to bring together the entire digital health ecosystem.
We explore the three primary components of the NDHM technology landscape, what we imagine the future might look like and best practices to be implemented.
Components of a patient-centric NDHM framework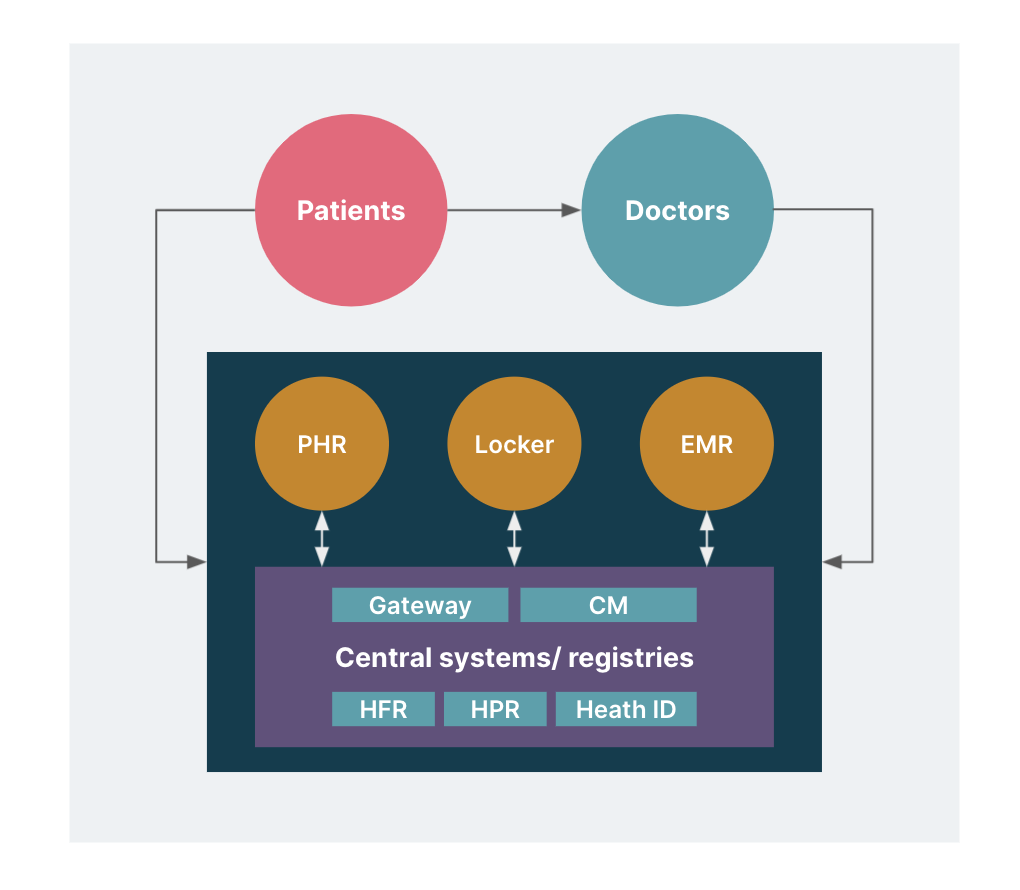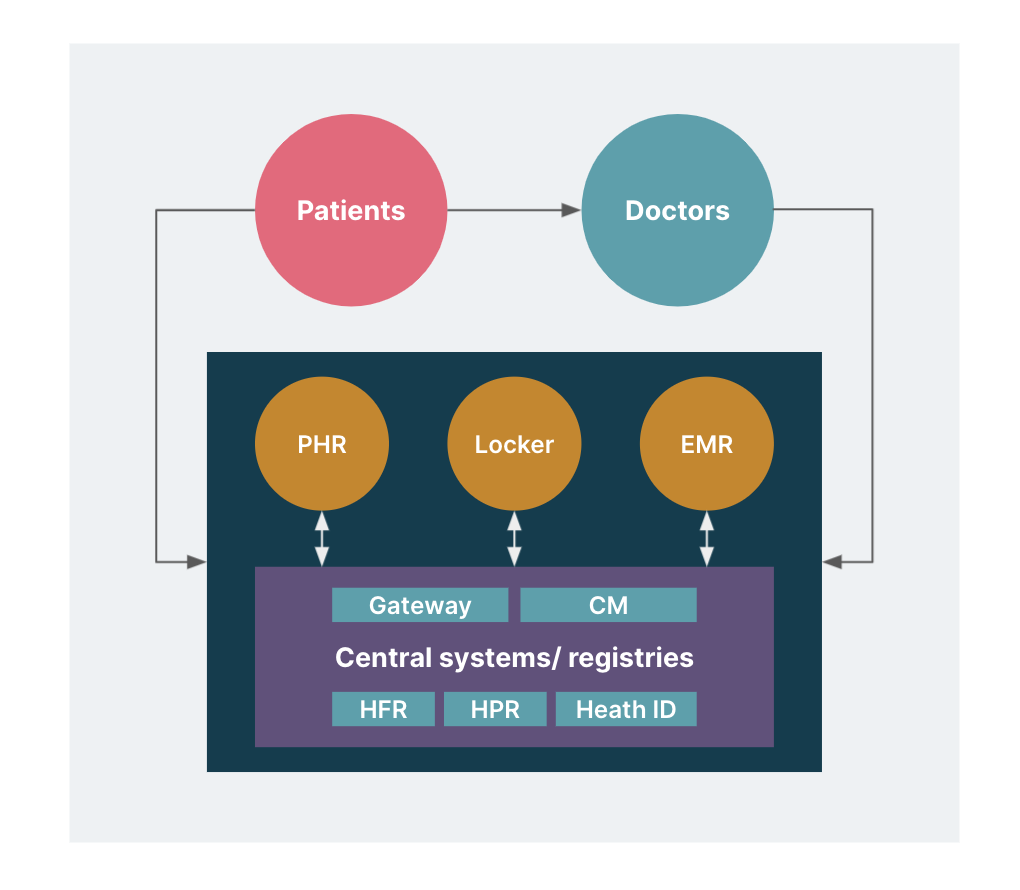 In our vision for systems facilitating the NDHM, there are three primary components:
Central systems such as the health ID, UHI and healthcare registries

Patient-facing systems or apps

Provider-facing systems used by hospitals, labs, clinics etc. 
The patient-facing systems and provider-facing systems need to interact effectively with the central system. Moreover, the central system does not store the patient's health data. It only facilitates the transfer of data from one healthcare provider to another with the patient's consent. Let us look at how they work with each other.
Central systems
Health ID
Health ID is a 14-digit unique ID for every citizen that users can securely opt-in to access and share health data with consent. They can also link to government health insurance and other schemes like PMJAY, RCH, NIKSHAY, NCD etc.
The NDHM strategy also visualizes linking health ID with Aadhaar, expanding the ways of authentication using biometrics, face IDs or OTPs. In addition, the legal framework is exploring linking health IDs of family members including children, spouse, siblings and parents for delegated consent, organ donation and to access family medical history etc.
Unified Health Interface
The Unified Health Interface (UHI) is much like the Unified Payment Interface (UPI), a platform that financial services companies use for transactions. UHI is envisioned as an open protocol platform to enable healthcare service providers to deliver digital health services to patients. Users can choose from several private health care providers and personalized offerings as part of UHI. 
Patient-facing health records app
Citizens use the patient-facing system or the Personal Health Records (PHR) app to interact with the NDHM ecosystem. Currently, the only app in the market is NDHM Health Records. But, we should expect many more apps to be made available. Using these apps, users can perform a wide range of activities:
Register themselves onto the NDHM ecosystem by creating a PHR address, just like an email address e.g., name@ndhm, name@practo

Link and view longitudinal health records from different service providers

Manage consent for sharing data between various healthcare entities

Quick registration while visiting healthcare facilities
With PHR apps, standing in long queues at health facilities and carrying multiple medical reports will become a thing of the past. The ecosystem will become patient-centric with access to patient records and just a click away for providers. This system will also ensure ownership of health records lie firmly with the patient'. Here's what a visit to the hospital might look like:




Long-term storage of health data
The health locker is a digital storage space for the patient's health data. This data can be pulled from different health care providers or uploaded by the user. The user can share the data from the locker with anyone requesting access to health information. This way, there is consolidated long-term storage of health data for every user. Unlike hospitals, which store it for a maximum of seven years, the patient can maintain his records indefinitely. There will be a copy even if the hospital/provider shuts down. Patients will also be able upload their own data to keep a complete record.
Future of digital healthcare 
With these three key components, we foresee a transformative experience in healthcare delivery across the country. In a future driven by digital healthcare, every citizen will have a unique health ID, perhaps even linked to the health IDs of their entire family, to present a clear and holistic view of their health history. 
Patients and providers will have better longitudinal health record management and a simple way to share health records. They can store all their health records in a digital locker, including their own notes and uploads. They will be able to search for near by healthcare services - imagine it's like looking for restaurants on your favorite food delivery app! 
Users can enroll in government initiatives, while migrant citizens will enjoy national portability. Healthcare professionals can also access remote corners of the country with telemedicine. Medical bodies will gain access to large swathes of anonymized data for policy-making on a geographical, demographical and risk-factor basis.
However, ambitious projects like the national digital health mission bring with them their own unique challenges. The biggest challenge we envision is technology illiteracy — we believe it would cause dependence and prevent repeat usage. Concerns around data privacy, security and high service fees may cause resistance to adoption. 
Additionally, the NDHM ecosystem, today, is in the nascent stages and evolving. We will witness providers' software systems also evolve in parallel. Nearly 99% of the provider ecosystem is small clinics with 1-2 doctors without an effective IT infrastructure. Often, such clinics avoid digitization to minimize compliance costs. 
One of the solutions could be NDHM-recommended products to help with such infrastructure and IT limitations. Incidentally, Thoughtworks' Bahmni offering is in the process of being certified to integrate with NDHM. Being one of the first open source Hospital Information Management (HIM) systems to receive this certification will open the door for many more Bahmni implementations throughout India. Additionally, it further encourages healthcare providers to invest in the technology infrastructure and better integrate with India's Digital Health ecosystem.
Disclaimer: The statements and opinions expressed in this article are those of the author(s) and do not necessarily reflect the positions of Thoughtworks.