We caught up with Business Analyst (BA), Tripti Ramesh to discuss her journey into the tech industry, what it was like starting out as a Thoughtworks graduate and the career paths as a BA. 
How did you become a business analyst?
I stumbled upon a few electives at university that were on agile software development which opened up a whole new world of software practices. Coming from an engineering background, I had to learn how I could use my soft skills to blend into an IT role. My first few jobs in marketing and sales helped me gain the confidence and ability to think from a user's perspective. With the help of some LinkedIn courses and an internship in a software delivery project, I was able to gather more knowledge on real-world practices and challenges. Through this experience, I learnt that to play a business analyst role I need to have good communication skills to be able to understand the product requirements and translate it in a manner that developers could then implement. Business analysts should also pay attention to detail, identify the right questions and escalate when we are not working towards meeting our goal. 
Thoughtworks interview process
I applied via a LinkedIn job ad and received a call to attend an interview. This was during Covid so the entire interview process was on Zoom. In the first round I was introduced to the job role and expectations. One of the best things at that time was the option to work from home. Now flexible work is part of the culture at Thoughtworks. The second round was a home assignment and the next round was a technical interview. My final round was the cultural interview. What worked for me throughout the interview process was being authentic and expressing a desire to learn more. 
My Thoughtworks University experience 
My journey as a grad business analyst at Thoughtworks started with joining Thoughtworks University. At the time of Covid, this was fully remote and it was the first project experience where I had the chance to learn what agile software delivery entails. Coming from a start-up background, I was used to doing a lot of upfront analysis and was familiar with the disconnect between what is planned and what actually happens. During my Thoughtworks University tenure, I got to unlearn traditional development methods and learn the agile way of doing things. We had the opportunity to connect with other grads across the APAC region and work on a simulated client project. This introduced us to Thoughtworks culture while learning to manage client expectations by interacting with a product owner. Throughout our TWU experience we had many learning sessions with trainers who shared their knowledge on different topics. In our respective teams we would then apply what we learnt to our project. Our learning was very hands-on and we got to practice along the way. By the end of it, I was prepared to confidently join real engagements. I had the resources and I could always rely on my team if I faced any challenges. 
MYOB Grad Program 
My first actual client experience was on the MYOB grad program. This was a unique collaboration between Thoughtworks and MYOB where the graduates from both companies had the opportunity to collaborate and work on a real project to drive business value with the support of senior stakeholders and mentors. The team was a mix of graduate developers, senior developers, senior business analysts / project managers and/or quality analysts alongside my role as graduate business analyst. We worked on a project right from the concept phase. Starting with an inception to define what our goals were, what success looked like, the scope, RAIDs (risks, assumptions, issues, and dependencies), trade-offs, customer journey mapping, story mapping, etc. This helped us to start the work of executing our product vision. At this stage we are still working through the details but we knew the high-level user requirements, priorities and the time it would take to produce a minimum viable product with our tech stack.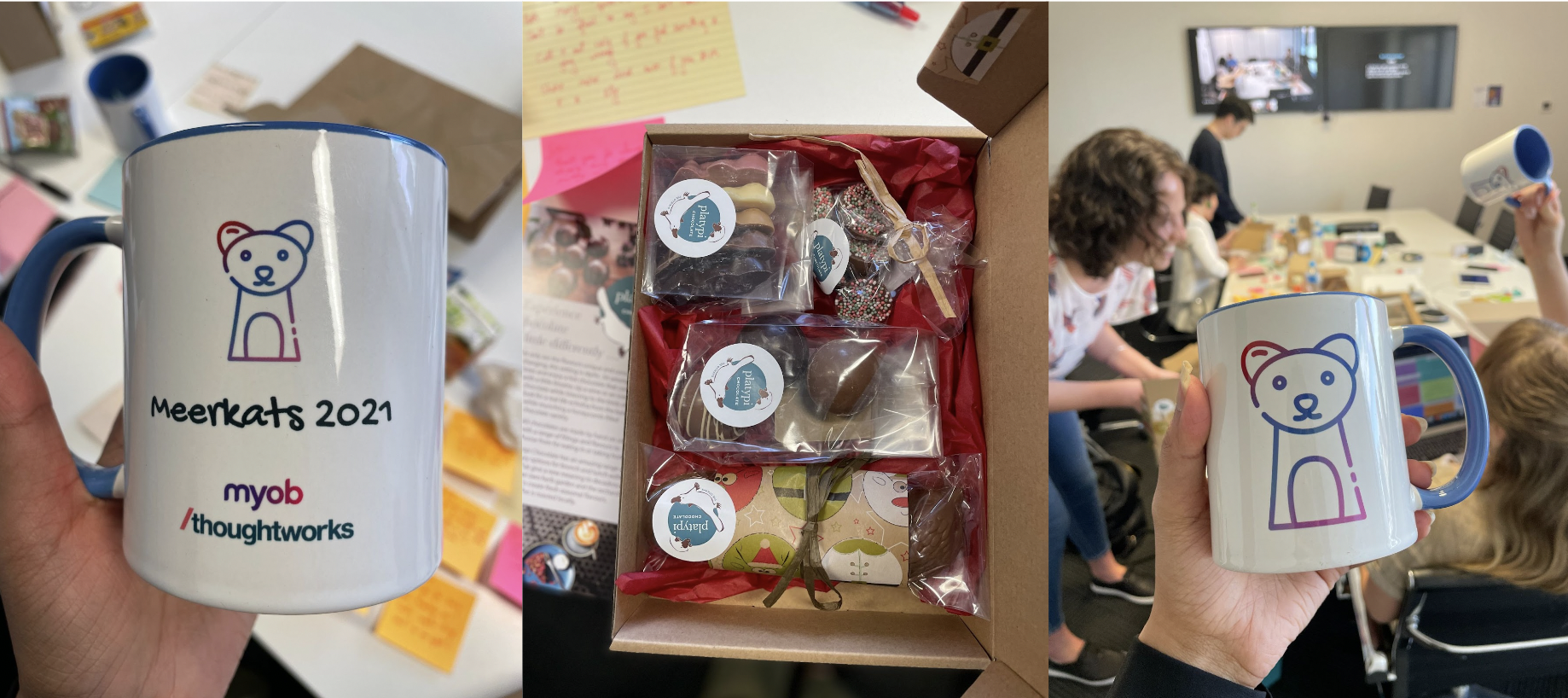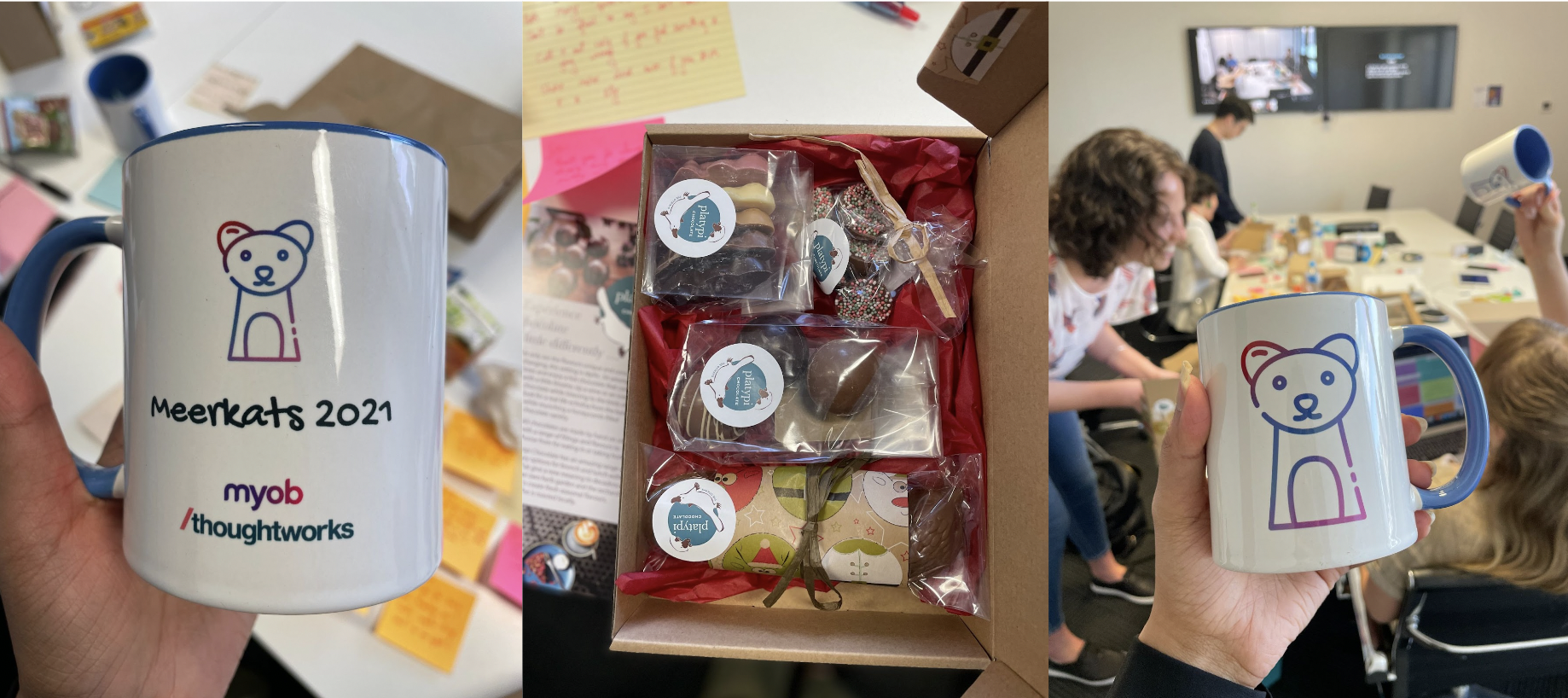 MYOB Grad Program catch-up
My typical day 
On a typical day I would start with a stand-up and run through my activities for the day. This is followed by a business analyst huddle where I pair with my mentor, a senior business analyst, and write stories, set up prioritization with the client or facilitate team workshops to find a solution. Our regular cadence is to run sprint ceremonies, wrap up the sprint with a showcase and RAIDs log, and then move on to planning for the next sprint. During this time, I learnt important tips and tricks from my mentor to help grow my skills as a business analyst . 
What do you love the most about your job?
I get to work with awesome people who are great at everything they do. We are assigned in teams and rely on each other for feedback and growth. Overall, it's a team effort to deliver the best possible solution that meets the goals we are working to achieve with the client. As a business analyst I enjoy the planning phase where we learn about our customers and write stories — at times pairing with experience designers . I've been  part of a few different engagements, and I have learnt that there are many different shapes a business analyst can take. The most important role for us is to ensure we have understood client requirements and are in a position to help the team in setting up a regular cadence with necessary planning. Some engagements require deep analysis on a particular problem area or a high-level plan that spans across many teams. 
What are the career prospects for your job?
There are a few paths a consultant business analyst can take in their journey. From product focused roles, such as a product manager or project management ie. project manager or iteration manager, to an experience designer role. As business analysts, we work closely with experience designers to design the product features. I have also discovered that there is scope for specialization as a business analyst in a few areas such as data and artificial intelligence or in domain specific fields. Thoughtworks opens up unique opportunities to train and get experience in specialist areas. As an example, I've had a chance to wear the quality analyst hat to support what the team needed at the time and have been able to learn and grow into that role. 
Which three pieces of advice would you give to a current university student?
Look out for internship opportunities during your time at university — having practical experience is a bonus 

 

Develop your transferable skills, it could be from experiences like organizing events at university or trying out new courses 

 

Keep an open mind, work in as many diverse groups as possible and show enthusiasm to learn and try new things  
Disclaimer: The statements and opinions expressed in this article are those of the author(s) and do not necessarily reflect the positions of Thoughtworks.