Retail in India is changing faster than ever before. The last two years of the pandemic have accelerated and crystallized the transformations of the last decade. Digital has become the new norm. Big players and new entrants have made their mark in online shopping, food delivery, local travel and more. Accelerated by the pandemic, the Global retail e-commerce sales will reach about 7.4 trillion US dollars by 2025. Additionally, India's own digital economy is expected to grow to $800 billion by 2030.
In this brave new world, where customers expect same-day or even ten minute delivery, retailers are reimagining their physical stores and the roles of their employees. For customers, digital building blocks like Unified Payments Interface (UPI) have gained acceptance and eCommerce has become more widespread to include smaller towns as well. 
Technology is powering this future of digital commerce. Retailers rely on AI to sift through data to personalize customer experience, plan their catalogue, streamline inventory, forecast demand and manage their supply chain. The first nine months of 2021 alone saw a 260% increase in the capital invested in small and mid-sized retail technology companies. 
If technology is at the heart of this transformation, data is the kingmaker. Large internet companies, from Google to Amazon, hold their edge with complete data monopoly and access to user insights. Engaged users increase these platforms' data monopoly, creating an endless loop where the supremacy of dominant platforms remains unchallenged. Such an economy is monopolized by merely a handful of players— eCommerce portals, cab-hailing services, social media platforms and video streaming companies. It is antithetical to the free market, which is the foundation of modern, global economics.
In the U.S, Amazon contributed to 41% of all online sales in 2021 (see the chart below). But this figure rose as high as 74% in some product categories. This has made access to online platforms an important topic of debate between regulators, eCommerce companies and citizen forums.
Customers are thronging to online platforms. But the ability of large eCommerce companies to use their size, reach and access to customer data to weaponize it and undercut their rivals has come under scrutiny in several countries and in some instances even led to huge penalties.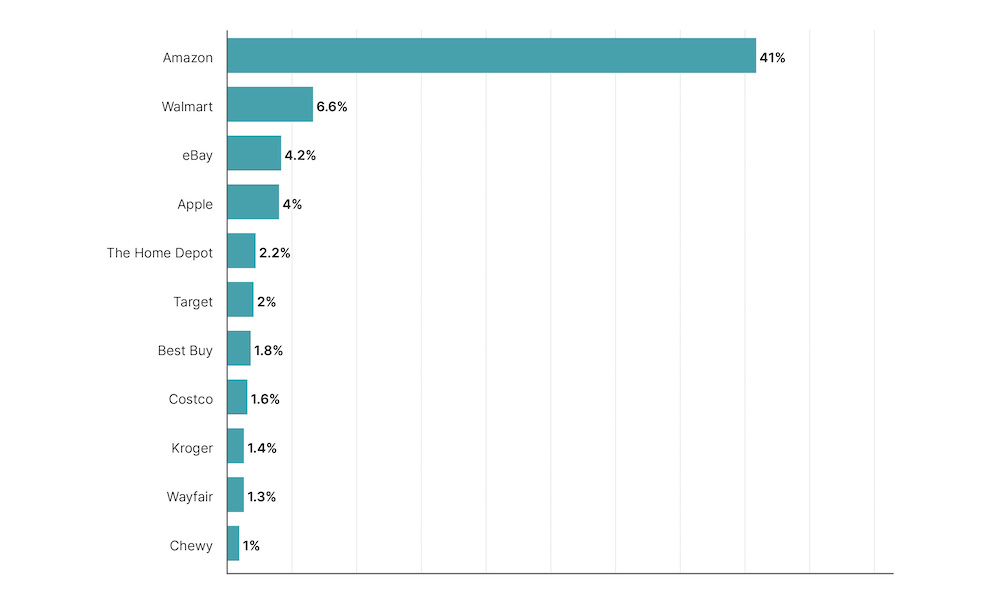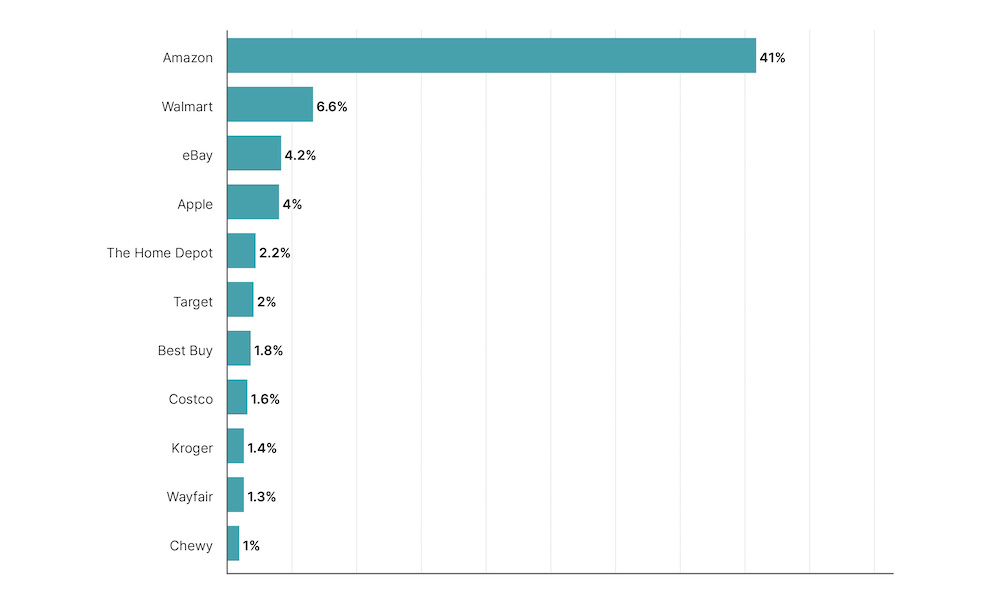 Market share of leading retail e-commerce companies in the United States as of October 2021 (source Statista 2022)
China too is accelerating the overhaul of its anti-monopoly law to improve online platform governance rules to control monopolistic practices and create more competition in digital commerce. Alibaba was fined US$ 3.5 billion in 2021 for violation of antitrust laws.
In Europe, the situation is different, with more distributed regulations and oversight. The European Commission has found that almost half of small businesses in Europe use online marketplaces to sell their products and services. Amazon has about a quarter of the market but has faced scrutiny with the EU antitrust regulators and lost a case in November last year.   
And, this is where the Open Network for Digital Commerce (ONDC) has potential to become a game changer in India. The ONDC is a government initiative that aims to curb digital monopolies and standardize commercial interactions online, not through legislation but by creating a Digital Public Good. Digital public goods are open-source software, open data, open AI models, open standards, and open content that adhere to privacy and other applicable laws and best practices, do no harm by design, and help attain the Sustainable Development Goals (SDGs).
ONDC is a network or digital building block that could be used by all commercial entities. In the real world, every business can build their own store, design offerings, reach customers, retain customers and build long-term relationships. Similarly, the digital world needs an open and standardized network to enable a thriving commerce – which is exactly what ONDC aims to enable. 
The ONDC network based on open protocol and riding on the beckn protocol will help unbundle platforms that control the two-way interaction of a buyer and a seller. With ONDC, a seller based on open protocols, could potentially interact and be democratically connected to multiple buyers, just as the buyer could also be connected to various sellers. This many-to-many relationship would allow for members in the value chain to discover players up and down the stream without having to pay a disproportionate fee to the metaphorical 'middleman,' the proprietary platform in this case. And it goes without saying that crucial business data will be available through the entire ecosystem instead of getting concentrated with one party.
With ONDC, we could see digital goods being unbundled from the value chain and form entirely new value chains. Unlike eCommerce platforms that consolidate and 'gatekeep' business online, ONDC intends to enable players to interconnect and create multi-chain setups or ecosystems — a setup that could allow for a more equitable distribution of profits across all participants in a value chain. Let us look at a possible example: an Ola driver in Delhi could register on one platform, accumulate driving karma points and later move them to Uber in Bangalore when he or she shifts to the new company and location – and not be locked to one particular platform. 
For enterprises, ONDC could level the playing field. As dominant retail brands compete for market dominance, other players might not have to create their own massive platforms by diverting precious resources to survive in the new world where first mover advantage is critical. Across retail, banking, financial services, insurance, healthcare, logistics, education and more, ONDC could enable an open and democratized way for organizations to conduct their business. ONDC promises an era of open ecosystems powered by digital building blocks.
Democratization of technology and its prowess will eventually allow enterprises and firms to compete on a more even level, especially those that have been slow to get into the online space. The possible digital ubiquity that ONDC can usher in coupled with building blocks like NPCI, Aadhaar and UHI – can help retailers refocus on what really matters to their customers – a great product and a memorable customer experience.
A version of this blog was published in TOI.
Disclaimer: The statements and opinions expressed in this article are those of the author(s) and do not necessarily reflect the positions of Thoughtworks.