It is that time of the year when we pause to reflect on the year that was and reset to welcome another eventful, challenging year.
We present to you a compilation of the top articles of 2017, not limited to popularity but including our editors' picks for this year. We hope you enjoy them a second time around.
And lastly, Happy New Year from all of us here at Thoughtworks. Best wishes for a transformative year ahead.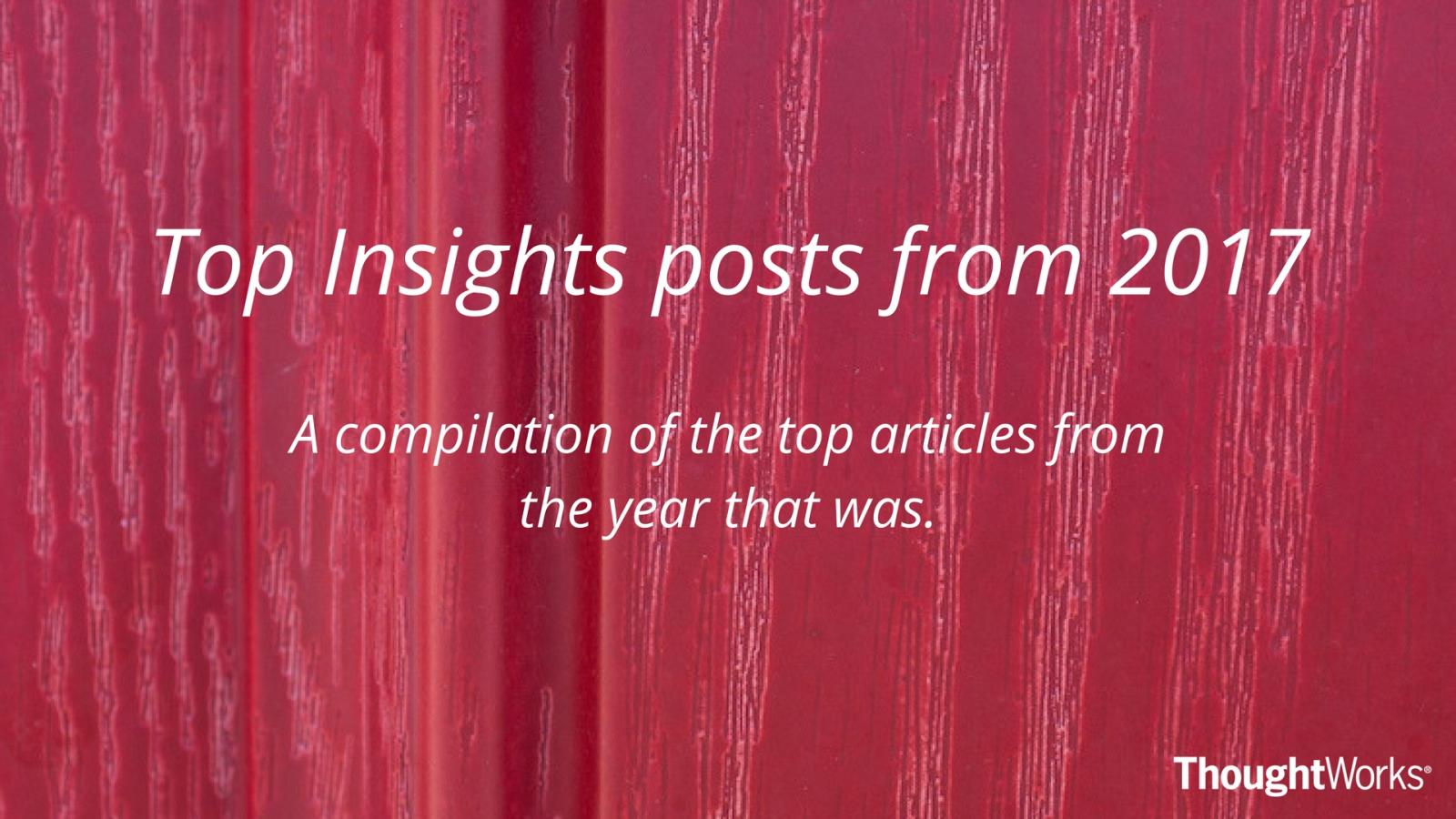 In chronological order, here are our top picks for 2017:  
Intelligent Empowerment: The next wave of technology-led disruption by Danilo Sato
Intelligent Empowerment
is a shift in business that brings together the best of both worlds: augmenting human intelligence with machine intelligence through the use of data and techniques such as Optimization, Artificial Intelligence, and Machine Learning. Read if you would like to know how you can best leverage Intelligent Empowerment to transform your business.  
The Intelligent Bank: The hidden weakness in financial services business models by Aneesh Lele and Prashant Gandhi
In this article, the authors discuss how emerging technologies such as artificial intelligence and machine learning will transform the Financial Services industry's business models, offer a new operating model for achieving sustainable growth, and recommend paths to execution. Also, don't miss
Part 2
and
Part 3
of this article.
Getting into DevOps by Carlos Nunez
Are you looking for pointers and suggestions to get into DevOps? Look no further. Also, don't miss the
second part
of this post.
Interact or die trying by Neil Redding
If your business depends on interaction with consumers, it will be disrupted by a competitor who invests in staying on top of shifts of consumer interaction using technology. The good news is that this disruptor can be you. Read on to know more.
The art of platform thinking by Amit Kaul and Ryan Murray
What is platform thinking and why is it important? For your organization to make the most out of technology investments, you need a comprehensive strategy that puts your essential business priorities at the heart of your approach to foundational technologies. Platform thinking then becomes the touchstone for making key technology decisions that will simplify your ecosystem, stimulate innovation, and accelerate delivery.
The quick and the dead: Leadership in the age of digital complexity by Chris Murphy and Guo Xiao
Success in the Digital Age depends on courageous leadership, transformative thinking, and a zero-tolerance policy toward internal silos that stand in the way of speed and agility. Read more to know how leaders can navigate this increasingly complex world.
Revving up your innovation engine - the nuts and bolts by Miranda Hill
Companies need to re-imagine experiences and act on ideas quickly and nimbly to keep pace with the speed of disruption, regardless of industry. Given the constraints of legacy systems, complex security, risk and compliance requirements, and siloed data stacks, it can be particularly difficult for financial institutions to not just think differently, but to act with the right degree of speed and agility. Also, don't miss
part 2
of the series here.
Authenticity at work is a privilege by Roseanne Malfucci
There is a lot of talk about 'bringing your whole selves to work,' to engage our authenticity to tackle challenges, initiate difficult conversations, and to conquer the imposter syndrome. But for many technologists, it's not so simple. Read more about how we can create a culture where 'bringing your whole self to work' is an option for a broader range of people.
The tyranny of big suite software enterprises by George Earle
Big Suite Software Companies (BSSC) for the enterprise have reached a nadir of effectiveness. Out of the box implementations are painful. Upgrades are painful; they can take years, if not a decade, and hundreds of millions of dollars to complete, without a new capability, let alone a revolutionary business model. Do Big Suite Software Companies now dictate corporate business innovation? Read more to find out.
Slicing your development work as a multi-layer cake by Luis Mizutani
What is the best way to break your work into user stories? There isn't useful literature exploring how to write user stories since no theory will teach you when to apply any particular method. Breaking down work into user stories is one of those hard things that you will only learn with practice. However, there are some techniques you can use that increase your chance of creating stories that work.
What are our core values and practices for building software? By Evan Bottcher
When it comes to our craft of building software, there are some fundamental software engineering values that we share — both at Thoughtworks and in the wider community of empowered developers. These core values and the core practices that support them is what is explored in this article.

How we create the technology radar by Camilla Crispim
You have enjoyed 17 editions of the Thoughtworks Technology Radar. Get a behind-the-scenes look at what goes into building the radar.
Don't become a CX fail by Emma Carter
Businesses are often so obsessed with creating delight with their next innovation or next feature in their app that they often forget who's going to be using it, how it fits with the rest of their organization and if it affects any other touch points in the business. In this article explore how businesses can continue to deliver innovations at pace—but without becoming a CX fail.
Does your list match ours? Let us know in the comments if it does or if your favorite doesn't feature on this list.
Disclaimer: The statements and opinions expressed in this article are those of the author(s) and do not necessarily reflect the positions of Thoughtworks.