In part one, I talked about creating an outcome based strategy. I used the example of my life to make the strategy  simple and easy to understand so that it can be applied to other contexts, like a product or an organization strategy. This is how the Lean Value Tree (LVT) looked.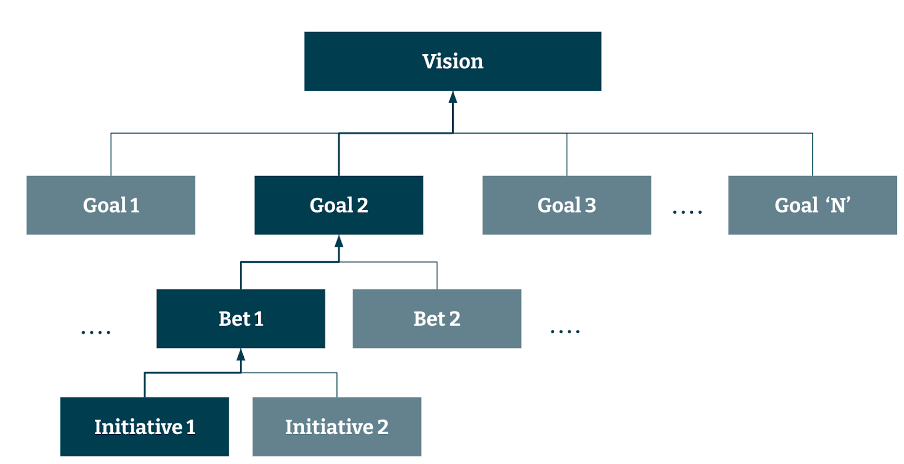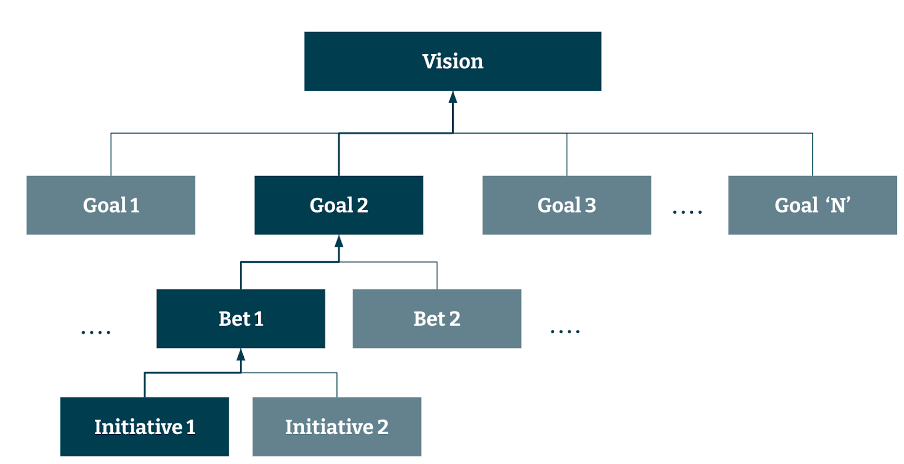 I was very proud of what I came up with. That proud moment didn't last very long. I got asked two questions
Did our hypothesis meet our expectations?

Did we achieve our goals and hence vision?

 
I knew immediately that I needed to have a measure of success (MoS) to know how I was doing. Since each node in the tree eventually traces back to the vision (notice the arrow in the image above), I understood that I needed MoS at each level (i.e. goals, bets and initiatives).
In a context of organization, MoS can help leaders define the expected outcome without prescribing a specific solution.
Please note that it is really important to define MoS at the same time when we are defining the work.
Measures are often characterized either as leading or lagging indicators.
Lagging indicators: There is a significant delay between cause and effect. It is useful at the goal level because they are value oriented and not very prescriptive in nature.
For example, I can use the following MoS for my goal 1 (good physical and mental health):
Healthy BMI

Positive attitude and energetic feeling

 
There are various ways to achieve the above. Here we only care about the outcomes and not the specific ways we achieved this. No prescription and room to experiment. Brilliant!
When it comes to bets and initiative, leading indicators won't be much of a help. Here we need quick feedback for decision making. Here we need to use some kind of predictive metrics as guidelines. In other words, we need leading indicators.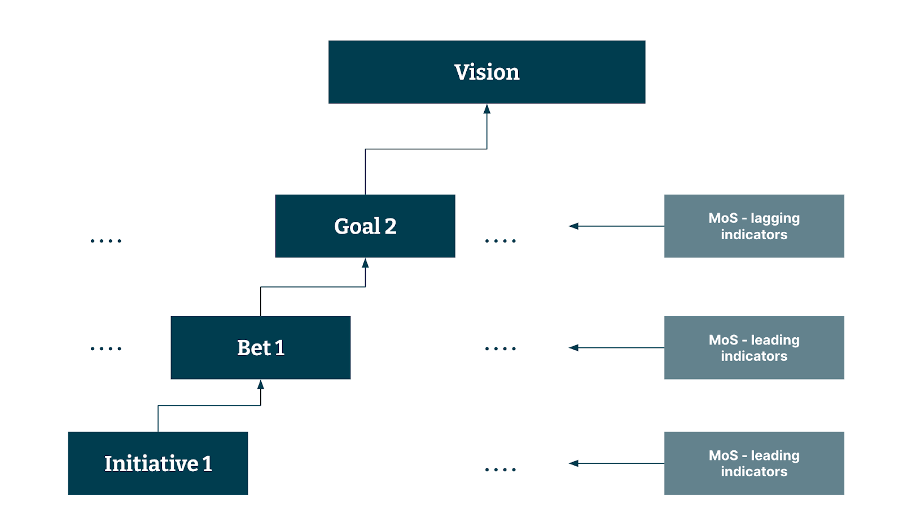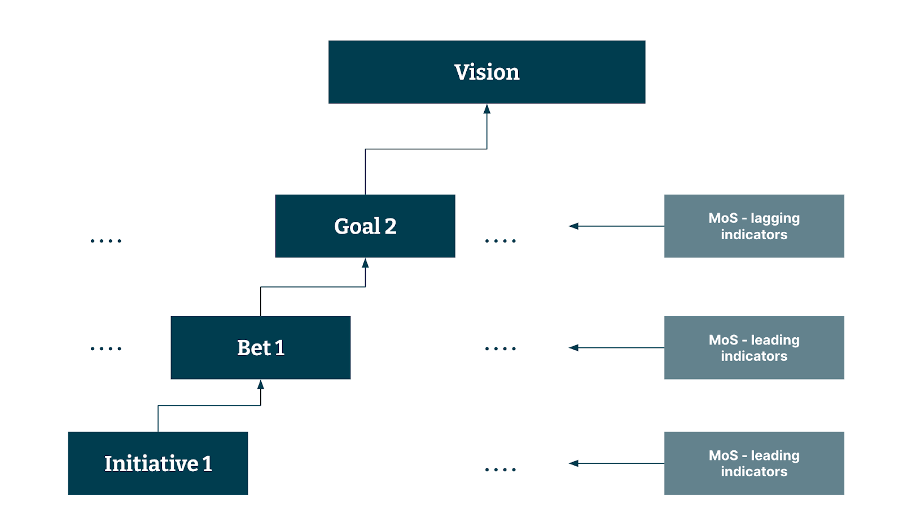 For example 
Bet 1: Active lifestyle → measure calories burned per week and mood (my mental state). 
Initiative 1.1: Running/jogging →  measure calories burned per each run (target for 500 calories per run)

Initiative 1.2:  taking stairs instead of escalator →  measure total elevation gain (target for 200 meters a day)

 
Bet 2: Healthy eating → measure sugar and sodium intake (target for recommended limit)
Initiative 2.1: Less fried food → measure number of meals with fried food (target for once a week only)

Initiative 2.2: More fruits and vegetables → measure daily intake of fruits and vegetables (target for 2 fruits and 3 vegetables a day)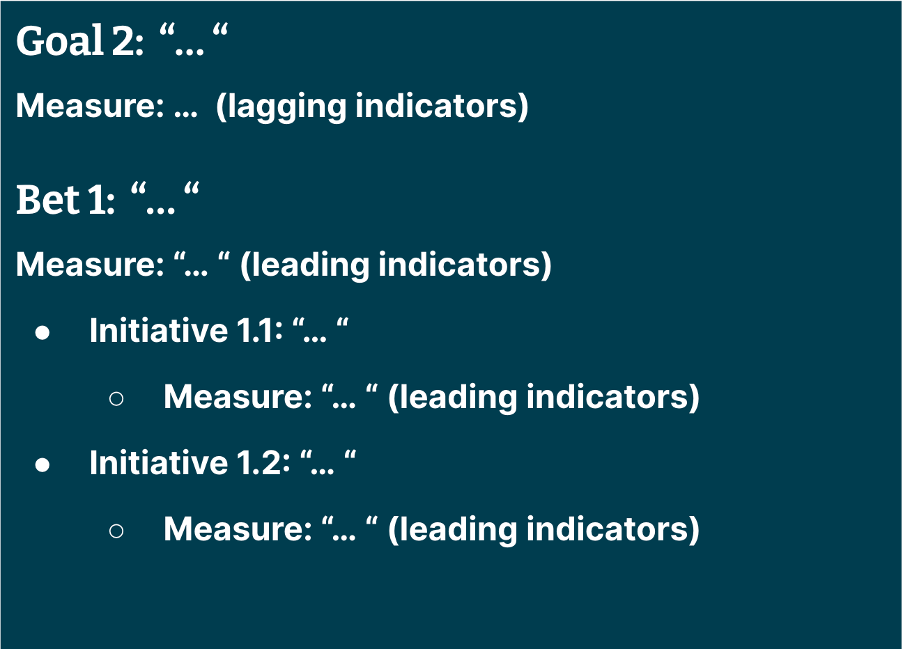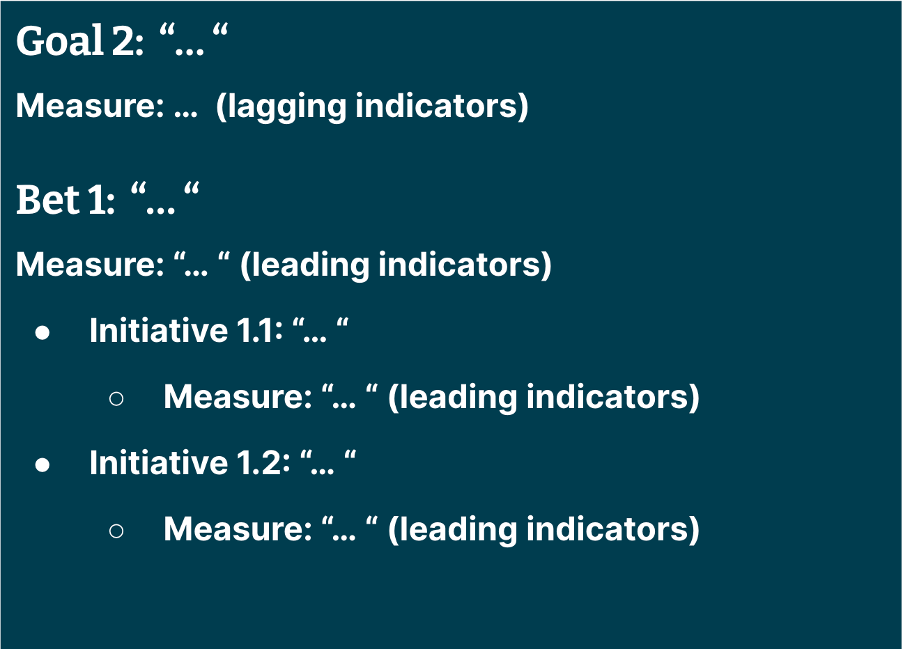 Hopefully, by now you get the idea that each action I take in my life is getting me closer to the life that I envisioned. MoS tells me how well I am doing and if I need to adjust my approach. It helps me make decisions on what to prioritize, plus where and how I should allocate my resources (in this case my time and effort). 
I encourage you all to read more about it in the EDGE book, which incorporates LVT as one of the tools used for value driven digital transformation.
I can't stress enough to keep in mind that changes in your circumstances demand changes in your approach too. You must review your LVT periodically, make course corrections as needed to make sure you are prioritizing the right work, allocating the right resources - basically staying focused on achieving your vision.
Remember the goals I set up for myself,
Good physical and mental health

Good social capital

Financial freedom and

Sustainable hobby/interest outside of work

 
Last week, I got an email from the Mysterious Prince that I have won 20 million USD. Awesome! I have already achieved my financial freedom goal (goal 3). Now all I have to do is just email them my bank account details and initial deposit of $500 and update my LVT :)
Disclaimer: The statements and opinions expressed in this article are those of the author(s) and do not necessarily reflect the positions of Thoughtworks.