Since its launch in 2011, WeChat has become the biggest social media application in China.
In 2016, WeChat introduced a new feature called membership cards so that brands could build up loyalty programs within its ecosystem. After several years of continuous improvement and penetration, it has become so popular in China that it's many international brands' first choice when it comes to building loyalty programs in a lightweight yet extendable way when accessing China.
Why Build Loyalty Programs in WeChat?
1. To take the most advantage of China's largest social platform. The Chinese audience is highly familiar with WeChat's sharing capabilities, such as group buy, sharing product pages and referring friends for benefits. These kinds of MGM (Member Get Member) campaigns will grow your membership rapidly.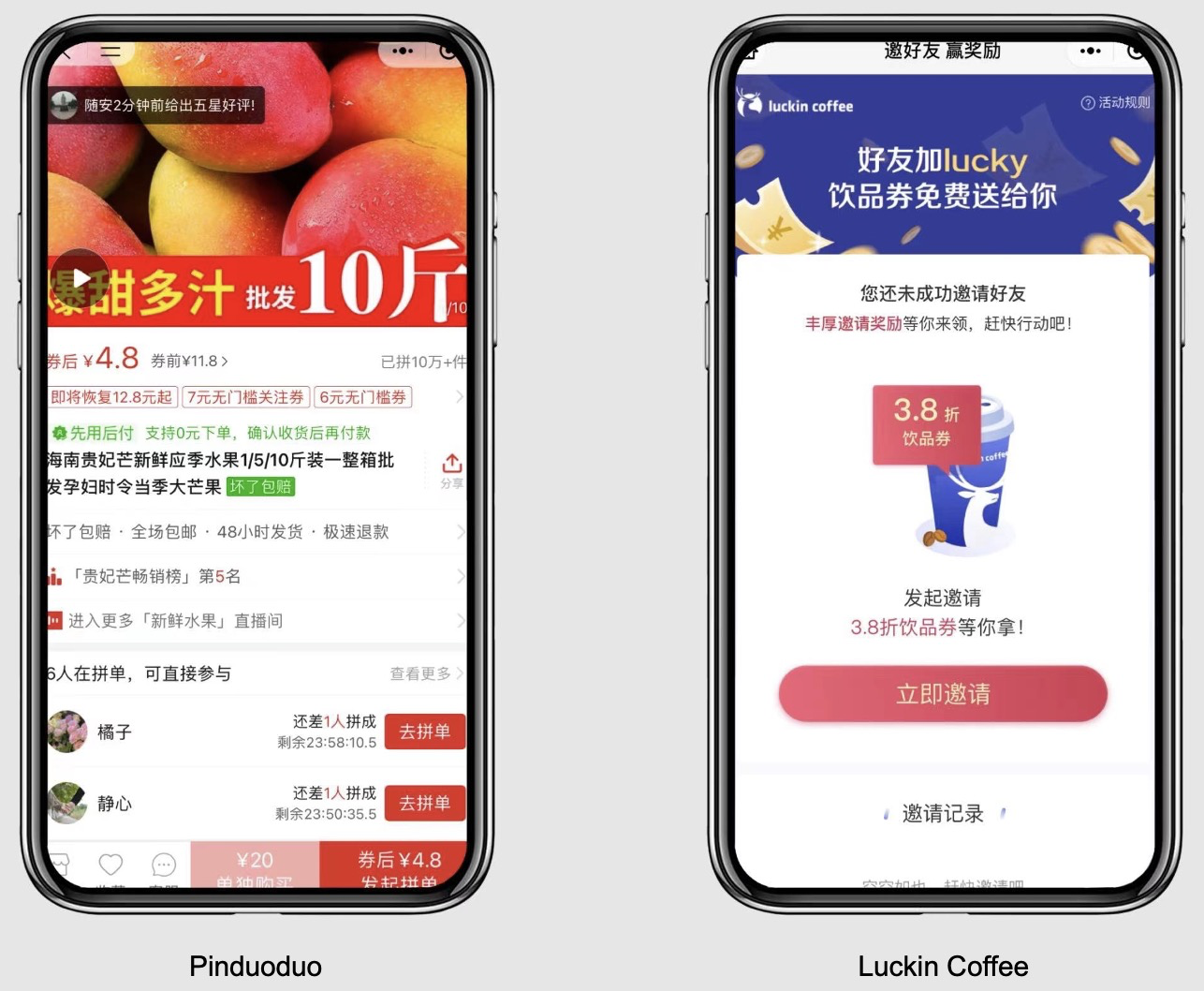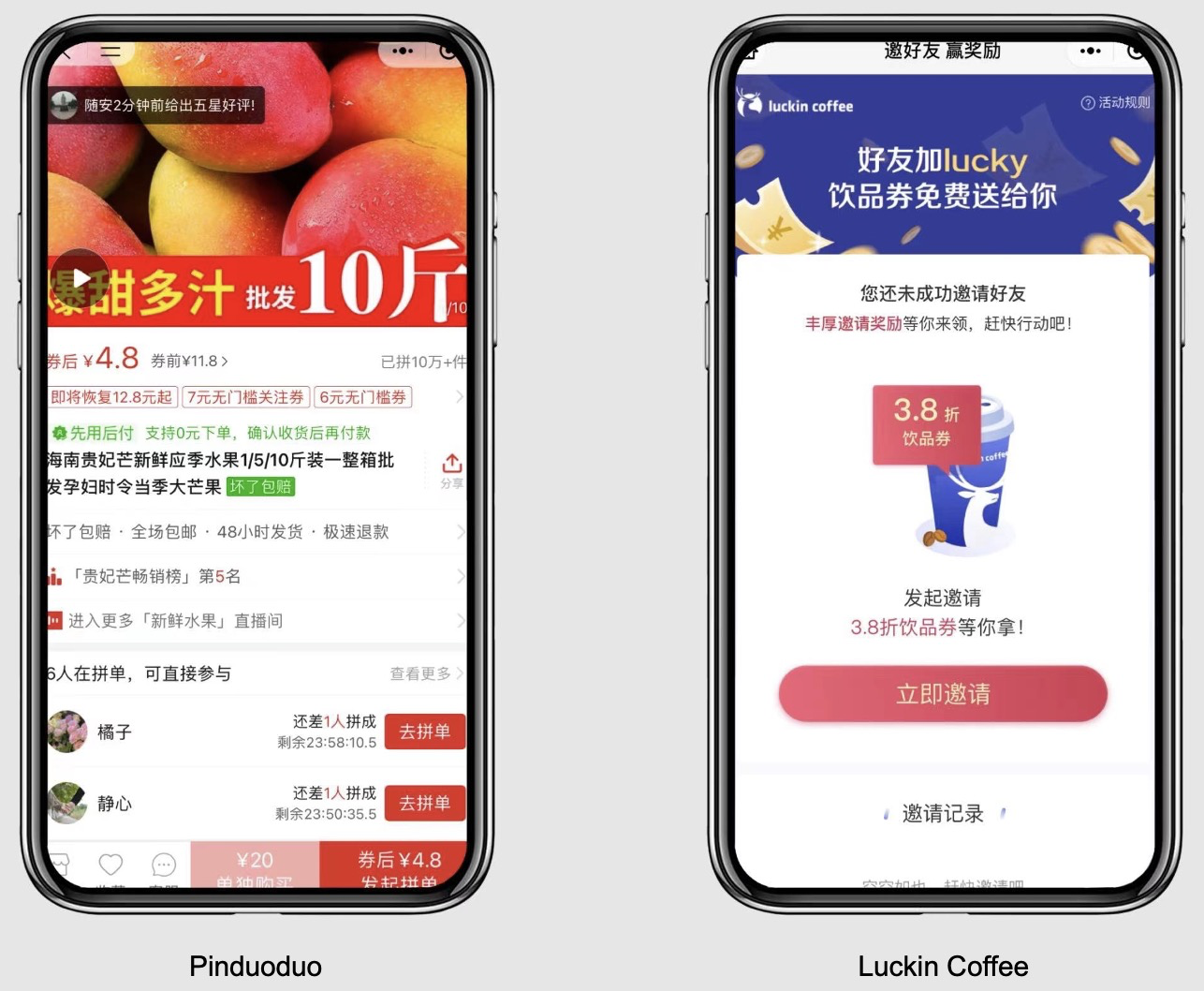 2. To accelerate the launch of loyalty programs with the one-stop solution service provided by WeChat.
Different methods of member acquisition. For offline customers, QR codes can be used to register. For online customers, once they follow your WeChat Official Account (also known as "OA"), they can be guided to become members via pushed messages or articles. It's also very convenient to put the membership registration link into the Mini Program (also known as "MP"), or even outside of WeChat itself such as through SMS and email.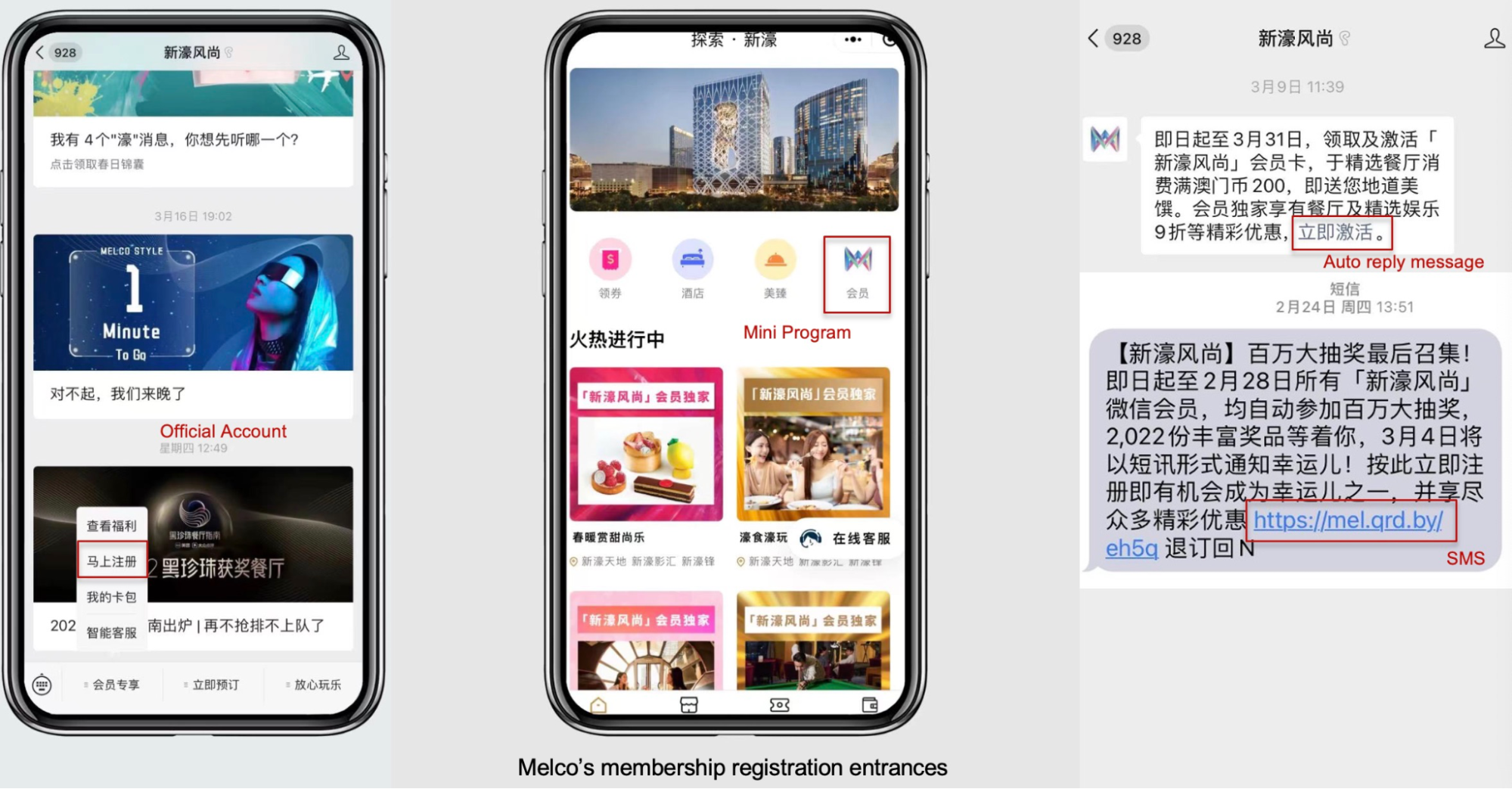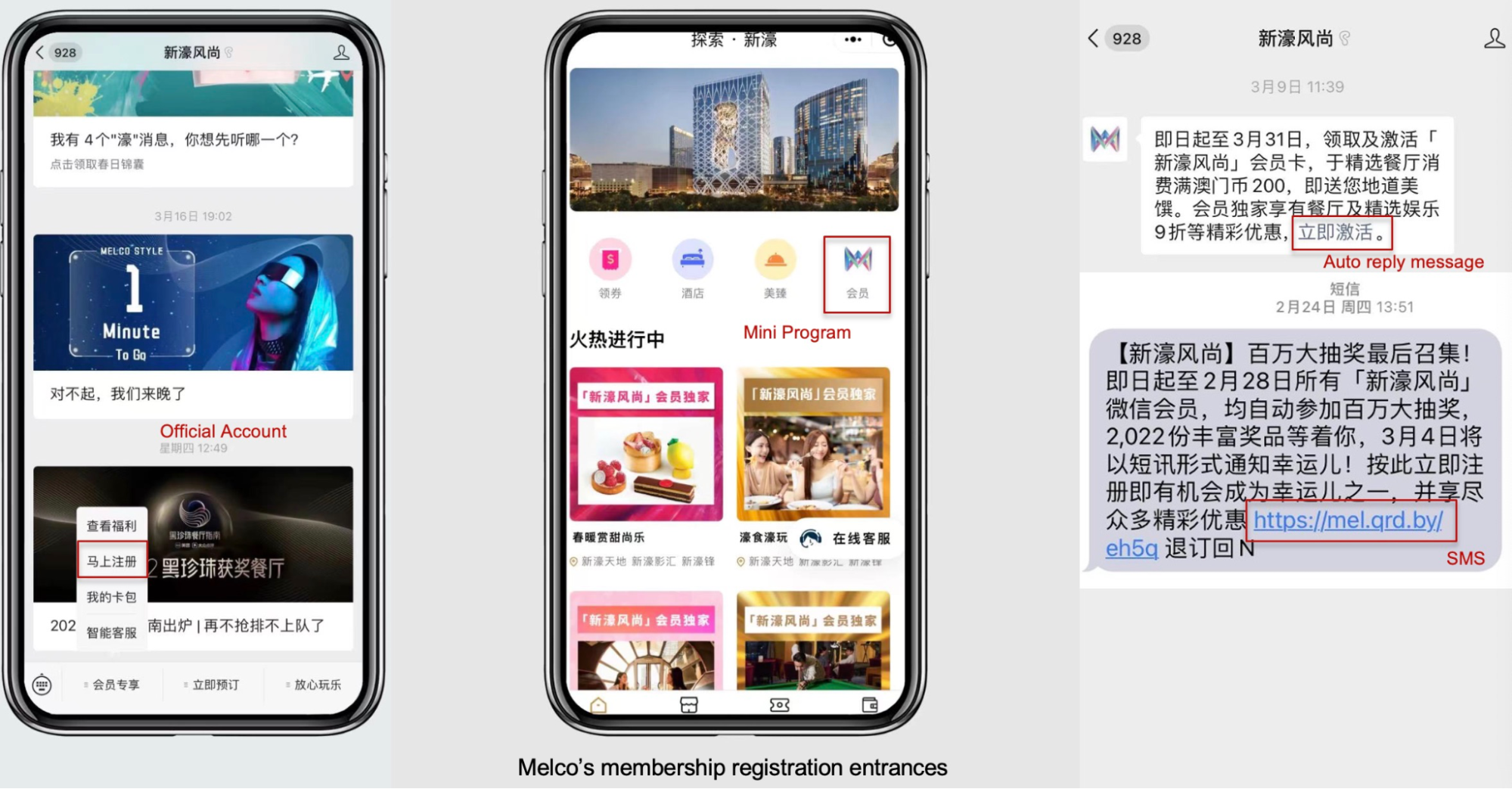 WeChat wallet to display centralized information including points, tiers, orders, coupons etc. Membership information can also be displayed in MPs at the same time with small development effort.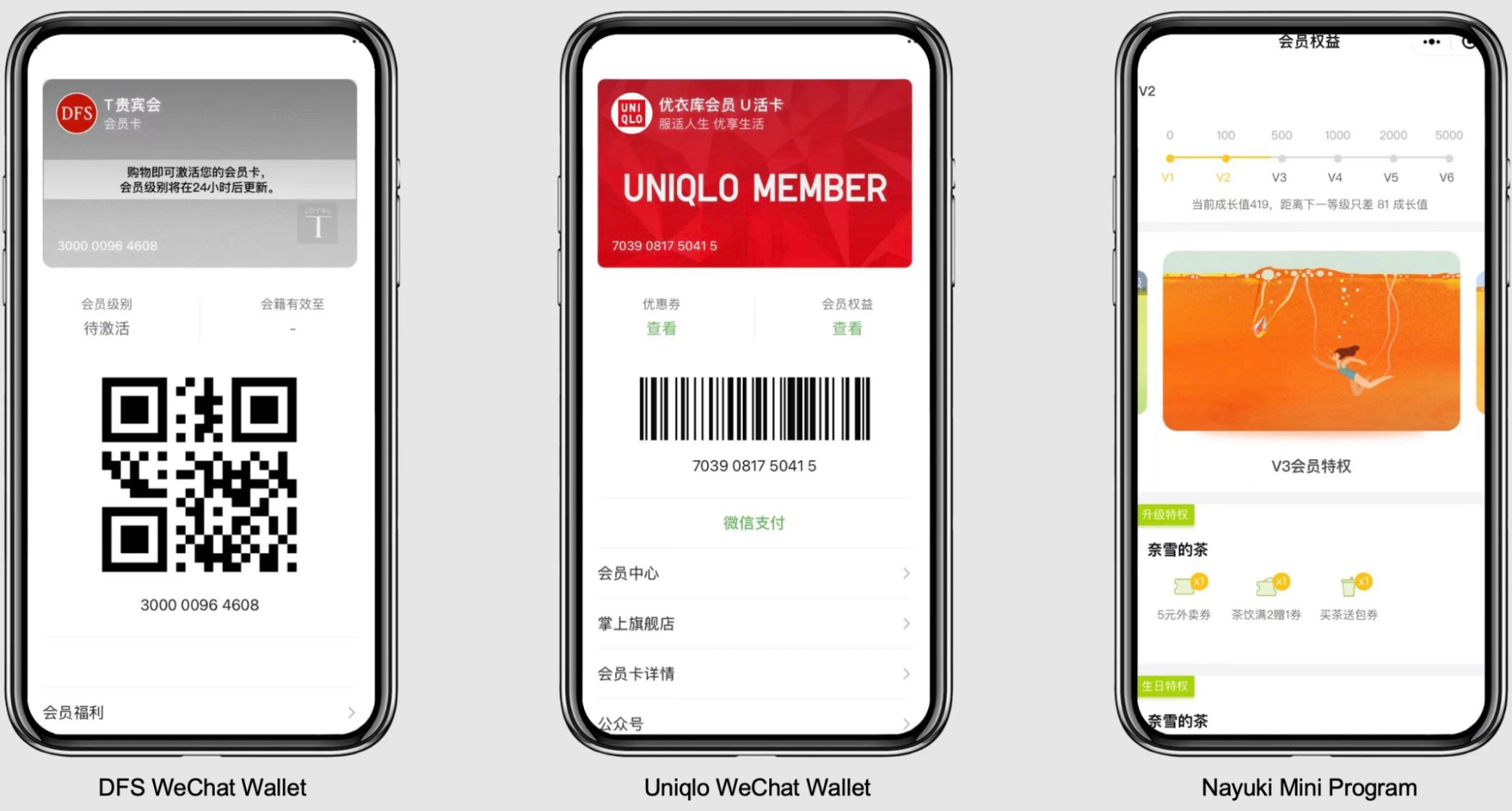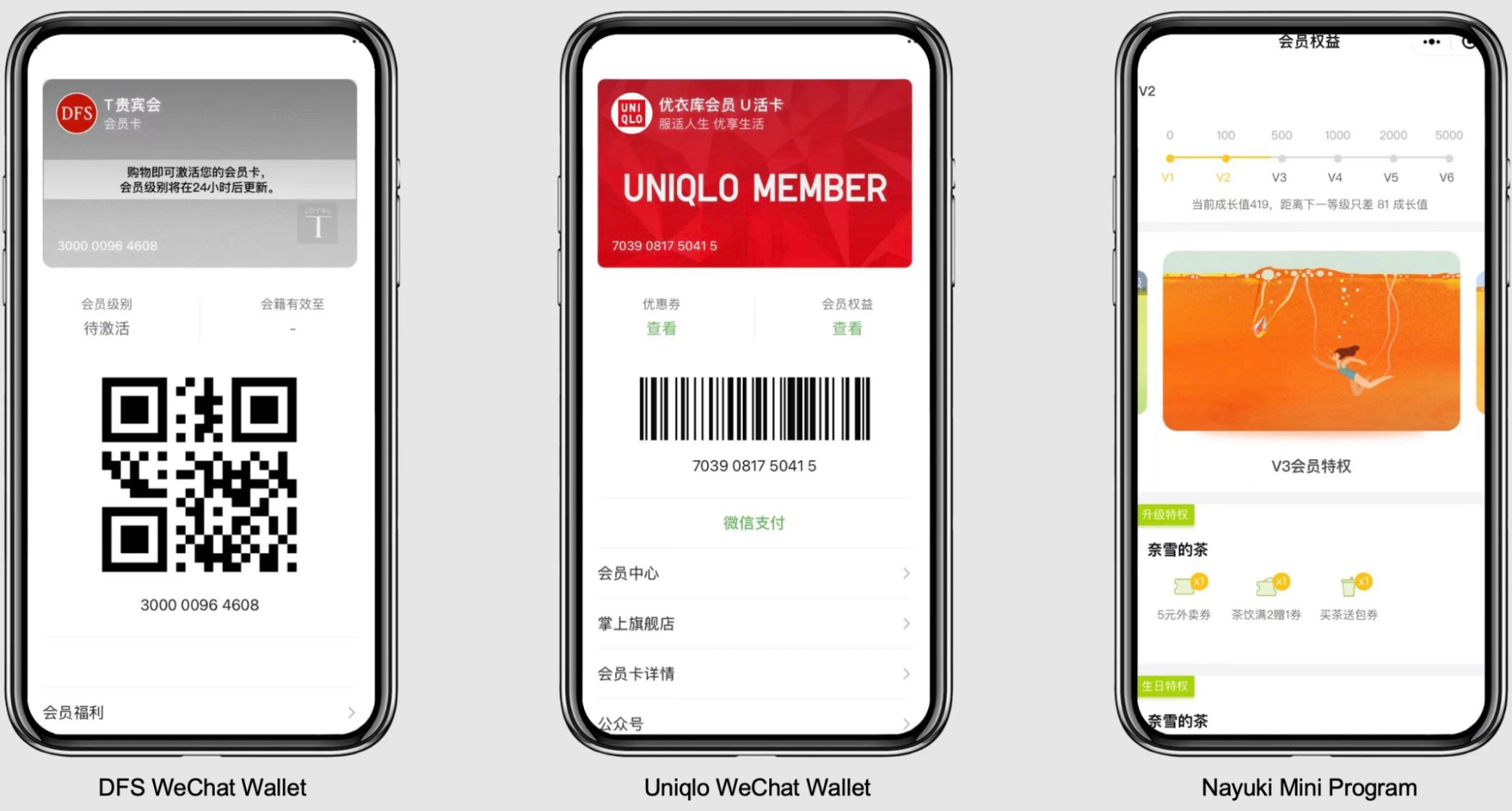 Plenty of touchpoints to engage with your customers. For example, OA allows you to push different offers and campaigns through articles, which is a good content-driving way to increase your brand loyalty. The most common practice is to have a dedicated membership area in your OA or MP. Customers can easily gain campaigns or unlock exclusive offers within this area.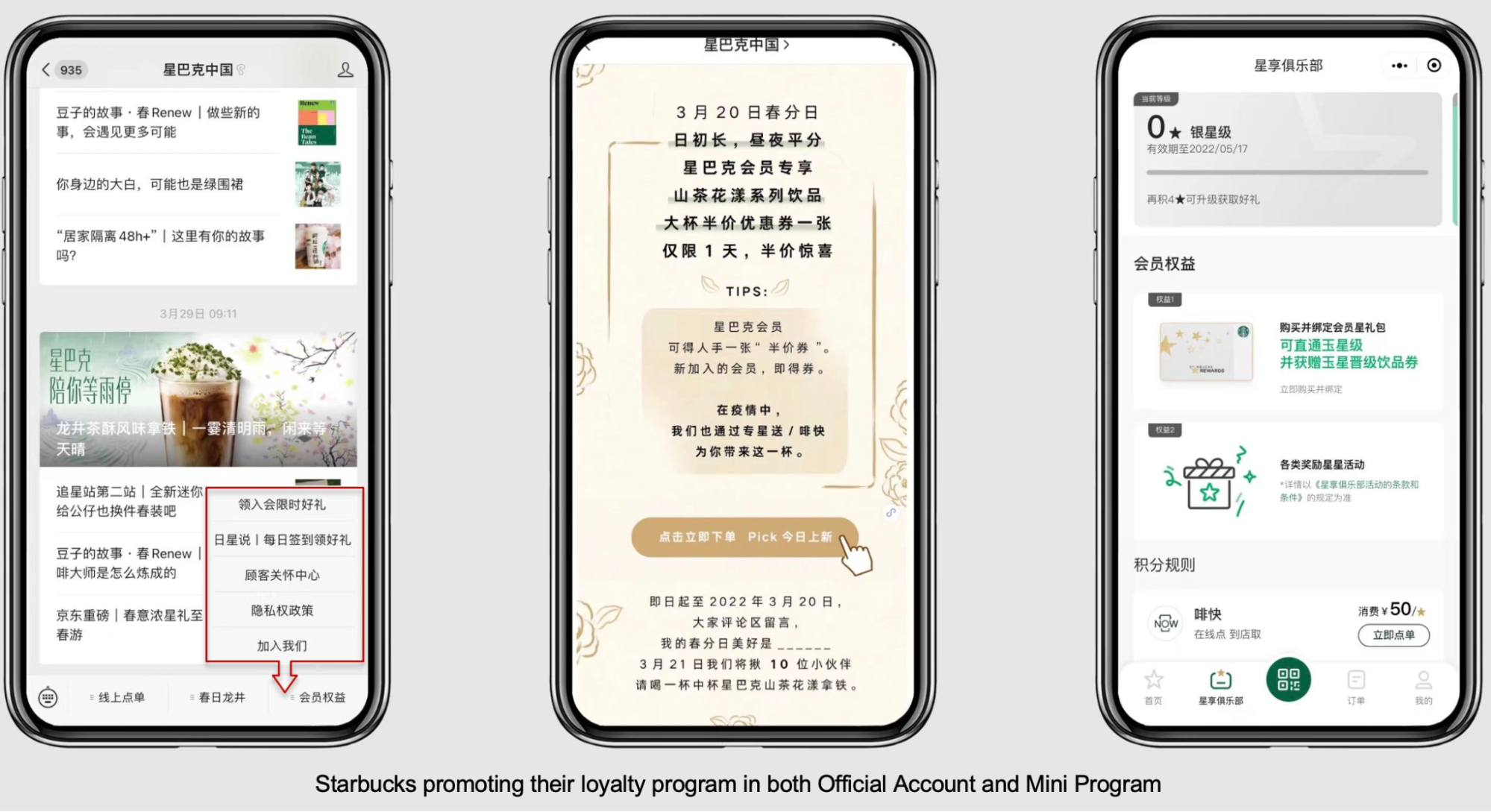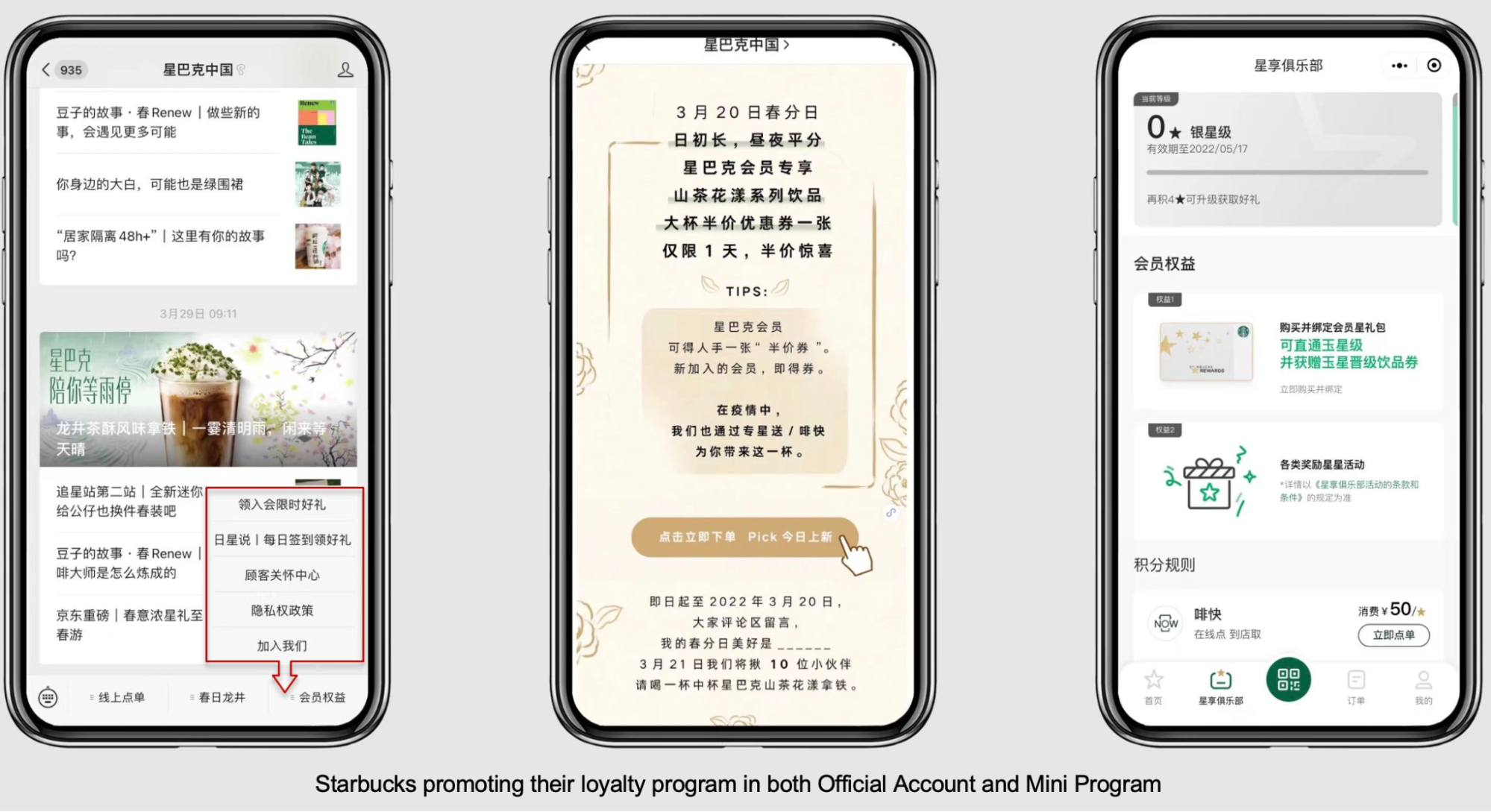 Timely notifications to improve customer experience. Corresponding subscription messages or template messages (for OA followers) can be sent at different times.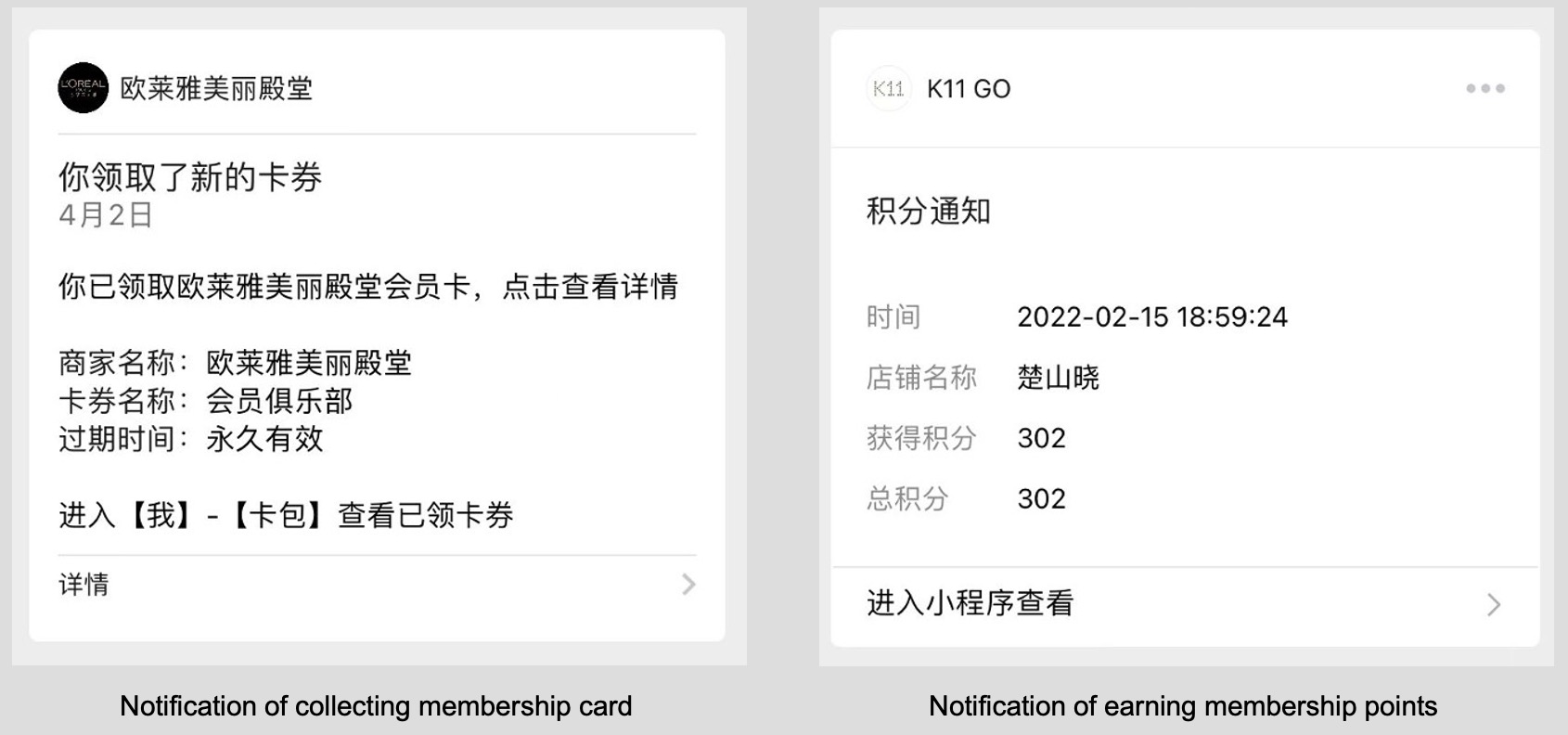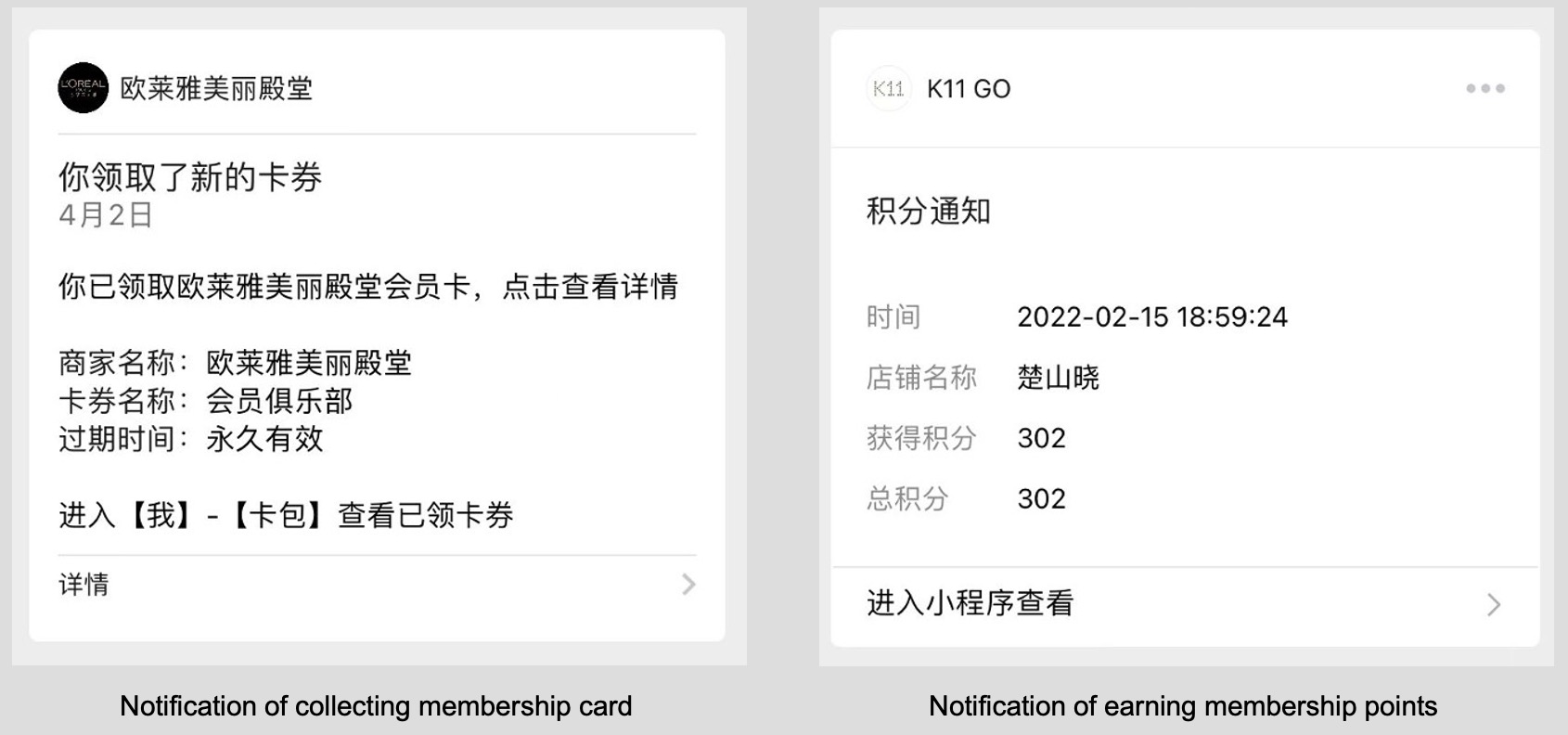 3. To connect customer's O2O (Online-to-offline) experience. What's more attractive is to leverage WeChat's emerging O2O solutions to build a seamless omnichannel experience. Take Starbucks as an example. Members can collect the exclusive points or coupons in the MP and redeem them at assigned stores. Another example is Joy City (a large department store chain in China). Customers can earn points by purchasing at any of the brands under the Joy City name, and the points can be used toward a variety of services, such as paying parking fees or redeeming free gifts.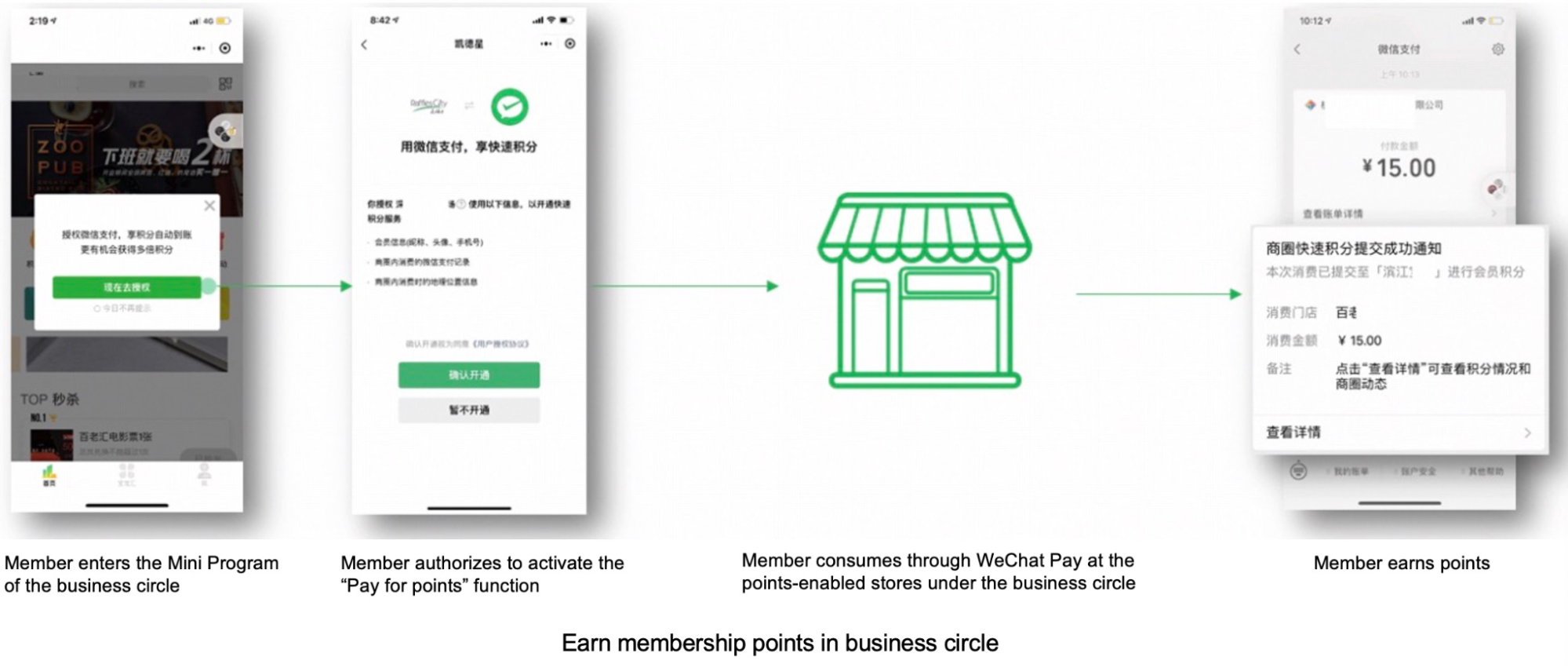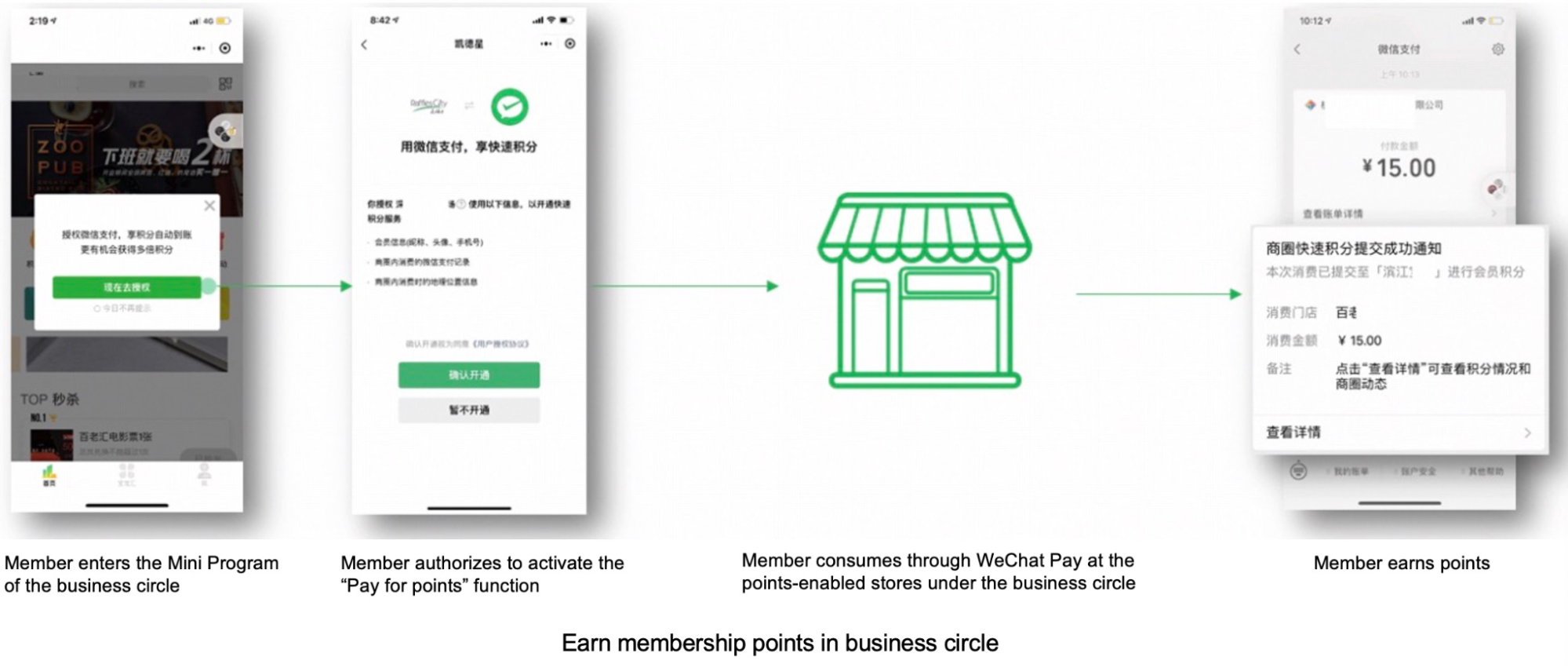 How to Start WeChat Membership Cards
1. Prepare an OA with Card & Offers permission activated. Either a Subscription Account or Service Account should work. Click here to know more about OA.
There are two versions of OA, which are Domestic and Overseas. Domestic OA is suitable for brands with entities in mainland China and payment settled in RMB. Otherwise, you should go for the Overseas OA. Currently, a Domestic OA supports more comprehensive capabilities.
Capability

Domestic OA

Overseas OA

WeChat Pay

Yes

No, relies on financial institutions to activate WeChat Pay

Push membership card instantly after payment

Yes

No, these are features based on WeChat Pay

Push points to members instantly after payment

Yes

Push offers to members instantly after payment

Yes

Gift cards

Yes

Cards & Offers

Yes

Obtain mobile no. in MP

Yes

No

Locate stores

Yes

No

Earn points in business circle

Yes

No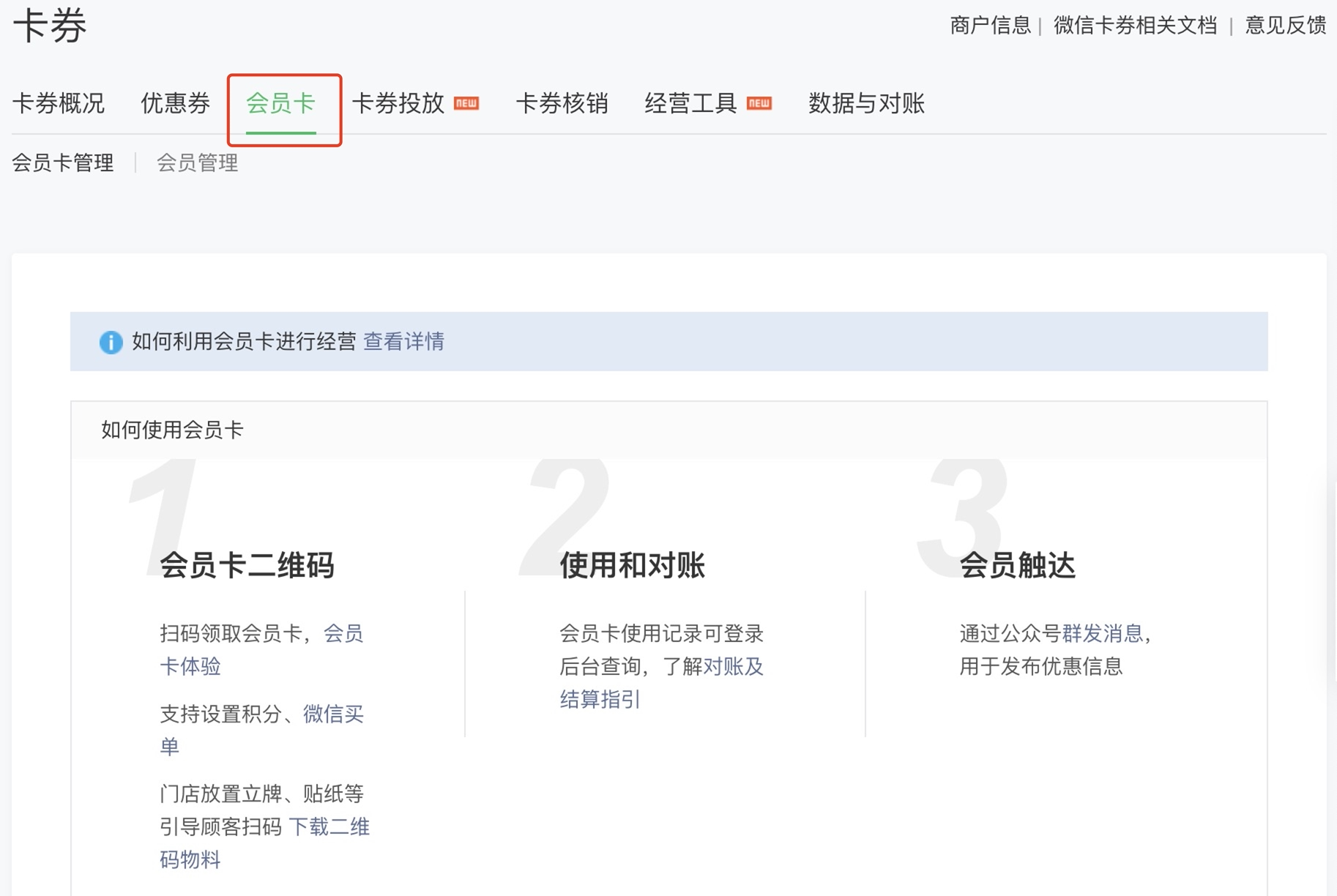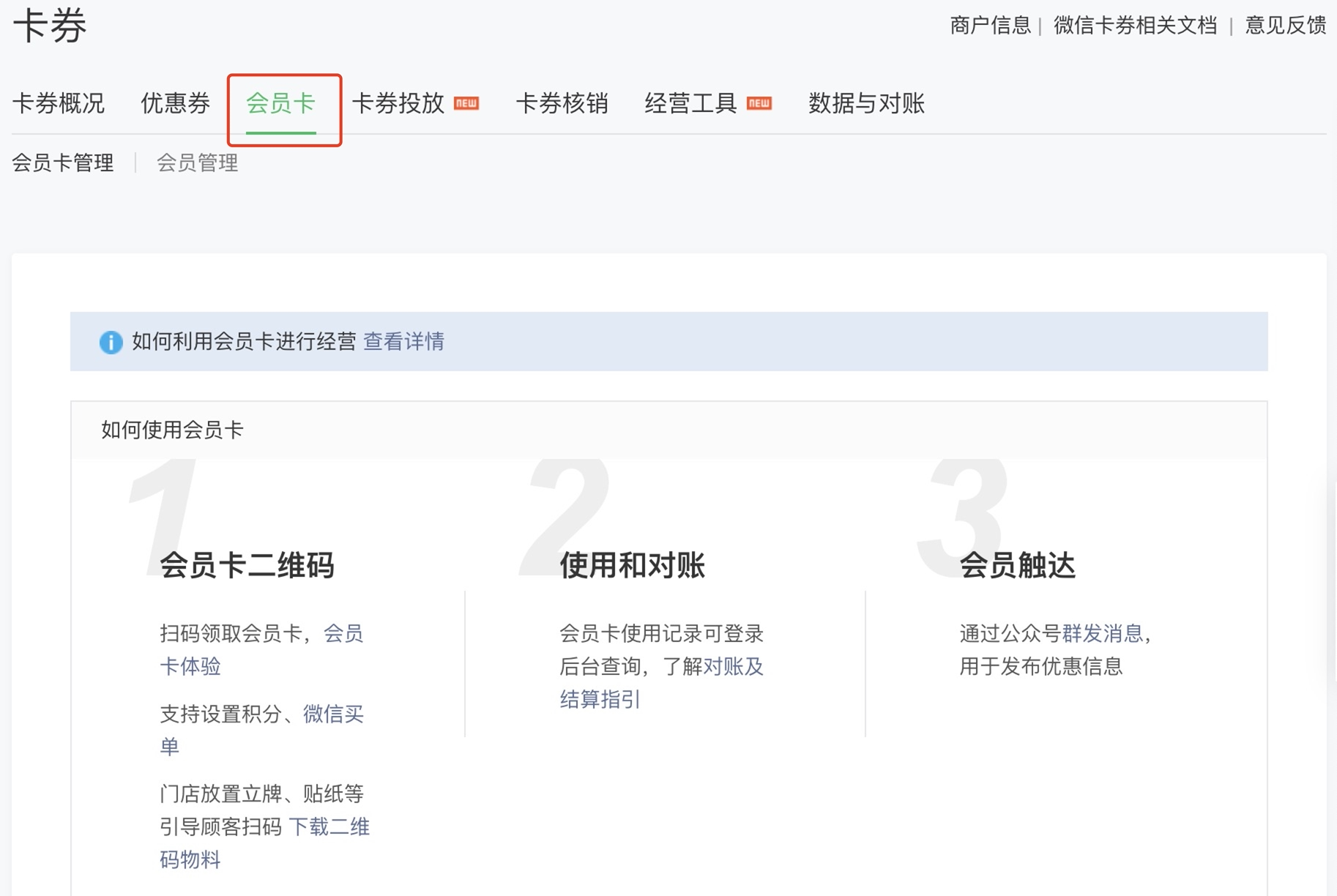 Card & Offers function in WeChat OA platform
2. Determine your membership type and sign up flow. Is your membership in the growth model or paid model? What information do you want to collect during the registration process? What privileges can be provided to your members? Below is a typical flow most Chinese audiences are familiar with.


Brands with development capabilities can implement in API ways. This way gives you more flexibility on membership card customization.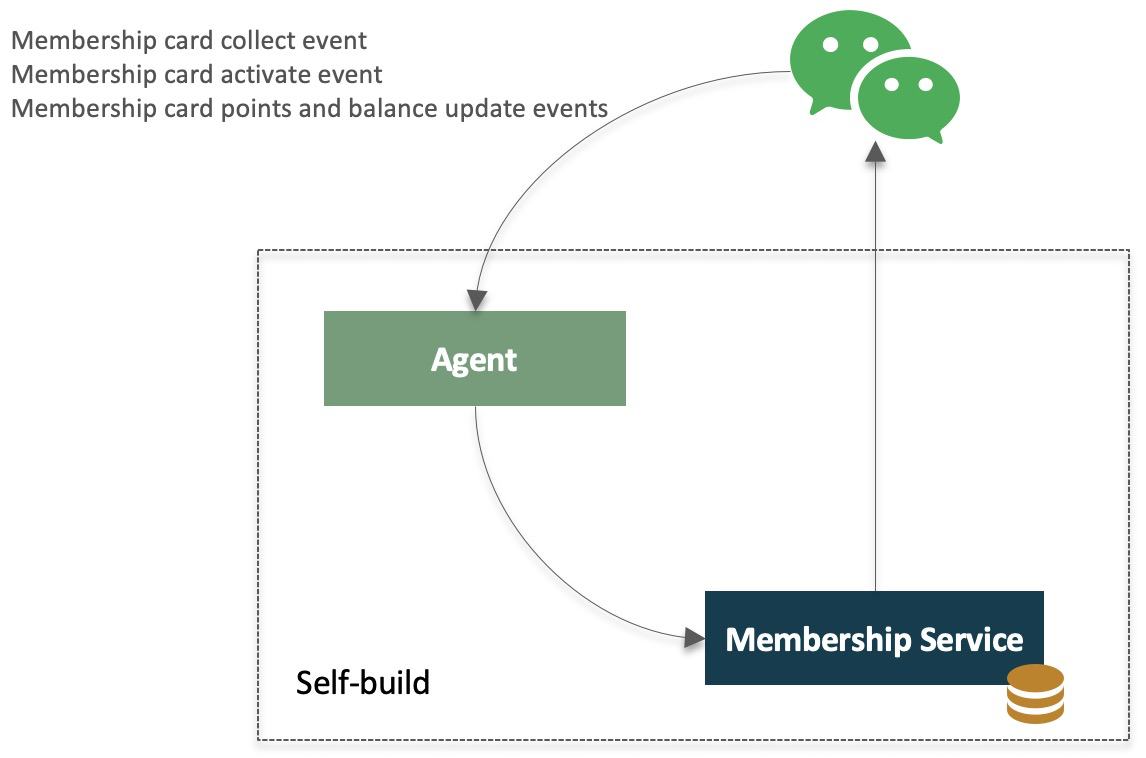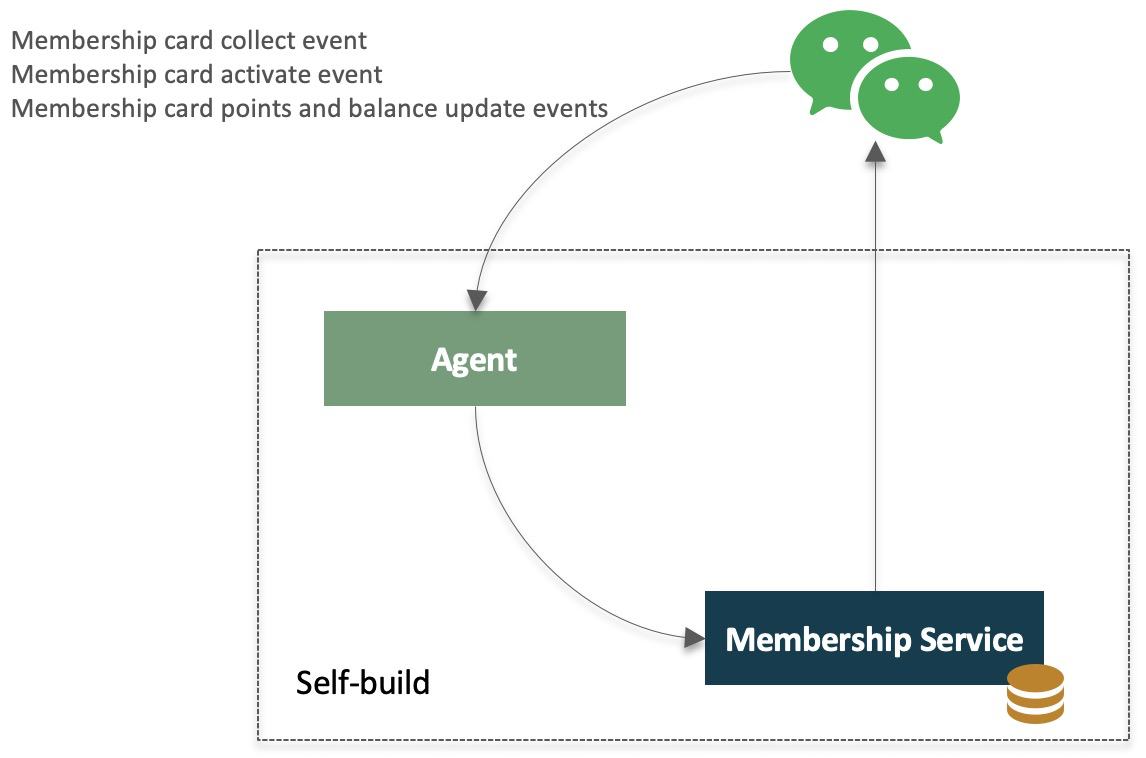 Brands without development capabilities can directly create WeChat membership cards from the OA platform. However, as it's a more fixed way, make sure your requirements can be well satisfied.
3. Opening the membership sign up flow to the public is the first step of your loyalty program. What's next? Here are some ideas:
Integrating with the supporting systems, including CRM, CMS etc. to better analyze and engage with your members.
Segment your members and tier benefits to cater to different customer demographics.
For a successful example, look to Lego. Lego MP smartly uses gamified ways to engage with its members, thereby increasing DAU and membership stickiness. At the same time, members unlock advanced tier benefits by upgrading to the next level, which encourages more consumption.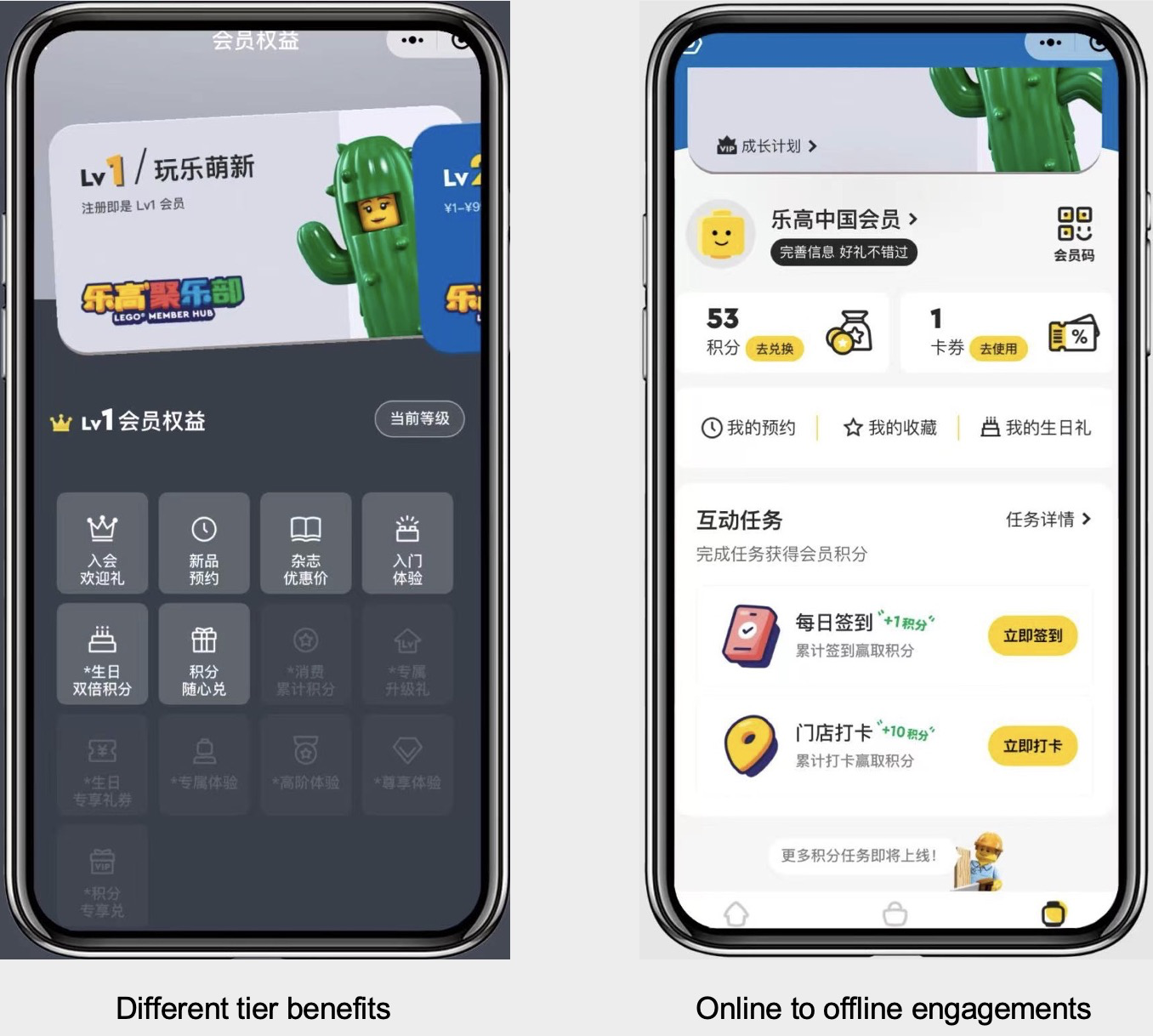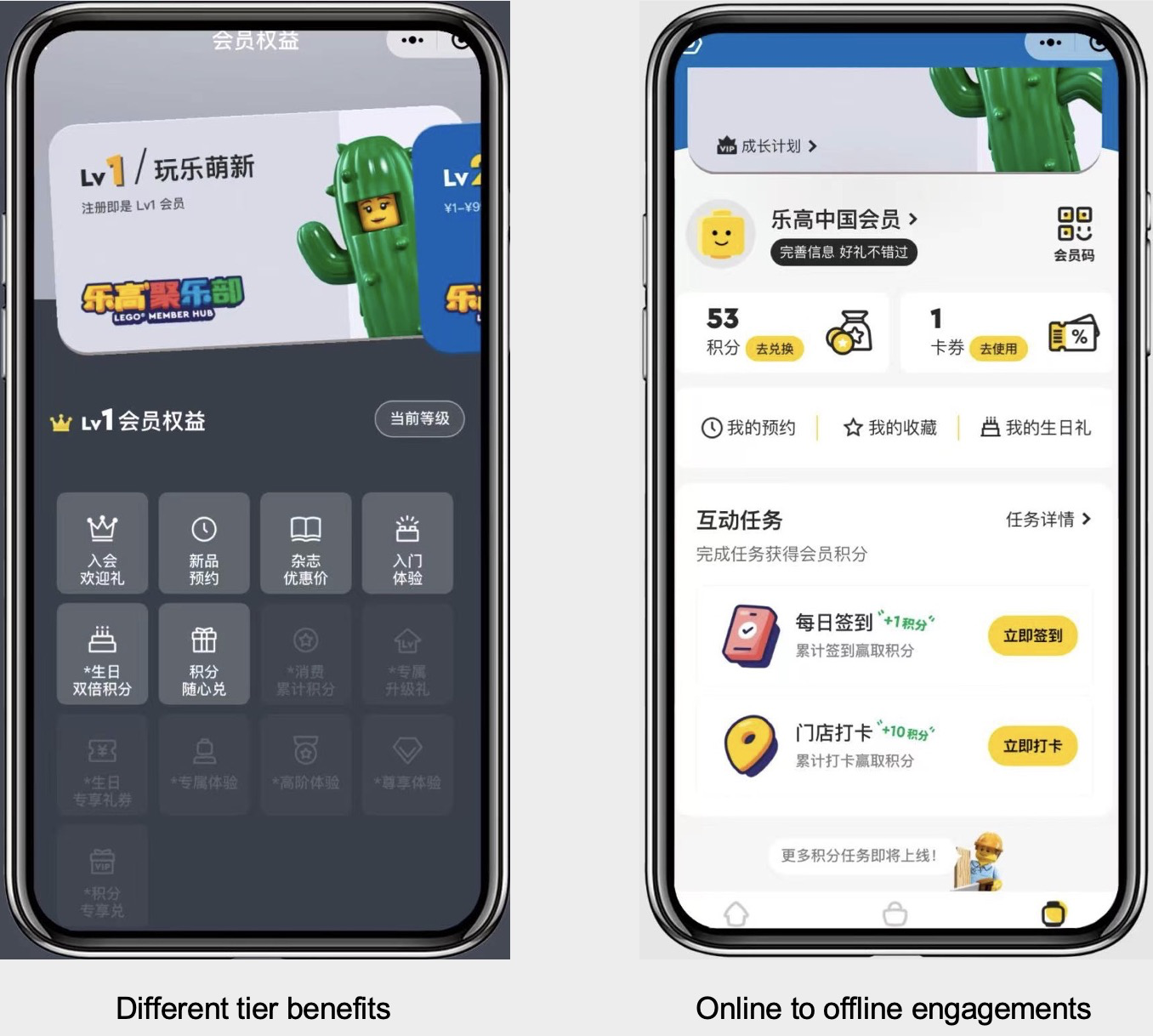 Conclusion
WeChat, as one of the most influential platforms in China, has a huge user base and complete ecosystem, which makes its loyalty programs very valuable and effective. Companies would be smart to use its capabilities to their advantage.
Disclaimer: The statements and opinions expressed in this article are those of the author(s) and do not necessarily reflect the positions of Thoughtworks.