Insurers need new and disruptive business models to cater to the new world characterized by rapid changes in customer expectations, tectonic shifts thanks to digital technology and an underwhelming global financial market. 
Thoughtworks' Looking Glass report states, "platforms created by businesses are increasingly only a starting point. Meeting rising customer expectations often requires joining up with, or being open to other participants, turning platforms into ecosystems of related products and services that evolve dynamically as constituents cooperate and compete."
This is further supported by McKinsey's estimate that, "ecosystems will account for 30% of global revenues by 2025." Insurers agree too: 84% of insurance executives consider ecosystems an important strategy and 54% are actively seeking ecosystem capabilities. 
This article looks at the various kinds of ecosystems that insurers can tap. It also details the actions that insurers should take to drive success through the ecosystem approach.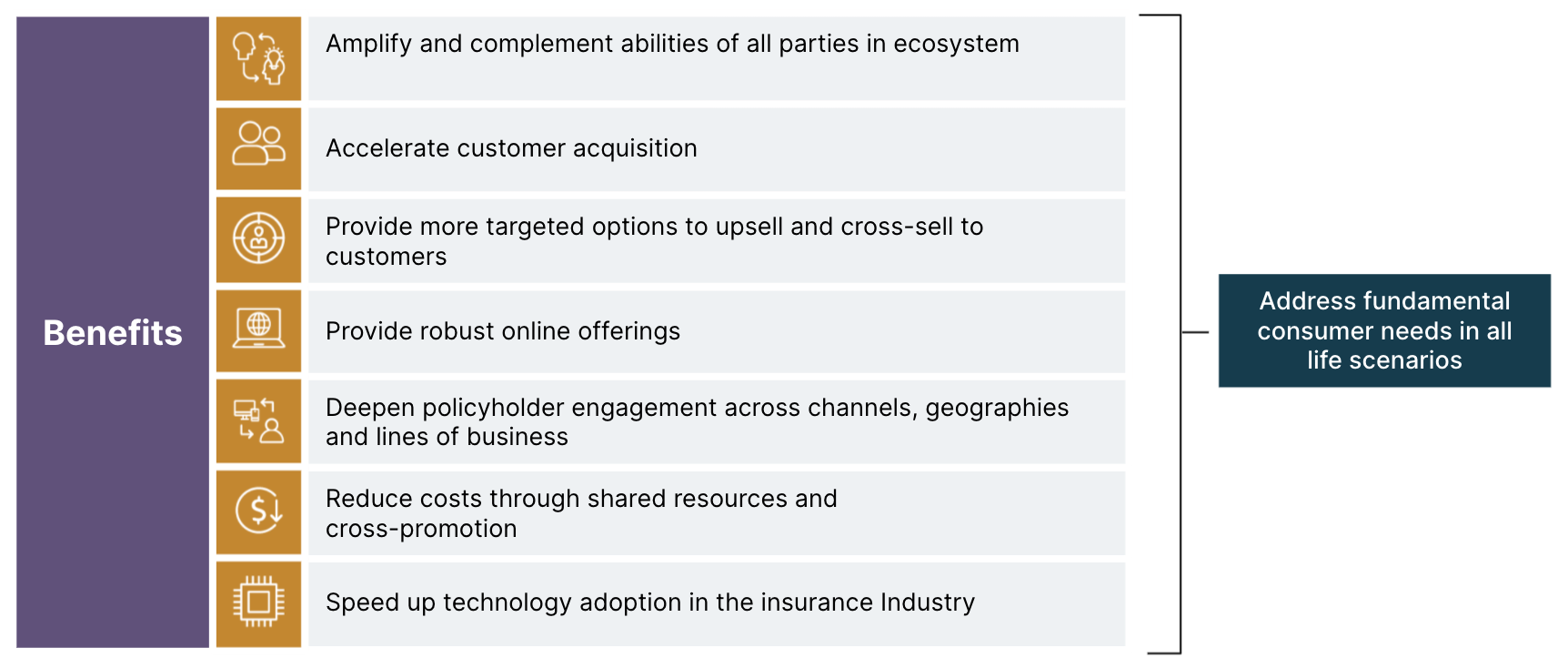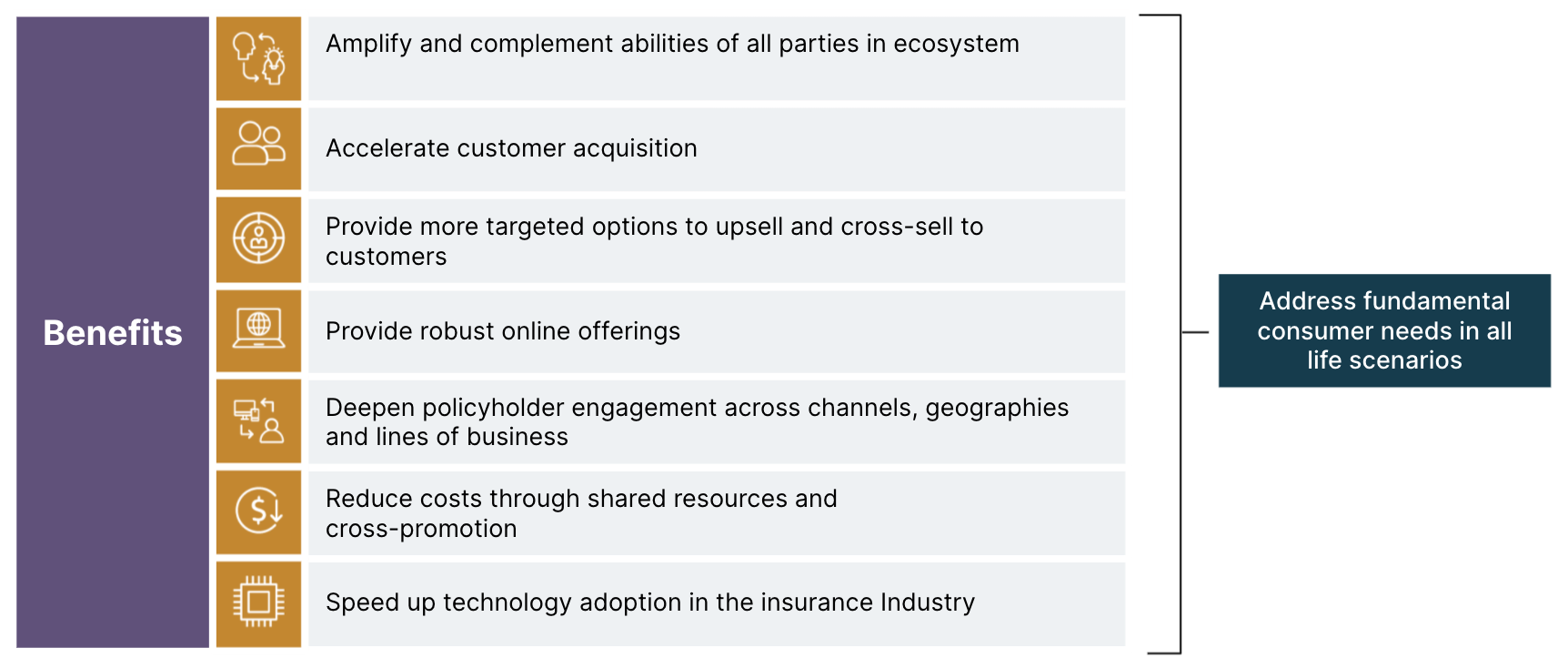 Ecosystem models at a glance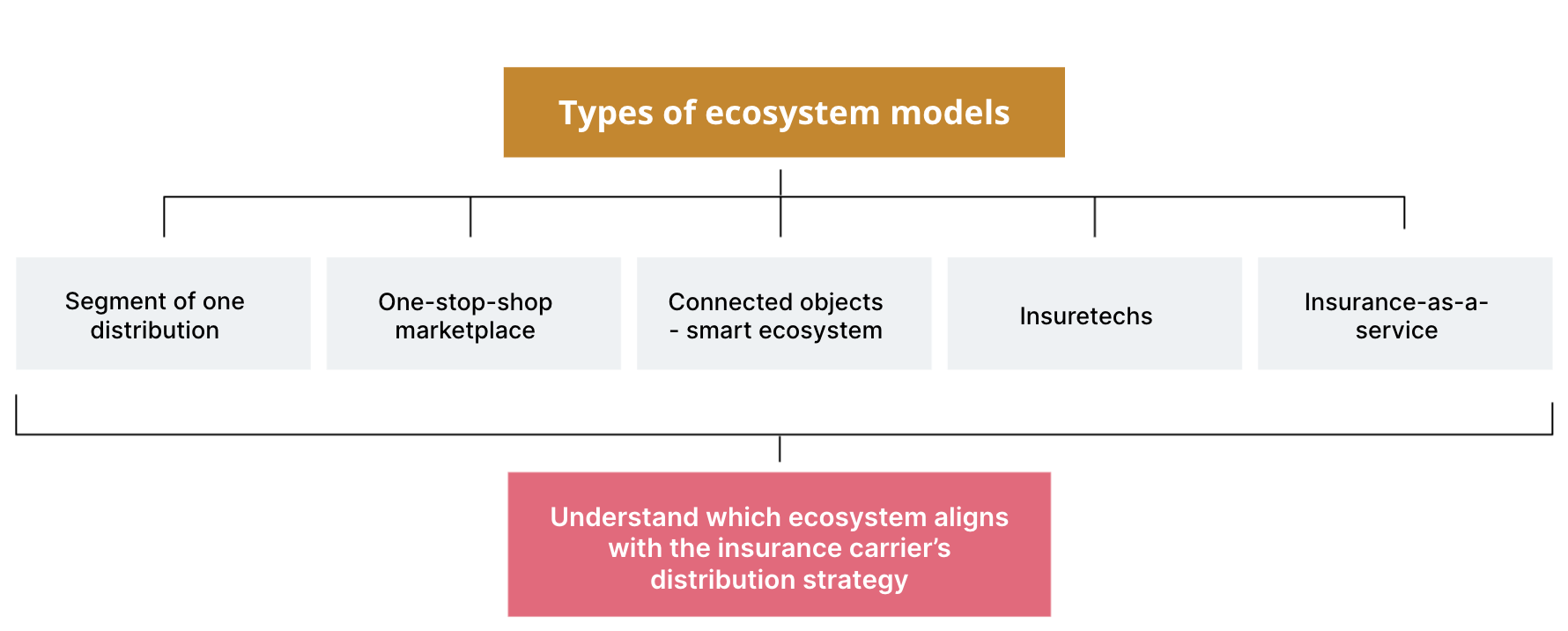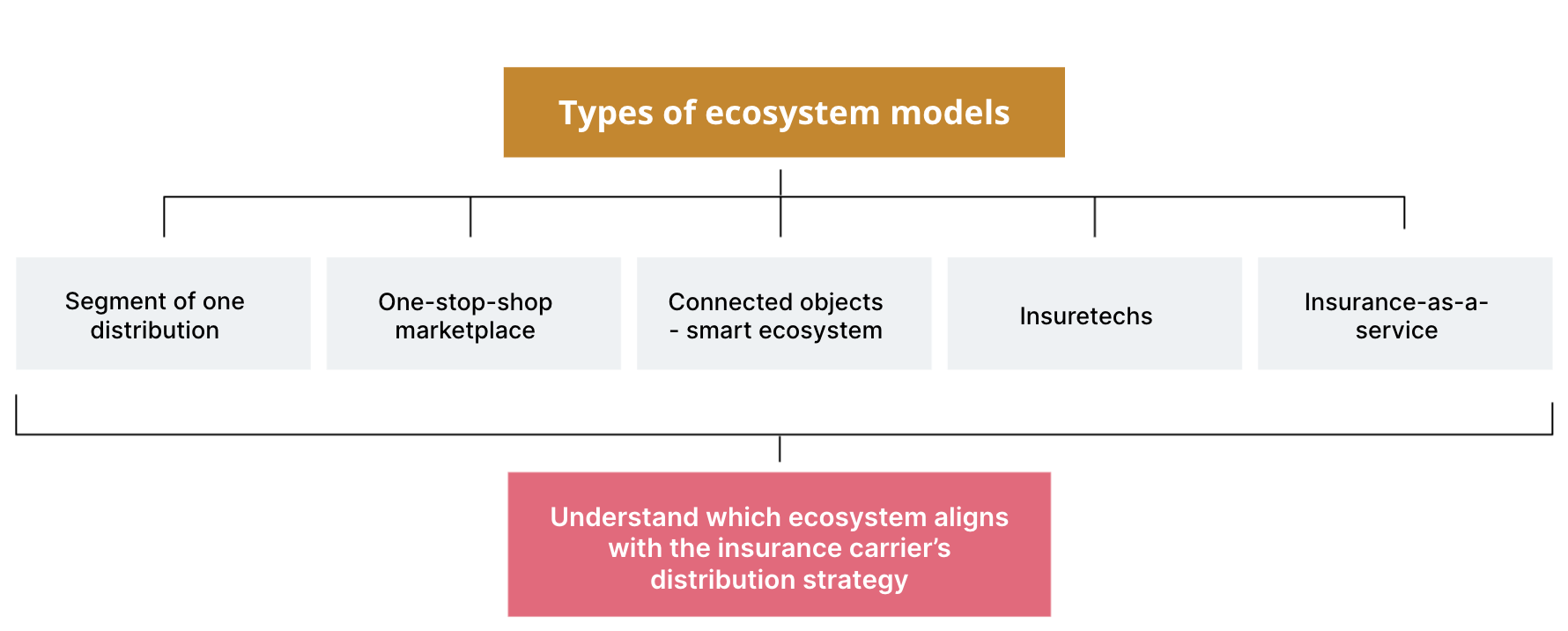 Segment-of-one distribution
In this model, insurers offer personalized experiences, tailored to customer personas and based on deep customer insight. Such ecosystems are often driven by retailers or start-ups or non-financial vendors.
Key drivers of segment-of-one distribution are insight-driven personalization and a predictive/prescriptive approach to understanding the needs and desires of customers. In this model, insurers look beyond generalized products and enable hyper-personalization. For example, allowing a customer to switch their insurance on and off – turning 'on' the car insurance over the weekend or the home insurance when they go on holiday.


Customer journey in segment-of-one distribution
The one-stop-shop marketplace
In this model, insurers orchestrate a broad array of services that fulfill an integrated set of customer needs— solutions for 'everything I need to lead a healthy life.' To achieve this, all the ecosystem partners should be on one platform – the one-stop-shop. For instance, in the financial marketplace, customers will buy term insurance and mutual funds as a combo product. Additionally, partners can personalize propositions for customer, as per the latter's history and portfolio.
Here's another example, we built a digital ecosystem for a leading Indian bank where insurers and asset management companies could come onboard and offer products to the bank's customers. The simplified journey that was now available to the customer, self-onboarding for partners and the personalized products – made it a profitable proposition for everyone in the ecosystem. 
Connected objects - smart ecosystem
This model brings the physical and the digital together. Insurers partner with IoT providers to leverage the network of connected devices and sensors that generate real-time data to predict risk and prevent losses. Google Nest, the maker of smart-home products does this well. It not only provides customers with a monthly report card of their own energy use but also a comparison of it with their neighbors' energy consumption. At the same time, the company creates value for utility providers by providing consolidated information about the demand to help them optimize production.
Insurance-as-a-service offering
Emerging IaaS is inheriting similar paradigms. TONI Digital, a European insurtech company with an insurance-as-a-service platform enables partners to rapidly enter insurance, leverage brand and customer bases, while also generating new revenue. TONI Digital has partnered with Socotra, a cloud-native insurance core platform. The integration with an with established risk carriers allows TONI Digital to offer competitive premiums.
Harnessing the potential of digital ecosystems
As described above, there is no one-sure-shot way of building an insurance ecosystem. Insurers have to identify the ecosystem strategy that best suits their goals and needs. Let's see some of the ways in which they can do this: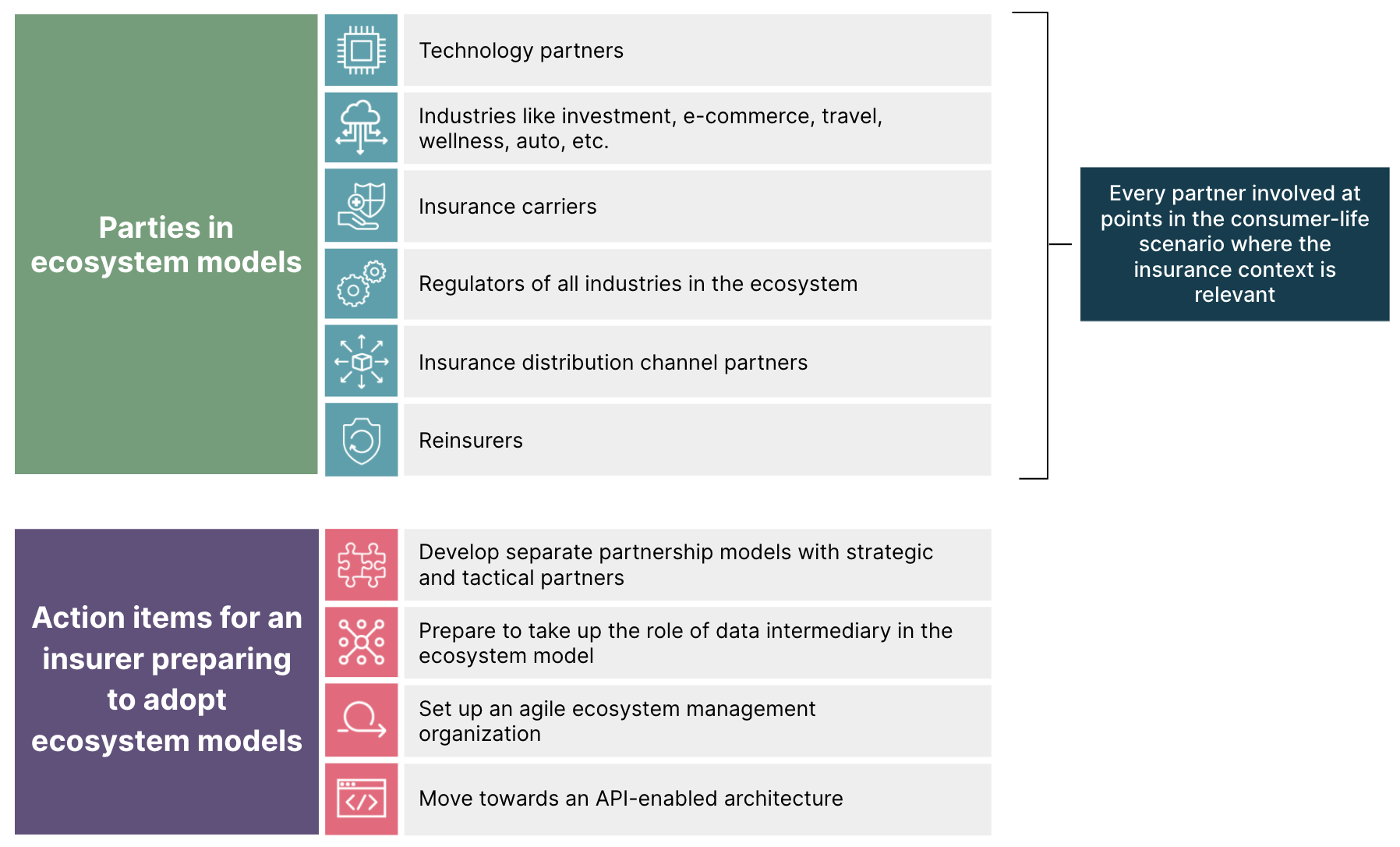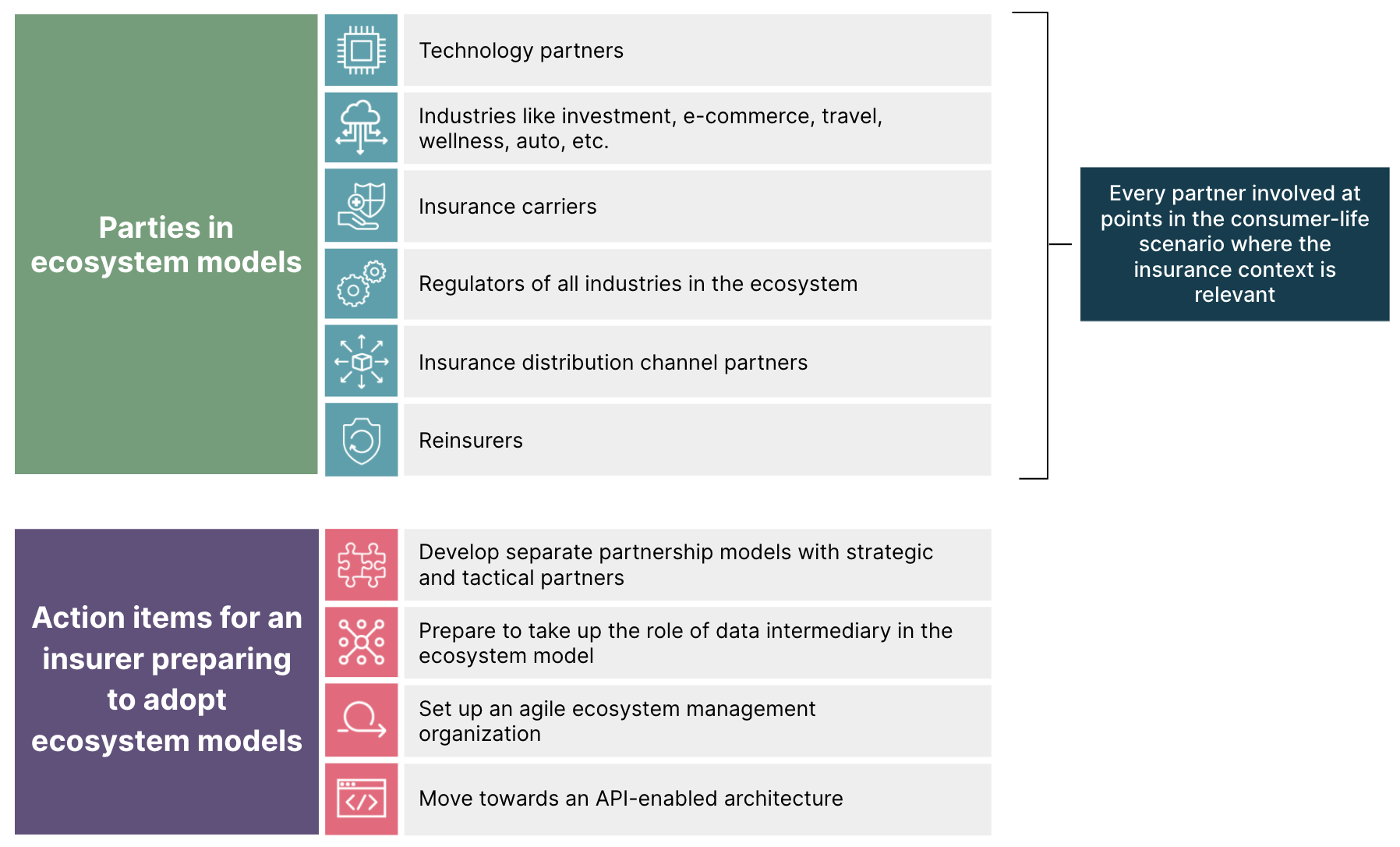 Develop separate partnership models with strategic and tactical partners
The first step in building an ecosystem is to choose the right partnerships. A successful ecosystem runs across adjacent industries, and good partnerships will result in not only curated offerings that meet critical needs (buying a house, car, etc.) but also seamless services tailored to each customer. Our recommendation is for insurers to:
Explore multiple partnership models with a special look at contractual partnerships

Distinguish between strategic and tactical partners

Be creative about remuneration models

Clearly define and communicate KPIs to ensure the partnership delivers anticipated returns.

 
Prepare to take up role of data intermediary 
In an ecosystem, the insurer is not merely an insurance provider. They also have the opportunity to access and use data from across partners to offer personalization – based on individual risk assessments or anonymized profiles. They can also support customers through the latter's various insurance needs and policy lifecycle.
This requires insurers to have the skills and experience to leverage the available treasure trove of data and foray into new areas like market research. Predictive analytics will allow insurers to make better use of both internal and external data that is necessary to more accurately arrive at price-risks. Additionally, moving processes and data to the cloud makes it easier to engage with a broader range of ecosystem partners. 
ZhongAn, a digital venture of insurer PingAn and online giants Tencent and Alibaba, identified an opportunity to aggregate and analyze data on medical insurance directories, drug databases and hospital networks. The resulting SaaS platform11 offers access to medical records, an insurance repository and risk management services.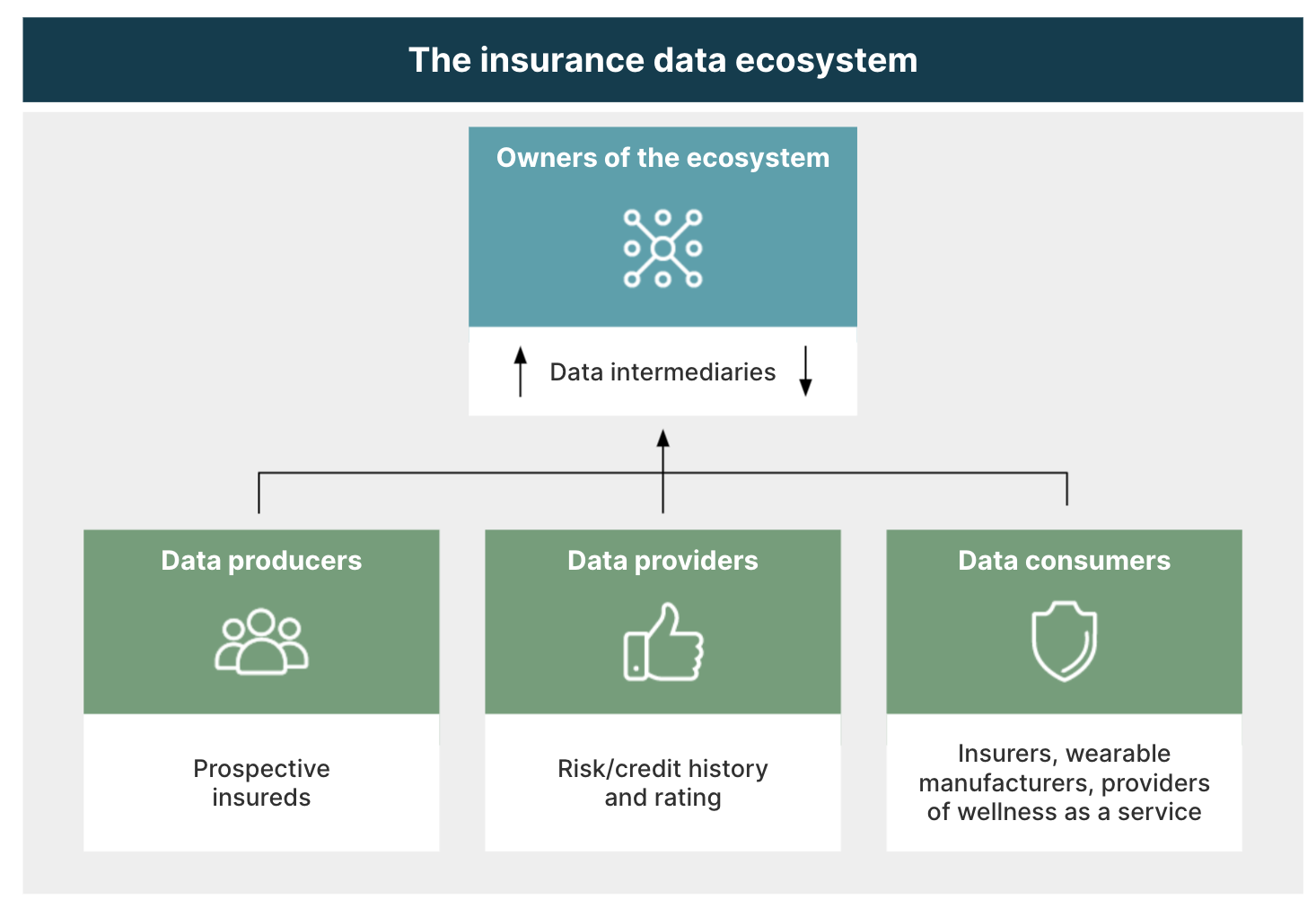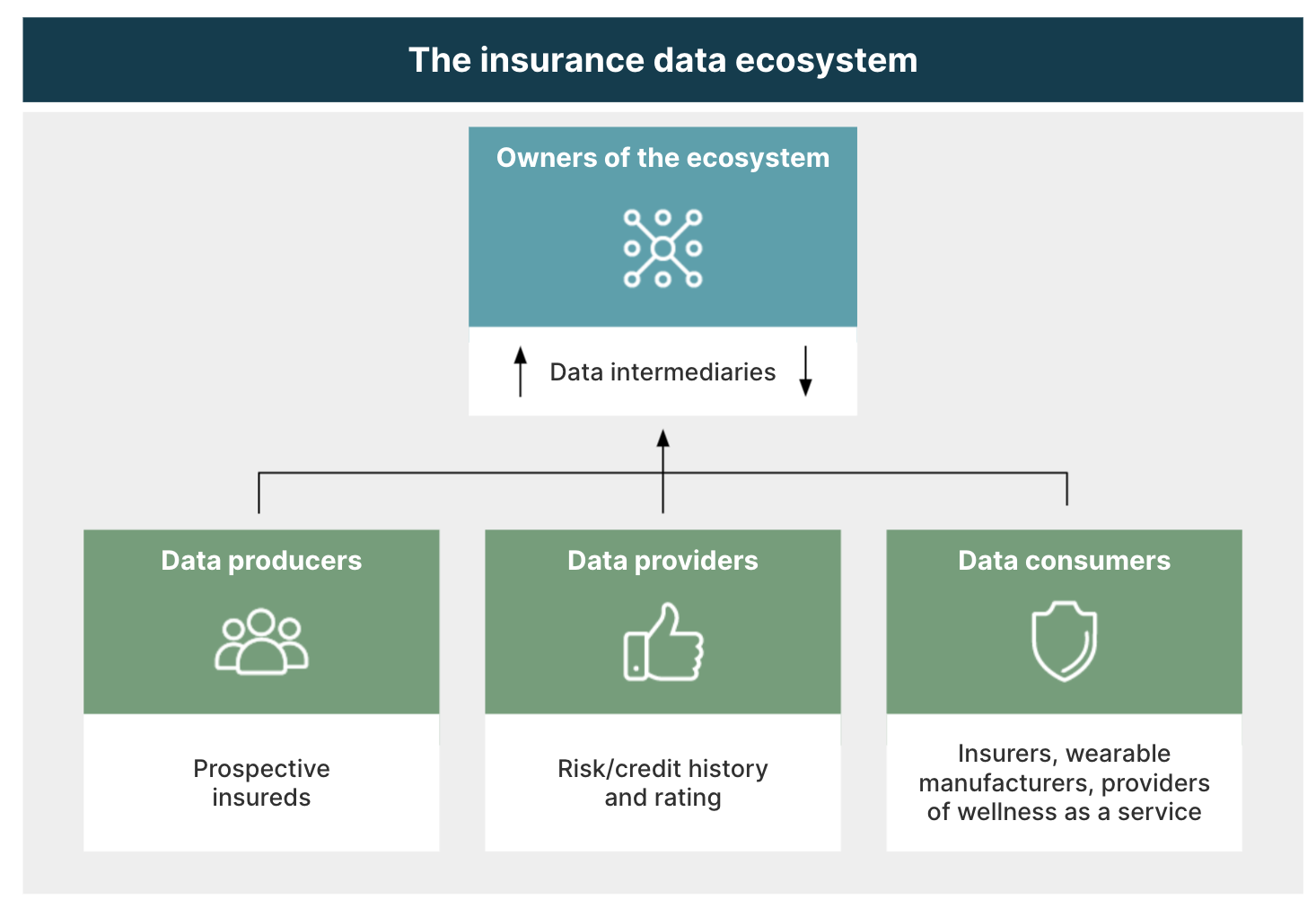 Set up an agile ecosystem management organization
While adopting the ecosystem model, it's important for carriers to get faster, leaner and more effective – to have business resilience and adaptability that meet customer expectations and market conditions. To achieve this, we suggest:
Align business and IT as a single unit, spending less time on syndication and decision preparation

 

Create a cross-functional and self-autonomous hierarchical structure reducing lead time and handovers. For example, if a customer sales journey workstream has representation from distribution channels, tech, risk and compliance, and the product team – then this autonomous team (startup within an enterprise org.) can work together to improve the sales experience for customers without depending upon other teams in the organization 

 

Ensure innovation processes and strategies are nimble and enable quick responses to competitive threats and opportunities. Innovation can no longer be restricted to a single part of the business or a forward-thinking group but must shape the way decisions are made throughout the organization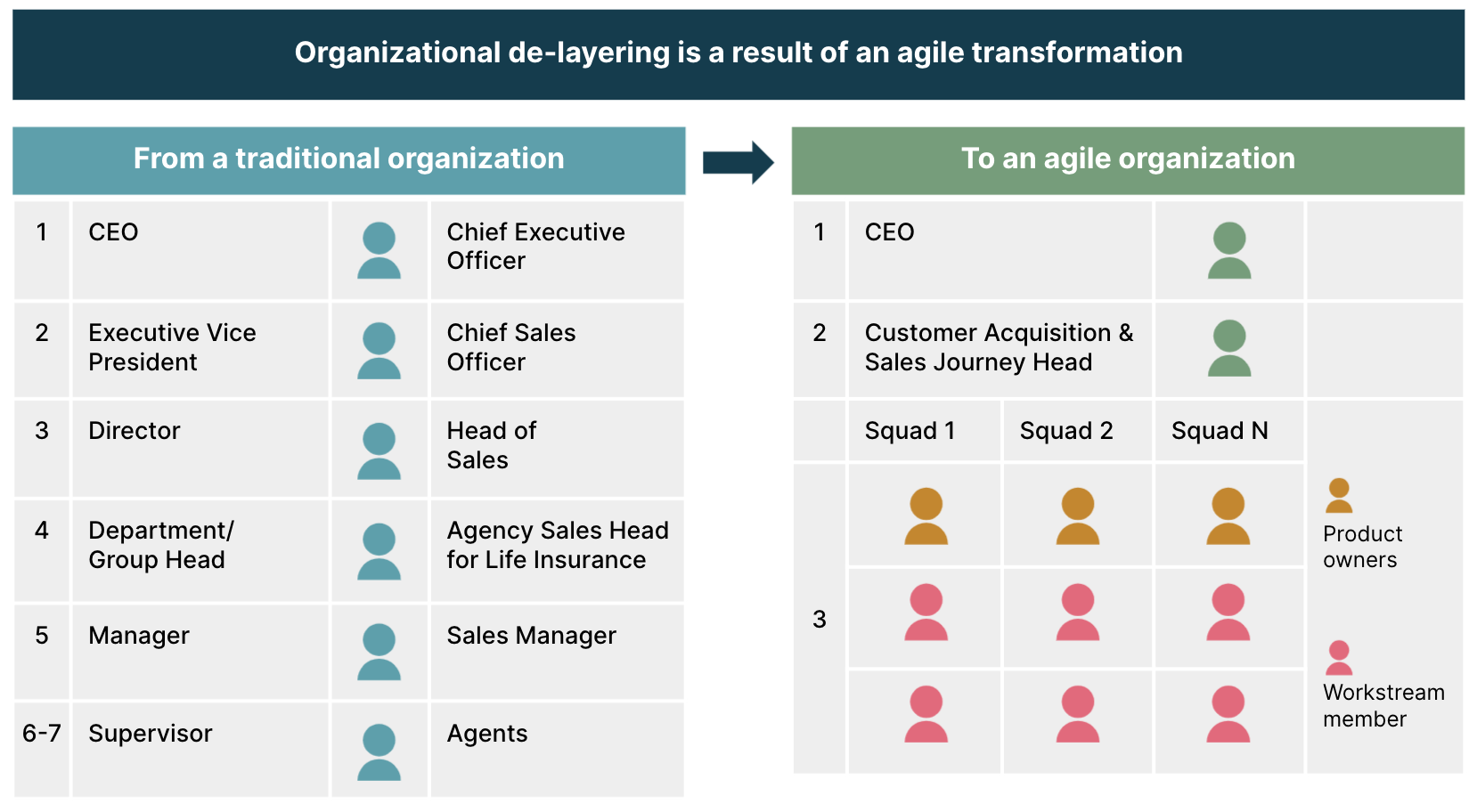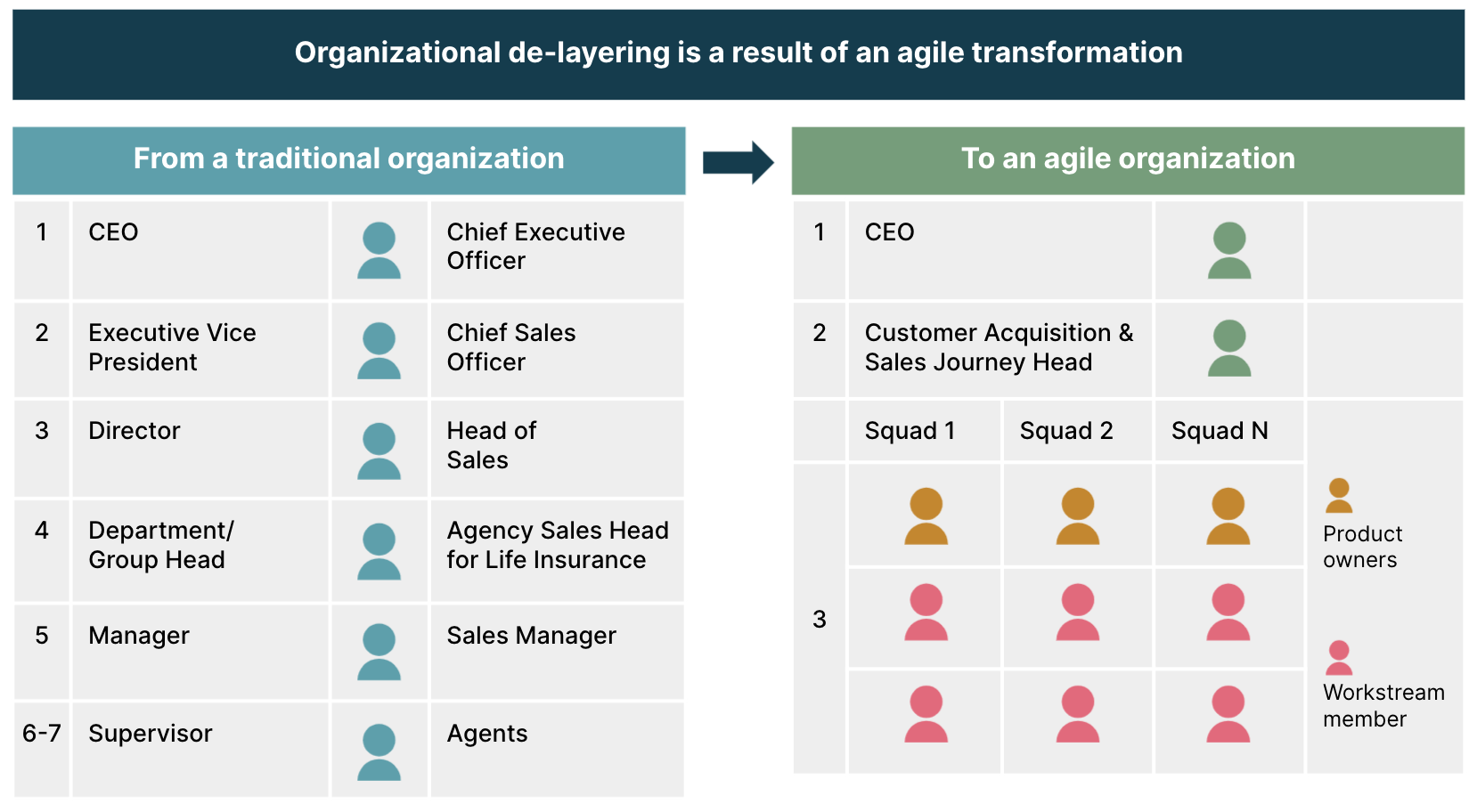 Move towards API-enabled architecture
On the technology side, insurers should build scalable and flexible API-based IT architectures that support quick integration of offerings into seamless customer journeys. They need to begin exposing well-defined and well-documented services to the outside world. Instead of only doing the bare minimum to integrate with the most popular distribution platforms, insurance companies should start opening their entire gamut of data insights and product catalog. 
This strategy will not only enable the insurer to explore new opportunities but will also push IT organizations to restructure into a more agile and customer-centric organization. 
Success in an ecosystem – regardless of the model – differs in important ways from success within a traditional company. We expect that more companies will rethink and reshape their business models and capabilities to suit the ecosystem era. Our guidance should help leaders of financial institutions and conglomerates as they seek to address digital threats and capitalize on opportunities that ecosystems present.
Disclaimer: The statements and opinions expressed in this article are those of the author(s) and do not necessarily reflect the positions of Thoughtworks.