In more normal times, an international transfer would be an undertaking from both a professional and personal perspective. But what does one look like during a global pandemic when most of the world is under lockdown? Matheus Tait, Managing Director of Spain, shares his experience transitioning from Ecuador to Spain without ever leaving his home in rural Brazil. 
First off, can you talk about how you ended up at Thoughtworks? What brought you here?
I have been working with technology since the age of 18 and I've had the opportunity to work in several roles across a variety of verticals, countries, and industries. At some point in my career, I realized that I wanted to connect my work with my values; I felt a bit disappointed with traditional businesses and big companies, so I changed my career and started to work with research. 
I spent the majority of my technology career as a developer and through my work I discovered Martin Fowler and started following him on social media (fun fact: today I work with him on our leadership board, so happy!) I came across Thoughtworks and I started to read more about their view on shaping a positive and equitable future through technology. Over time, I started to become more passionate about the company, but had no plans to leave my town or job (Thoughtworks didn't have a presence in São Paulo at the time.)
At some point, I saw that Thoughtworks Brazil was going to have a recruiting bootcamp in São Paulo. I thought to myself (and discussed it with my wife), "Why not try it?" To make a long story short, seven months after the one-day recruiting process was over, I was invited to join Thoughtworks Porto Alegre as a project manager. So the adventure begins.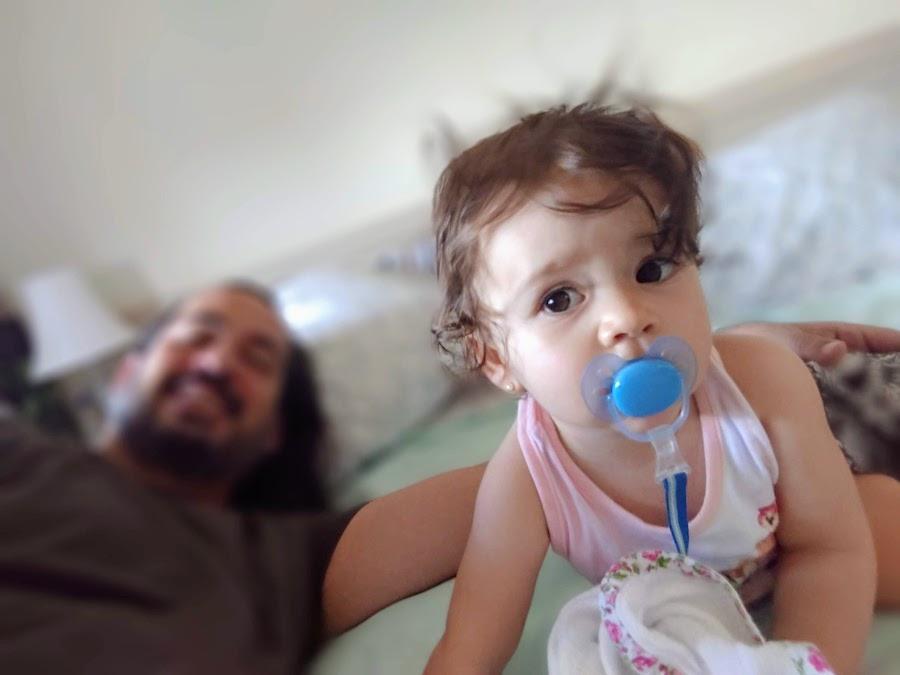 You've been at Thoughtworks for a few years now. Can you talk about your observations around Thoughtworks' response to COVID-19? How has Thoughtworks' roots in agile and adaptive thinking helped in this situation?
It's hard to explain Thoughtworks ways and culture to someone who isn't living it, but it's clear that we breathe agile principles, not only for software development projects, but also as a business. We apply the mindset of adapting to the world around us, testing hypotheses with data (and pivoting/shifting as more data appears), failing if necessary but learning from it, having autonomous teams working towards a common goal, etc. All of that certainly helped a lot in coping with the COVID-19 crisis, although it's difficult to point to a single path. 
I remember talking with our TechOps (Infrastructure) folks in Quito after we received the
first learnings from Thoughtworks China
. They were proactively using their autonomy, modernizing IT infrastructure in the office to be more remote/work-from-home friendly, considering employee experience, managing the network on the cloud, etc. A little while later we started to help some clients who were open to working remotely and we therefore started to minimize flights, etc. By the time the lockdown happened we knew how to keep our people safe while maintaining business continuity, with several learnings along the way, but with low disruption. 
I've also seen folks from Thoughtworks Quito conducting webinars to help the broader community when possible through sharing our experiences. I've had the opportunity to attend some and have seen a lot of participation from the Spanish speaking community and from countries such as Chile and Spain.
So up until recently, you were Managing Director of Ecuador. Can you talk about that role a bit?
I should start by saying that prior to Thoughtworks, I never imagined myself in an executive position. As I said before, I spent most of my professional life as a developer. Also, I am a shy and introverted person, so I've had this misconception that those are not ingredients for a successful leader. But Thoughtworks leaders sometimes believe and trust in us more than we trust ourselves, and I decided to accept the invitation when they invited me to be (on the start of my leadership journey) the general manager for our Porto Alegre business unit back in Brazil. After that I moved to be a general manager for São Paulo and finally managing director of Ecuador, which was my last position before my most recent change. 
As managing director, I was the end-to-end owner of the business within Ecuador. This means that I was responsible for leading the development and implementation of country-level plans and strategies, defining and promoting the Thoughtworks service offerings within the market, and leading strategy and execution. The position also allowed me to play a key role as part of the Thoughtworks global leadership team.
And now you're Managing Director of Spain with an interesting caveat: you've virtually moved to Spain yet you're physically still in Brazil. What's that paradox like? 
Yes, we are living in interesting times.
As part of our business evolution and our proclivity to adapt to change, we had reasons to refresh the business. I was about to move into a new role as one of two managing directors for Spain, and the idea was that I'd relocate to Barcelona at some point. This was planned for a while and my move was supposed to be in April. So I left my old position (and apartment) in Ecuador and came to Brazil for some paperwork, family visits, etc. before heading to Spain.
It was while in Brazil that the global pandemic started, so we couldn't continue the plans regarding my physical move to Spain. On the other hand, while a physical move wasn't feasible, we had several conversations and understood that the business was still prepared to move forward with the original plans in terms of my role and the new leadership structure. The result: by April 14 I moved to Spain...virtually, without leaving my family apartment in a small city in the Brazilian countryside: Ituverava. 
This picture is from my first meeting with the (almost) complete operations team for Thoughtworks Spain: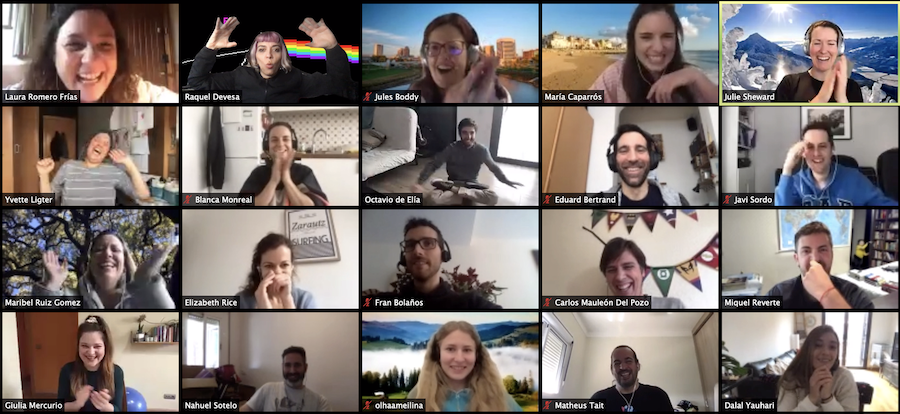 The next photo is from a meeting with the Spanish leadership team. This crazy situation made it possible for my one-year-old baby, Alice, to be part of my first meeting as managing director of Spain, even with an ocean between us: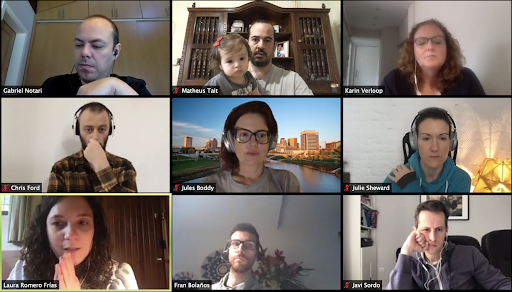 Speaking of Alice, there's something good to come out of all of this. We are seeing all of the suffering that COVID-19 is bringing to the world. And I'm not trying to compensate for anything, simply sharing a surprising outcome: I'm working in a Spanish timezone, which means that I wake up early to start my day around 5 am. However, this also means that I'm able to spend a lot of time in the evening with my family. I'm now able to play with my kid for hours every single day, and I was able to be there with her when she tried her first words. As of this week, I've been able to experience her first attempts at walking. This is so magical.
On a more practical level, the transition was not as hard as it may seem. Thoughtworks Spain had already been in lockdown for a while, along with the rest of the country, when I started in my new role. They had already adapted to working from home. It's interesting that it's not only about
serving our clients
in the best way possible, but also fostering community activities like virtual coffees and happy hours, yoga classes, making dinner together, etc. So the fact I'm in Ituverava doesn't impact things too much: even if I was in Barcelona, it would be exactly the same. This was a very pleasant surprise.
So how are you settling into this new role and how is the current situation with COVID-19 challenging, or maybe alternatively, what silver linings do you see?
First we need to recognize that society is suffering. Suffering from health/sanitary, emotional, and economic impacts. In the short term we as a society, and our governments, need to work together to minimize it. A little bit of survival mode for a while. That said, we'll turn into some kind of reinvention mode at some point, after we cross this difficult phase. I want to reflect about this a little bit. The Uruguayan writer Eduardo Galeano once gave an interview to a group of young people and said, "This infamous world in which we live is pregnant with a new possible world." This is a rough translation, but the idea of the world being pregnant with another possible world really resonated with me and I never forgot those words. Galeano also talks a lot about utopia in a very beautiful poem that speaks to my optimistic side.
The world will never be the same. This pandemic will mark the end of an era and I think storybooks will write about it as the monumental change of the century. We're learning a lot about the importance of a healthy lifestyle, staying close with friends and family, effectively collaborating, and building solidarity. We're also seeing that new ways of working are possible. That it's possible for me to deliver my best work to clients while watching my baby take her first steps at the same time.
I believe that some tech tendencies towards digital transformation and the "4th Industrial Revolution" will accelerate as we recover, and probably with less friction. For instance, I see close family members who were resistant to online bank transactions needing to adapt, and I'm talking about demographics that would hardly (if ever) do that before this crisis. Will they totally revert to the old ways once this is over? I don't think so. I also believe my current situation is a privilege and brings bigger responsibility: if the world is pregnant with a possible new world—and if tech is likely to play a big role shaping it—what is this new world we want to shape? How do we take responsibility for it? But I think that is another discussion for another day. 
Disclaimer: The statements and opinions expressed in this article are those of the author(s) and do not necessarily reflect the positions of Thoughtworks.