The face and composition of the Australian financial services industry is rapidly changing – and in doing so should be the catalyst for increased competition and reduced costs for SMBs as more and more new players emerge, equipped with more innovative products and bespoke services. The players in these so-called 'ecosystems' have the opportunity to work together to create new avenues of value creation, deliver innovative offerings, improve customer experience and accelerate growth. 
The small and medium business (SMB) financial services ecosystem has numerous constituents, as pictured in the diagram below. There are banks, non-bank financial services providers (Buy Now Pay Later or BNPL players, Point of Sale Payment solutions providers, etc.), accountancy software providers, aggregators/brokers, trusted advisors/accountants, business information software and, of course, the SMBs themselves.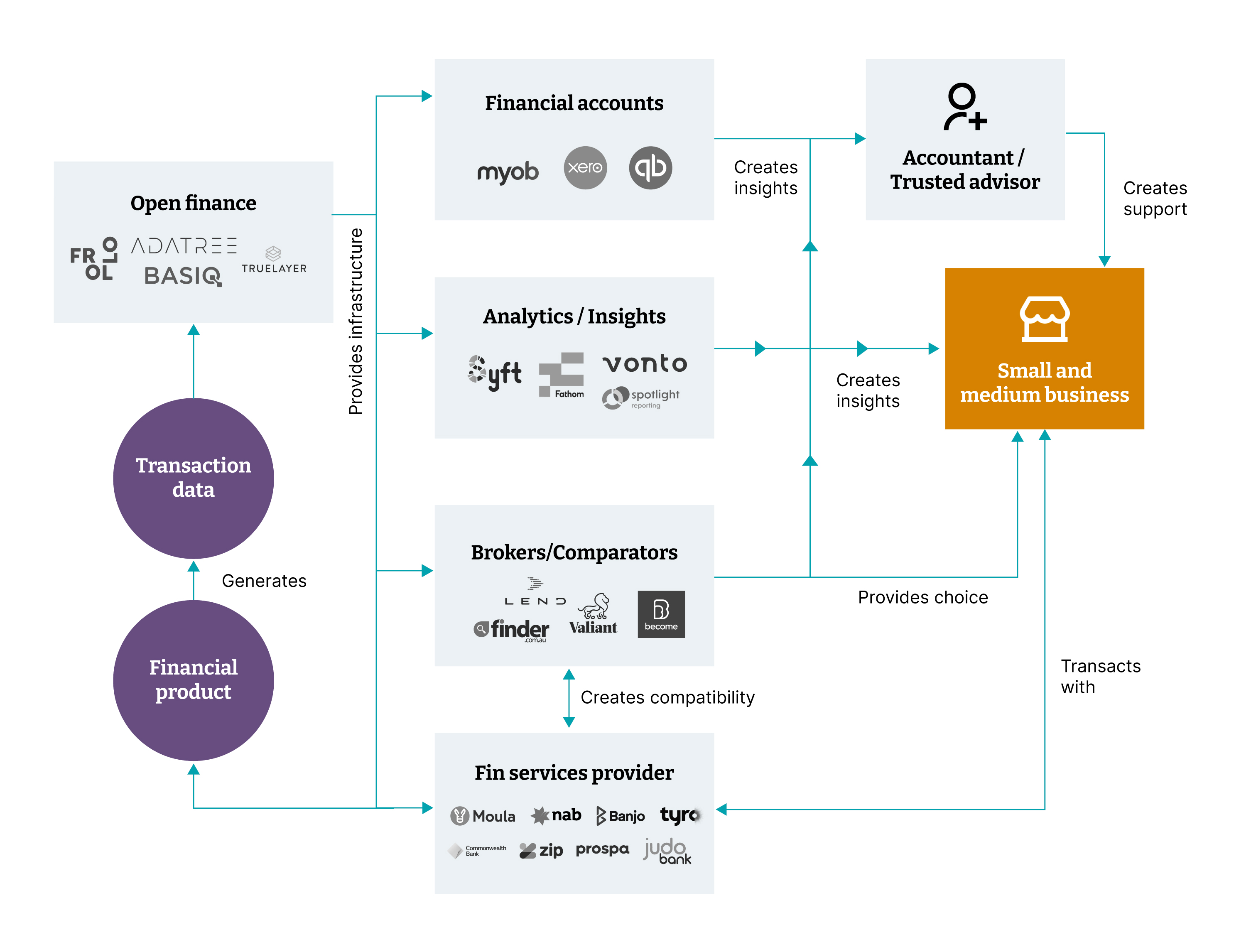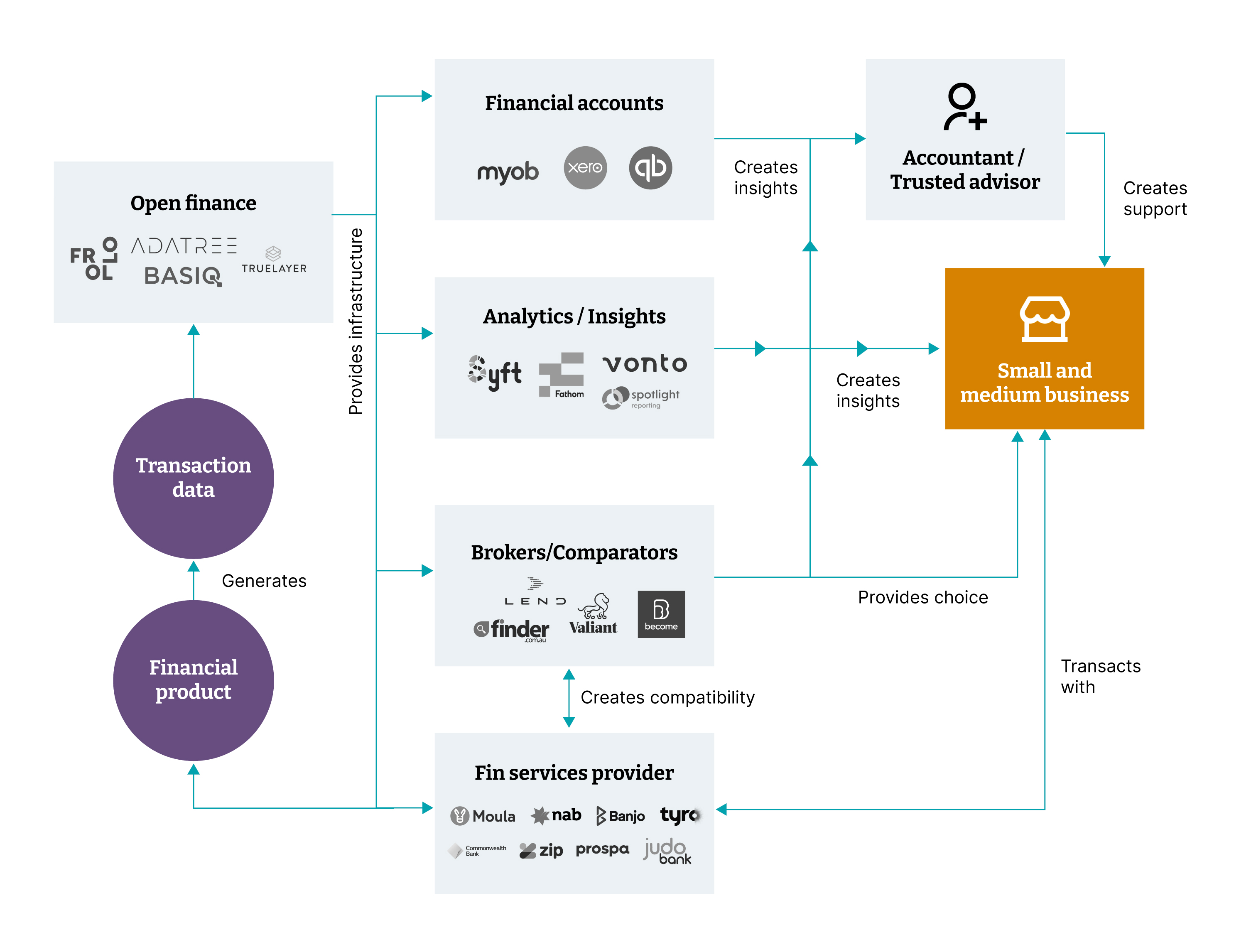 A simplified model of the SMB financial services ecosystem
Every constituent has core competencies which, until recently, were marketed directly to the end user: the SMB. Now we are seeing a shift to constituents working together to augment those core offerings to offer customers an interconnected set of services. A very recent example of that is Square buying BNPL leader, Afterpay. 
Each of these companies have core offerings but when combined, the sum becomes greater than the individual parts through the creation of a network effect. This not only benefits each market participant, but the end user retailers as well. By incorporating a BNPL proposition, Square will effectively bring retailers closer to them.
A changing landscape 
We live in a fast-paced digital world where rates of innovation continue to evolve at breakneck speed. The questions facing the ecosystem constituents are where should they play and who should they play with?
A bank, for instance, might need to accept that innovation is not one of its core strengths. But, the solution to this might be just around the corner in the form of working together with a fintech that has solved a longstanding problem.


If we look at CBA, it started Vonto to provide real business insights to its SMB customers. Vonto is connecting various pieces of software used by small businesses; initial integrations are with Google Analytics, Facebook, Shopify and Xero.


Xero for example is another important constituent and is building out its own lending offering by acquiring Waddle, an invoice financing provider.
While innovation within organizations is undeniably a good thing, without inter-organizational collaboration and communication, the risk of siloed innovation is very real – as is its threat to hinder the full potential of benefits. Despite this risk, many executives still focus purely on improving innovation within their own organizations. They miss the opportunity to improve overall sectoral innovation across the ecosystem by not understanding what the other constituents can bring to the table.
Green shoots
We are witnessing some proof that constituents are starting to partner together, but a lot more work needs to be done to improve overall collaboration and enhance the quality of the products and services available to SMBs.
The general sentiment is that SMBs still feel that they are underserved when it comes to what they need to get done and how banks support them - and it's expected to become an increasing pain point for SMBs in the post-COVID world. 
What they want from suppliers is choice (variety in lending and payments solutions), speed (for instance when applying for a loan), lower cost products and insights.
By harnessing and amalgamating the various strengths and expertize of each participant in the ecosystem, including the products provided by banks, the insights offered from accounting software firms and the rich pools of customer data available from business intelligence companies - a far superior ecosystem for SMBs can be built.
The questions business leaders should ask themselves
Organizations need to acknowledge that they benefit from operating within a larger ecosystem – a dynamic network of entities including distributors, competitors and suppliers.
Business executives need to identify and double down on their strengths while accepting their weaknesses; then look for strategic partnerships within the ecosystem to bolster the overall offering.
In this new environment, the winners will be those who do take the initiative to 'open up' and engage meaningfully with other participants. Not only will they strengthen the system for all, they will also be better positioned to service SMB customers in the future.
The end result will be a more efficient and nuanced financial system. It will mean better banking for SMBs, better advice, better accounting, better quality business information and ultimately, better outcomes.
Thoughtworks can provide the support organizations need to identify and align around effective collaboration. Through our CX and Data services, we can help surface a business' point of differentiation, while dedicated Enterprise Modernisation, Platform and Cloud specialists can optimize ecosystem participation.
Disclaimer: The statements and opinions expressed in this article are those of the author(s) and do not necessarily reflect the positions of Thoughtworks.