India's financial services sector continues to invest in growing digital business capabilities. The pandemic situation was a wake-up call for many organizations to relook and revive their IT strategies. Leaders in the financial services industry are building modular platform capabilities that would offer highly personalized experience, across digital touch points. Banks are also building robust operating models that would enable them to be resilient and adapt to market shifts.
Thoughtworks is a digital native disruptor with 25+ years of experience in building platform ecosystems and data-driven business models for companies in the financial services industry.We have extensive experience in transforming organizations in the financial services industry, right from large traditional banks to new age digital banks to fintechs. Based on such transformative experience we have formulated a pragmatic model that would help organizations to become a modern digital business.
The entire approach towards building the modern digital business is powered by Thoughtworks' Digital Fluency Model that recommends a multidimensional approach to attaining digital aspirations. The model helps customers identify the aspirational fluency pattern and the investments they need to make in order to build capabilities.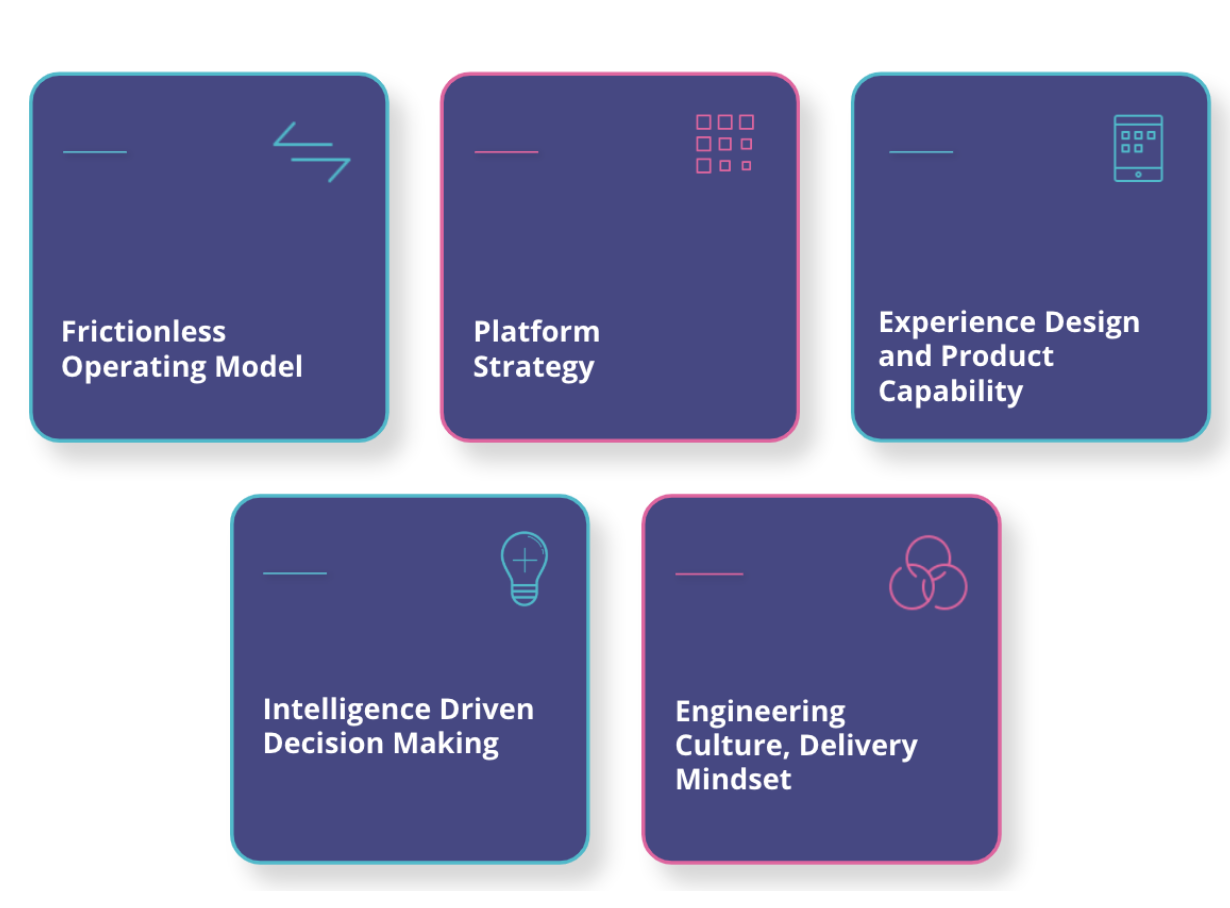 Building Blocks of Modern Digital Business for Financial Services Industry
Frictionless Operating Model: Enable financial institutions to redefine their operating model to proactively manage risks, regulatory environment and adopt to market disruptions 
Platform Strategy: Build adaptive and modular platform strategies that would enable banks to add new products & offerings and scale to new markets 
Experience Design and Product Capability: Design, deliver and evolve customer-centric products that would help banks increase customer experience across the financial lifecycle
Intelligence Driven Decision Making: Enable banks spot new patterns, context and detect hidden correlations that would help in fraud detection, lifetime value prediction and new revenue generation
Engineering Culture, Delivery Mindset: Help banks adopt modern approach to software development and enable them to launch products in rapid iterations based on customer feedback
Mint ABC Conclave 2020
Digital Transformation: The Big Leap Ahead
Sudhir Tiwari, Managing Director for Thoughtworks spoke at the expert panel with co-panelists:
Renny Thomas - Senior Partner - McKinsey & Company
S. Ganesh Kumar - Executive Director - RBI
Nitin Chugh - MD - Ujjivan Small Finance Bank
Sharad Kumar Saxena - CTO - Bank of Baroda
Kartik Jain - Executive Director Digital Bank - DBS Bank
Thoughtworks Live 2019
Accelerating Digital Fluency in Banking
Conversation between
Avinash Raghavendra (Head - IT, Axis Bank) and
Sandeep Reddy (Head - Financial Services, Thoughtworks India)
Building Digital Lending Platform for Indias 3rd Largest Private Bank
Thoughtworks built a flexible loan origination platform for the bank and enabled them to quickly roll out products to respond to market needs providing agility. The platform includes loan origination, risk assessment, digital underwriting, handling approval, back office, and disbursement to auto dealer accounts. Thoughtworks also provided business consulting and tech strategy alignment to drive product thinking and continuous delivery. 
Platform helped increase digital lending from 0% to 30% in 2 years
Platform help launch new products in 4-5 weeks, as against the 6 months it would take to do the same with the old system
Platform Strategy for Indian Government's Digital Payments Entity
Thoughtworks is involved in revamping and rebuilding a payment platform to enable the client compete with rapidly growing digital payment ecosystem. Thoughtworks found that the issues are primarily due to legacy user workflows, a legacy tech stack, failing transactions and inefficient transaction throughput. Thoughtworks upgraded the tech stack to enable addition of new features as well as enabled the customer's co-located team with us using our agile delivery best practices. 
The outcome is an increase in transaction volumes and user penetration using this modernized mobile payments service 
Thoughtworks met the customer's stringent deadlines for their mobile app and backend refresh
Building a Self-Service Digital Layer for a global insurance company
Our client is a global insurance firm with a 173 year legacy. Thoughtworks created a self service Progressive Web Application, built with cutting edge technology. The digital layer interacts with the insurance firm's platform to get required information on policies, claims and demographic data on the policy holders and was architected by a combination of microservices and serverless based architecture.
The self-service digital layer enhances customer experience and helps our client become an insurance partner of choice.
The operating cost per policy is reduced
Our client's goal of developing a multi-capability technology platform for newer offerings and customer personalisation is met.
Want to build a modern digital business? We are your partners in change.
Please complete the form below and we will connect with you.