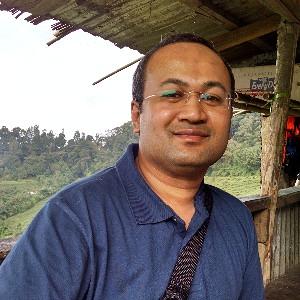 Saptorsi or Sapto, as he is more often called, is the Chief Operating Officer for Thoughtworks' India business. In his role, Sapto oversees business operations at a country wide level and that includes everything from project delivery to portfolio mixes to people functions to operational strategy and investments and more.
Sapto's growth at Thoughtworks saw him evolve from a Business Analyst to the General Manager of Gurgaon, where he established Thoughtworks first presence in the North of the country. He then took on the General Manager role for the company's Bangalore office which was an interesting challenge, both, because of its sheer size and it being the oldest Thoughtworks office in India. Sapto gradually grew into the role of Market Partner for Thoughtworks Europe (EU), where he was responsible for the complete software design and delivery to clients based in Europe. 
Interestingly, his decade of experience in the industry saw him develop a penchant for complex 'rescue' projects that required visionary leadership and earned him the nickname - firefighter. 
The COO developed his management style over a strong, and often dynamic base of engineering and delivery. His extensive travel and exposure to a multitude of domains during Thoughtworks India's formative years, influences Sapto in how he designs and manages Thoughtworks' business strategy while ensuring operational excellence for the region.
Before Thoughtworks, Sapto was working with Societe Generale, a French multinational banking and financial services company headquartered in Paris. 
In his down time, Sapto likes to indulge in reading and trekking. He indulges in the latter when his role as COO allows him to travel the world. He also has the habit of collecting interesting real-life store signage that prove to be interesting or different.

Education
Sapto completed his bachelor's from IIT Kharagpur, and his master's from IIM Kolkata.