Modular and headless approaches to digital commerce have opened a plethora of opportunities to build independent, scalable solutions. With ever growing online sales, retailers are rethinking their digital commerce strategy and recognizing the complex, fragmented nature of the ecosystem today. 
Enterprise search solutions have never been more relevant for 'findability' – and now are an integral part of any digital transformation model.
This two-part blog series looks at a strategic approach to a digital commerce 'search' framework for enterprises. Part one looks at the future of search and explores the ecosystem across enterprises today. 
The future of search and discovery is complex, with an explosion of channels, interactions and data. A deep understanding of customer intent, language semantics and the contextual ecosystem is the way forward. The future of search can be demystified through three perspectives – the customer lens, the business lens and the technology lens.
Customer 

Business

Technology

Conversational collaboration
'Solution over 'product' mindset
Personlized search expereince

Unified' approach to findability
Search as strategic asset
Enterprise search ecosystem

Data ecosystem
Explainable 'search' for business
Search CX design
The customer lens - exploring human interactions and intent: beyond keyword searches, customers are conversing with brands through natural language expression and voice-enabled chatbots. 
The customer mindset is evolving  beyond just looking for products. They want solutions to address their needs. Whether it is a 'mobile for office work' or a 'patio furniture set for 100 sqm,' the enterprise's search capability must assess real intent and offer a gamut of recommended personalized, curated products. Search should also factor deep customer insights ensuring relevance and balancing what they would want to see and buy. 
The business lens – viewing unified search as a new enterprise asset: undoubtedly, search is evolving to have strategic value within any commerce ecosystem. It must demonstrate proven revenue and growth impact. While the nature and medium of input evolves, businesses have started creating unified, headless search API to integrate with any customer touchpoints. The scope and boundaries of search are traversing multiple enterprise applications and usage beyond commerce (searching for locations, orders, analytics logs and FAQs).
The technology lens – balancing data, business and CX: growing data and analytics streams across internal and external ecosystems are critical to build the right search results. 
The explosion of structured and unstructured data demands new scalable solutions. The relevance and ranking algorithms of AI and ML models need to be balanced with what the business understands. It must provide the flexibility to configure algorithms with meaningful data. 
Finally, search CX (customer experience) that visually renders results is gaining momentum with a surge in mobile and extended reality (XR).
Understanding the search ecosystem
The foundation of the search experience is built on creating and establishing the right content strategies that align with customer intent and channels to seamlessly render personalized insights. This is further complemented by commerce platforms and enterprise systems to provide the needed intelligence in terms of price, promotion, inventory and fulfillment options along with streams of real-time analytics to improve the search relevance, ranking and overall results.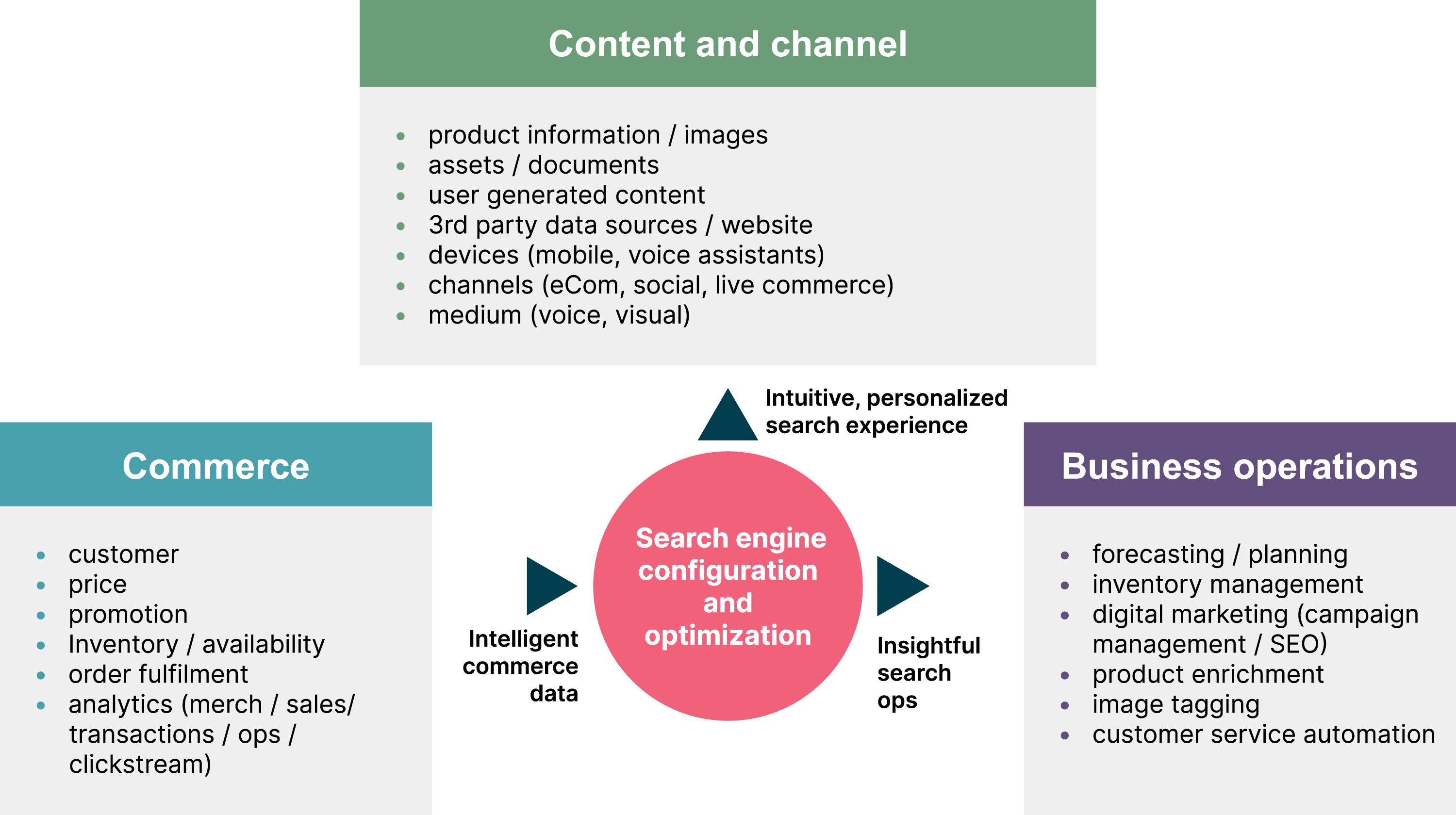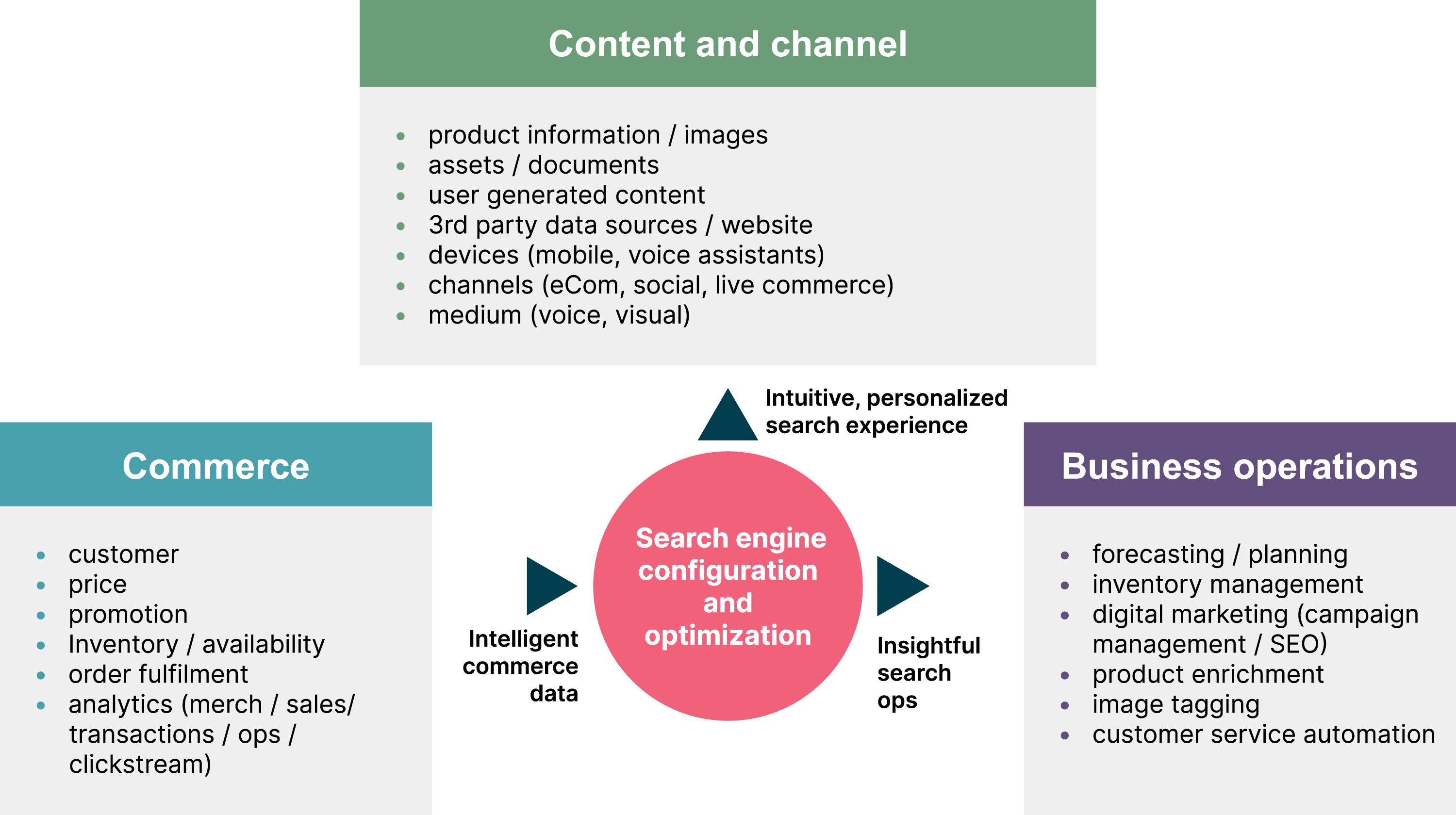 Search platform solutions and related insights into customer behavior and expectations can also drive improvements into key business operations or processes. 
Search keyword or result analytics can not only improve and optimize search performance and results but also support business through a 'Search Ops' approach. Search Ops is a practice that combines business operations and search product/platform teams to collaboratively leverage algorithms and analytics to optimize the value chain.  
Businesses proactively start predicting customer demand through various search usage signals and channel them to forecast inventory, improve inventory allocation and even streamline campaigns. Most importantly, businesses also enrich products with features like right tags, slang and synonyms.
Enterprise search versus digital commerce search
The search ecosystems that were discussed earlier encompassed commerce use cases and related systems and operations. Enterprise search has a broader scope, both within digital commerce and outside. Enterprises that span multiple regions, business units and business model ecosystems require a flexible search platform for all their needs.
An enterprise search is a single search solution across all its fragmented digital channel properties and applications. It addresses multi-faceted domains beyond product and content to include cross-domain data with diverse content types like manuals, videos and other unstructured documents and personas. 
Enterprise search can be further broadened to include internal user personas like employees, business and vendors via search for business documents, orders, logs etc.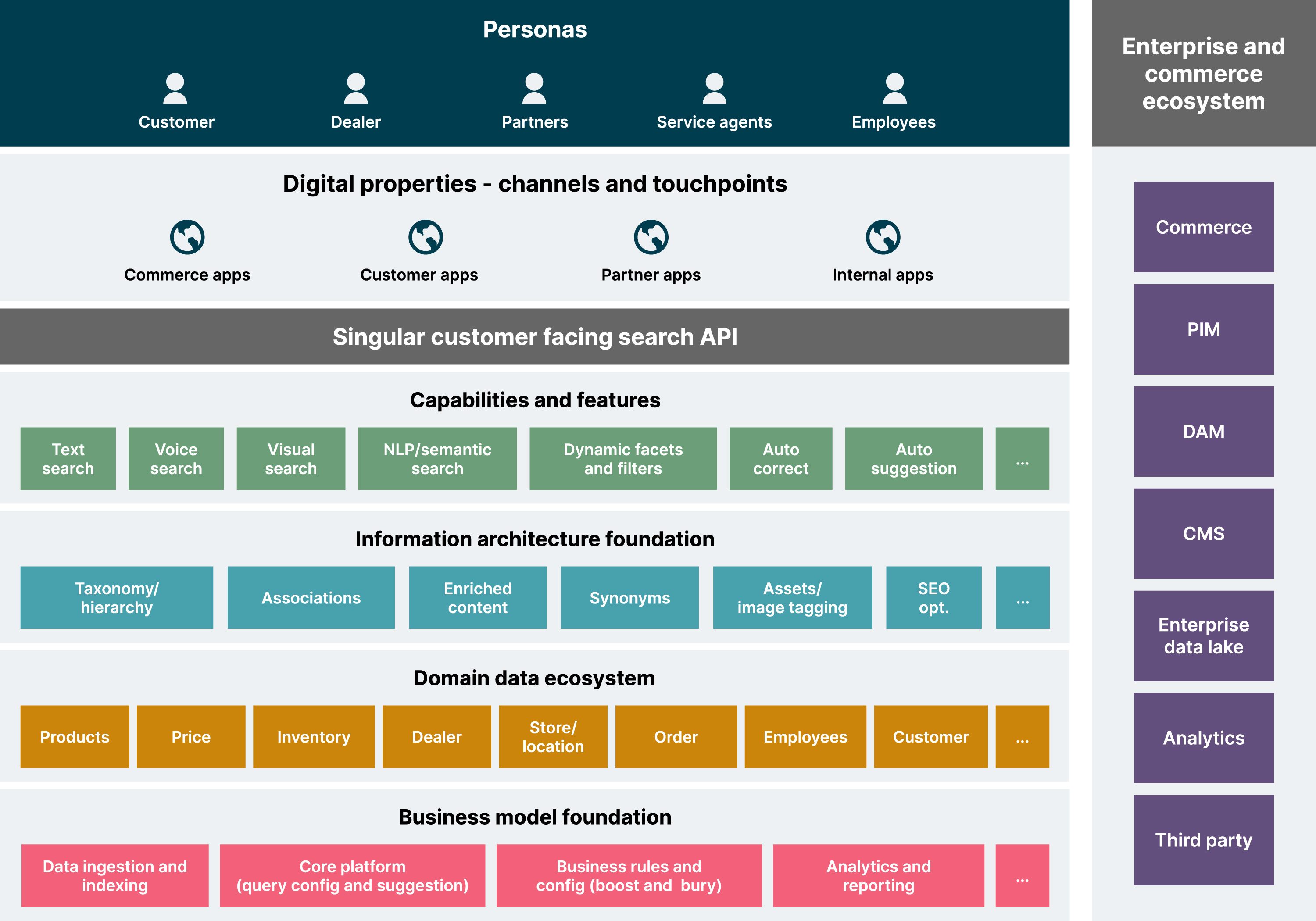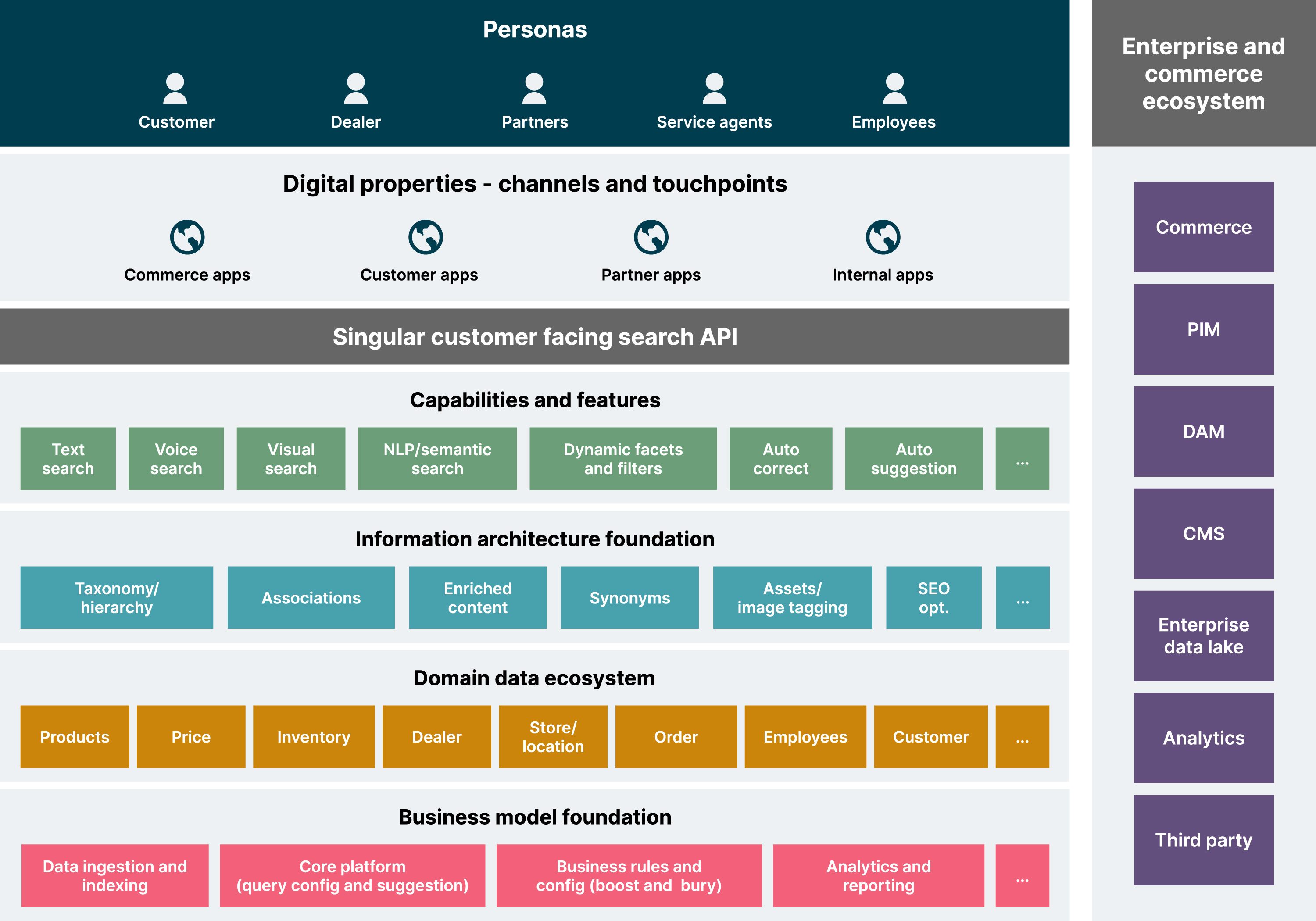 Like Google, search API is used across its suite of products – Google Drive, Gmail and Photos, retailers can also leverage the same headless core search foundation to drive evolving search experiences. 
Most leading search solution providers offer search capabilities built on enterprise frameworks with API building blocks, interoperability and centralized search configuration and analytics solutions (Elastic Search, Algolia).
Visionary retail leaders are working towards an ideal futuristic search ecosystem, characterized by an intelligent content and commerce data ingestion and indexing platform with intuitive and personalized query configuration. This ecosystem can process search queries across channels and mediums. It successfully keeps a finger on the customer's pulse to better plan commerce operations that improve product search and discovery.
Part two in this series discusses the digital commerce search framework that can be adopted by all retail organizations.
Disclaimer: The statements and opinions expressed in this article are those of the author(s) and do not necessarily reflect the positions of Thoughtworks.