Thoughtworks and MeetupAI welcomed a group of speakers and panelists, presented by Anna Gudmundson, to discuss the business value of ethical Artificial Intelligence and Machine Learning.
There is no better time than now to have the crucial discussions about how businesses can best approach exploration, innovation and deployment of AI in an intelligent and ethical way.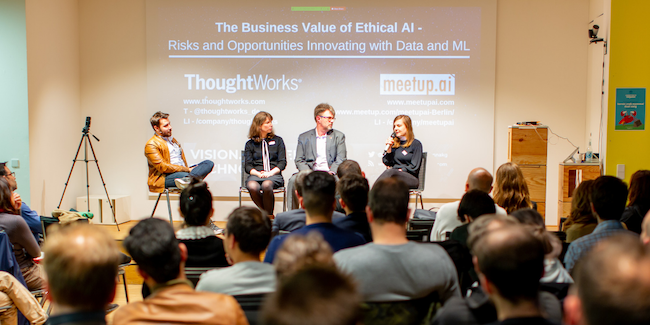 Business success vs. ethics – chicken or egg?
The past several years have seen dramatic proof of how data use at the foundations of AI and ML has resulted in outcomes ranging from the ingenious to outrageous. The continued investigations into any negative outcomes make for great media coverage, but there are also many advances being made that will have incredible social impact.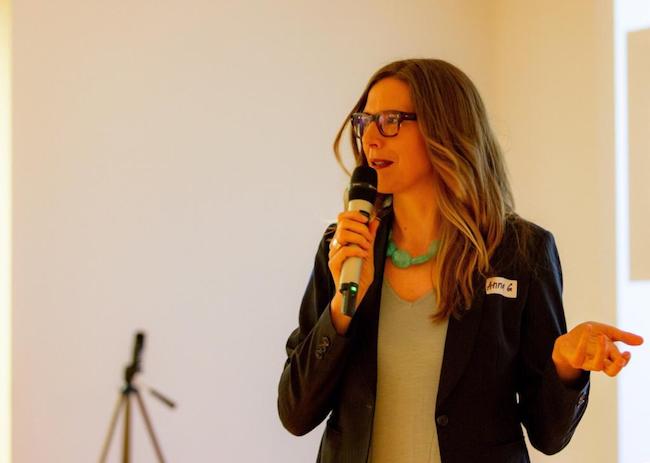 We have seen fantastic AI-powered progress in medical and environmental fields. AI programmes
specialising in tumour segmentation
, for instance, will alleviate a shortage of radiation oncologists and improve therapeutic outcomes, around the world. Millions of images are coming in daily now from a new breed of satellites launched to track the
progress of terrestrial changes
that contribute to climate change, and this geospatial data could never be managed without AI.
It is easy to lose sight of the positive, in light of examples such as predatory lending, dark-skinned people not being recognized by facial algorithms, or the effect that massive businesses are having on referendums and national elections. All of these issues deserve our immediate corrective attention, as we seek to improve our business outcomes and our communities.
Despite the challenges, there is so much brilliant potential ahead for advances that benefit society as a whole, while companies still innovate and grow.
Anna Gudmundson
kicked off the evening, quite excited by where we are now, "a point where AI and machine learning are genuinely commercially applicable."
We do need to address the practicalities of actually using AI in our businesses. This quote by Dr. Rebecca Parsons, CTO of Thoughtworks, is a great way of encapsulating the leadership issues.
[Link to article]
"If we accept the premise that the initial driver has to be the business outcome, you have to have a business owner who's willing to pull that team together, who can both provide insight on the problem you're solving and start to influence the rest of the decision-makers around actually making use of the data to drive decisions. That's very much an organizational and a business issue rather than a technical issue."
What is holding some companies back and what are others doing right?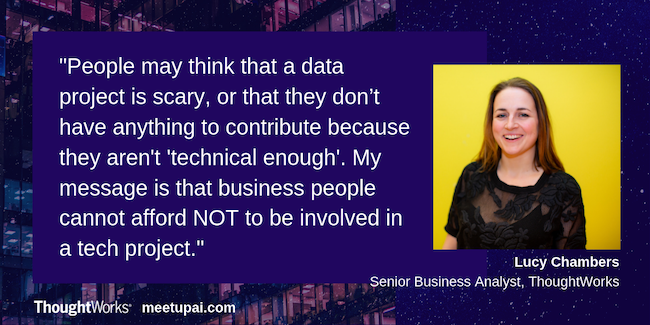 Speaking as a product consultant and delivery manager,
Lucy Chambers
, Thoughtworks Business Analyst, is already working with clients who are getting their hands dirty and diving into new technologies. "People may think that a data project is scary, or that they don't have anything to contribute because they aren't 'technical enough'. My message is that business people cannot afford NOT to be involved in a data project."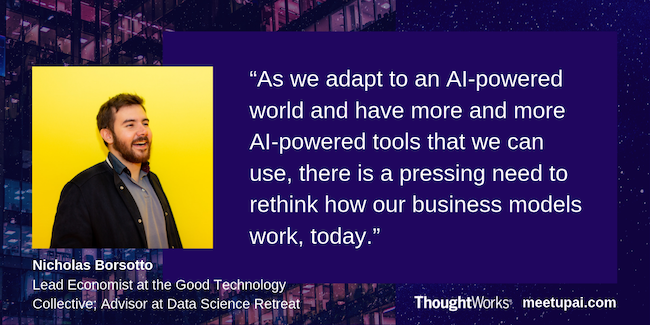 Nicholas Borsotto
, an accomplished economist and tech enthusiast, led the panel discussion on the evening and also questioned what may be causing companies to hold back from implementing AI tools as they move forward.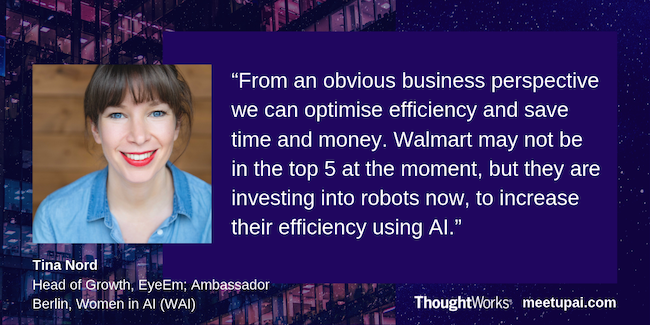 Tina Nord
and
Kathleen Jaedtke
, both bringing expertise in the marketing and search industries, believe that lack of resources and budget can play a part. Small and medium businesses don't necessarily have the access that is often still the privilege of bigger companies.

Access to the tech and making forward progress
People working in the field of AI and ML are more than familiar with Andrew Ng and his achievements as a leader in the sector, as well as his 'one-second rule' for simplifying what AI can be used for now. "If a typical person can do a mental task with less than one second of thought, we can probably automate it using AI either now or in the near future." In one of
his articles for Harvard Business Review
, he goes on to explain that the AI community is a surprisingly open one (like so many science and technology-driven communities are), with much of the code open-source, which is a valuable resource for businesses of any size. Executives instead need to focus on their strategy and how they can add value with AI, once they've established what it can and can't do.
Budget and size limitations aside, a robust experimental culture is key so that people don't confuse setbacks and starting over, with failure. In Lucy's experience, "Data projects are a lot like 'snakes and ladders'. In the course of ruling out things that didn't work, you have to show people that you are not actually back at square one, even if it looks that way."
Appreciating the 'mathematical beauty within the systems'
One of the panelists on the evening,
Mike Richardson
, is an international entrepreneur and technologist. He thinks we can change the understanding of the people in the C suite with a focus on education. "People in large corporates need to be given the time to learn the fundamentals of data science, to educate themselves so they can see the beauty of what's going on. To reframe these AI tools. We need more people in the boardrooms who understand what is happening."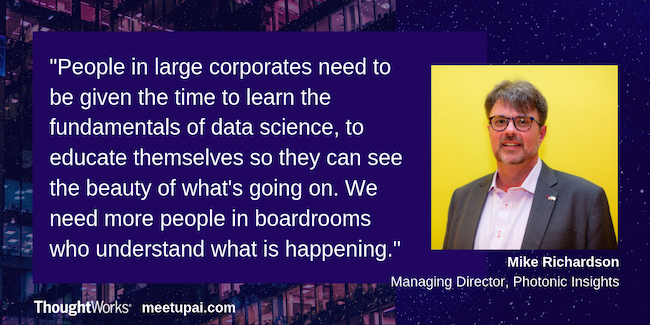 Strategising properly at the start and having a clear vision for the business objectives that will be advanced by data and AI, is key.
Surya Emmylinda
, Data Strategy Director, Heimat & TBWAGermany, emphasized that it is essential for organisations to focus on planning before indiscriminately gathering data. "Instead of going with a knee-jerk reaction of collecting all data possible, spend some time to ask yourselves, 'what are the business questions that can be answered with data?' Only then, identify the data sources that could answer these questions."

In this recent article, "
The Curse of the Data Lake Monster
", Lucy Chambers and Kiran Prakash explore the best practice of building the collection of data from the bottom up, but evaluating use cases first, instead of just collecting it all. It is worth noting that the more data that is collected and stored, the bigger the risk is if there is ever a security breach. Holding vast amounts of collateral data that has to be safeguarded is more a liability than a benefit.
Business Models of the future
Nicholas spoke from his dual background in both economy and tech, "As we adapt to an AI-powered world and have more and more AI-powered tools that we can use, there is a pressing need to rethink how our business models work, today."
Tina gave us a specific example from a household name in the US. "From an obvious business perspective, we can optimize efficiency and save time and money. Walmart may not be in the top 5 at the moment, but they are investing in robots now to increase their efficiency using AI." It is important not to forget, Tina continued, how social projects are innovating and using AI in really interesting ways, as the audience learned that an environmental group has been attaching old cell phones to trees to detect and recognize the sound of illegal logging. 
Kathleen sees an incoming era of increased focus on the needs of the consumer, as friction is reduced in the customer journey by things like voice search. "Business models might change, but it is essential for any business wanting to include AI into its strategy to have a customer-first view - does it really solve a problem for the customer? Only then it makes sense to incorporate AI into the business model and strategy."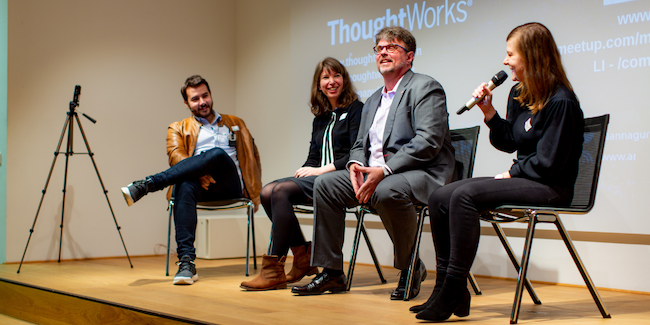 So what comes next?
Mike's vision is that IoT will give hands to AI, at an industrial level; providing additional sensory input like materials sensing, chemical analysis, etc. We will be providing rich data for data scientists to analyze - and not only rich but quality data - not garbage the scientists have to clean. 
In her role at EyeEm, Tina already has a use case for AI and image classification. From a business perspective, this is relevant because it enables companies to have consistent branding, for instance. "With content being distributed throughout a global company, we can learn the brand visual language and choose images to fit the brand. We are starting to look at image generation as well, now. AI is creating people who don't exist, in photos, so no more models and the brand is always consistent and under control."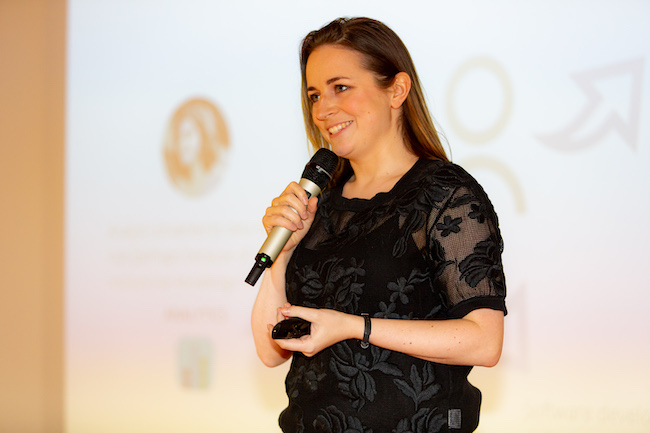 Mike also had some aspirational hope for the future of human beings, "AI can liberate us from continual repetitive execution of one-second drudgery, because humans need to be used for greater tasks, no matter what our cognitive abilities are." We already know that humans are most happy when they are fulfilled, making progress and feeling useful. Imagine the beneficial side effects of liberating everyone's intellect to do other things. To be happy.
View from the top
With board and CEO experience, herself, Anna is really passionate about the future of businesses and the positive social impact of technology. "I want to see businesses better equipped to make use of, and benefit from, AI and ML. I especially see the benefits of having your values straight, and how much more effective organizations can be when they are. Companies that are clear on both their business goals and values have such an opportunity to have an impact across product strength, brand value, employee engagement and productivity, and of course, the bottom line."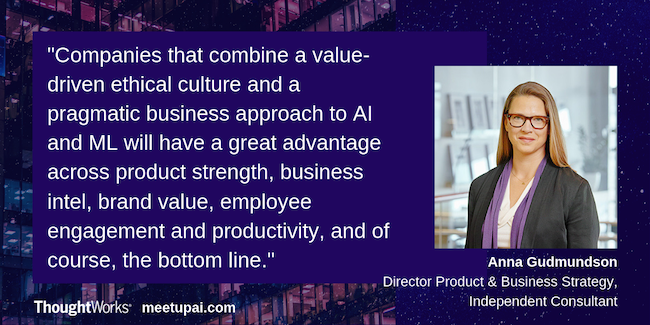 We look forward to keeping the conversations going while innovating, iterating and progressing AI and ML forward at speed! Follow the panelists and speakers via the links in this article to see more about what they are working on.
Photography:
Brandon Becket
, editing & graphics:
Michelle Laven
, special thanks to
Alma Zertuche
and
Travis Scott
.
This article was originally published
here.
Disclaimer: The statements and opinions expressed in this article are those of the author(s) and do not necessarily reflect the positions of Thoughtworks.