The gas-powered cars we drive today are far more sophisticated than our parents' vehicles from 40-50 years ago. Yet, they demand almost as much, if not more, maintenance. Today, 'vehicle upkeep' often translates to replacements for no less than 3,000+ components – shooting costs up. 
This trend is not dissimilar to what's happening in the software industry.
A recap of the software evolution
Until 2000, server and application management were closely intertwined, and most of the challenges that followed were a result of this coupling of architectures. In response, support organizations would focus their efforts on availability of applications – therefore, playing a mere ancillary role for the physically managed businesses.
The adoption of cloud changed all that. Infrastructure was delinked from applications and application maintenance focused on defects, while data centers and hyperscalers handled infrastructure availability. 
By this stage, technology was no longer a support function. Businesses were placing technology at the core of their competitiveness – a term that we call 'Tech@Core.' And, software was evolving to meet the rapidly changing business needs where teams needed to build newer features at lower costs leveraging modern tech stacks. 
This has evolved into the software of today – thousands of microservices built on top of complex and hyperscaling platforms, built with a wide array of tools that lay exposed through the thousands of APIs sitting in the public cloud.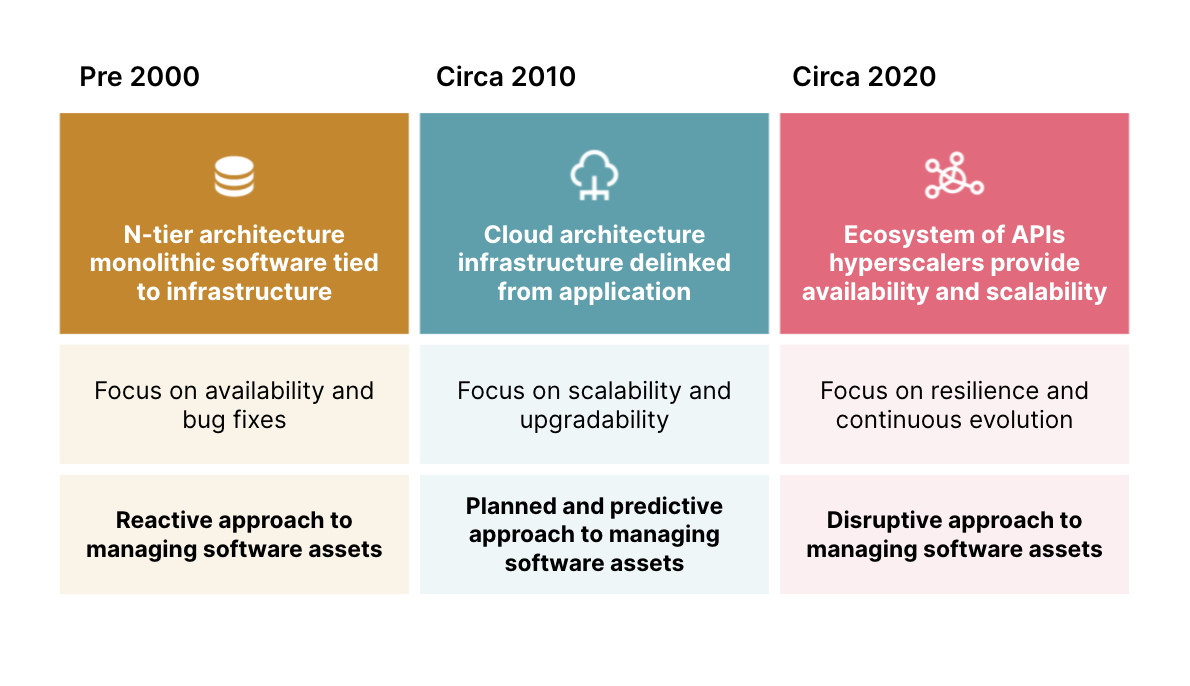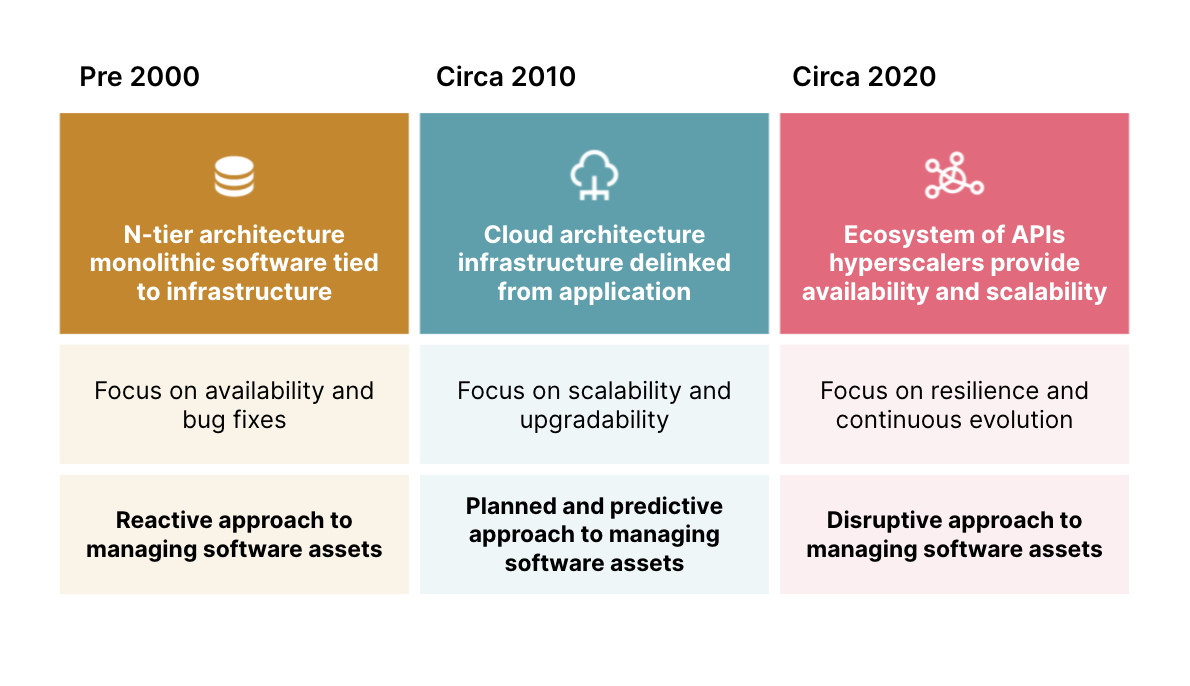 Maintenance approaches of the past no longer work

In order for this software to remain useful, it will have to fail less and require less maintenance. The consequences of not maintaining updated software can be fatal to business.
Here are some of our observations on why maintenance approaches of the past no longer work:
Outdated software is a security risk
Not too long ago, a large credit rating agency in the USA suffered a massive security breach because they hadn't applied a widely known security patch in time. This is an example of a company's inability to stay updated in a changing technical landscape which resulted in an obvious and direct negative impact on their ability to serve customers. 
And we believe, is also an example of what might become more commonstance – software needing consistent updates but not always getting it in time.
Poor maintenance impacts organizational agility
Retailers are known to regularly add new rules to their complex infrastructure in accordance with seasonal and occasional promotions and campaigns – Christmas, Black Friday, Cyber Monday etc. And, most retailers undergo major outages while their technology infrastructure is being updated. 
To ensure business continuity, retailers are known to freeze their code bases months prior to major business events. But this approach negatively impacts an organization's ability to respond to market demands – the organization's agility. 
Additionally, not all tech needs similar maintenance. For instance, one of the largest retailers in the US suffered outages every month caused by third party screen scraping bots — a tool commonly used by e-tailers. While they are usually harmless bots that marginally increase server loads, some can be hostile enough to cause significant downtime and subsequent loss. 
Poor maintenance accelerates integration issues
Many banks grapple with old back-end infrastructure that manages traditional general ledgers or other reconciliation, even though their front-end is upgraded and shiny. The banks are also usually complying with open banking regulations to enable interoperability with other financial services organizations. 
This constant 'interworking' puts the bank's risk management under strain, rising from synchromesh issues of account balances and reconciliation of millions of transactions via thousands of patch jobs. 
Sustainable strategies to manage modern digital assets
Allow us to reiterate, maintenance approaches designed for software that was written decades ago do not work anymore. Not dissimilar to how you would not service your Tesla at the local auto repair shop. 
The old approach of looking at software stemmed from a fixed (or locked-in) view of risk, business and technology. This is irrelevant today because software is constantly evolving to better handle new developments in these very areas of risk guidance, business environment and the tech landscape.
To come up with an adequate strategy, we'd have to improve our understanding of these external factors that are changing the nature (and cadence) of managing software assets.
The reality today looks more like a dynamic view of risk, business and technology (image above). 
'Dynamism' trumps locked-in views of the marketplace, and consequently software. Technology that sits at the core of the business is being pulled in different directions – because the world is constantly changing.
In scenarios where the business has implemented the Tech@Core approach, the evolving software actually impacts or morphs external factors like the business environment, risk and tech landscape. This now transforms the fixed box view into a flexible and stretchable outline that guides the development and management of software as an asset.
Evolving contracts between business and its software
To better understand the 'changing contracts,' we take the example of the car rental industry and look at how it has been impacted by such evolving contracts in the recent past. 
During the pandemic, "the subscription model has become the face of the car rental industry," because they are affordable, quick, and ensure sanitized personal mobility – no sharing a vehicle with co-riders. 
This model will continue to evolve to include flexible plans, longer leases, shorter lock-in periods, low to no maintenance, insurance premium costs and nominal pricing. Additionally, customer experience is also becoming less focused on ownership and more on experimenting with multiple models of cars and a variety of subscription-based models.
As this 'evolution or change' accelerates – both on the business side and the customer expectations side of the car rental business – we increasingly see, digitally savvy service providers like Revv (the exclusive subscription platform for Mahindra cars) leverage AI/ML tech to provide features such as keyless or OTP-enabled entry, anywhere and anytime car pick-ups and drop offs, no-contact car service, 24x7 chatbots, etc.
And, technology-enabled providers will continue to dominate this space as they are quickly adapting their physical inventory (sitting in car lots across the country) to the new car subscription model that's rising in demand.
For instance, another service provider, Zoomcar, is set to be the future of mobility because of the company's ability to leverage technology. "When you are not using your subscribed car, you can list it back on Zoomcar through a few taps on its subscriber's app, to share the car with its short term renters and offset the subscription cost by up to 70%."
For Zoomcar, "the use of technology in cases like these has helped them convert a major middle class population -  who earlier were non-intenders - into subscribers. This is a classic example of democratizing a product using technology."
When will 'no maintenance software' become the norm?
But, how close are today's enterprises to this 'no maintenance software' in reality? It's possibly at its lowest level of maturity. While there are pockets of experimentation, there isn't an example of a full scale implementation of the approach. 
So, when business needs such high degrees of evolution, there is no choice for software but to focus on evolution rather than to keep plugging the gaps from the past. The management of an organization's modern digital assets needs a radically different approach. Find out how we can help on our Digital Application Management and Operations hub. 
Disclaimer: The statements and opinions expressed in this article are those of the author(s) and do not necessarily reflect the positions of Thoughtworks.