If you are interested in the Chinese market, it is likely that you will have heard of WeChat at some point. It's an all-in-one mobile application that brings together messaging, social media, payment, and other services. As the most popular social networking platform in China, WeChat has over 1.25 billion monthly active users from a wide range of age groups.  Brands and businesses are choosing WeChat as the primary channel to reach and engage with Chinese customers. However, the WeChat ecosystem is very complex, as an overseas company that wants to do business in China, you will need to decide on what types of WeChat Official Accounts you should go for. Here is some information to help you select the right mix for your business.
Introduction to WeChat Official Accounts
According to Tencent, there are four types of WeChat Official Accounts (also known as "OA"), which include Service Account, Subscription account, WeChat Work (Formerly "Enterprise Account"), and Mini Program. Each plays a different role in the WeChat Ecosystem and can be used on their own or in combination. 
Service Account
Service Account, which can be judged by its name, focuses on providing services to customers. 
Verified enterprises and organizations can use Service Accounts to deliver a wide range of features. It supports API and JS-SDK access, which gives flexibility to customized development, for example, geo-localization, QR code tracking, WeChat payment, etc. Its rich functionality enables businesses to fully customize their profile, and provide a more personalized experience to their customers.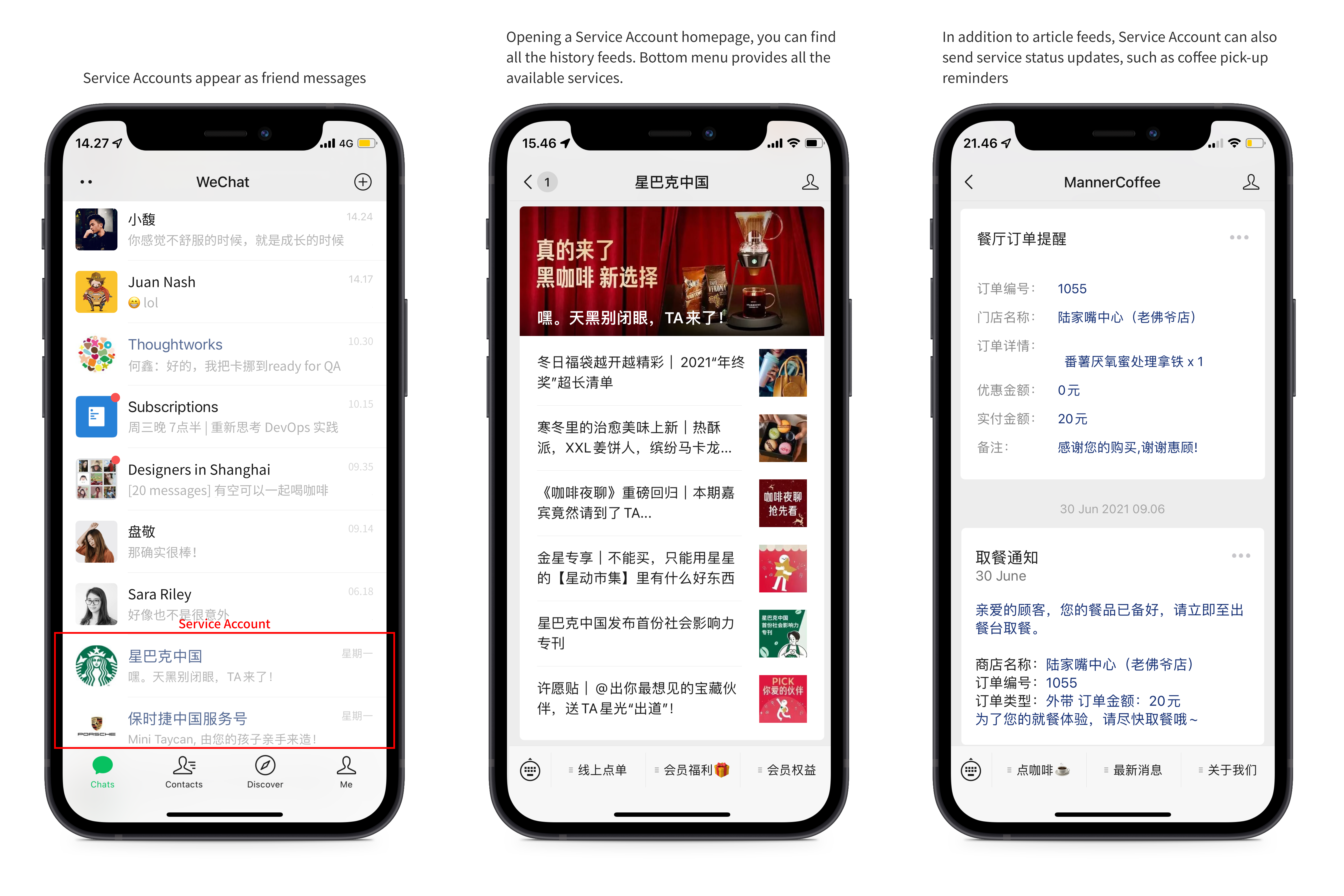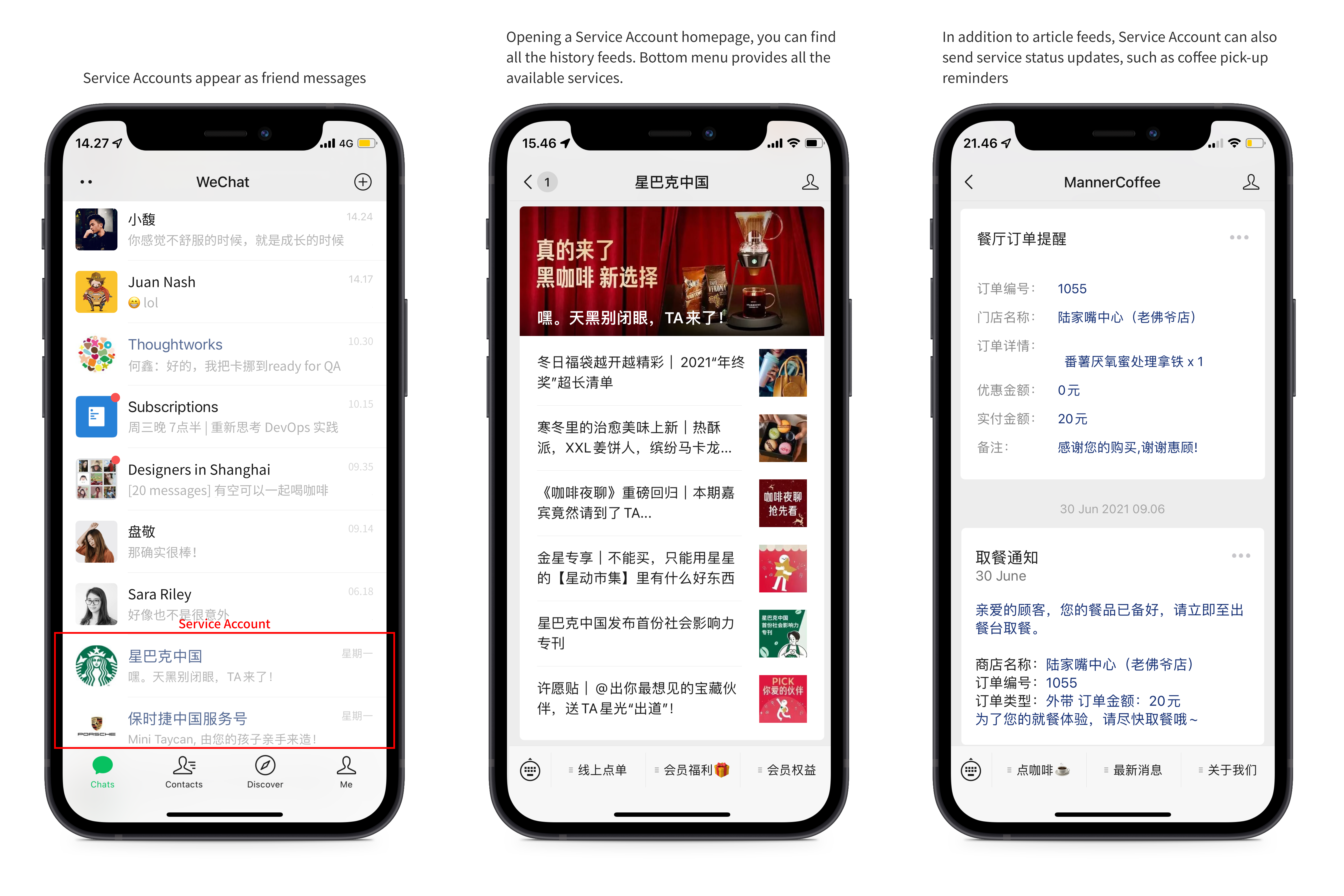 With a Service Account, you can send messages to your followers 4 times per month. Each message could have up to 8 articles. Service Account messages are highly visible. It appears as a regular friend message in the chat list, and customers can be notified instantly when new messages arrive.
You should choose to set up a Service Account when your aim is to provide services or maintain relationships with your customers. 
Subscription Account
Similar to newspapers or magazines, Subscription Account focuses on providing news and information rather than specific services (though many brands have embedded services in it, almost replicating the Service Account, making it confusing for customers). It allows individuals, media, and businesses to directly communicate with their subscribers. It lives inside a 'Subscription' folder within the chat list and new push notifications will appear as a red dot next to the folder icon. Therefore, it has less exposure compared to a Service Account. However, Subscription Accounts allow higher article pushing frequency, registered Accounts can push once a day, urgent information and hot news can be delivered on time.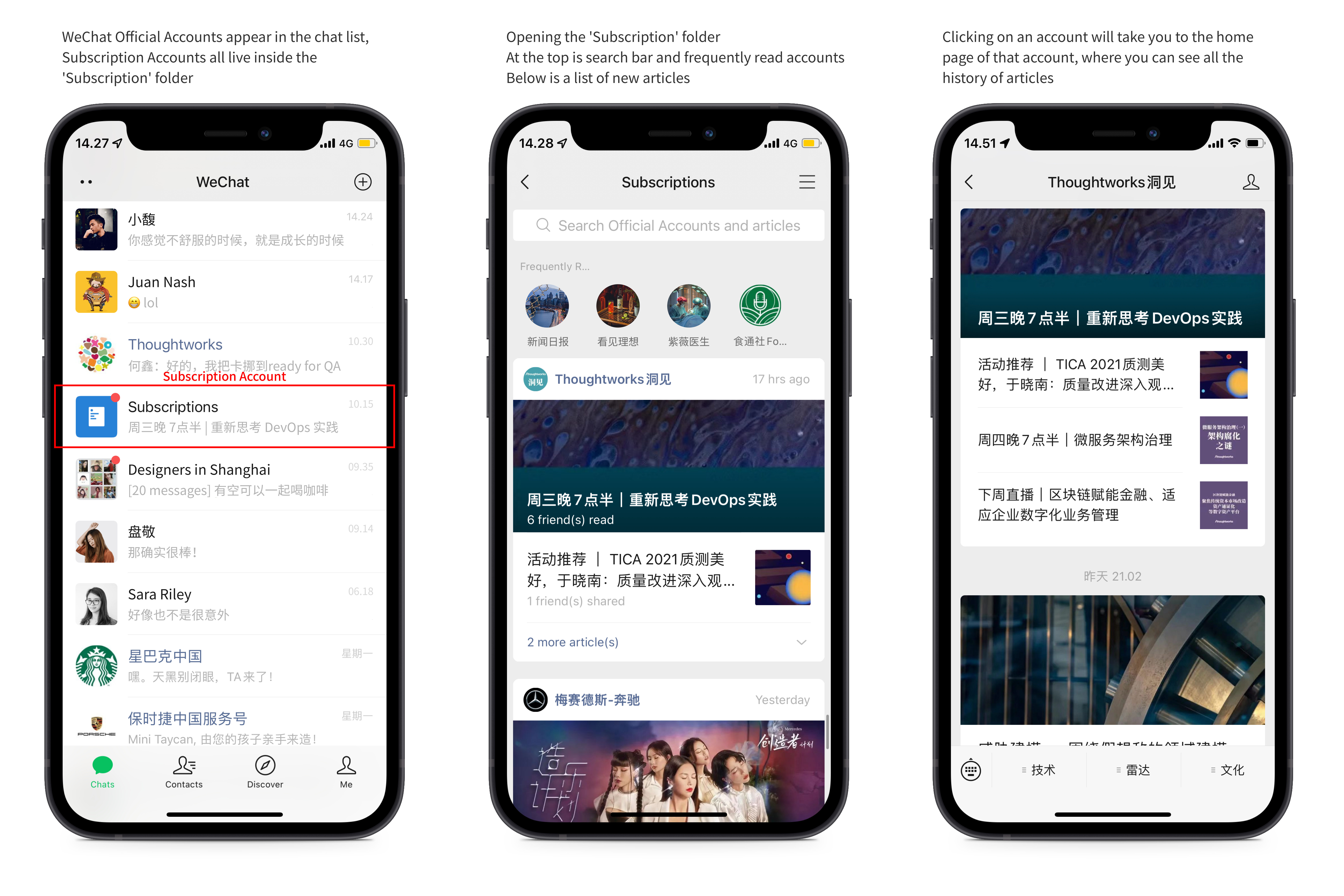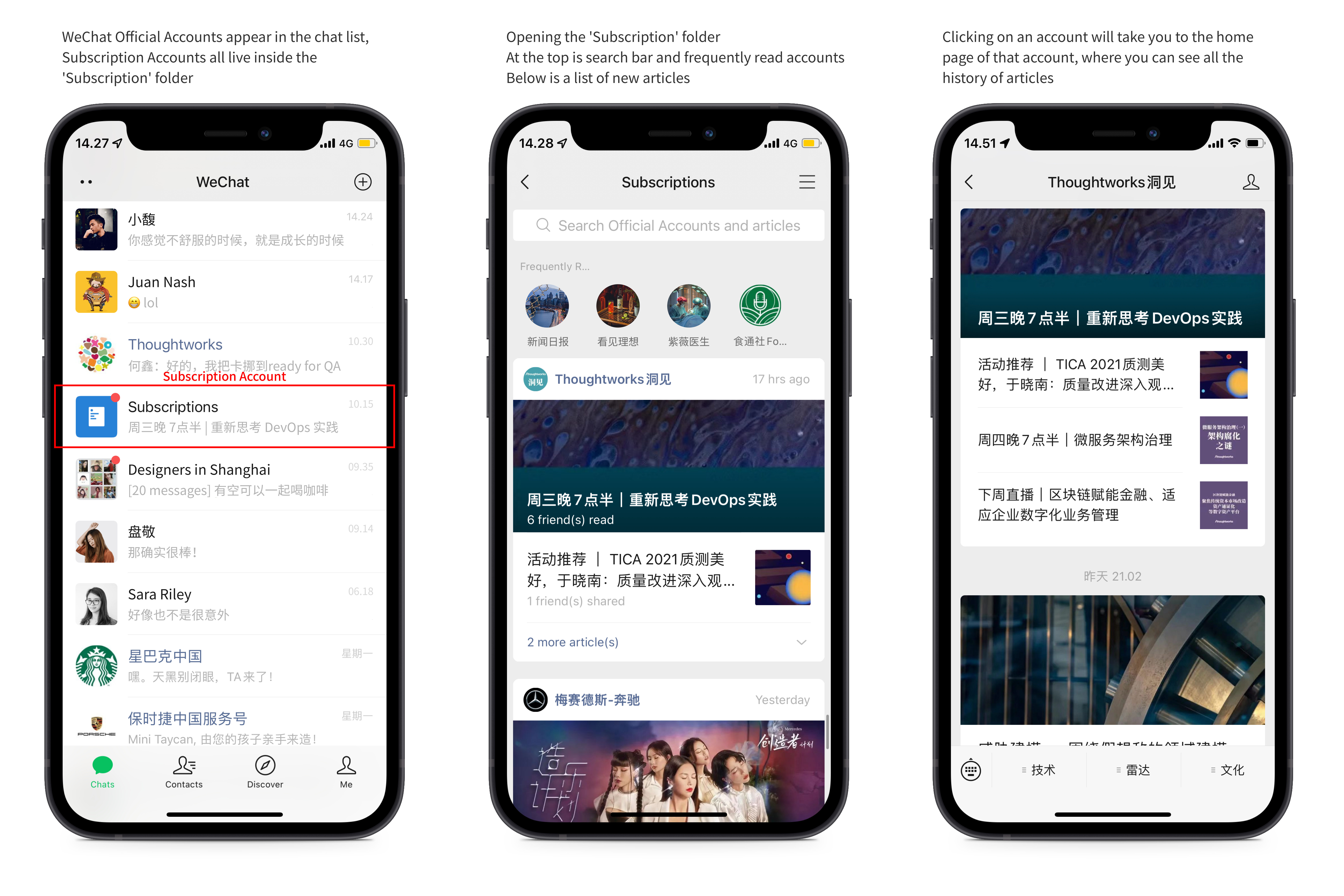 You should choose to set up a Subscription Account when you want to deliver frequent marketing or informational content and promote your products in the Chinese market.
Mini Program
Mini Programs are basically apps that are built inside WeChat that allow users to do everything they can do on Apps but without leaving WeChat.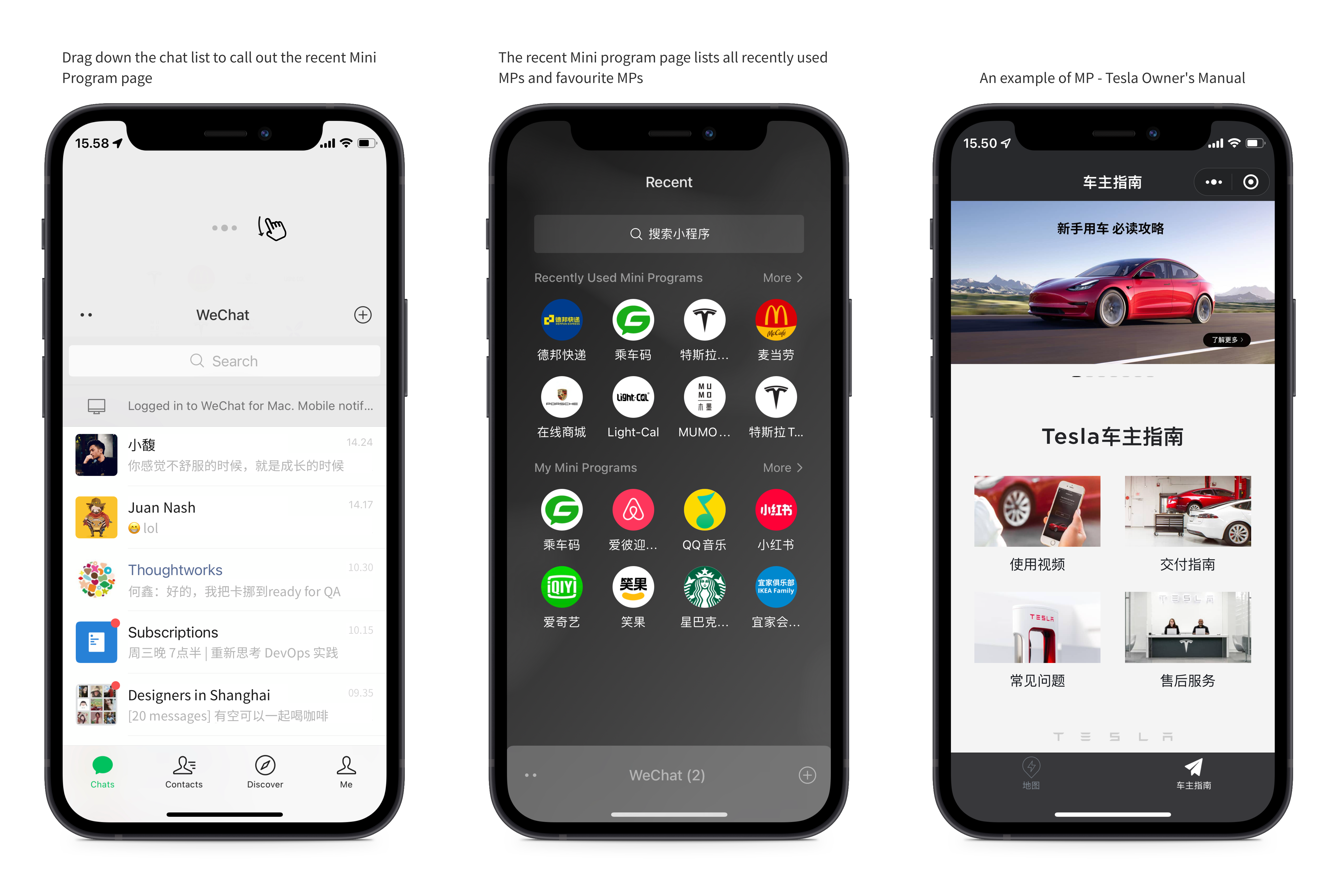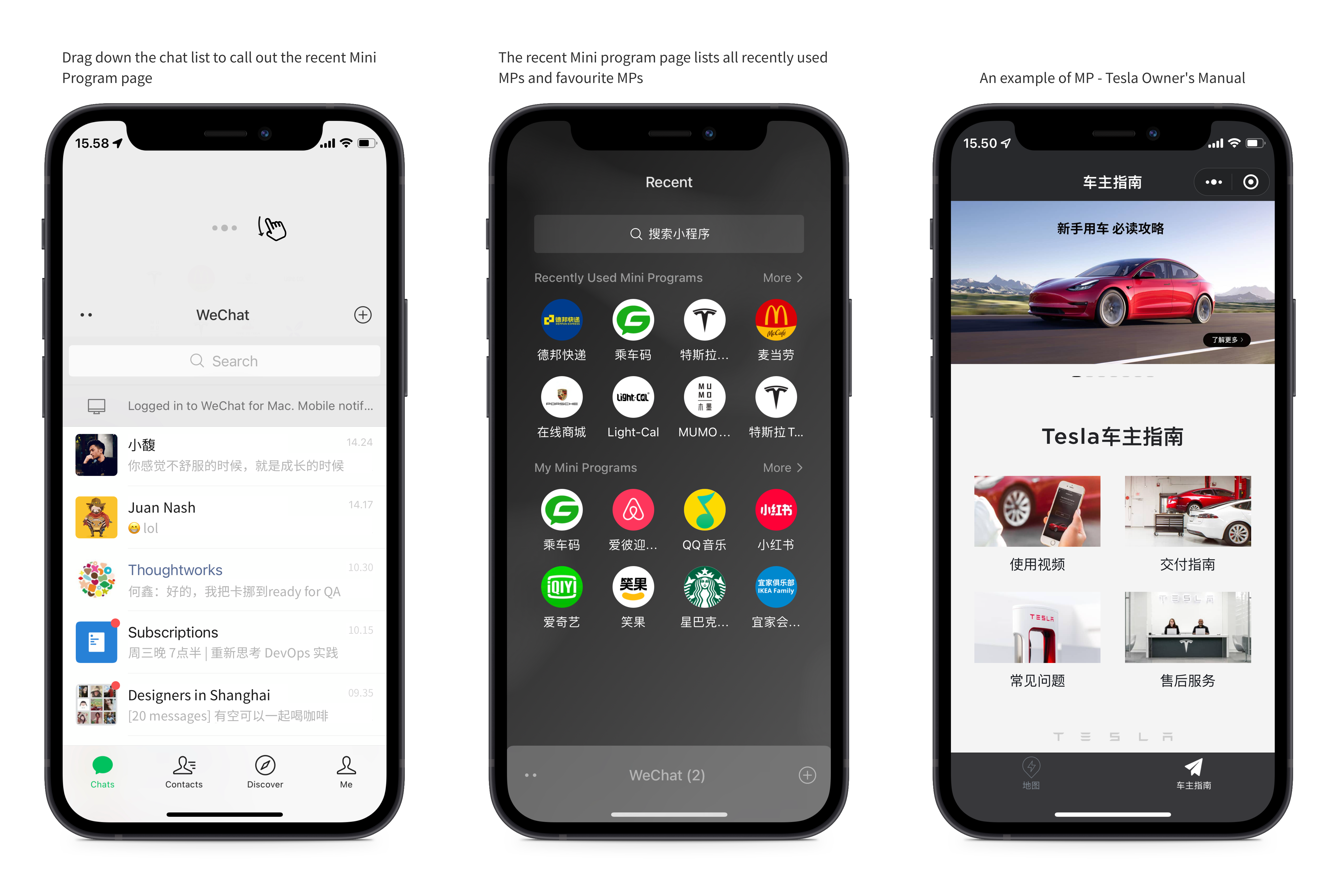 Since their launch in 2017, Mini Programs have been gaining more attention over the years for their significant advantages. From the user's perspective, Mini Programs  do not require installation, which saves a lot of phone storage. Users can simply scan QR codes or search within WeChat to open the Mini Program they need (amongst many other possible entry methods). The development and maintenance cost of a Mini Program is relatively low compared to Apps. 
Data shows that since the COVID outbreak, the number of Mini Programs has grown substantially. Take public service Mini Programs as an example, almost every major city in China has launched its own city service Mini Program to control the spread of the pandemic. Citizens can use them to find nearby polymerase chain reaction (PCR) test sites, check their real-time health QR codes, and request vaccinations. The average WeChat user engages with almost 10 Mini Programs.
You should choose to build one or more Mini Programs (depending on the variety of scenarios you are serving) if you 1) Only need to provide quick and short interaction services to Chinese users, e.g. purchase of products with small order value, ordering of food; 2) Want to experiment and test a new idea with an app-like experience for users of different platforms and phone models, but without spending too much money on product development and maintenance. 
WeChat Work
WeChat Work, formerly known as an Enterprise Account, offers a wide range of office management and operation tools. WeChat Work shares a similar interface and functionality as WeChat, but it focuses more on work scenarios, it provides tools for attendance tracking, leave approvals, payments, documents management, etc as well as the ability to develop custom apps for your employees. For example, we have built clienteling tools to help our client's sales teams serve customers securely via WeChat such as remote selling, and quotation and tracking tools for their service teams to manage after-sales while on the move When employees leave the company, their customer contacts and services can be transferred seamlessly to another employee.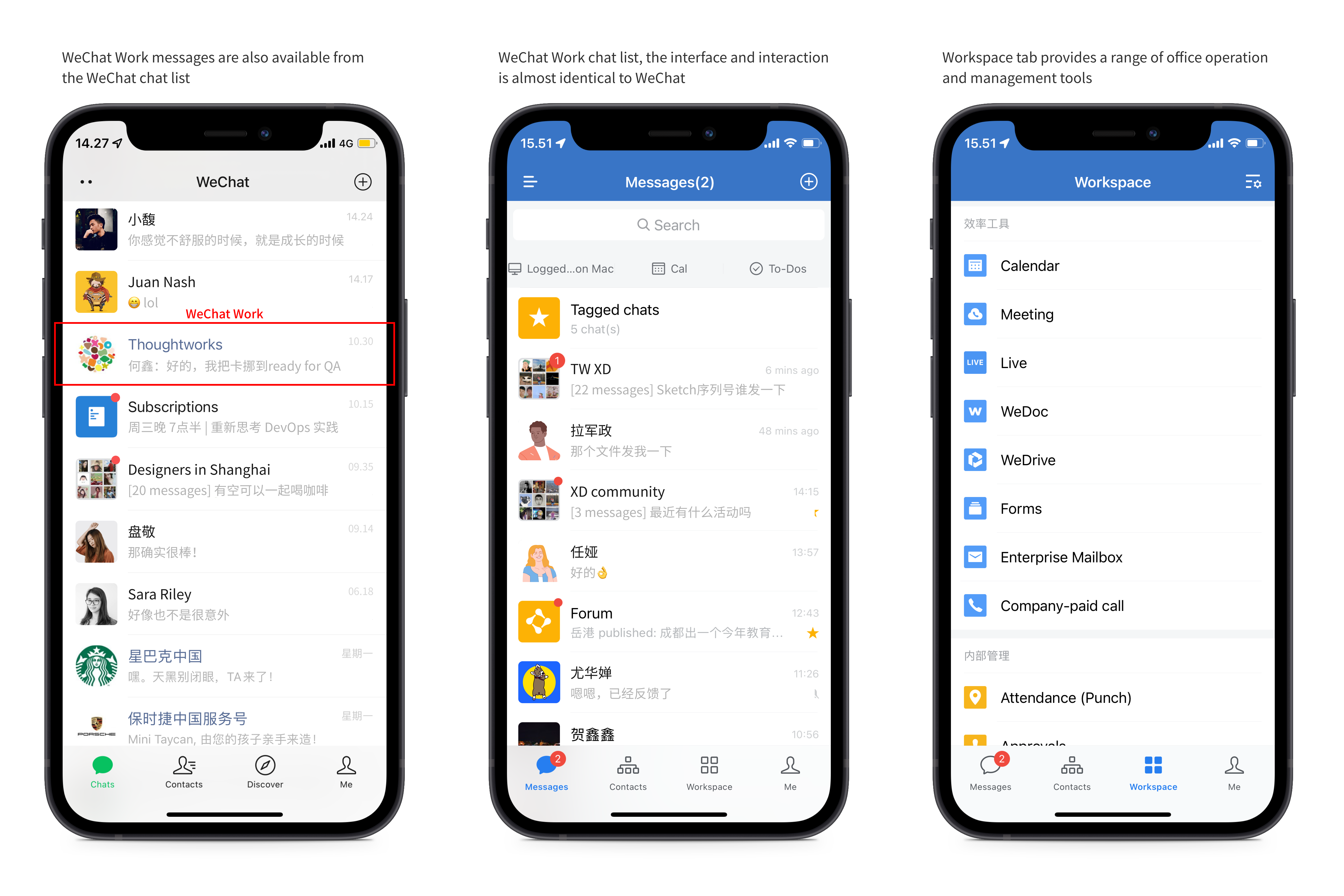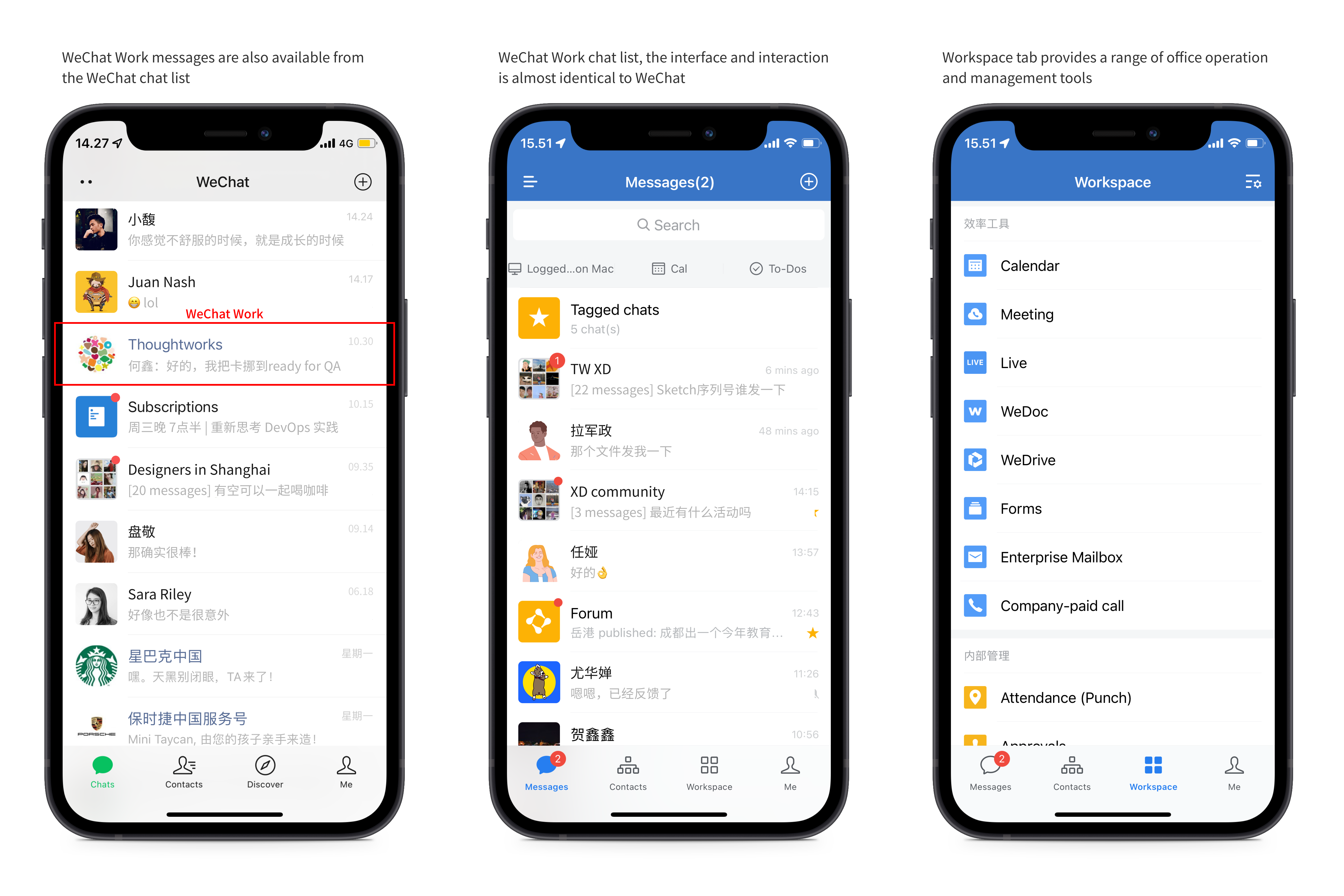 You should consider WeChat work not only when considering internal employee management, but also external-facing client sales and service scenarios.
Differences at a glance
 

Subscription Account

Service Account

Mini Program

WeChat Work

Purpose

Share news and information

Provide customer services

Apps that build inside WeChat

Office management platform

Access path

'Subscription' folder in the chat list

Global search

Scan QR codes

Sharing cards on WeChat friends/groups




In the chat list, same visibility as friend chats

Global search

Scan QR codes

Sharing cards on WeChat friends/groups

Swipe down on the chat list

Discover tab

Scan QR codes

Search

Sharing cards on WeChat friends/groups

WeChat Official Accounts menu

Download WeChat Work App

Check new messages as regular friend chat

Available to

Individual, enterprise

Enterprise

Individual, enterprise

Enterprise

Push notification

Once a day

4 times per month

N/A

No limit 

Articles allowed per month

30 articles

8 articles each time, max 32 per month

N/A

N/A

Companies outside China can register

No

Yes

Yes

No

Customized development

No

Yes

Yes

Yes
Use alone or in combination?
Four types of WeChat Official Accounts are independent of each other and provide different functionalities. Service Account and Subscription Account are mainly used for delivering messages, Mini Programs are used to provide specific services, WeChat Work is for employee management. In actual business scenarios, they are often used together to provide more comprehensive services to users and to achieve business profitability. Here are some common combinations:
Subscription Account + Mini Program
Before the launch of Mini Programs, Subscription Accounts could only sell goods or provide services through adaptive H5 or other third-party platform solutions. Users need to log in every time they use it, and the experience can be poor due to H5 limitations. With MPs, the experience of using Subscription Accounts can be greatly improved. This combination not only allows brands to frequently communicate with their subscribers but also provides a much smoother user experience. Retail brands can benefit from this combination. Taking a well-known electric vehicle company as an example, it uses Subscription Accounts to deliver vehicle information and event updates on a weekly basis, their subscribers can also purchase products, check owner's manuals, or book services through multiple MPs associated with the Subscription Accounts.
The advantage of this combination is that it connects users better, and makes it easier for users to purchase products and services. 
Service Account + Mini Program
This combination is more suitable for companies that have lower promotion and operational requirements. Given a typical scenario of such a combination, a well-known international fast-food chain uses Service Account to promote new products once or twice a month, users can access MPs from the Service Account menu to order food, join loyalty programs and collect coupons. They will receive e-receipts notification when they finish payment, and a reminder to pick up their meal once it is ready. The whole process is seamless, users are guided each step along the way.
The advantage of using this combination is that users can receive a one-stop service where all operations can be done in the same Service Account. The disadvantages come from the limitations of the Service Account, such as low article push frequency, and relatively more effort to configure and develop than the Subscription Account.
Service Account + Subscription Account + Mini Program
This could be the ultimate combination for all companies: users can get news and activities updates from Subscription Account, receive status change reminders from Service Accounts, and then complete purchase and service booking through MPs.  Care must be taken to make sure that the positioning of the Service Account and Subscription Account is clear to avoid customer confusion when searching for your brand. For example, positioning the Subscription Account as the source for official news and mainly to serve potential customers, while the Service Account is positioned as the one stop for all brand-related services.
In Conclusion
WeChat Official Accounts are great ways to build brand awareness and connect with your customers. Brands should pick the right type and mix based on WeChat Official Account's rich features as well as their strengths and weaknesses. Choosing a single type is cost-effective and can speed up your time to market. Selecting a combination of WeChat Official Account allows room to provide a more comprehensive service to your customers. Both approaches could work for different brands and different scenarios, either way, don't miss out the opportunity to enter this promising new market.