Content that is 10 times better than the best result that can currently be found in the search results for a given keyword phrase or topic.
This is the definition given to describe 10x content, in a recent Whiteboard Friday video episode by Rand Fishkin of Moz, embedded below, entitled "Why Good Unique Content Needs to Die." Rand's discussion of the topic brought focus to a number of conversations that had been happening in the online publishing industry for sometime, including the effect of 'viral' content on search engine rankings. Since this piece was published, the term "10x" has been used in forums and social media conversations as a qualitative and experiential measure of stand-out content within a particular industry or domain.
Defining 10x
We can say that a piece of content is "10 times" better, but it would be very difficult to make a solid quantitative argument to that effect; 10x is indicative of a level of superiority based on a number of qualitative factors. This article explores the attributes of 10x content.  
To really understand what 10x content is, you should start by asking yourself what you think about when you look for the answer to a question on the web. Perhaps you are looking for the answer to a specific question, but more likely, you are looking to satisfy a more general curiosity.  You want to understand a topic more deeply, and you start to search for topics that you think will lead you closer to an answer.
Now think about the types of answers you find, particularly when using a search engine like Google or Bing or your favorite social network. Often you might see multiple results that look quite similar. Less often, you find something that rises above, that answers your question so well that you want to bookmark it or share it with friends. You know it when you see it.  Sometimes, you don't go looking for it directly, but it answers a question you were naturally curious about. It finds you.
Qualities of 10x Content
10x content commands attention by doing a number of things exceptionally well. The following are characteristics of 10x pieces as identified in many online forums today. I am leveraging the criteria as stated by Rand in his living document on 10x Content (https://docs.google.com/document/d/1Z2CSidq-6fxOY1YJLu-MY-DdTqWKiSL4gsuSGVC42r0/edit ):
Provides a uniquely positive user experience through the user interface, visuals, layout, fonts, patterns, etc.
Delivers content that is some substantive combination of high-quality, trustworthy, useful, and interesting
Is considerably different in scope and detail from other works on similar topics
Loads quickly and is usable on any device or browser
Creates an emotional response of awe, surprise, joy, anticipation, and/or admiration
Has achieved an impressive quantity of amplification (through shares on social networks and/or links)
Solves a problem or answers a question by providing comprehensive, accurate, exceptional information or resources.
As we dive into some examples of 10x pieces, you will see that not every one of them achieves all of these criteria. Not all of these are required, however, it should be clear that most pieces of this caliber do tick a few of these boxes. In fact, the key factor is that the piece is unique; the unifying commentary that readers seem to share about 10x pieces is that they are like "nothing I've ever seen before."

Why is it Important to Have

10x

 Content?

You might be asking why it's so important to be 10x better than the best results in search. As recently as five years ago, ranking in search was as simple as creating a well structured page that answered a commonly asked question and convincing lots of sites to link to it (aka link-building). Since then, the search engines, Google in particular, have changed what it takes to make it to the listings, because the landscape has changed in many ways. Among the biggest changes:

User Experience

User experience has become a bigger deal for consumers and the search engines. Tests have confirmed that Google now looks at "pogo-sticking" as a negative ranking signal. This is the behavior in which a user clicks on a ranking term, only to find it doesn't satisfy their intent, thus they leave and try another result. Mobile-friendliness and fast page-loading speeds are also characteristics that generally correlate to positive user experience, and Google has been in the process of tailoring their algorithms to monitor these as well.

Earning links versus link-building

Even if you're not a search marketing professional, you've probably come across news stories in recent years mentioning Hummingbird, Penguin and Panda. These are not just the names of cute animals; they represent search algorithm modifications made by Google. Their intent was to change the way search considers several phenomena, including, but not limited to: duplicate content, shady guest-posting arrangements, and a lack of mobile friendliness. On the whole, these were changes meant to improve user experience, but they were also to send a signal to the publishing world that Google was now starting to focus on link quality and not just quantity.  

The long term implication of this is that if your content doesn't genuinely satisfy a need and earn the trust of users, it's not going to rank. In the short term, it means you should allow your team to focus on refining content to genuinely earn shares and engagement from readers, rather than spending their time trying to get other sites to link to your content.

Rise of content marketing

The last five years have seen a steady increase in organizations practicing what is known as content marketing. The net effect of this is more competition in almost every segment of the market competing for attention and eyeballs.

Our expectations have increased

All of these forces combined have created a climate in which people have increased expectations for high quality content, delivered at lightning fast speed, and delivered wherever they happen to be.  

Interactive technologies are getting better all the time

The last five years have seen an explosion of interactive web technologies. Flash is basically dead, and there is a wide range of options for interactivity surfacing for designers and developers. From the core building blocks of HTML5, CSS and Javascript, to the rich frameworks for single-page applications such as Angular and Knockout, Google can index interactive content in search results. For brands that don't have access to that capability, there are a wide range of off-the-shelf tools promising to help publishers build the next Snowfall.  
How do we Create 10x Content Pieces?
Not so fast! It's not going to be that easy. This is where your own unique knowledge of your domain, plus a little creativity, will be required. That said, this is definitely a problem where some thorough, up-front research can go a long way.
Here are six tips to get you started.​

Tip #1:  Do a competitive analysis
We're not necessarily talking about who you think are your market competitors. Rather its the competitors for your audience's attention. Think of who else is coming up in the search and social results for a topic. These are where you need to focus your competitive analysis.
Rand Fishkin's advice is to start by looking at the Top 10 Search Engine Result Pages (SERPs) for the topic you are focused on and consider the following checklist to assess each of them:
What questions are answered by each page?
How do you rate the user experience of each page?
How thorough do you consider the information provided? Is it too detailed? Not enough information?
What do you think of the visuals? 

Are they using stock photos or original art?

Do the images accentuate the points being made? 

Do they use images to communicate complex data well?

Does the piece provide you useful, actionable takeaways?
How good is the writing? Does it speak to you, or over you?
Was there anything that you just wish was included but was not?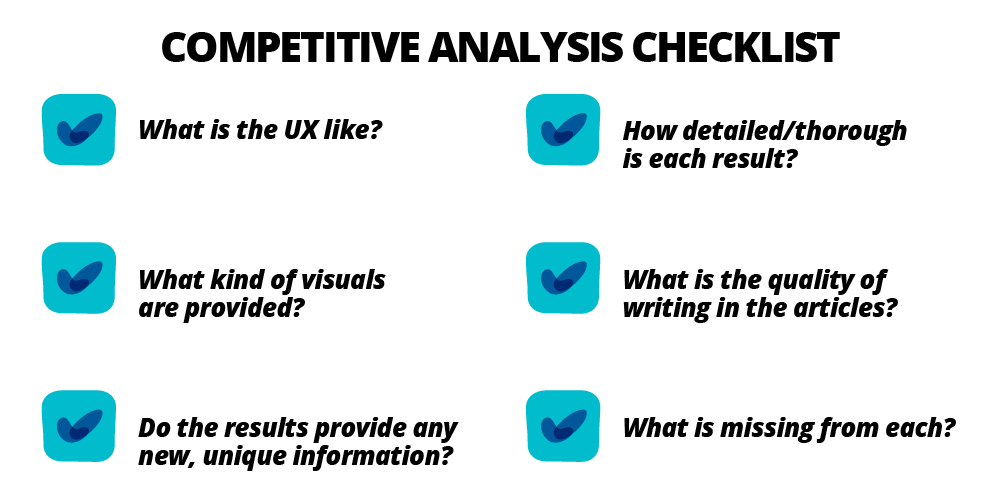 Tip #2:  Identify the unique value that you are going to provide to readers and influencers
Remember one of the key differentiators of 10x content is that it finds a new way to answer a question, or in some cases, provides a unique service. Take this example from FiveThirtyEight who are known for presenting complex data analysis in new and exciting ways. In Which Flight Will Get You There Fastest? they provide a friendly interface to ask the reader for two pieces of information: where they are leaving from and where they are going. From that point forward, they do the rest, providing the reader with a list of available flights, and a host of other rich details, including typical flight times, padding added by the airports on either end, and color coding for the faster airline.  

Depending upon your goals for the piece you should also be sure to spend time researching what the influencers in your field typically share with their social networks. Remember that posts with large volumes of social shares are often correlated with higher rankings in search results. If your content is really aiming for authoritative positioning and delivers a unique experience, it would very likely be something you want to get in the hands of social media influencers. Tools such as Buzzsumo can provide an excellent view into the journalists and social media influencers that are writing in your field, along with what other content they have promoted.

Tip #3:  Recognize the investment of time by the reader and accommodate them
What is Code is an interactive educational story by Paul Ford that appeared in Bloomberg Businessweek online and in print.  It attempts to inform the lay person about what computer code is, given tech has become such a huge part of our lives. While the piece does a number of things well, one area where it excels is how it recognizes the commitment of the reader. The article clocks in at about 8000 words, however, it does a number of things to make that less painful.
First, the author puts a new visual element or activity every few hundred words to ensure that the reader is entertained and given lots of real examples. Take for example this circuit simulator that allows the user to click portions of an electric circuit and change the flow of the system.

Another great technique that the Bloomberg team employs is that they recognize that the article is long enough that users might have to leave and come back later to finish it. So they incorporated a friendly way to let them pick up where they left off.

Tip #4:  The mobile and social experiences for your content need to be outstanding
In Buzzfeed's Industry Insights for 2014, they shared that they received more audience via social media than search. What's more, almost 70% of that social traffic was on mobile devices. First, you should consider that the first time your reader will encounter your content it will be on a mobile device and so it should show best there. Consider these two contrasting examples from Genentech's Making Medicine and Vox.com's War On Drugs: Explained. In the former, they clearly were not prepared to deliver the same mobile experience and offered the reader some messaging to that effect.  In the latter, the story performs incredibly well on mobile straight out of the gate.


You will also want to make sure that you are optimizing the piece for the most shares on social media as possible. Consider what the team at the Washington Post behind The N Word did in order to create a unique social experience for every reader. In the 'start your own conversation' feature of the piece, readers can ask questions and submit them to their own social network audiences, thus becoming part of the story themselves.

​
Tip #5:  Don't try to create viral content 
Most marketers agree that it is a waste of time. Create content that delights users by satisfying their curiosities. Stay true to your brand voice and tone; It can be easy to wash over your brand's personality when trying to create content that will garner X amount of unique page views. Be yourselves!  
A distinct personality and point of view indicates confidence rather than pandering. And in writing as in real life, confidence is attractive, pandering or inauthenticity not so much. Genuine content will be something that your amplifiers want to share; make it easy for them to do that!​
Tip #6: Properly staff your team
If your organization wants to create 10x content, they have to be willing to put the money and time into getting the right team members to contribute to the effort and not just add the work  onto someone's job. 
Long reads do great online and have long lives; the New York Times Innovation Report and other research confirms this. That said, they do require serious time and skill to create, from research, to writing and artwork.   One of the best ways we have seen to do this is to have a few people at the organization doing mainly content creation, albeit in a cross-functional team like those we describe in Responsive Delivery.  For examples of organizations paving the way in staffing their teams with the right kind of content talent, you can look to Autodesk, Buffer,  Hubspot and Wistia, just to name a few.​
 
This isn't easy
If creating 10x content was a simple process, everyone would just go out and do it. You need to put the work in to understand what is valuable to your audience and figure out what's going to be better than the status quo. What is more, you may fail time and again, but testing new approaches and ideas is going to be the only way to discover new ways of adding value for your audience.
In a follow-up article, we will talk about getting away from just creating content and moving towards solving the needs of our community.
Thanks for taking the time to learn more about 10x Content with us. Do you have any good examples to share? Let us know in the comments or on Twitter using the hashtag #10xContent.
Disclaimer: The statements and opinions expressed in this article are those of the author(s) and do not necessarily reflect the positions of Thoughtworks.