Food retail focused business and technology executives from 23 different organisations met in Manchester and London to discuss the Future of Food. Dan McMahon, Head of Retail - APAC at Thoughtworks, and Archie Mason, Head of Business Development at John Lewis Ventures, explored the steps retailers need to take to survive and thrive in an industry poised for unprecedented change. Here's a summary of their presentation and the trends we're seeing in the food industry.

Amazon's acquisition of Whole Foods has been one of many shock waves to the food industry over the past year, with many retailers considering specifically "What should my Amazon response be?". While it's an important question, this shouldn't be the primary concern. Businesses need to look outside the competitive set to understand the structural shifts impacting retail.
The grocery store
Within the food business, we've generally had the same business model for almost 60 years, with mostly incremental innovation in the store. Why the slow pace of change? This model has worked very well. It's also capital intensive, and running a food retail business is complex.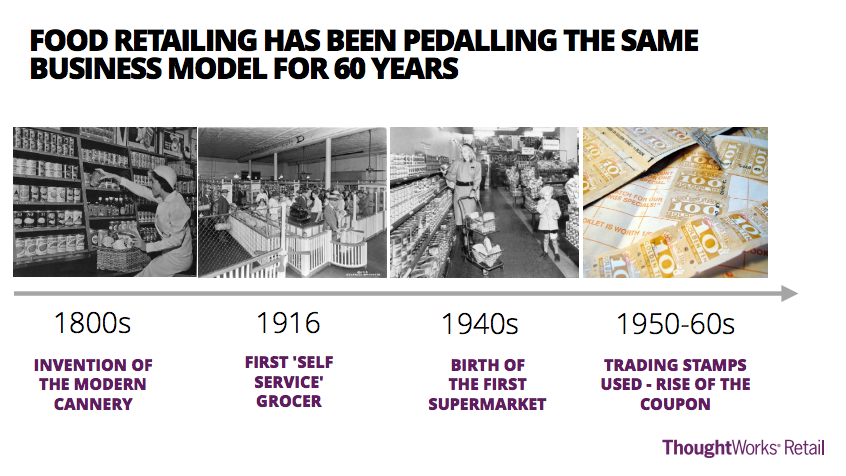 The key capabilities of food retailing can be broken down into six components, shown in the graphic below: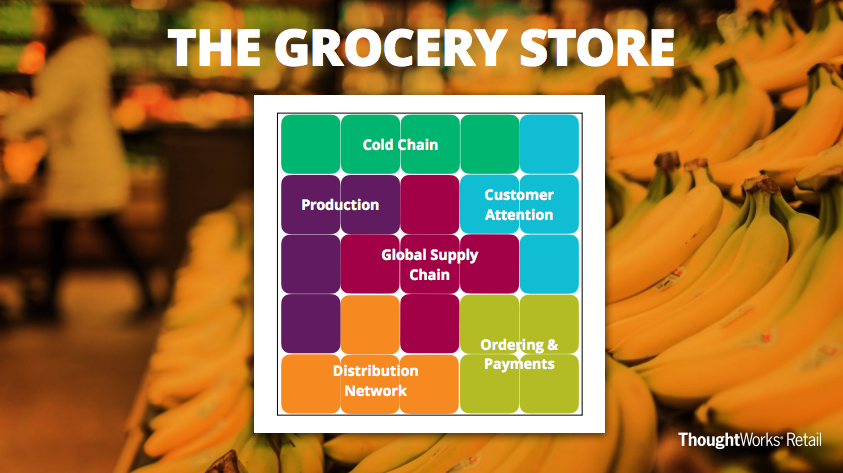 For grocery stores, what is the impact of technology on the business model and each capability?
The war for customer attention
Social platforms and messaging apps have captured a large amount of our daily attention. Customers no longer wait until they are walking through the store to understand what is new or interesting - discovery now happens on Instagram, Facebook, or your group chat.

We believe the disintermediation of department stores, and the media industry, are a sign of what's to come in grocery. Let's take a look.





Before the Internet, life was pretty good for multi-category department stores. Product brands strived to develop unique and differentiated goods and there was low value to be captured in manufacturing and assembly, as well as distribution. These were capital intensive businesses that required scale efficiencies, or geographic monopolies to create a meaningful profit. Those able to capture customers through marketing and sales, often as well as distribution, generated tidy profits. Most department stores had control of a large piece of real estate within a geography, and so if you were a brand - particularly a new brand, you wanted to have your product available in store as it was a great way to access consumers.





After the Internet, aggregating all retailers online provided an alternative to the physical store as a means to capture customer attention. Today, there is almost an infinite selection of product, and content at the click of a button. This created a new problem for brands; discovery. As more content fights for our attention, product discovery has become an increasingly valuable business. Enter the technology giants. All of a sudden, retail outlets start to slip down the value curve to become distribution points, creating downward pressure on margins. Department stores are now fighting for attention. There is a challenging relationship between brands and retailers when it comes to managing product profitability and advertising investment.
Digital becomes physical
Retailers and brands are partnering to connect with customers in new ways. Take Coke's partnership with Google and Albertson's for example. They are using Google's Eddystone technology to display personalised content at the shelf edge. In real world testing they delivered a one month ROI on the deployment costs. They sold more of what was promoted on the screen, but they also sold more of the other Coca-Cola products down that soft drink aisle. One of Coke's strategic pillars has always been to invest in equipment - and provide this to smaller businesses as a way to win exclusivity or a prime position. Coke is now expanding on this to use digital menu boards in takeaway businesses to add to it's tracking opportunities. They can ensure the representation of the brand on the screen maximises conversion through targeted advertising.
Ordering and payments
Technology has been busy transforming payments as well. In the physical world, contactless card payments have an equivalent experience to mobile payments. It's in the ordering space where the biggest opportunities exist. How does digital ordering stack up compared to the physical experience? For what types of product is it easier to carry your basket around the store, or when is it easier to transact online? And for what types of experiences is the physical store still best?
The disappearing middle-aisle
One of the biggest 'jobs to be done' at the supermarket is managing the household. This refers to all the things you need to ensure home life runs smoothly - garbage bags, toilet paper, ziploc bags. These are the things shoppers don't really have desire for. Consumers have low emotional connection to these products - picking them up is a chore. The first person to take that chore away from us, at a price we're comfortable with gets the task. Digital-first retailers are becoming experts at capturing needs, particularly when they can get enough data. Don't constrain yourself by relying on your existing business model - you will need to innovate quickly if you want to keep this within your brand.
Disintermediation of brands
Alexa, Amazon's operating system created its own market: a voice-based personal assistant in the home. CPG businesses such as Unilever or P&G should be just as scared as retailers of voice-based shopping. When customers visit stores, they see packaging, promotions, brand and shelf space. All of these things that big brands have spent billions of dollars and years building. When customers say "Alexa, please buy garbage bags", all these things go away. Search data on Google and voice commands on Amazon's Alexa show a big shift. The percentage of time that customers use branded prefixes in their search terms is declining. To win in search you need a customer to not just recognise your brand - but to recall and actively search for it. This is a much stiffer challenge.  Amazon has declared war on brands — they will use their algorithm to find a product that matches your preferences for a lower price. Amazon will figure out the best deal and most likely trade you into the highest-margin product for them which will be Amazon toothpaste.

It's not just about Amazon. Let's begin with a piece of smart home technology, a smart fridge. Let's say the fridge could use its connectivity to talk to your phone and let you know that you need eggs, creating an ecosystem. By extending our ecosystem we can have the fridge actually order the eggs from the grocery store. So what happens when your customer becomes a fridge? You're now one step removed from the individual - your consumer. Of course we don't have to stop there. This is about personal nutrition. We could have the fridge access all sorts of other information as it shops for you. What's your wearable technology saying about your health? What's the budget look like this week? What's the latest published information about diet and health? Now we have created a digital partner - one that creates the life you want - not just a simple labour-saving device.
This is happening today
Amazingly, this is already starting to happen today - in fact, one of our customers, Innit, is creating connected kitchen appliances that do more than turn your toaster on and off. They've developed a range of appliances able to identify ingredients, cook meals, and recommend personalised nutrition for the family. We're still some years from seeing these in the average kitchen, but the connection to the home has never been more under threat.
Platforms for experimentation 
Over the past few years, Tesco has been improving its digital capabilities and exposing these to others so that they can innovate on top of their digital platform. Last year they launched the ability to control what you add to your shopping basket through the automation platform 'IF THIS THEN THAT', and this year expanded this by adding Google Home support. It's a good start, and a platform for Tesco to find alternative paths into the home and daily life.
The supply chain: scaling complexity
Diverse customer tastes and preferences are adding complexity to the supply chain. The store is losing share across different customer missions. We have an explosion of smaller, more convenient stores, with a higher cost to run. Over the past 30 years, we've all mostly focused on rolling out a concept, then simplifying it, then scaling it. The time has come for us to engage technology to embrace and scale complexity. One interesting example is Walmart's robotic pickup center in Oklahoma city - essentially an ATM for groceries. It's taken the best of supply chain automation, usually destined for some large warehouse on the edge of the suburban world, and it's scaling it to automate the process of fulfilling your fresh, frozen and packaged weekly shop.

When it comes to managing and scaling distribution, the name of the game is productivity. The next wave is integrating more deeply with your partners to collapse the supply chain.
The future of distribution networks
So what is left of the physical store? A global supply chain, maybe some production facilities, and the ability to manage storage and transport of temperature-controlled products? What kind of business could it be?  Could it be a food platform? If customers can order a curry for lunch from JustEat… why couldn't JustEat deliver my chicken salad from Sainsbury's? In these examples you won't see examples of people trying to tackle distribution only. Everyone is trying to innovate the product, or capture customer attention.
For the first time in history, Americans spend more on eating out than on groceries
The explosion of choice when it comes to eating out, or ordering in, has seen something really interesting within the US. For the first time in history Americans are now spending more on 'eating out' than on groceries. When you look at the UK, the numbers are different. Around 35% of your food spend is happening outside of the grocery store. But the gap is closing. Over the past five years, the growth in groceries has been around 3.6%, whereas growth in eating out or ordering in is 13.4%.
Food aggregation
Company valuations and funding can give us some insight into viable business models in the short term. $10 was the opening share price for Blue Apron, the largest meal-kit business in the US. This gave it a valuation of around $1.9bn In the same week, restaurant delivery startup DeliveryHero went public in Frankfurt with a valuation north of $5bn. Food sourcing, production, and personalised creation is hard. To do it efficiently requires significant capital investment - an investment that many food retail businesses have already made, with assets such as equipment and workspace that lays dormant for much of the day.
Digital platforms
Whatever the future, it is unlikely to come to pass with small bets, short-lived partnerships, and a focus on siloed functions all turning their individual cog in the machine. Food retail of the future will be delivered through tight collaboration between smart merchants, chefs, marketers, and supply chain teams, enabled by a digital platform strategy that allows you to capture data, experiment, build machine intelligence and create deep and lasting partnerships. Amazon spent years building an entire toolkit for running their warehouse. Then the same technology became the foundation for Amazon Go. Results may take weeks and months to generate, but this kind of strategic positioning takes years. 
What to do? 
Regardless of your business, what should you do, and where is there value to be had?

Within your leadership team, spend enough time together thinking through the possibilities so that you are able to build your own view of the future. The best views of the future - are directionally right, and not specifically wrong. It helps you to remain open to new possibilities while moving forward, rather than becoming dogmatic - or worse, dogmatic and wrong.

We see five main structural trends starting to transform food over the longer term:
1. Vertical agriculture
Today we are beginning to see signs of viability from indoor agriculture, and through the course of the coming 10 years we see a position where sensors, algorithms, data fusion, machine perception, and robotics come together to remove many of the labour and yield constraints of existing outdoor farming methods. 
2. Intelligent food grids
Smaller, automated warehouses, operating closer to city centers, with goods fulfilled through small autonomous electric vehicles able to deliver fresh food to smaller merchants or become stores themselves.
3. Advanced food manufacturing
Have you tried the Impossible Burger? It's a David Chang (of Momofuku) backed, plant-based burger alternative that tastes identical to real meat. Eating an Impossible Burger over a regular burger saves the same amount of water as a time minute shower. Advances in bioscience and material science couples with changes in customer preferences will impact how and where our food is produced.
4. Borderless retailing
The name 'store' came to represent a place where goods were stored for the community. This meaning seems less relevant today - the retail store is going borderless, it will appear in many forms, satisfying a diverse set of needs. Backed by a globally efficient supply chain and predictive inventory management.
5. Augmented humanity
To operate at scale many of these things will be capital-intensive solutions. The biggest differentiators moving forward will involve making strategic bets with capital - either human capital in developing your technology capability, or financial capital in bringing an efficient food experience to each of the communities you serve.
What to focus on now
The importance of product differentiation



A recent retail industry study from Deloitte found that those with low product and experience differentiation had shrinking profit of 1% a year over the past 5 years. Those who differentiated solely through experience, saw 3.9% growth in EBITDA, while those who differentiated through their product, saw 7.2% growth. Those who did both grew 12.7%. If you have to make tough choices around where to invest your capital and management efforts then take a hard look at how differentiated your product offer is in the eyes of your target shoppers.
Transformative technology
Understand the role of technology in building your modern food platform. If technology isn't enabling a core transformation in the way you operate as a retailer, from building empowering partnerships with your suppliers, to enabling you to scale the work of your best category managers, inventory and pricing analysts, then as you are pushed down the value curve, your EBITDA will continue to shrink faster than revenue falls. In understanding what to do next, building and training digital talent across all parts of your organisation is mission critical.
Focus on strategic opportunities


Ensure virtual vertical integration, become algorithm-driven retailers, capture moments and predict delight If you can only choose one. Ensure you are the most efficient way for customers to access food - in terms of their time, and your cost structure.

The food and grocery industry is evolving at such a rapid rate, and retailers, distributors, and producers need to rethink their business models and focus on innovation to succeed in this evolving market. We are passionate about partnering with ambitious leaders who are up for the challenge. Is that you? We'd love to hear from you. 
 
Disclaimer: The statements and opinions expressed in this article are those of the author(s) and do not necessarily reflect the positions of Thoughtworks.