In this article, we talk about how we used Service Design to ensure user-centricity and solve complex challenges while rebuilding a global sales operations platform from the ground up. We go into strategies that succeeded and failed, and why. And then we provide a framework for applying Service Design in projects at any scale.
First, let's establish a few definitions. 
Digital transformation is an effort by an organization to use new technologies and processes to drastically improve operations, services, and products. This can entail replacing older systems and processes and/or creating new ones. 

Service Design is the mapping and intentional optimization of all people, tools, and processes employed in the product pipeline so that they provide the best experience for everyone–from efficient back office operations, to effective sales employees and happy customers.
Companies have been implementing digital transformation projects for over fifteen years, but about 84%* of such initiatives fail because of an unspoken misalignment on goals and the lack of capacity to scale in a coordinated and agile manner. One key solution to these problems is service design. 
Service design serves as a compass and map in complex digital transformation programs. It combines business and technical goals and transforms the way teams work together to ensure that we deliver on the promise of improving our users' experience.
Using service design ensures:
Better communication and collaboration between teams

Alignment on goals, priorities and user-centric problem solving

Identification and resolution of critical blind spots

Facilitation of cross-functional solutions 

Invisible layers become visible
Case Study
Now let's take a look at how we achieved the above by applying service design in one large-scale and highly complex digital transformation project. 
A multinational automotive company coordinating sales operations in markets across the globe had decided to embark on a visionary and ambitious digital transformation program. The aim was to sunset a number of older and expensive legacy applications, streamline processes, and redesign and build a new sales ecosystem from scratch. Let's call this transformation program "The Future of Sales Operations" or simply, FSO. 
As with most companies, their story of digital transformation arose out of the need to reduce the pain:
of the employees struggling with outdated technology, tedious manual processes, longer than necessary turnaround times, lack of clarity, and unnecessary redundancies that lead to communication and security issues. 
of the business in margins lost to the cost of slow archaic operations or the cost of licensing external software that could simply be better if it were built exactly to fit the needs of the business. 
of the customers who experience the trickle down effect of all these frictions in the form of an inaccessible website, inefficient sales processes, product flaws, and slow customer support.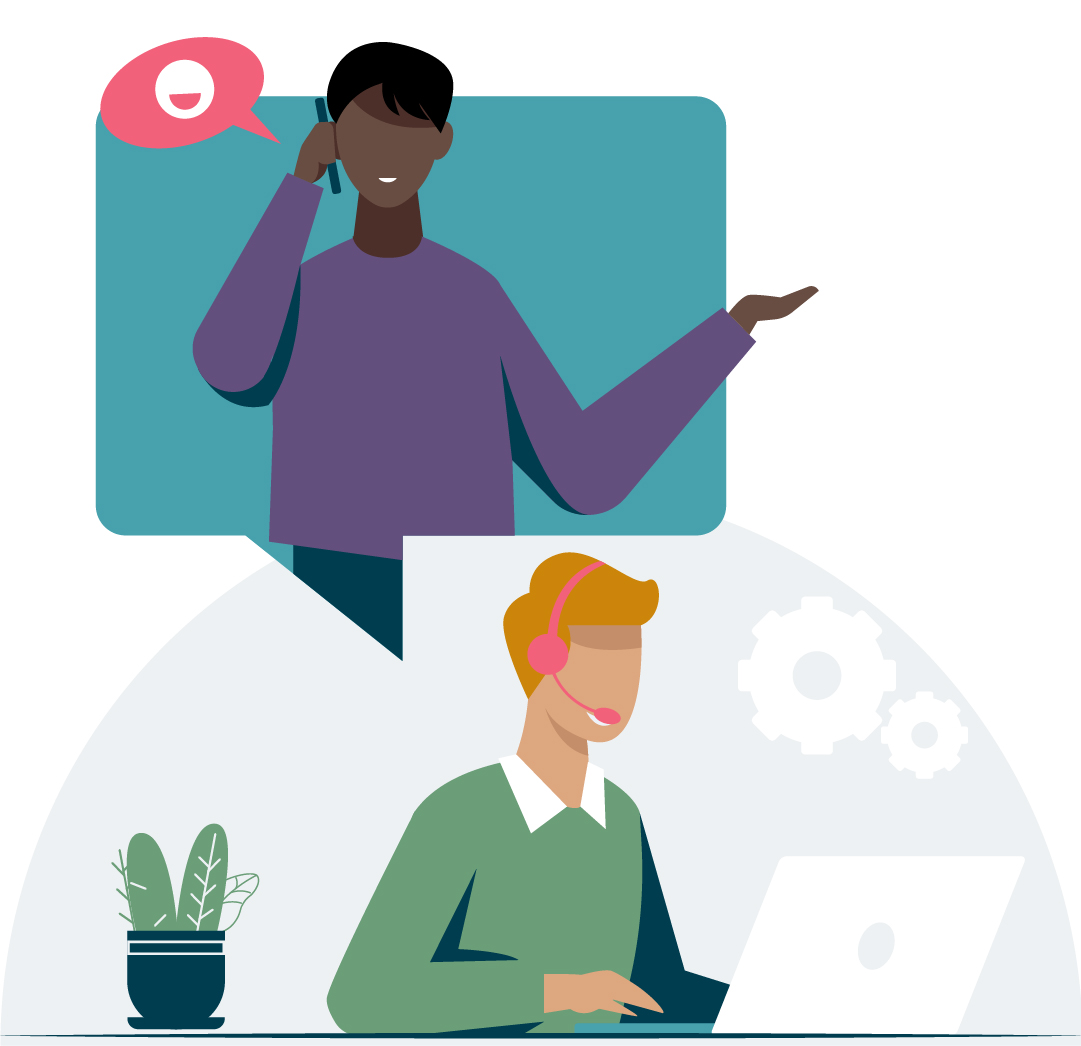 With the ultimate aim of increasing speed to sales, the company decided to completely revamp its sales operations platform with over 150 freshly designed business processes across ordering, accounting, and distribution, which would be linked by an array of over 20 custom built applications for more than 30,000 employees.  
When companies make the decision to undertake a digital transformation, the task can be overwhelming. Even with the best intentions and a clearly defined vision, transformation at scale is never easy and the teams faced daunting challenges throughout the journey that caused bottlenecks and frustration.
When the Service Design team from Thoughtworks was brought onboard two years into the project, we–in collaboration with stakeholders–identified a number of areas that needed clarity in order for the program to move forward and succeed.
Some of these areas included: 
More definition and segmentation of the user roles, their corresponding applications and jobs to be done

More detailed articulation of business processes from the users' point of view

Strategy for aligning teams to create a consistent user experience between applications across the platform

How to shift from a tendency to solve complexity through purely technical solutions that may not be optimal for users, to a mindset that adapts technology to fulfill user needs first

Better channels of communication to facilitate greater collaboration
After a period of fact-finding, we decided that a service blueprint would be extremely valuable. A service blueprint is an important artifact in service design: it is a map of the people, tools and processes in the operations pipeline. Having it in place can align all stakeholders and bring clarity. It is intended to be the source of truth, and a way for the teams to assess gaps and create contingency plans.
However, in this case, the scale of the program was so large and each segment so complex, that it soon became apparent that one single blueprint would not be practical. Teams would struggle to use it, because they needed more granularity and detail. 
So we pivoted to bringing the user perspective one level down to the business process designs, adding human needs and actions into the abstract flows. For example, if the process design said a form is sent to a department, we asked:
Who sends that form?

What applications are they using? 

How do they do it (down to the details in the interface)? 

What is the experience of the user on the receiving end?

What happens if the process fails? 
We attempted to define both happy paths and unhappy paths in cross-functional workshops that involved product owners (POs) and user experience (UX) designers who were working on all the applications engaged by each business process. Then we had them role play the user roles involved, reading out loud each step as if they were the user. This helped us identify gaps in the process, open questions, as well as opportunities for optimization. Finally, we tracked these issues as they were brought to resolution by the teams.
These workshops were also open to the teams that were entrusted with creating the training and onboarding materials. This brought them into the product development process to help them anticipate user needs and pain points earlier.
When ownership of a problem was unclear because it cut across multiple teams and applications, service designers took on the role of facilitators. Their role was to help keep the customer at the center of the problem-solving process and aligning all stakeholders to the solution. 
In one such case, there was a challenge involving pricing that had remained unsolved between two teams for almost two years. So we conducted user research and stakeholder interviews, and then used these as the basis for successive discussions. By putting users at the forefront, we were able to disarm underlying team dynamics that were causing roadblocks in the process. So together, we were able to propose solutions and help the teams reach a consensus that was in the best interest of their respective constituents within three months.
As we moved forward, using service design fostered further positive collaboration and open communication between teams. In our experience, service design methods have a multiplier effect: they build a positive working culture because they give teams a facilitated method of working through ambiguities and solving problems with each other.
Overall, Service Design benefitted the program by:
Bringing the user into focus and prioritizing the user experience as the primary driver for design and technical decisions

Enabling teams break through roadblocks and find solutions as much as four times faster

Being responsible and accountable for driving cross-team collaboration

Establishing methods of collaboration that could be replicated across the program
The Service Design Framework
As we conduct Service Design, we adhere to a framework of values and practices that can be universally applied and understood. 
They are:
Remove your blinders

Get the big picture through research

Facilitate cross-functional collaboration and solutions across teams 

Apply systems thinking and consider adjacent platforms

Stick with user centric methods and metrics

 
These provide signposts and guardrails on the journey through complexity. 
Remove your blinders is a reminder to be vigilant about possible assumptions (our own and others) that may keep us from seeing the full picture. These can come from "the ways things have always been done" or thinking "I am the user." Once we step into the backstage of software development, we lose the fresh perspective of the user simply because our vision is clouded by too much information about backend dynamics.



Get the big picture through research, and especially user research. There is a tendency in development teams to assume we know what's best for users. However, this unscientific approach can lead to costly errors. We need to question any assertion not supported by timely user research.



Facilitate cross-functional collaboration and solutions. Giving a forum for product owners, designers and developers from different teams to work together and get insights into each other's worlds is key to giving them a better sense of the context of their own work. This bigger picture also drives solutions that work better for everyone across the ecosystem.



Apply systems thinking and consider adjacent platforms. Build an understanding of the user's entire workflow, including other tools they might use other than the ones you're building. For example, do they turn to email or chat to communicate with each other when there's an issue in the pipeline? Can this be optimized through a communication channel built into the application?



Stick with user centric methods and metrics. It is tempting to measure the success of incremental steps in the transformation program through metrics that sound impressive in numbers while having no demonstrable impact on the user experience. This has the tendency to distract teams by making them chase the numbers set out in terms of OKRs, at the expense of focusing on meeting user needs.

Make sure that any method or metric can point directly to improving the user experience, and then measure these improvements through user research. This ensures that teams stay focused on the most important goal–creating an excellent user experience–at every step of the way.
To hear us speak about this framework in more detail, see the recording of our talk, "The Role of Service Design in Digital Transformation". 
Summary
Digital Transformation is an investment in the future of a company, and is critical to its survival in a world of constant change and competition. Transformation programs require a great deal of capital, time, and expertise, and can be minefields full of complex challenges that slow progress and ratchet up costs. In the end, there is no guarantee that the outcomes provide corresponding benefits to the employees and customers. That's why service design is so valuable. 
Service design brings the focus back to business and user value. It connects all the visible and invisible layers in the ecosystem that is responsible for delivering a seamless experience to employees and customers. After reaching a certain level of maturity, service design can also help in building the right set of metrics to measure the service outcomes such as efficiency, speed, manual steps, human interventions, and process loops which help in making continuous improvements.
It is the most effective way to cut across technical silos, surface possible blind spots and gaps, and design the whole end-to-end pipeline so that it is optimized for both employees and customers.
By bringing together business, technology and design, service design can increase the speed and success of digital transformation programs and help leaders make decisions to ensure that any transformation is a success.
* See "Why 84% Of Companies Fail At Digital Transformation."
Authors
Poorva Lavate is a Lead Service Designer at Thoughtworks India with over 13 years of experience working on various facets of design including architecture, physical & digital products, research, and strategy across industries such as wealth management, manufacturing, e-commerce, and consumer goods.
Minette Mangahas is a Principal Experience Design Strategist at Thoughtworks Germany with over twenty years of experience in implementing and managing art, design, and product development across sectors including education, energy, automotive, sustainability, social enterprise, blockchain and IOT.