Digital transformation for rapid value creation: ITV's Data Mesh journey
ITV is a leading integrated content creator, publisher and broadcaster, and has been one of the UK's biggest ad-funded television networks for more than 60 years. Over the past decade, the company has faced one of the largest paradigm shifts its market has ever seen — the rise of digital streaming platforms. 
New digital viewing journeys generate vast quantities of audience data, which contain insights that can help improve how the business creates, promotes, distributes and monetises content. Ultimately resulting in an increase in MAU's, increase in viewing hours, increase in subscriptions.
In response to that shift, ITV set a new vision: to become a digitally led media and entertainment company that creates and delivers standout content to audiences wherever, whenever and however they choose. Sanjeevan Bala, ITV's Group Chief Data and AI Officer, is helping to make that vision a reality.
Formulating ITV's new data foundation
Tasked with delivering on ITV's new mission, Sanjeevan devised an offensive strategy, one that is value generating to drive growth. ITV engaged Thoughtworks to help bring that strategy to life. After carefully assessing ITV's requirements, the team identified Data Mesh as the ideal approach to help ITV achieve its digital and data-driven goals. 
For ITV, Data Mesh wasn't just an architectural model that could help them drive greater value from data. It was also a means to encourage and drive innovation across the business, and a new operating model capable of putting data ownership in the right hands and creating an ecosystem of continuous value exchange through data. In essence putting the science where the art happens.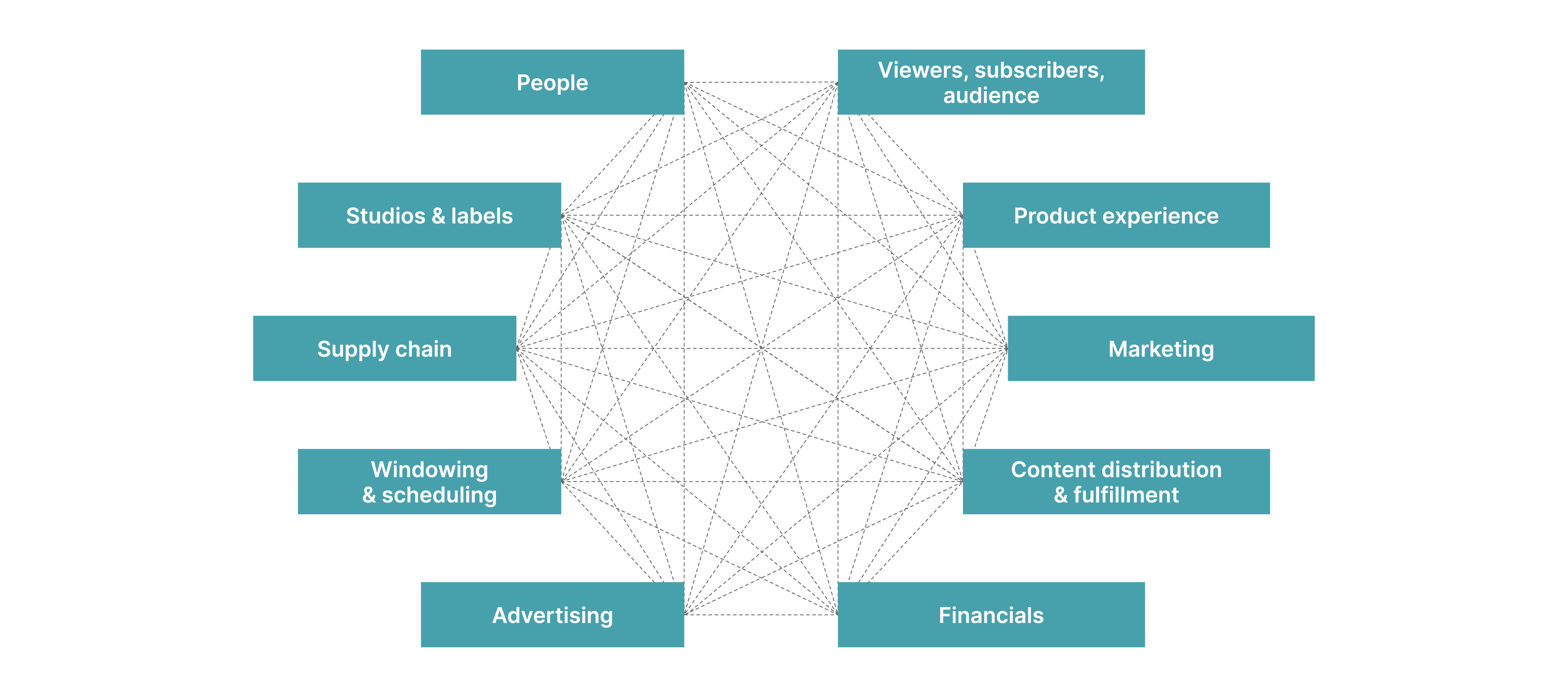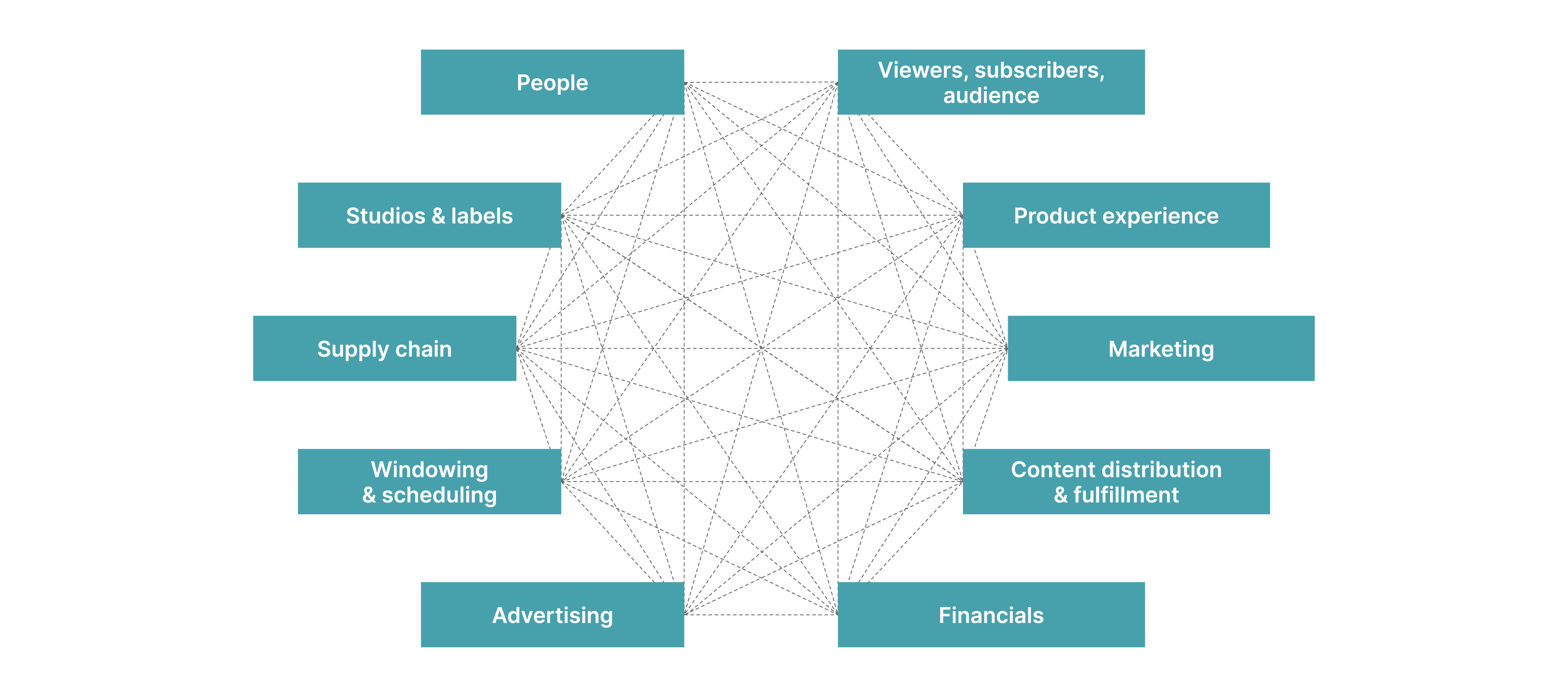 This diagram shows the knowledge exchange across the organization with the Data Mesh approach.
Bringing ITV's Data Mesh to life
An expert team of Thoughtworkers began co-developing a cloud-based Data Mesh on AWS and Databricks; a process that would enable ITV to bring its new data strategy to life, and embed agile ways of working across its diverse business units.
We identified 'thin slices' that would help the company prove and realize customer and shareholder value quickly, and secure buy-in for the wider transformation project.
One area that quickly emerged as a priority was Marketing. We identified a series of user journeys which could be supported by new data products. These journeys would enable ITV's Marketing team to identify addressable audiences and launch targeted paid campaigns in just three minutes — a process which previously took three months.
The big benefit for us is time saving and control of our own data. Launching target campaigns used to take us three months but now it takes us three minutes. It's much easier to build audiences and see the size of them.
In parallel, ITV was introducing a new Customer Data Platform (CDP). The platform bridges the gap between analytics and operations by consuming data products from the mesh and making them highly accessible to teams across ITV, so that they can ultimately be used to create new value.
Utilizing the foundation built by the data platform team, the Marketing team quickly onboarded its data to the Data Mesh — enabling it to create six data products designed to support the customer journeys it had previously mapped out. After three successful production releases, the end-to-end MVP went live with the first paid media campaign running within only eight months.


This diagram illustrates the new Customer Data Platform, which bridges the gap between analytics and operations to create value.
Transforming ITV into a hyperconnected, data-driven, domain-oriented business
Today, it is much easier for teams to share data within ITV. A key enabler for this success is to treat data as a product, bringing the consumer's needs into the design of how it is shared within the organization. This ensures that data is reusable, composable, and reduces duplication of efforts. When a new use case arises, consumers can easily find and immediately start using any existing data products without requiring new fit-for-purpose datasets to be created from scratch.
ITV's Data Mesh platform enables teams to quickly onboard their data and make it discoverable, and accessible across the business. Time taken to provision data products using the platform has gone from three weeks to just a few hours — driving the adoption and expansion of the mesh across ITV's operations.
The results have been transformational for the domains that joined the Data Mesh, which now has more than 20 data products powering several value cases. Marketing has dramatically accelerated segment and campaign creation. And commercial teams are seeing similar results, improving their effectiveness by 95%.
Across ITV, the new Data Mesh foundation is helping:
Turn diverse viewer, advertiser and commercial data into measurable business value and better viewer experiences

Accelerate the pace of change and increase organizational agility, so that ITV can respond even faster to shifts in the ever-evolving streaming landscape

Drive innovation by empowering domains to utilize and share their data, their way, and through the creation of cross-functional teams 

Ensure that the organization is ready for big changes in the future and supported by an approach that can evolve alongside it

Prioritize governance and reduce risk without stifling or slowing data-driven innovation

 
"What we're seeing today is that our Data Mesh is creating hyperconnectivity," said Sanjeevan. One example of that was seen when ITV's commercial team looked at the audience segment data product that the marketing team had built and saw the potential to use that to sell targeted advertising.
Today, the teams onboarded into ITV's Data Mesh are closer and more collaborative than ever before, and more opportunities for innovation and value creation are being uncovered every day.
This empowering data work won the DataIQ Shared Data, Shared Culture award. 
Our offensive Data and AI strategy has taken a value based approach combined with a decentralized operating model and has started to deliver tangible value; from reducing time to business value to accelerating learning cycles in the business. This is the first step in our ambitious journey over the next four years of ITV's digital transformation, with more developments to come. However, to receive such prestigious recognition at this stage is particularly encouraging and a testament to the brilliant teams we have empowered.