Why Enterprise Modernization?
Every organization is aware of the imperative, now more than ever, to have strong digital capabilities. Enterprise Modernization enables businesses to rapidly add new features and applications, while fully leveraging a cloud native approach; underpinning a significant part of an organization's ability to transform and deliver on digital.

Enterprise Modernization takes a pragmatic and business oriented approach by working backwards from a desired business outcome that may be negatively impacted by existing application, infrastructure or development. Utilizing modern architecture, platform, tools, techniques, practices, and patterns, Enterprise Modernization enables organizations to benefit from flexibility, faster scaling and lower operational costs.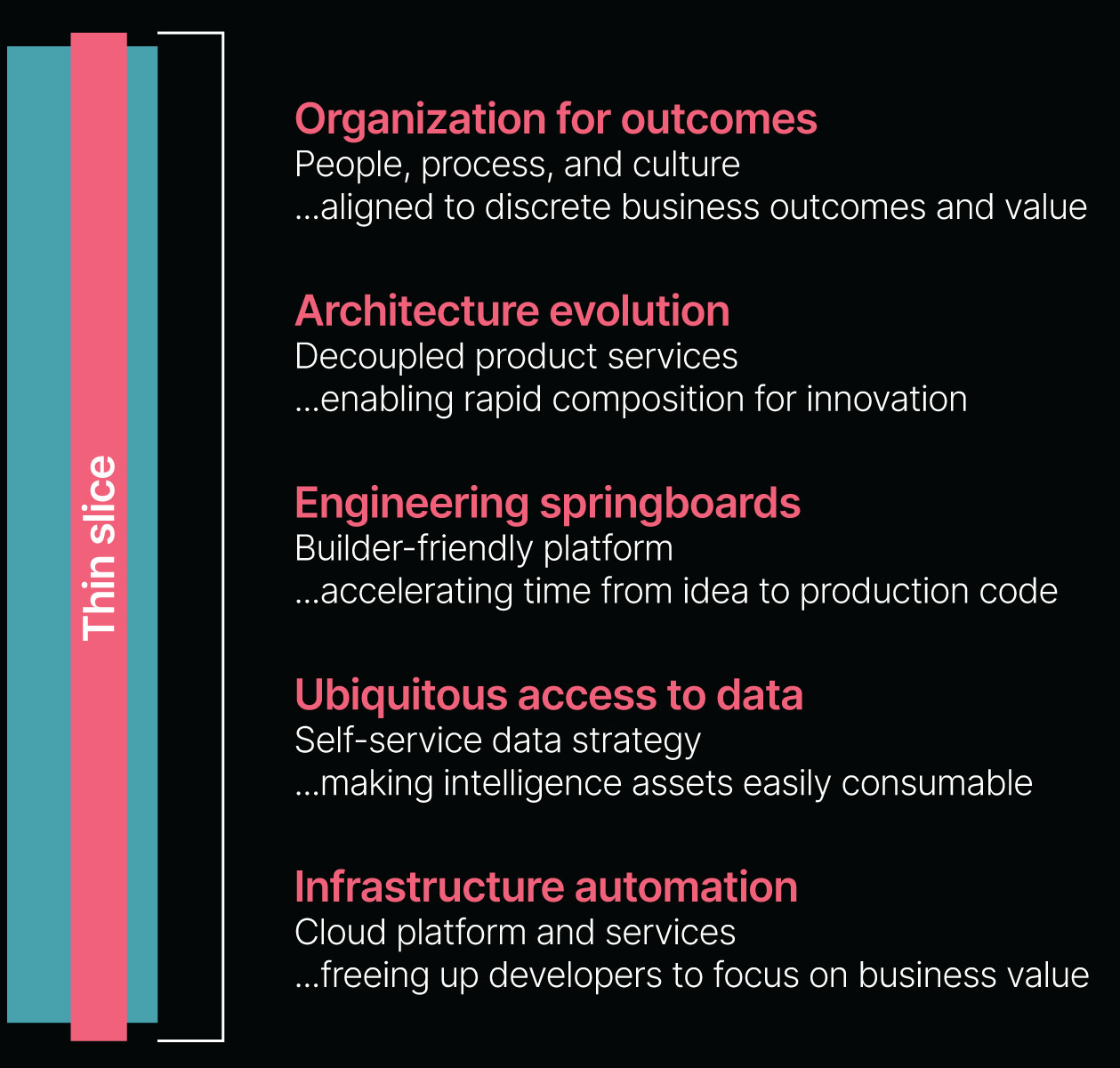 The 5 tenets of enterprise modernization:
The AWS and Thoughtworks Difference
Setting yourself up for modernization success begins with understanding the 5 tenets of Enterprise Modernization. These 5 tenets are core to successfully defining and executing platform and application modernization efforts.

Most importantly, we believe that each of these principles are strongly interconnected; therefore addressing all five is the best way to maximize the business value for your cloud migration and modernization efforts.
Our quick start AWS migration and modernization offers

Cloud Engineering Value Stream Mapping
A 2-4 hour comprehensive review of your engineering processes. We'll analyze your current value stream, identify bottlenecks, and create a future state map to optimize the delivery process.

Cloud Value Articulation Workshop
A 4 hour comprehensive analysis of the business value of AWS cloud adoption. We'll identify key benefits of cloud adoption and quantify the potential ROI based on your organization's existing IT infrastructure, business operations, and future goals.

Cloud Readiness Assessment
A 2 week engagement that will evaluate multiple dimensions including business, technology, security, compliance, application and data compatibility, continuous delivery and operations to help define and build a successful, comprehensive plan for Cloud adoption.

Cloud Strategy Assessment
A 6-8 weeks engagement designed to help your enterprise develop a comprehensive cloud strategy and roadmap aligned with your business objectives.
Enterprise modernization looks at an organization's entire technology state and capabilities to determine what changes will enable the business to be more flexible, adaptable, and resilient. This guide by Thoughtworks and AWS outlines a holistic approach to enterprise modernization.
Download the guide to learn:

Five tenets to help you transform business applications to rapidly deliver value
How continuous evolution of applications, data, infrastructure, and culture lead to incremental and sustainable transformation
How Thoughtworks and AWS empower organizations to leverage cloud infrastructure, advanced automation, modern services, and industry expertise for successful enterprise modernization
Register to download the guide