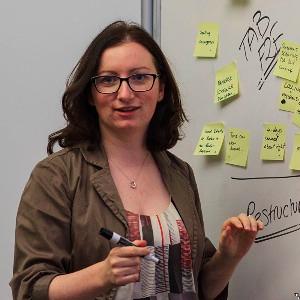 Anne J Simmons
Principal Associate and Global Leadership Development Program Director
Currently running Thoughtworks's Global Leadership Development programs, Anne works in the Global Talent Development function, where they work with country leadership teams to ensure a strategic approach to both individual and organisational capability planning and development.
Anne comes from a technical background, and recent roles at Thoughtworks have combined that knowledge with talent development. Over the last 6 years Anne has held roles which lead the development and roll out of a capability and competency framework, co-lead the Capability Strategy function, built new services and offerings focused on AI, Machine Learning and Advanced Data Analytics, and been a member of the Office of the CTO (During this time she managed the creation and release of the popular Thoughtworks Technology Radar).
Since joining Thoughtworks over twelve years ago as a developer and recent Computer Science graduate, Anne has played a number of roles working directly with clients and coaching delivery teams.
Anne's vision is to provide experiences and space for people to embrace and overcome the fears that prevent them from becoming the best version of themselves. Currently she is achieving this at Thoughtworks by running a remote, year long, global leadership development program for 120 high-potential leaders from around the world, and as an active coach and mentor for many colleagues.
This vision has also led her to become a Board Member and volunteer for the charity Disability Snowsport UK, which enables equal access to snowsports.
In December 2019 Anne was recognised with a TechWomen100 award which showcases emerging talent in the Technology industry. In 2018 Anne won the 10 Digital Ladies "Technologist" award, which celebrates someone who has led the implementation of technology to bring significant impact to an organisation or industry, The judges said, "We loved Anne's continual passion and pursuit of digital perfection alongside supporting women in digital."
Prior to software development, Anne was a ski instructor in Canada and New Zealand which continues to be a passion and has set her up with many of the skills that she relies on today.