We encourage Thoughtworkers to go on their personal journeys, follow their passions and learn and contribute to Social and Economic Justice. In this experience report, Pankaj Kanchankar from Pune, describes his recent visit to Arunachal Pradesh to conduct science workshops for schools in remote locations. He also explores how everyone can potentially support this one-of-its-kind initiative.
I was introduced to Gyan-Setu, an initiative of Jnana Prabidhini, in Pune in March 2014. When I got to know about the initiative and it's objectives, I had to register and sign up for a visit. Gyan-Setu aims to use knowledge-exchange to build bridges with remote parts of India and strengthen national integration. Simple science experiments with items readily available in households are used to develop a scientific temperament and instill observation skills in young children.
The Preparation:
Gyan-Setu is completely a volunteer driven program. Once we enrolled as volunteers, we were trained for a day and a half on simple science experiments. To make it interesting and engaging for students, the focus was not just on understanding the techniques, but the underlying principles as well. The volunteer group was a mix of college students, working professionals and senior citizens.
We conducted a practice workshop at a school in Pune to be better prepared for the workshops in Arunachal Pradesh. While this was on, we had to get our Inner Line Permit (ILP) to travel to Arunachal Pradesh. It was new to me that I needed a special permit to visit a region in my own country.
We were introduced to the local volunteer organization, Seva Bharti and our local contacts Mr. Shekhar Kulkarni and Mr. Kedar Joshi. These are people who have dedicated their life to bring about social change in the remote regions of Arunachal Pradesh.
The Journey:
We were scheduled to conduct the workshops in schools at Bomdila and Tawang. We planned to fly to Guwahati and then travel onto Bomdila via Tejpur. Even though it was just a 5 hour journey as indicated on Google Maps, we were advised to make an overnight halt at Tejpur before heading to Bomdila. We took the advice and travelled from Guwahati to Tejpur in 5 hours and from there another 6 hours to Bomdila in a shared taxi on a mountainous terrain with steep turns.
The Workshops:
When we reached Bomdila, we learnt that the schools didn't have any science labs. Workshops like these were their only window to observe science in action. We helped them look around and identify the basic principles of science that are applied in their day-to-day lives and in the equipments that they use.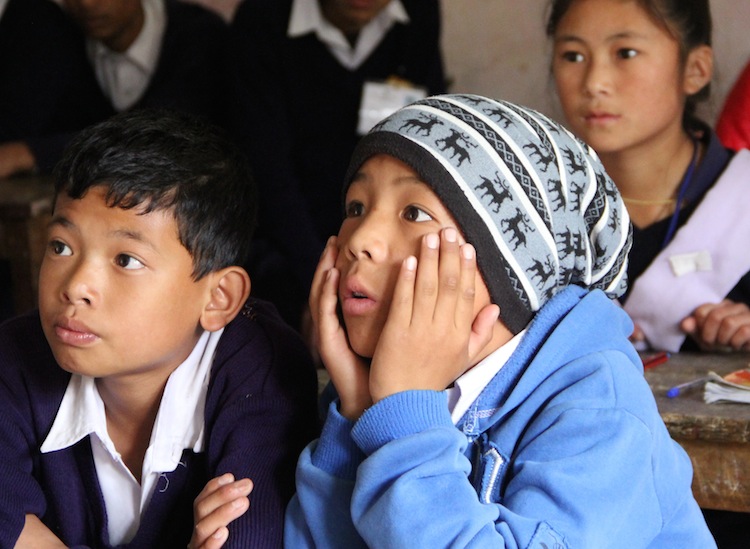 Our focus was on keeping students engaged and involved using hands-on experiments, stories, icebreakers, poems and origami.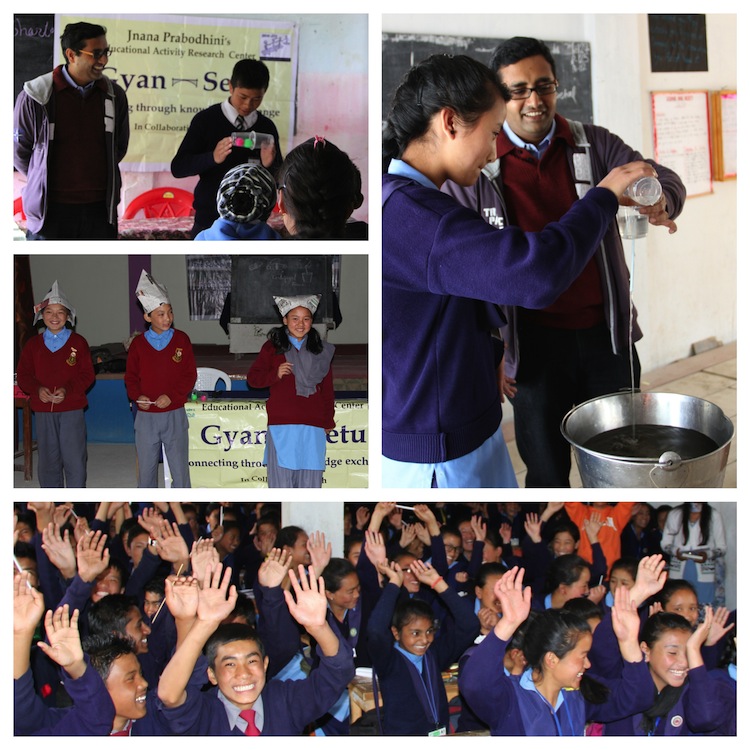 Some interesting tid-bits:
We realised that the children were not used to an interactive format of teaching. Once they overcame their initial inhibitions, they started getting more involved in what was being taught and providing answers for our questions.

At Shanti Deva Vidyalaya in Bomdilla, the Headteacher declared a holiday for all the younger students so that the teachers could attend these workshops.

"This is a learning experience even for our teachers. We rarely get to interact with others and learn new ways of teaching!"
At Vivekanand Kendriya Vidyalaya in Kitpi, we were scheduled to conduct our workshop in the afternoon, but bad roads and inclement weather ensured that we reached only at 8 pm. Luckily for us, it was a residential school and the girls in the hostel were eager to learn even at that hour. So we conducted a session for them almost at their bedtime.

At the Government Senior Secondary School, Tawang, we addressed a class of 120 students! While the session was on, another 60-70 students from the adjoining class joined in.

The students learnt that the unit of measure for distance could be hours. For e.g. How far is Bumla from Tawang? Ans: 4-5 hours.

We discovered that nothing helps them bond better than a good story and a song!
National Integration:
It is one thing to talk about India as one country, feel patriotic and comment on others being non-patriotic. But it is entirely another to see for yourself, the plight of people in remote areas and witness the basic issues they face. Earlier, I could never relate to News stories about unrest, separatist forces and the people in the North-East feeling left out. However, during conversations with people in this visit, it was so palpable. There is an undercurrent of distrust and a feeling of being let down due to decades of exploitation by people from the plains. Even today, most of the businesses are owned by people from the plains.
"When I travel to another state, I am always asked which country I am from! I sometimes feel that people in the other parts of the country don't care about the culture and differences of the North East!"
"Just 2 hours away from us in China, I've heard that roads are a lot better and it doesn't take a decade to get built."
(The Tejpur -Bomdila - Tawang road has been under construction for over a decade now.)
"We are made fun off, our facial features ridiculed and we are still expected to not get angry."
As a visitor, I was treated well and people were very helpful to me. Longer conversations gave us a better understanding of their problems and led to discussions around what could be made better. A lot of people were surprised that we were just volunteers and that there was no financial incentive for us to conduct these workshops. It seemed to us that many NGOs and social workers had visited the North Eastern states on sponsored trips.
My Takeaways:
Students are always eager to try new things and given a chance they will surprise us

Science is lot more fun to learn when its done with toys

While traveling to a new location, plan for all that you can but allow for flexibility

Be aware and grateful for a lot of things that we take for granted, without realizing how entitled we are

The World is a lot different when seen from the eyes of the disadvantaged

I wonder if I would be as hospitable to someone who visits my city as these people were to me
I made some good friends and got a chance to work with dedicated volunteers, social workers and educationists. Overall, it was  a very fulfilling endeavour indeed!
Get Involved!
A volunteer driven program like Gyan-Setu is always in need of volunteers and longer involvement for continued support. Here are ways in which you can contribute:
First, you can register and sign up to visit a remote region

If you can't travel, you can always help with training the volunteers

You could help with content creation and in identifying tools & experiments
About Gyan Setu:
"Gyan-Setu" is a volunteer program that works towards capacity-building in children who belong to the remote areas of States that are developmentally challenged in India. Gyan-Setu aims to use knowledge-exchange to build bridges with remote parts of India and strengthen national integration.  In the program, volunteer teams visit these states to conduct science-based workshops for school children. Currently this program is being implemented in eight states in India - Arunachal Pradesh, Asom, Jammu-Kashmir, Chhattisgarh, Nagaland, Odisha, Jharkhand and Sikkim.
Disclaimer: The statements and opinions expressed in this article are those of the author(s) and do not necessarily reflect the positions of Thoughtworks.