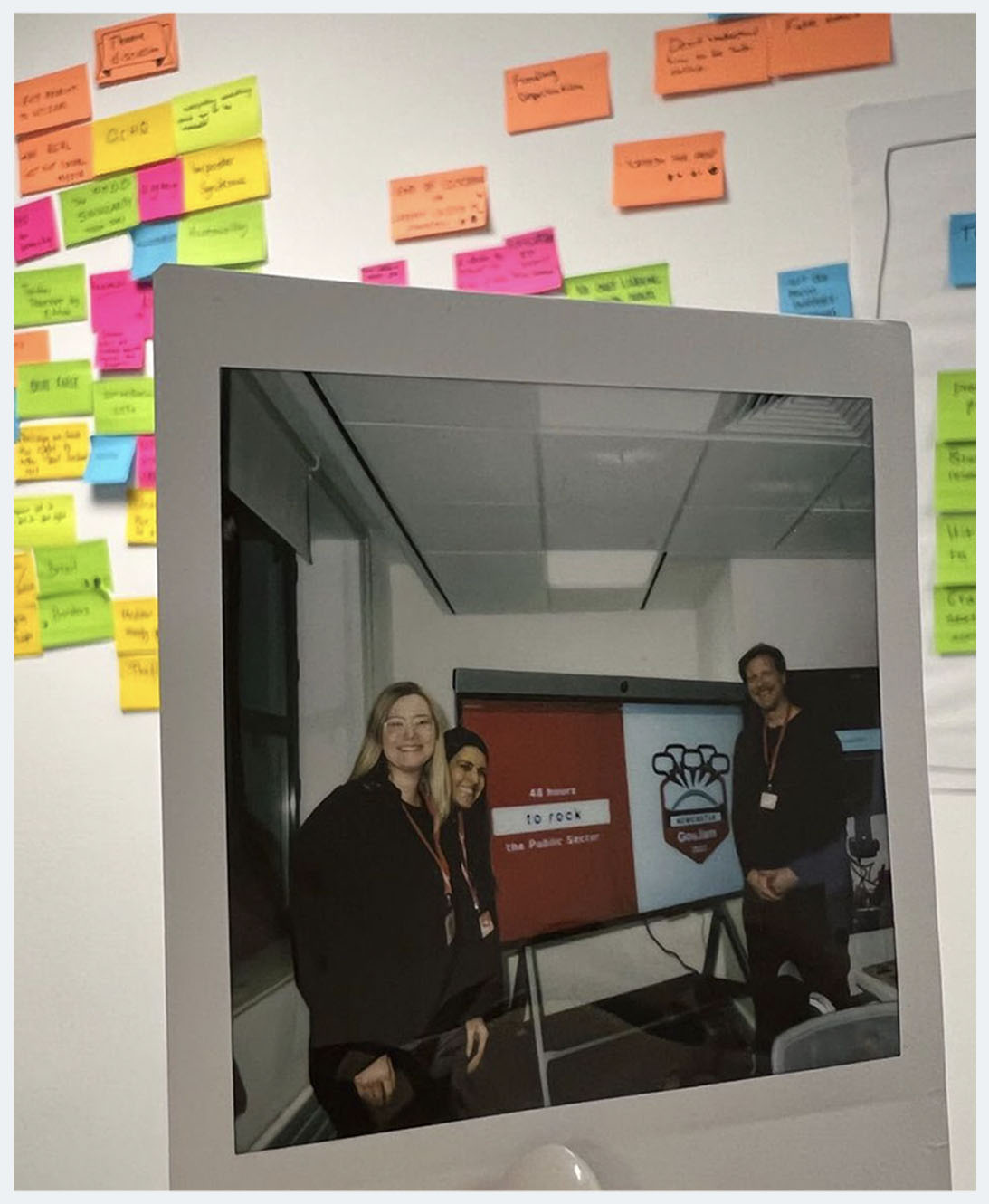 My name is Helena. That's me, left side, with my Thoughtworks colleagues at Newcastle GovJam 2022 — a rapid design and ideation event we hosted to help inspire and develop innovations for the public sector. That was a very recent highlight of my career. But that is not where my story began.
My career journey started when I majored in social anthropology at my home university, LMU Munich. Anthropology teaches us how to see the world through the eyes of different people, to understand how they perceive the world. And when you do that, you learn to see yourself differently.
I decided to pair my anthropology major with a minor in computer science. At the time, I'm not sure the combination made much sense. But looking back, it was the first decision that led me down the path of bringing people and technology together. Now, that's one of the things I love most about my role at Thoughtworks.
While I was studying for my degree, I volunteered at a social organization called Serlo Education, building a free and open platform for educational resources. The team there was hugely supportive, and helped me find my confidence in a professional technical environment, which helped me confidently leap into my career after graduation.
When the time came to start my career in earnest, I wanted to work somewhere just like Serlo — somewhere I was empowered, given autonomy, and able to combine my passion for people and technology to make a real difference. That ultimately led me to Thoughtworks.
The start of my Thoughtworks journey

When I joined Thoughtworks as a Business Analyst, my journey started in the best way possible. I joined 70 other new graduate Thoughtworkers at Thoughtworks University — an intense five-week program held at our offices in Pune, India. 
As well as sessions about software development and the Thoughtworks culture, we discussed social justice, colonial history, underrepresented minorities in technology, and the importance of privacy and the free internet. In that sense, it didn't just prepare me for my role — it inspired me to go out and start driving change.


My Thoughtworks University experience helped me make an immediate impact when I got my first client project. Even though I hadn't worked as a Business Analyst before, I had learned Thoughtworks' best practices, so when I got on my first client engagement, I already had experiences I could build on. In addition to that I had a very supportive team that helped me grow my skills and confidence. 
After some time and several successful client engagements, I joined the Thoughtworks Leadership Development program which helped me reflect on what I wanted to do next, and where I wanted my wider career journey to go. 
In my early days, I had focused so much on learning all the technical skills a Business Analyst needs that I felt the need to refocus on what originally inspired me in my career:  bringing the human side into tech, and driving positive social change. So, with some extra confidence and leadership experience, that's where I wanted to take things next.
Growing into a stronger analyst, advocate, and change-maker
What I love most about my Thoughtworks journey is how it's challenged my preconceptions about the world. I've met many inspiring people who, directly or indirectly, have helped me become a better Business Analyst, consultant, social justice advocate, and person. 
As technologists, we are uniquely placed to make meaningful changes. We must start thinking more about how we can act in solidarity with those working on changing the world for the better. This is essential if we want to have a future worth living. 
Above all, I want to see our industry shift away from its current 'move fast, break things, increase revenue' model, and focus more on developing technology that positively impacts communities worldwide.


Social change must be foremost driven by communities, by fighting inequalities across the globe, and by developing political policies and systems that do not exploit people. Technology can be a tool to facilitate that, and as technologists, we have our part to play, but we should not fool ourselves into thinking that "building an app" will entirely solve our societal problems.
If my studies taught me anything, it's that humans show unlimited creativity when using (and misusing) technology, we are never passive consumers. But the values of the people who developed the technology are reflected in the product itself — which is why diversity is so important. It's great to be part of a company that understands that and strives to make the right kind of change in our world.

A word to others like me
Speaking of the importance of diversity: If you're a woman — or anyone feeling discouraged from a career in tech — there's one thing I'd really like to say: give it a try. There are so many roles in the tech industry that I'm sure most people can find somewhere that their unique talents are not only needed, but highly valued.
Working in tech means problem-solving, working in teams, visualizing things, listening to users, organizing stuff, analyzing data, and being creative. There is so much variety that I am sure you will find a path that's right for you. And for people from any underrepresented minority already working in tech: yay! I'm so glad you are here!
For me, working in a team that was majority minority (meaning almost everyone in the team came from an underrepresented minority in tech) made a huge difference. Not being the 'the only one' meant we could openly discuss or share problems that we might not have shared in a 'normal' team.
I've seen the value and potential of inclusive and diverse teams first hand. Now, I'm more driven than ever to build and lead them, and welcome others in just as I was.
Disclaimer: The statements and opinions expressed in this article are those of the author(s) and do not necessarily reflect the positions of Thoughtworks.