To contextualize the insights on technology proficiency, our research also explored business growth plans for the year ahead, the attributes of tomorrow's leader brands — and perceptions of the role that technology had to play. The findings underline both the in making technology proficiency a priority for the boardroom.
As we move into the new economic realities of a post-pandemic world, this research also shares a snapshot of specific issues facing businesses in different countries. Despite the onward march of globalization and the shared experience of a global pandemic, business growth priorities for the immediate future varied across the countries surveyed.
1. Business priorities for the year ahead
Given the financial strains caused by the pandemic, it is not surprising that companies across the globe are focused on the bottom line for the year ahead — with the three most frequently cited priorities being to improve operational efficiency, to grow the customer base and to increase profitability.
These three key priorities were mentioned by almost half of the business leaders taking part in this research.
The next most frequently cited set of priorities centered on improving employee and customer relations; with nearly one in four businesses stating they wanted to improve customer loyalty, attract talent to the business and improve staff morale.
As part of this research, Thoughtworks also asked business leaders how they planned to achieve these goals. The research findings show the central role that technology will play in helping firms to navigate these challenges in the year ahead. 
Across different countries — and different sectors — most companies surveyed said they will be 'heavily relying' on technology solutions to help them grow their business and remain competitive. A further third said there was an urgent need to modernize their systems, platforms, networks and other technology to deliver on core business goals.
Business priorities for the year ahead
 

Priorities for 
the year ahead
% of companies that say they 'heavily rely' on technology to meet this goal
% of companies that say they need to urgently modernize technology to achieve this goal

Improving operational efficiency

49%

62%
36%

Growing customer base/market share

46%
59%
36%

Increasing profitability

45%
56%
39%

Improving customer loyalty

40%
56%
36%

Attracting the best talent

39%
52%
38%

Improving staff morale/development

39%
48%
42%
Improving executive/senior leaders' technology know-how and proficiency
37%
58%
37%

Launching into new markets

35%
53%
42%

Moving more of our business online

35%
54%
44%

Taking cost out of the business

34%
54%
43%

Launching new service lines

32%
57%
39%
2. Regional priorities
It was clear that these business priorities varied across different countries. For example, financial priorities resonated strongly in the fast-growing economies of India, China and Brazil. While every business aimed for financial success, some business leaders saw it as a result of looking after customers, modernizing operations, or launching outstanding services — while others saw profit as a primary goal in its own right.
'Increasing profitability' was cited as a key priority by 57% of Indian businesses and 51% of Chinese ones, compared to a global average of just 45%. Similarly, almost one in two (48%) Chinese businesses said launching into new markets would be a priority for the year ahead, while 42% of businesses in India also cited this as a goal for the next 12 months. In both cases, this was considerably higher than the global average figure of 35%. 
In contrast, far more companies in Australia were concerned about improving operational efficiency. This was the priority cited most frequently internationally — by 49% of businesses. In Australia, though, almost seven in ten companies (67%) said they would be focusing on this for the year ahead. There was also a higher-than-average focus on this in Brazil (58%) and Singapore (57%).
3. Using technology to deliver business goals 
Most businesses across the globe are relying on technology to deliver on key strategic priorities, be it boosting profitability, improving operational efficiency, developing new markets and products, or improving customer loyalty and staff retention.
The scale of reliance on technology is significant. Across all 12 countries surveyed, most business leaders said technology had a key role to play to help deliver on at least seven priority areas for business growth. In Brazil and the U.S., technology had a key role to play in virtually all the business goals mentioned. These results indicate that technology was seen to be synonymous with business growth.
The graphic below gives more details and highlights the business priority areas where business executives believe technology has a critical role to play.
The number of business priority areas
where technology had a critical role to play.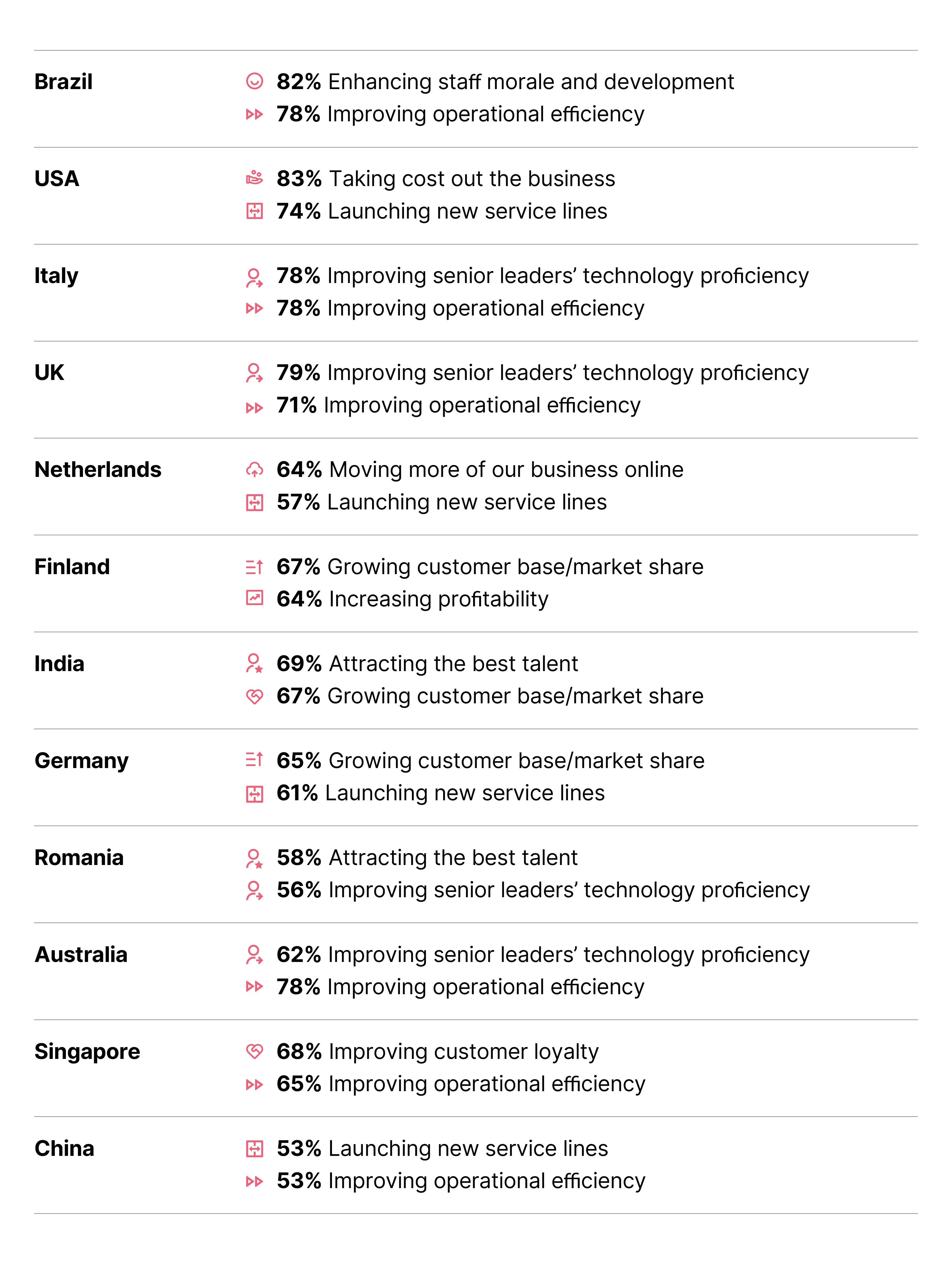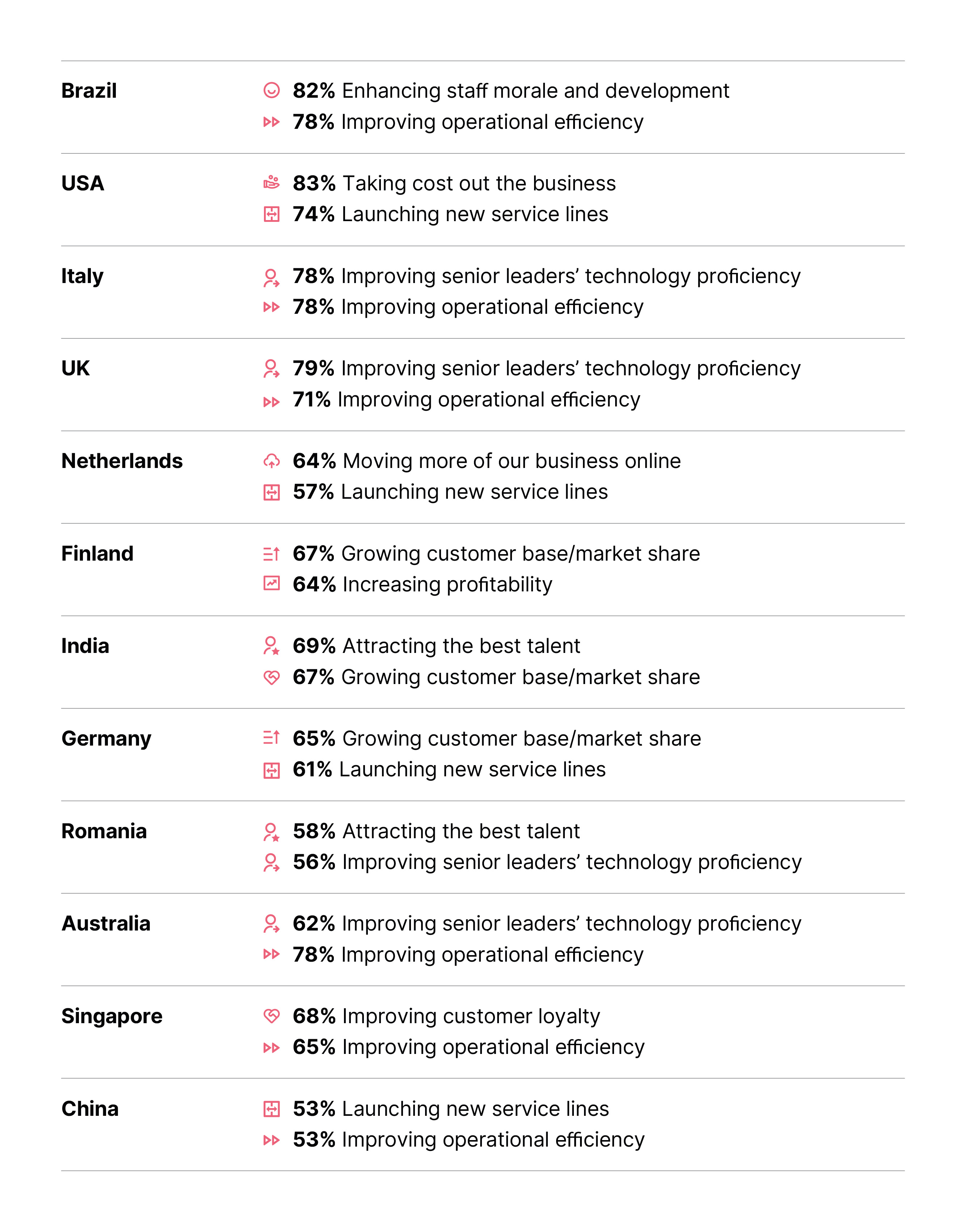 4. Leadership and technology 
As well as looking at short-term business goals, this research asked C-suite decision-makers to predict the key attributes that would characterize tomorrow's leading brands. 
Executives clearly saw technology as an essential attribute for the companies that will dominate the business landscape in years to come. Almost half of the respondents (46%) said these companies 'would make use of the latest technologies' while 44% said 'technology would be at the heart of business thinking.' These were the most popular answers given. 
By comparison, just one in four respondents thought that tomorrow's leading brands would be the companies making the biggest profits. This trend was particularly pronounced among growing businesses and those already making full use of technology. 
The research also looked at the areas of knowledge needed for tomorrow's business leaders. Again, technology was a key feature, with knowledge of data, software and new technology seen to be four times as valuable as skills such as driving profitable growth. In fact, the CEO of the future is likely to have a range of technology skills. Business leaders today place six times as much value on these technology skills as they do on creative skills and language skills, and four times as much value as they do on marketing. The research shows that around 30% of the skillset of tomorrow's CEO will be technology-related in some way.
Technology areas that need attention: top responses by country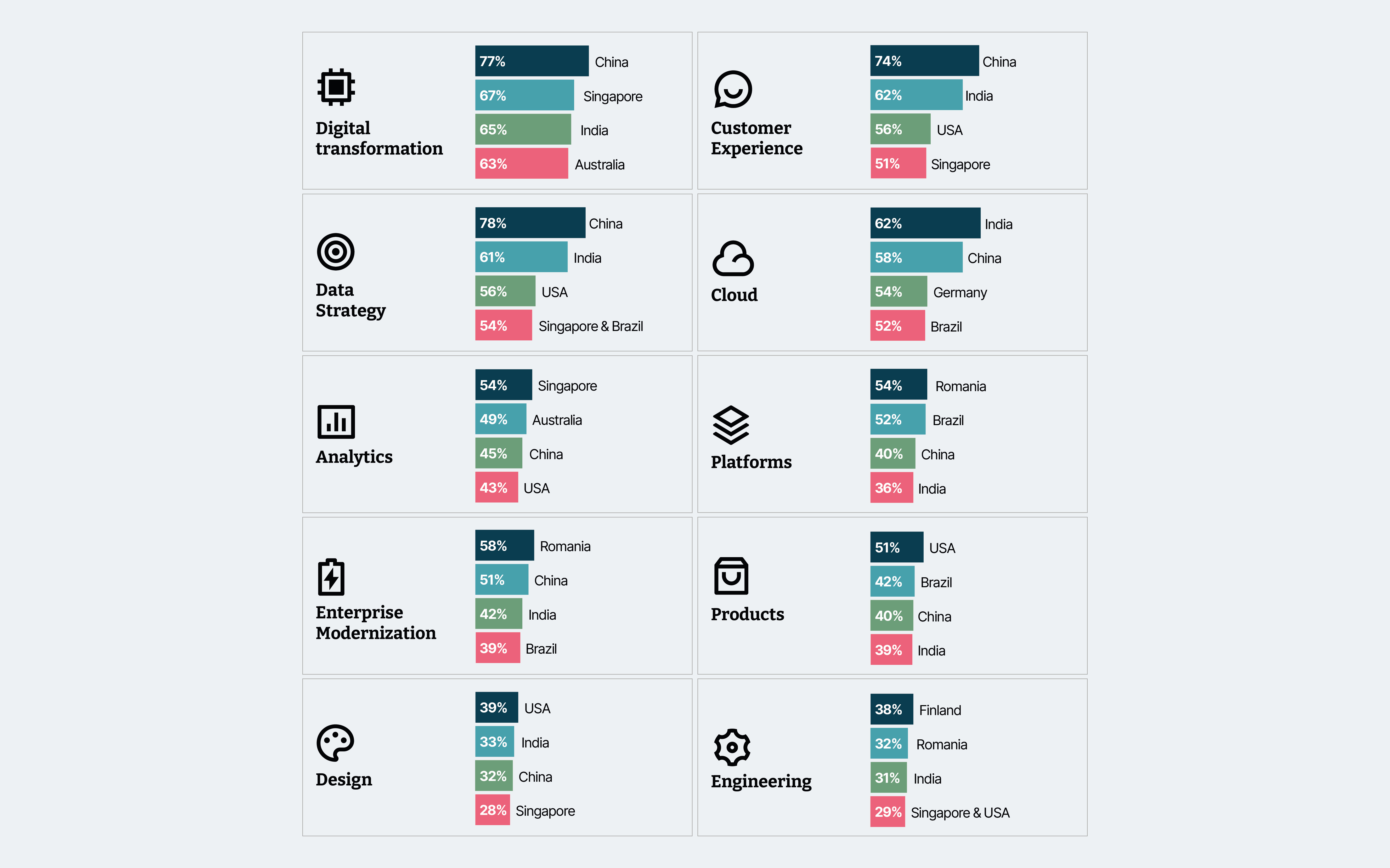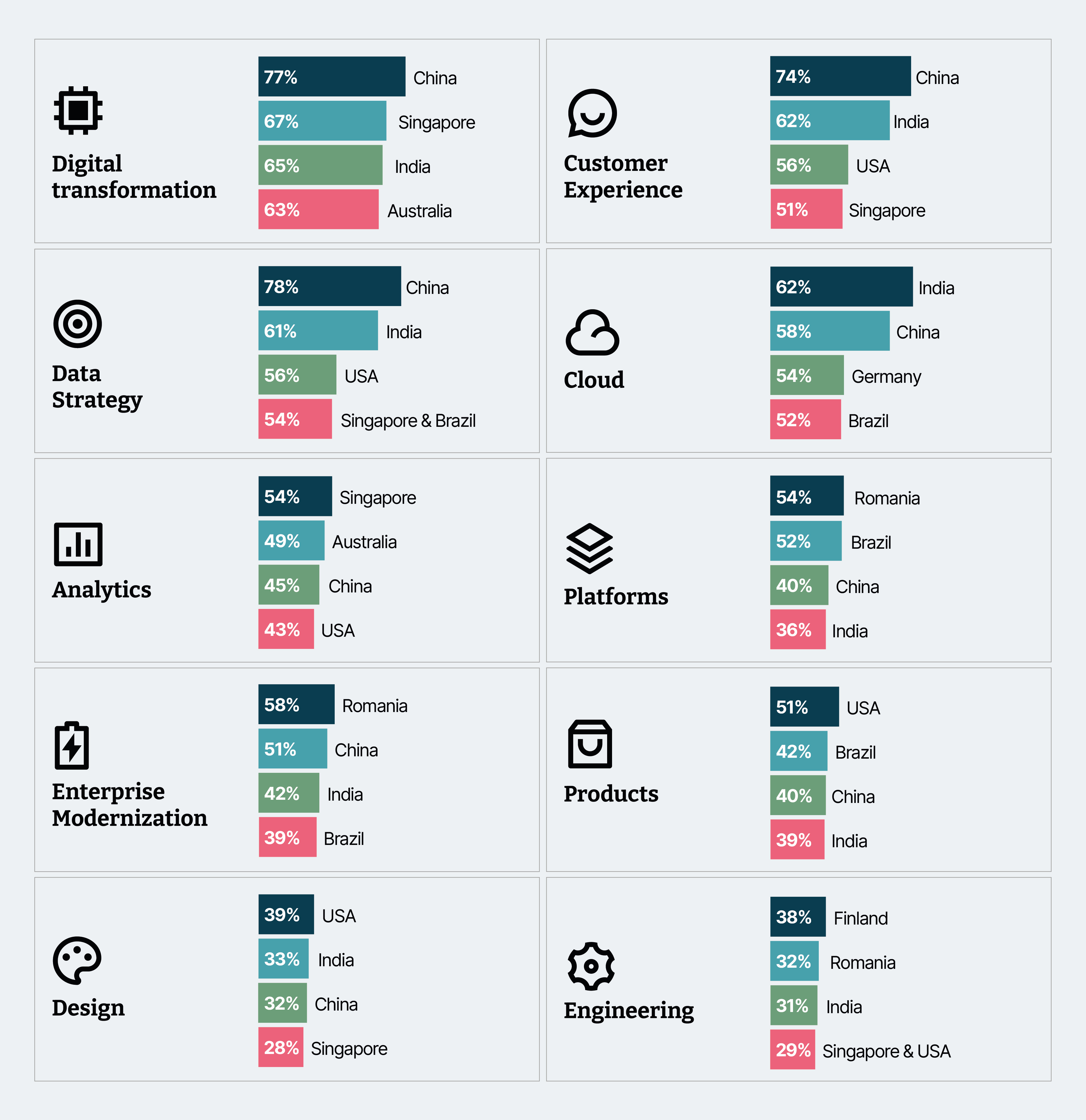 Conclusion
Businesses across the globe have very different growth priorities for the next 12 months although, looking further ahead, there is greater international consensus on what the market leaders of the future will look like. 
Many business leaders expect technology to be critical to their ability to deliver on these various goals, enabling them to compete more effectively in a rapidly evolving corporate landscape. 
Becoming a modern digital enterprise involves focusing on your business's individual priorities, and the way that technology can be utilized within your organization for maximum effect. This is not a one-size-fits-all approach, where simply plugging in the latest technology tools will solve a range of problems. 
Companies positioned to thrive in the future place technology at the core of the business, by looking at how platform technology, smarter use of data, and more user-friendly customer experience can improve different aspects of their operations. 
Technology innovation and modernization will help these businesses become more agile and proactive, enabling them to pull further ahead from their competition.
The perceived importance of technology in powering business growth underlines the need for business leaders to invest in technology proficiency, both on an organizational level and among key members of the leadership team. Embedding the knowledge and the conversations into the everyday working of a business will be key in helping enterprises to fulfill their true potential.