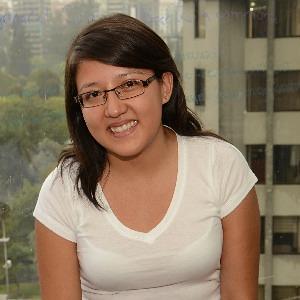 In my life I wanted to be a doctor, architect, policewoman and lawyer; in the end, I chose journalism as my career. I studied at Pontificia Universidad Católica del Ecuador. One of my passions is writing and now I write code. I am a developer at TW in the Ecuador office since January 2014.
Before coming to TW, I worked at PC World, a magazine specialised in technology, where my curiosity for this world started. My first steps in programming where with Python, I fell in love with this language. Afterwards, I learned Java, a little bit of Ruby and Javascript. In my free time I like to read and I work as a producer in a radio program with some of my college friends.
I am an activist for gender justice and equality. I am part of the Women in IT community and I pushed forward the Gender Justice Group in the Ecuadorian office.
I believe that social change is possible and that it must start within oneself. If I need to choose one word to describe myself it would be "dreamer". I am a strong believer of laughter therapy and chocolate as the best medicine. I love challenges and good times.