Between November and December of 2020, I was a trainer for an edition of Thoughtworks Vapasi program – one of our Diversity, Equity and Inclusion (DEI) initiatives run out of India. The technical training program is designed for experienced women technologists who are currently on a career break and want to re-enter the world of technology. 
Vapasi has positively impacted over 300+ women since its inception in 2014, and I believe it will continue to do so. While it began as an in-person program, the pandemic required Vapasi to go virtual. Fortunately, this opened up the training to a larger audience. And, the first virtual edition of Vapasi took place with about 26 participants and five trainers in attendance.
A typical Vapasi participant and her experience
It was 9:30 on a Monday morning when the virtual Vapasi edition kicked off. I was part of a (Zoom) room full of determined women whose career breaks ranged from three to 10. They looked excited to have passed the interview and begin the first leg of their 're-entry' journey. 
The other trainers and I gradually learned that the participants hoped to become more confident and technically sound by learning everything from the best software engineering practices like test driven development (TDD) to writing clean code and more.
During one of the pair-programming sessions, I noticed Shwetha and her pair having an interesting discussion on the scope of a problem and the available approaches. While involved in the discussion, Shwetha was also gently rocking her toddler to sleep. 
Quite clearly, she was juggling two important and demanding roles in her life.
As I spent time getting to know Shwetha a little better, I learned she did not have much help at home. She would wake up at 5:00 a.m. to finish household chores, cook for the family, get her older child ready for 'Zoom school' and then show up in time for the virtual Vapasi sessions – after having completed the previous day's assignments. It was not unusual for her day to end at midnight. 
Week after week, I watched Shwetha learn and grow. When an unfamiliar technology was thrown at her, she would push herself out of her comfort zone and ask questions until she was convinced of a suggested approach. 
By the end of the program, Shwetha was able to showcase well-designed code, confidently address questions from peers and challenge conventional opinions. 
It was a treat to witness Shwetha empowering others through her own experience. Shwetha embodies all the women who have and will be a part of Thoughtworks Vapasi. I believe, these women are a force to reckon with!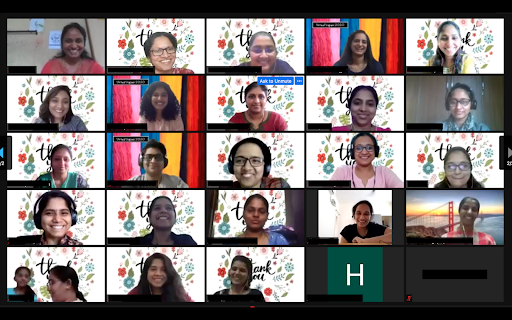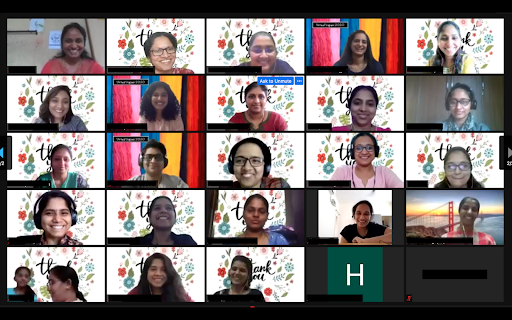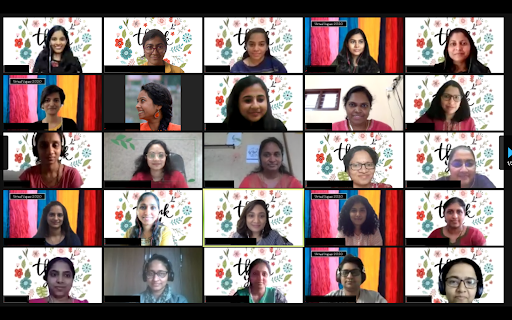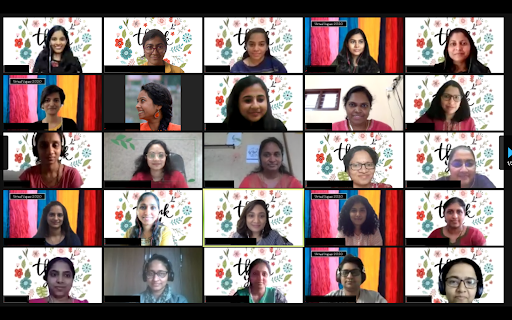 Overview of virtual Vapasi
The five-week virtual program was split into two segments - classroom training for three and a half weeks followed by a simulation project for one and a half weeks. The simulation required participants to apply all they had learned to solve a real business problem. And, participants were given one-on-one mentoring throughout the program.
Of the training programs I have been a part of, this one stands out because of the unique challenges it presented and the vibrant group of participants it served. 
Designing a virtual program for a unique and motivated audience
Below are some of my learnings from operationalizing a sustainable virtual edition of Thoughtworks Vapasi:
Have a clear understanding of your target audience, their specific needs and hopes from the experience. In this case, most of the women were primary caregivers in their families and we had to provide sufficient breaks throughout the day while also ensuring we did not cross the six-hour work day. 
Ensure content and delivery are relevant and easy to consume for your audience. This edition of Vapasi saw women with career breaks between one and 10 years. We needed to find the middle ground on how detailed the knowledge sharing would get. It also had to offer (motivating) challenge to the participants.
Prioritize simplifying concepts and drawing analogies. This helped us acclimatize participants who were unaware of the industry's new technologies with relevant frameworks and practices. 
Create a safe space devoid of judgement or rejection. Participants needed to be comfortable enough to feel vulnerable and ask questions. It had to be acceptable to fail and learn. 
Hold back. I am the enthusiastic techie who is eager to offer solutions. But as a trainer, my role was to be a facilitator and mentor. I needed to carefully listen and ask probing questions rather than offer up the solutions. 
Exhibit empathy and inclusivity. The program's high performing trainers had to understand the program's vision and objectives. It was inspiring to witness my colleagues invest time, effort and energy, despite personal challenges, into this program. 
During this opportunity to observe and reflect on the experiences of the participants, I put together some of the interesting thoughts and opinions that were shared with us:
This program 'meant the world' to a lot of the participants

Being part of the program allowed these women to get their much needed 'me-time'

The program changed the participants' perceptions of their own selves, grew their confidence and prepared them to navigate tough situations

They appreciated the well-defined routine that the program brought to their lives

The experience helped the participants' families acknowledge the significance of what the participants wanted to achieve
Through this experience of being a Vapasi trainer, I have witnessed women begin an exciting chapter with new-found confidence. I have also been able to acknowledge my own privilege of being a working woman and having a support system that enables me to grow and make choices available to me. I hope more organizations will integrate initiatives like Vapasi in their strategies to build effective workforces.
Disclaimer: The statements and opinions expressed in this article are those of the author(s) and do not necessarily reflect the positions of Thoughtworks.