This final chapter takes a more in-depth look at technology proficiency by examining the key technology applications businesses are focusing on for the year ahead to support growth plans. It also looks at how this technology investment varies in countries around the world.
1. Technology priorities for the year ahead 
Looking to the year ahead, business leaders were asked which specific technology application they were prioritizing in order to support future business growth. The research also looked at whether the senior management team had the required skills set needed to ensure the business fully leveraged its technology investments.
The top technology priorities for business leaders in the year ahead were digital transformation, customer experience, data strategy and cloud.  
A striking finding was the range of applications mentioned by firms from across the globe. Almost all the businesses included in this survey listed at least one of these applications as fundamental to supporting business growth in the year ahead, while more than a third of those surveyed (34%) picked five or more options, demonstrating the essential but varied role technology will play in supporting business growth around the globe.  
In contrast, in many cases — such as digital transformation, customer experience and data strategy — the management team's technology proficiency lagged behind the needs of the business. Here a key pressure point emerged: the personal technology proficiency of decision-makers was strong in areas of technology that were not an urgent priority for businesses (such as design, engineering and products), whereas their proficiency failed to keep pace with the big priority areas for 2021, such as data strategy, cloud, customer experience and digital transformation.
Which technology applications does your business need to focus on over the next 12 months in order to grow and prosper — by management team proficiency in this area
| | | |
| --- | --- | --- |
|   | Business leaders who are fully up to date with technology | Buisness leaders who are 'aware' of the importance of technology but defer making a decision |
| Digital transformation | 60% | 49% |
| Customer expereince | 53% | 43% |
| Data strategy | 54% | 38% |
| Cloud | 54% | 31% |
| Analytics | 43% | 33% |
| Platforms  | 39% | 31% |
| Enterprise modernization | 36% | 31% |
| Products | 36% | 32% |
| Design | 29% | 22% |
| Engineering | 27% | 25% |
Once again, technology-proficient companies were ahead of the game, more likely to invest across these technology areas than less proficient firms. For example, 52% of technology-proficient firms highlighted a need to invest in data strategy, compared to just 39% of enterprises that needed to improve their overall technology proficiency.
Regionally, companies based in the fast-growing economies of Asia and South America were far more likely to invest in technology in the next year than companies based in Europe. Businesses based in strong European economies, such as the UK, Germany, Italy and the Netherlands were far less likely to invest in digital infrastructure, data strategy, cloud computing and analytics than companies based in China, India, Brazil and the U.S. This relative lack of investment and reluctance to modernize in some countries could put some businesses at a disadvantage in a global economy looking to rebuild in a post-pandemic world. 
Business priority areas: countries where executives were most likely to say technology had a critical role to play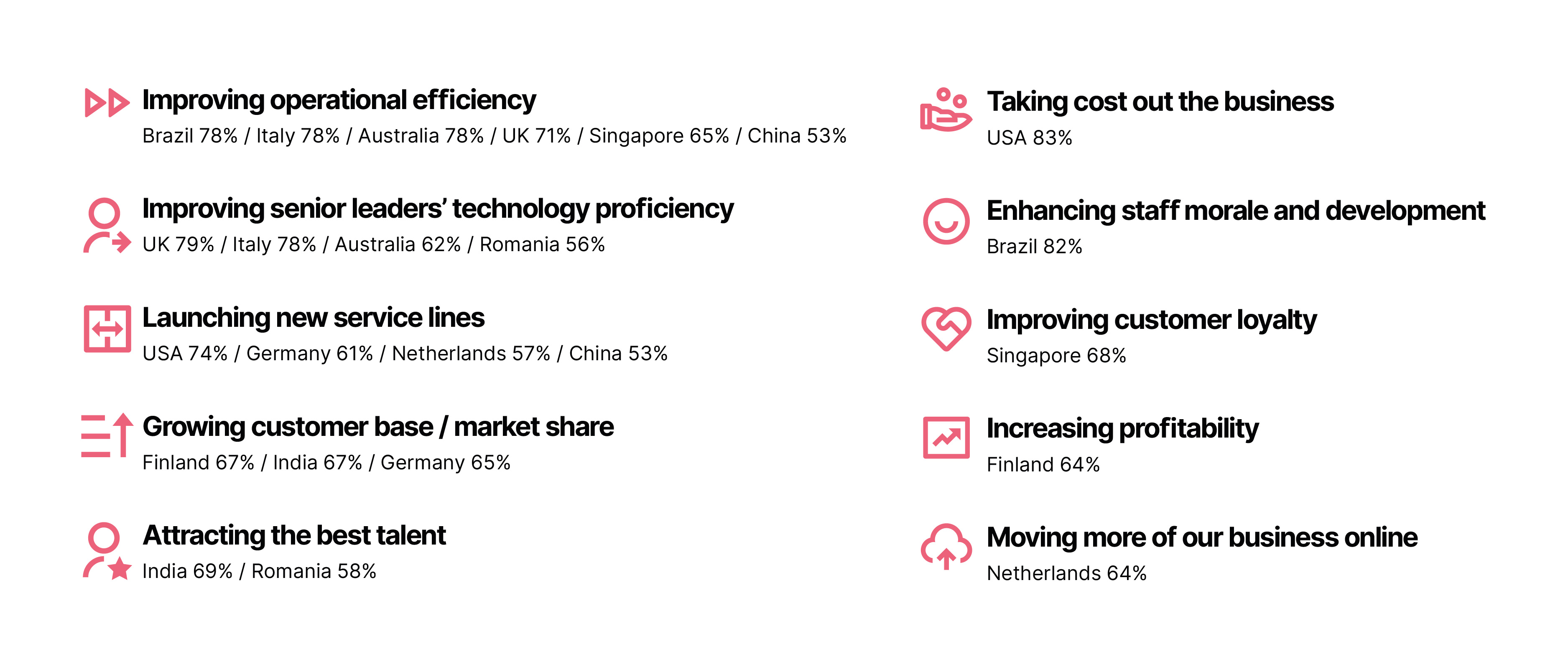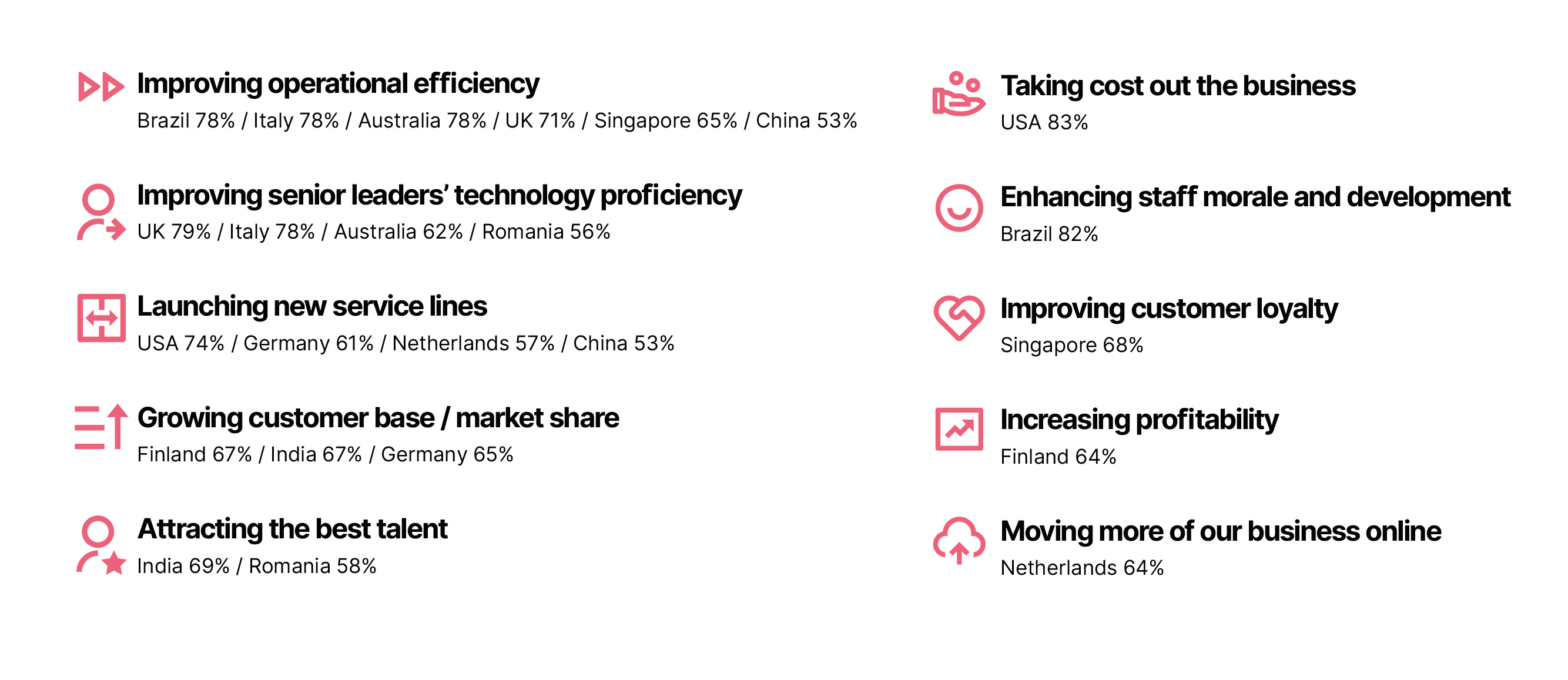 2. Advantage lies with the biggest businesses
Companies employing more than 1,000 workers were most likely to be investing widely in technology to adapt and to innovate. These companies were also more likely to describe themselves as technology-proficient than smaller businesses (71% vs. 54%) and more likely to be anticipating growth in the next six months than small and medium-sized enterprises (71% to 65%).
Despite all the headlines in recent years about fintech start-ups using technology to 'disrupt' many industries, it is clear much of the investment flowing into digital transformation and enterprise modernization comes from larger corporations. 
Size clearly is an advantage here, with larger enterprises more likely to have the financial and human resources to invest in these key areas that will drive future growth, as well as fostering the skills and knowledge among the senior team. Continuing to invest in new technology gives them the opportunity to realize the benefits of their scale, helping them in their attempts to consolidate their market position and increase future market share.
Conclusion
These findings show some of the key technology applications that businesses across the globe think will support growth in the year ahead. 
Digital transformation, enterprise modernization, designing better customer experiences, and devising a smarter data strategy are technology initiatives that can help companies build a competitive advantage.
The question for business leaders is not which single technology application will give them the edge over rivals but how many of these technology areas they can manage at once. Larger, more technology-proficient companies, and those in fast-growing economies, such as China, the U.S. and India, are more likely to be investing in a wider range of technology projects concurrently, and it is the scale of these modernization projects that will create tomorrow's market-leading brands.