The move towards electrification - the process of displacing fossil fuels as a power source with electricity from renewable sources - is a significant part of the response to the climate crisis and the effort to displace fossil fuel consumption. However, electrification on a huge scale requires new infrastructure development. Fortunately, AI can be used to help infrastructure developers realize maximum benefits while keeping the financial and environmental costs to a minimum. However, using AI effectively isn't easy and is variable in industry. Taking the right approach is critical to success.
One of the biggest challenges to overcome is being clear about what AI can and cannot do. Our practice shows us that it is possible to design a 21st century human-centric AI-based system using an augmented approach that focuses on enabling humans that can outperform machine-centric approaches with far less computing resources and less data. We call that approach AI Augmented.
We sought to help our clients understand how to design electric vehicle (EV) charging infrastructure with an AI Augmented approach that puts people at the center of the decision-making process. The decision-making process is complex, dependent on the fleet makeup, and varies regionally, but decisions can be improved with the appropriate application of AI. Further, we can build solutions that manage complex data and mathematics, but present the results in a simple way for people to use. 
The solution: Using data and AI Augmented to optimize the design of an EV charging network
We built an EV charger network design application to demonstrate how new infrastructure development can benefit from the electrifying potential of a human-centered AI approach.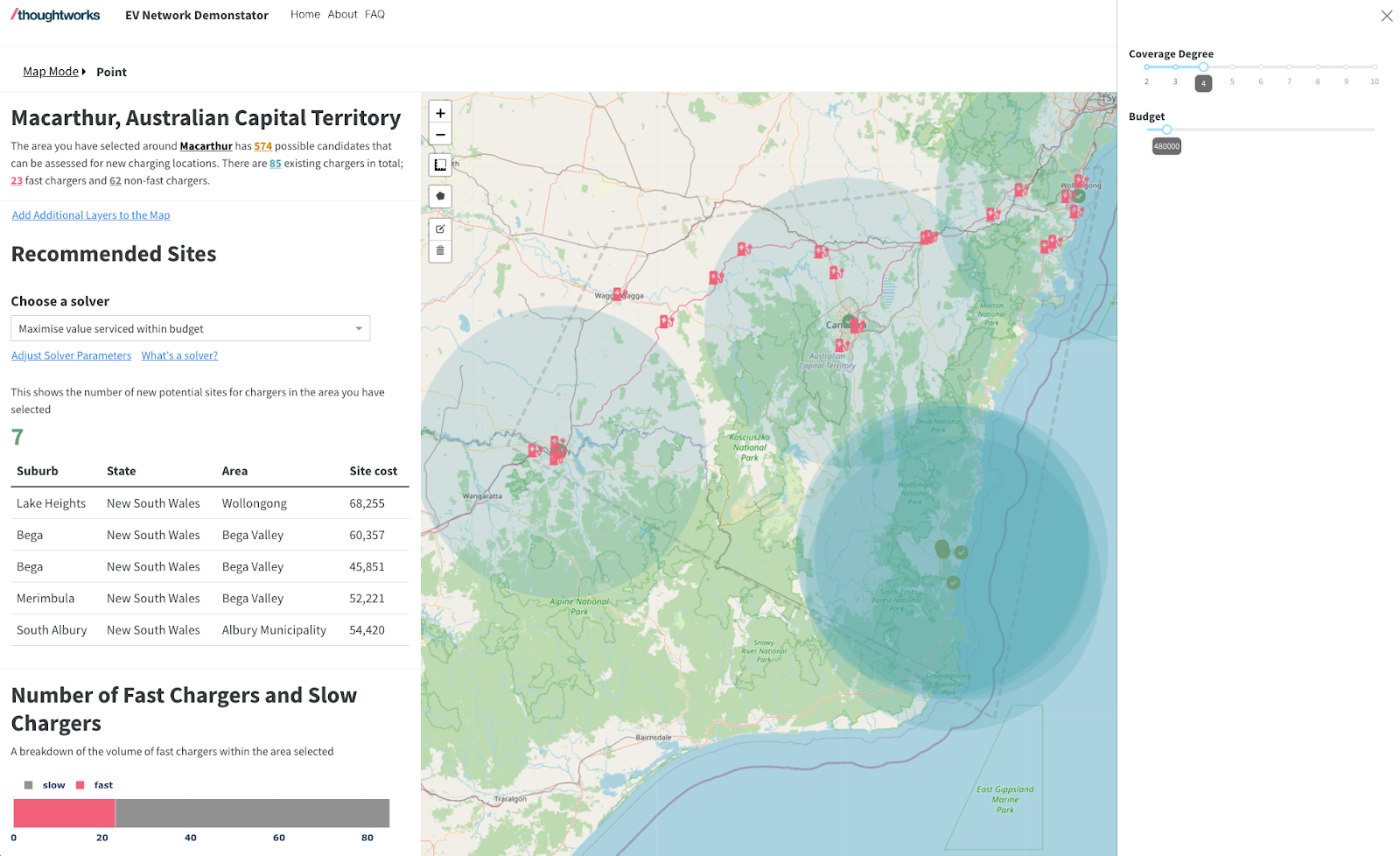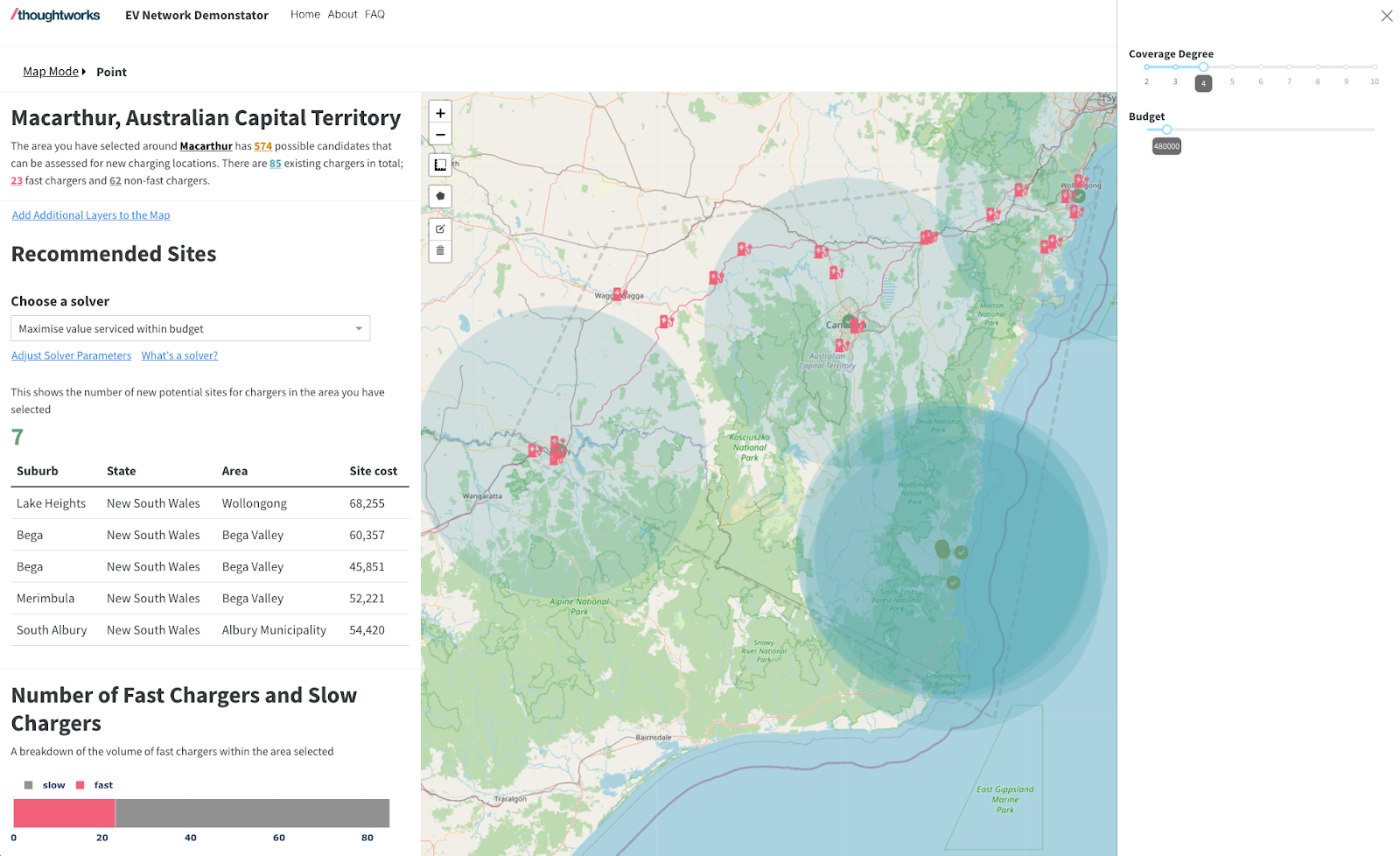 The EV charger network design application demonstrates how rapidly we can deliver AI Augmented solutions customized to unique business requirements. One of our small, multidisciplinary teams — comprising developers, data engineers, data scientists and subject matter experts — delivered the demonstrator in just five weeks. The application incorporates multiple spatial data layers and provides configurable design strategies based on optimizing network density, coverage of destinations, access for populations, or combinations of these factors.
The network design application allows users to define a given geographical region under consideration, and visualize spatial data layers that include points of interest, existing charger locations and potential sites for new chargers within that region. It also provides a number of configurable solvers that can help teams identify the optimal network design for a specific business strategy. For example, the AI Augmented solvers can quickly find a solution for a strategic goal such as "provide maximum service to points of interest within a budget", in a mathematically optimal fashion. This makes the enormous number of design possibilities manageable. Consider, for example, that 85 potential charger sites represent 39 trillion trillion possible design variants; the solver provides an optimal design in seconds.
Our approach: value-driven cycles of discovery and development
To get results, we must be able to move from business concerns such as network density, through AI concerns such as problem framing and data concerns such as appropriate sourcing, to technology concerns such as how we make this capability available to end users. We were able to thread together these many concerns in such a short time because of our relentless focus — not on the code or the mathematics — but on generating value: namely making it easier for humans to make decisions according to business goals. By understanding the difference between good and bad decisions and reliably quantifying them, we  remain aligned to a common understanding of what good looks like. The implementation followed from stakeholders iteratively assessing whether the solutions proposed were correct and usable. This approach allowed the team to rapidly validate an initial simple solution and then increase the sophistication of the application's decision-making power.
By adopting a dual-track development model, research and development can proceed in parallel. We pursue knowledge and understanding of the right thing to build through "discovery track" activities including stakeholder research, literature review and data science experimentation. Meanwhile, our commitment to agile engineering practices allowed us to adapt and make change at speed with confidence. It enabled us to build the thing right, so we can evolve the solution rapidly and predictably in coordination with our evolving understanding. Test driven development in particular provided early feedback about breaking changes, and allowed a modular architecture to emerge that allowed multiple team members to work in parallel on different aspects of the app.
Leveraging the Thoughtworks developer accelerator, NEO, and practices such as continuous delivery, automated testing, and trunk-based development, this application is a testament to our success in creating something that is not only innovative but also built with the qualities required for an enduring operational solution.
The development track track in turn enhances the discovery track by making it progressively easier to run and scale experiments. We help our clients leverage this model to gain competitive advantage.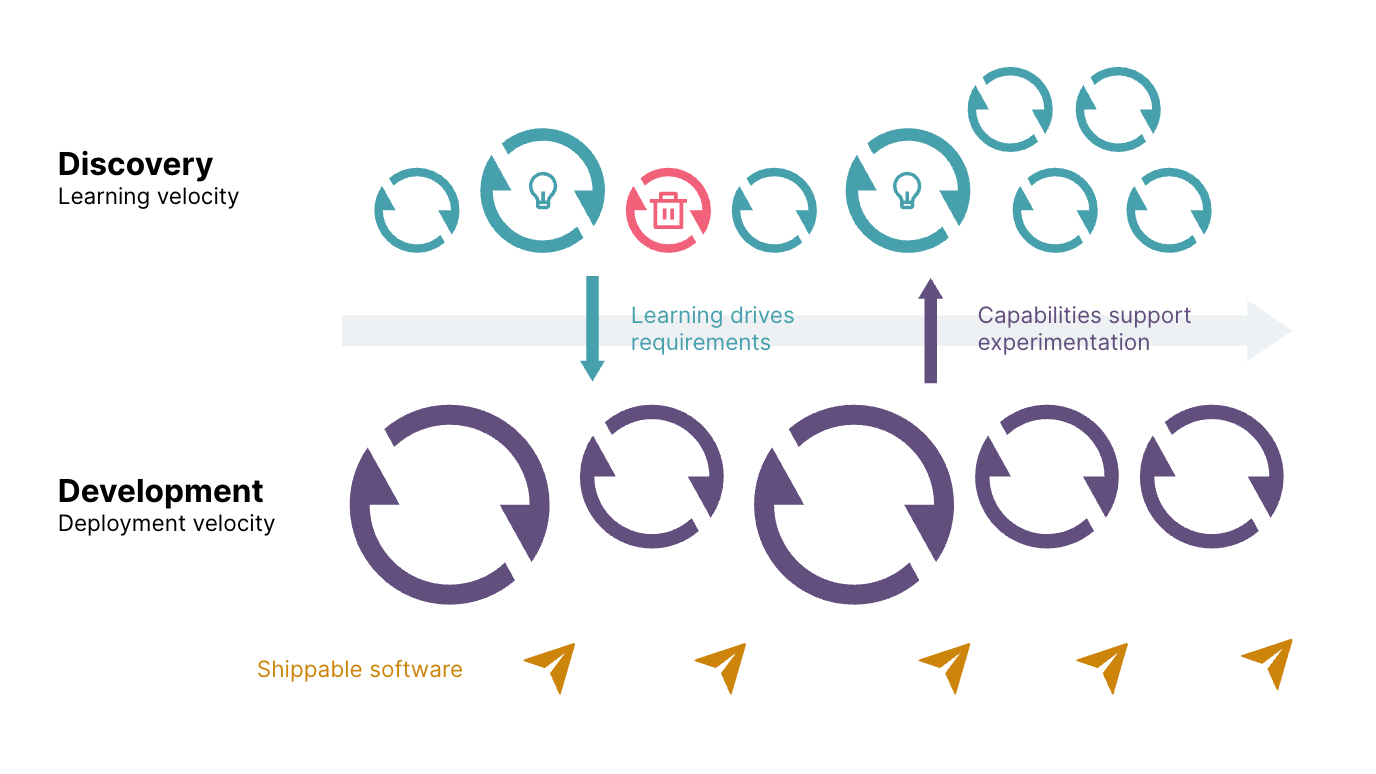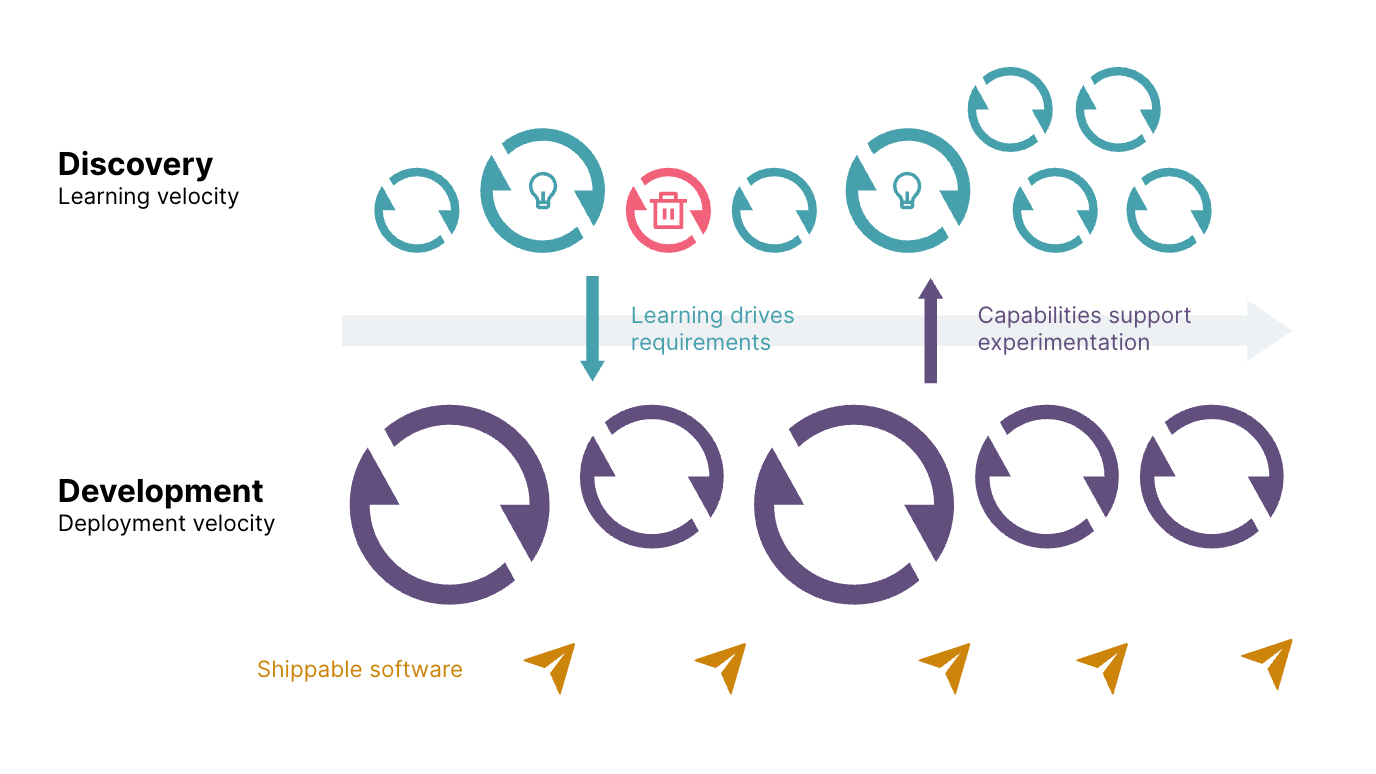 Conclusion
The components of this solution we rapidly assembled are table stakes for any organization today: application frameworks, data sets and optimization toolkits. There are myriad commercial and open source options, and every one of your partners and competitors has access to these accelerators. However, acceleration without direction delivers little value and creates risk. Thoughtworks' renowned expertise in the discovery space can ensure alignment to your strategic competencies and mitigate this risk. 
The transition to a low carbon future through electrification presents an enormous opportunity to all businesses. Adding the capability to build solutions that meet the unique needs of your business, supported by the agility to rapidly pivot — and pivot again — remains an enduring source of competitive advantage. Unlock this advantage with our family of AI Augmented approaches.
Disclaimer: The statements and opinions expressed in this article are those of the author(s) and do not necessarily reflect the positions of Thoughtworks.