Dear reader, you're one of the 4.6 billion people  — over 60% of the world's population — who are digitally connected. Today, there is hardly any country that does not have the internet. The internet has connected individuals and businesses. Governments too are actively adopting this medium to offer digital services. A 2020 UN survey found that more and more governments across the globe are gearing up to offer innovative citizen services, from e-government to smart cities. The opportunity for transforming citizen engagement with digital is boundless. 
Citizen services via the internet are digital public goods. And, the same way roads, railways and electricity lines are setting the stage for entities to provide services such as transportation, mobility, heat and lighting – for digital services, countries need to deploy a digital public stack that will enable entities to provide e-services to citizens.
Yet, unlike physical infrastructure, digital infrastructure is among the very few public goods that doesn't have clearly defined and understood standards. For instance, someone from one country could drive into another in the same car. This is rudimentary interoperability. It's time for similar structures, products, standards and processes to be designed for digital public goods. 
What if there is a universal digital infrastructure for public goods that offers secure, easy to adopt, interoperable and citizen-centric products? 
A comprehensive digital infrastructure is layered, having both physical and digital components. The physical layer consists of the internet, broadband, mobile networks, communication satellites, data centers, end-user devices, etc. The digital layer consists of a public stack that allows information to flow in a standardized, secure and interoperable manner between the citizens and the government.
The journey of GovStack
The digital public stack becomes Government Stack or GovStack when contextualized at the national level. National governments must conceptualize, own and nurture the GovStack. Several countries are already in various stages of this journey. 
Estonia adopted the GovStack as early as 1992, creating well-connected ecosystems that enabled citizens to lead a digital life. Today, individuals with an Estonian digital identity can operate businesses from anywhere across the globe.
The Singapore Government Tech Stack offers its agencies a "suite of tools and services hosted on a common infrastructure to ensure consistency and high quality of their applications." India Stack enables a bunch of APIs for authentication of citizens, electronic signatures and even peer-to-peer money transfers. Australia is also leveraging a platform strategy to enable citizen services digitally.
While some of these countries have been pioneers, for those who start today, it would be expensive and time-consuming to build their own public goods stack. We believe countries can leverage existing open source tools and platforms to bring together a reliable stack.
Building blocks of a GovStack
Before getting into the design and technology elements of a GovStack, it is important to build the right, empowered organization within the government. This organization should have the authority to influence changes across departments and geographies – then, this organization can prepare  the primary building blocks for their GovStack: 
Identity and authentication protocols

Information mediation/gateway

Security structures

 
The best way forward is to identify use cases that facilitate the delivery of e-services and can be leveraged for experimentation. For instance, a service like vehicle registration or license renewal could be the pilot program instead of something more life-critical like healthcare. More appropriate would be to choose use cases that are in line with the country's digital goals. If improving literacy is a goal, then begin with a use case that enables it.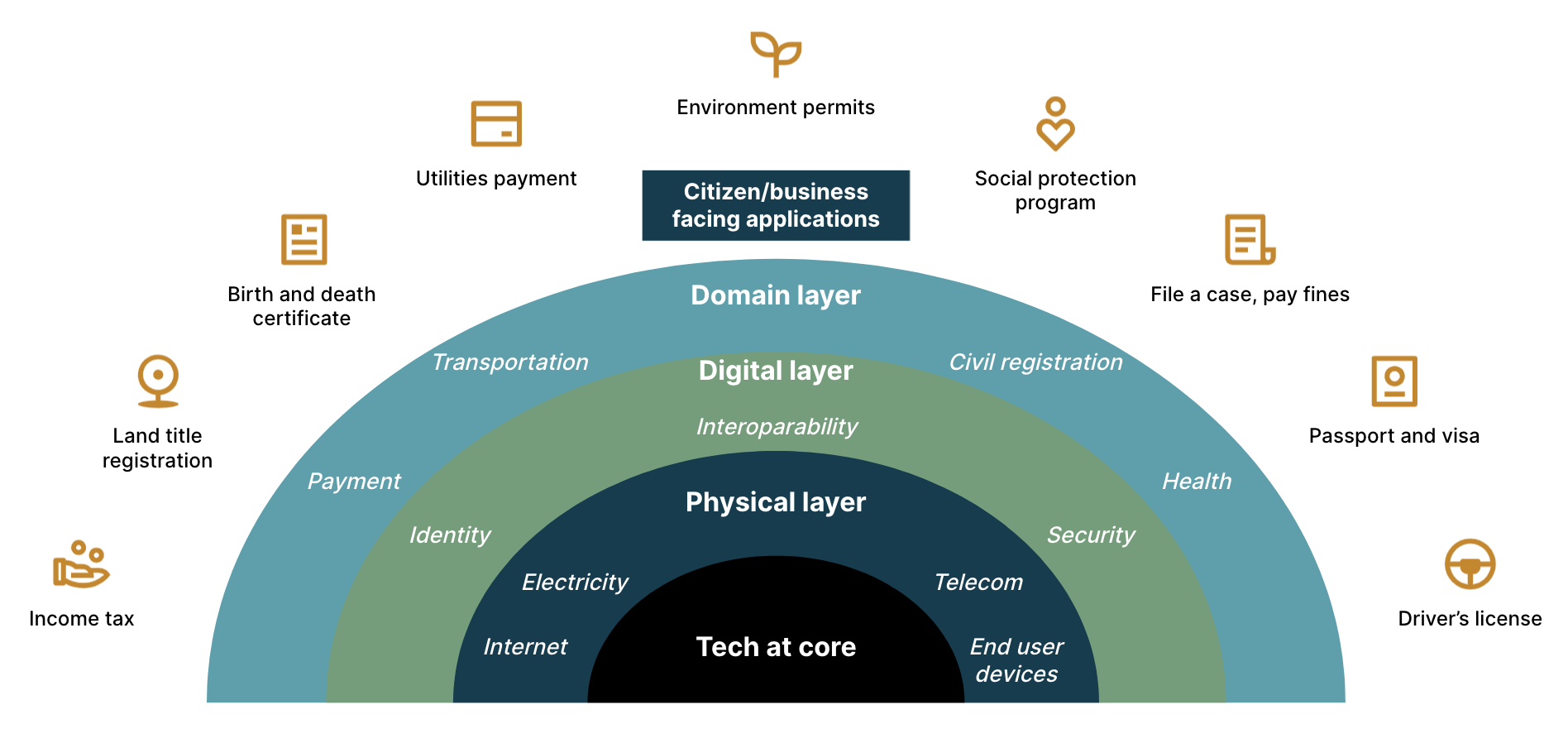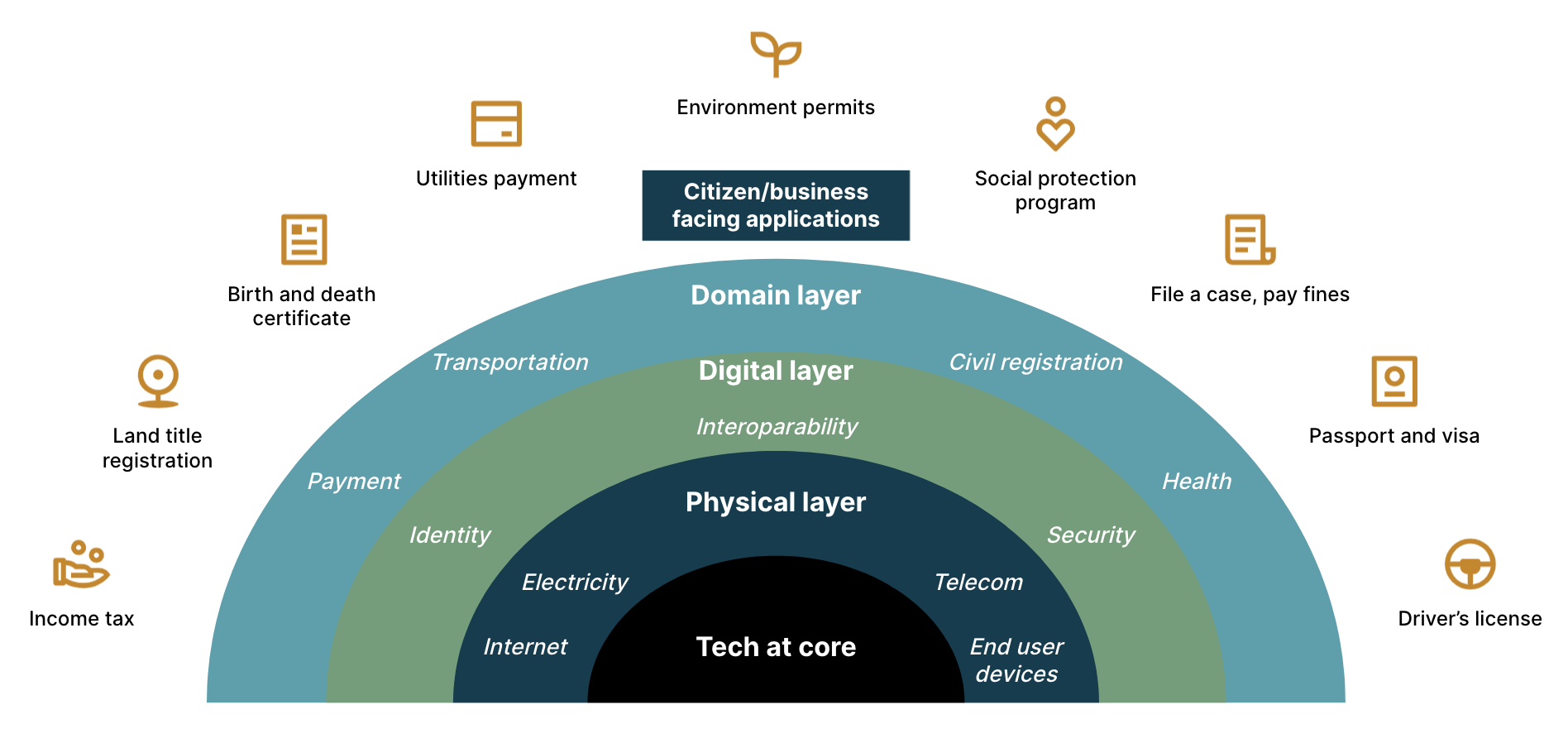 How will the GovStack work?
The three primary stakeholders of the GovStack are the government, government officials and the citizens. Here, the government refers to the strategic entity that deals with policies, procedures, laws, regulations etc., and government officials are responsible for the day-to-day operations of the government. GovStack must ensure the (often conflicting) needs of the three stakeholders are addressed through a mechanism that encourages two-way communication. 
Despite GovStacks being designed to efficiently serve citizens, it has the least power to influence it, especially at the ideation/conceptualization stage. Therefore, it is important for the technology leadership to ensure citizen interest is at the heart of their GovStack.
From our experience building Bahmni, an open source EMR recognized by the Digital Public Goods Alliance as a digital public good, and working with various entities building other digital public goods such as Vakyansh, Project Eka, OpenSR etc., we believe digital public goods will offer significant advantages to national governments. Some of the key benefits are:
Proven software
Working with the digital public goods platform means access to proven products – saving time in evaluation and due diligence of various vendors. This could be especially valuable when building products involving citizen information like health records that are strictly regulated. 
Accelerating digital transformation
GovStacks can help countries accelerate digital transformation from what typically takes 20 years to five! Coming from the same group, it will be interoperable, aligned to the same philosophy and follow the same standards of development and quality.
This interoperability across countries will open up a wealth of advantages from sharing data, insights and best practices. These standards will also pave the way for more such technical interventions and developments as well.
Cost-effective 
A digital public goods platform can also be especially advantageous for countries that cannot afford large funding for digital services. They can leverage open source products on the platform to recreate citizen services that are on par with those used by developed countries. Based on needs, maturity and technology foundations, they can build services for limited use cases and expand organically. 
Sustainable
National systems need to outlive people and organizations. Open source systems ensure that digital platforms are not held hostage to companies owning the proprietary technology. There is always a community of enthusiastic people that contribute and nurture the digital platforms over the years.
Getting started with GovStack
On the heels of a global pandemic and the rapid digitalization that followed, governments no longer have the time to slowly build their digital citizen services. It is imperative for governments to lay out the digital rails today in the same way they laid out roads, railways and electricity lines. They are under pressure to accelerate their digital transformation journeys. GovStack can help achieve exactly this.
To get started, governments should:
Fundamentally align their departments to adopt open source solutions

 

Adopt foundational digital public goods that are in their domain (and authority) such as a population registry for unique identification

 

Encourage ecosystem participation from citizen and private players towards building innovative solutions that leverage foundational digital public goods

 

Draw a clear line of responsibility between government departments and private players, also encouraging meaningful partnerships instead of competition

 

Invite voluntary citizen partnership, to ensure collective ownership instead of forced 'compliance' 

 

Play the role of a meta facilitator and focus on policies etc., leaving the operations of GovStack evolution to other stakeholders in the ecosystem

 

Leverage international standards, paving the way for inter-country interoperability
Disclaimer: The statements and opinions expressed in this article are those of the author(s) and do not necessarily reflect the positions of Thoughtworks.