An Interview with Mark Collin, Thoughtworks EU Head of Retail 
There are now well over a million mobile applications in both Apple's iTunes Store and Google Play and the number has been growing at a frantic pace in the past few years. But according to a recent report by Neilson, the number of applications each individual interacts with every month has remained pretty much same. This means that new entrants have to be spot on with their offering the very first time. There's no second chance.
Mark Collin, head of retail for Thoughtworks Europe, offers his views on what it takes to build a compelling mobile proposition.
Rajeev Nair: A recent survey rated John Lewis, Argos and Amazon as the top three mobile shopping experiences. What are the top three mobile applications based on your experience?
Mark Collin: Since I am not a prolific online or mobile shopper I couldn't comment personally on the top three. I can, however, tell you of the many examples where I use my mobile in browse and search mode all the time: Skyscanner - flights, Trainline - trains, and Barclays - Banking. I am very comfortable transferring money from my Barclays app, but often switch to laptop when it comes down actually purchasing in a retail context. I tend to use my smartphone in a very functional, utilitarian way.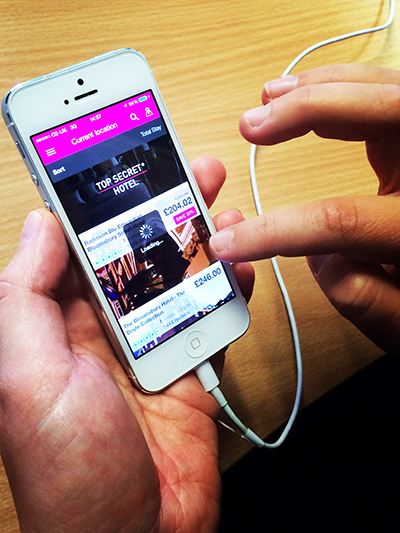 RN: Is there a particular reason you like each one of them?
MC: I settled on the ones that provide trusted information, a quick response and are easy to use. Then I am hooked! I probably would shop more on my mobile if it were easier to do so.  
For example, I recently used a travel application on my mobile recently to book a flight. It was probably the worst end-to-end experience I have used for a long time. Part mobile app, part mobile web, part web rendering normally inside my small screen, slow response times….but I had to persist as it was the only option for the flight I needed. The next time I wouldn't even bother trying on mobile. I guess what I am saying is I incorporate ones that worked well for me and dismiss and complain about the ones that didn't. You tend to remember the poor experiences.
When was the last time you had a really mind blowing and easy mobile experience? On the other hand I was stuck in Geneva recently with no hotel (booking error!) at 6pm in the evening in a location I was unfamiliar with. I used Lastminute.com mobile website and within a couple of minutes had a hotel booked nearby (it had worked out my current location and provided appropriate price bands!). I was able to search, select and check out very quickly. I even had the option to call from the app if I wanted to.
RN: What are the common mistakes committed by retailers in regards to their mobile strategy?  
MC: Very simply - they just translated what has worked on the web into mobile. Mobile is fundamentally different and I have seen so many projects waste valuable money and time simply replicating functionality from web on mobile - shared baskets, standard search, huge hierarchical menus, etc...
The worst one I hear a lot is 'feature parity' and 'hygiene'. 'Yes but if it is in web the customer will expect it in mobile'. No they won't ! They wouldn't miss a single feature if it is not appropriate to what they are doing on mobile.
RN: What will be the top trends in mobile shopping for the next two years?
MC: Truly optimise for mobile and be brutal about the features you really need. For a better retail shopping experience - simple, slick, secure authentication - provide the customer the confidence they can transact safely all the way through.
Optimise how you can search, minimise options returned - if you can balance both you will make it so much easier for the customer and therefore increase conversion and checkout.
One click checkout - however you do it and there are plenty of options - once you're done you're done - just get the customer checked out ! I go back to my lastminute.com experience, stressful situation, I just needed to find a hotel book it and get to my room. It worked.
RN: Native or mobile web or both? What factors should be taken into account when the retailers make this decision?  
MC: My rule of thumb here is that if most of your traffic is redirected from web/search engine, you must first optimise for mobile web. For native ask yourself one simple question: "Would I download this app?"
If you can't answer it easily you are probably wasting your money. Native works really well where there are core utility features secure account management, card management, preferences, rewards, tickets, receipts, etc... 
Designing for Mobile [Insights]
Lastminute.com Client Story [Thoughtworks.com]
Disclaimer: The statements and opinions expressed in this article are those of the author(s) and do not necessarily reflect the positions of Thoughtworks.