In our recent conversations with technology leaders, we're hearing of organizations committing to budget cuts amid concerns of a stagnating economy and a global recession.
It's a difficult time and there's a lot to juggle. Tasked with improving the end to end effectiveness of the product delivery process, accelerating speed to market, keeping pace with competitors and holding on to the best and brightest talent, they're now looking for ways to do more (and better), with less.
Despite these challenges, we consistently see them underestimate the total impact of the engineering waste that is silently, but surely, sapping their revenue stream. 
If you have a lot of engineering friction, your effectiveness and efficiency as a team and organization are going to be slowed down. Yet wasted efforts in software development are incredibly common. 
In a typical enterprise engineering function, we commonly see up to 50% of every developer's time wasted. Waste comes in many different forms, including: 
Slow and ineffective quality feedback loops

Unnecessary steps in workflows

Accrued technical debt

Clunky tools

Poorly designed APIs 

Lack of self service capabilities

Misunderstood integrations, abstractions, and data

Constant context switching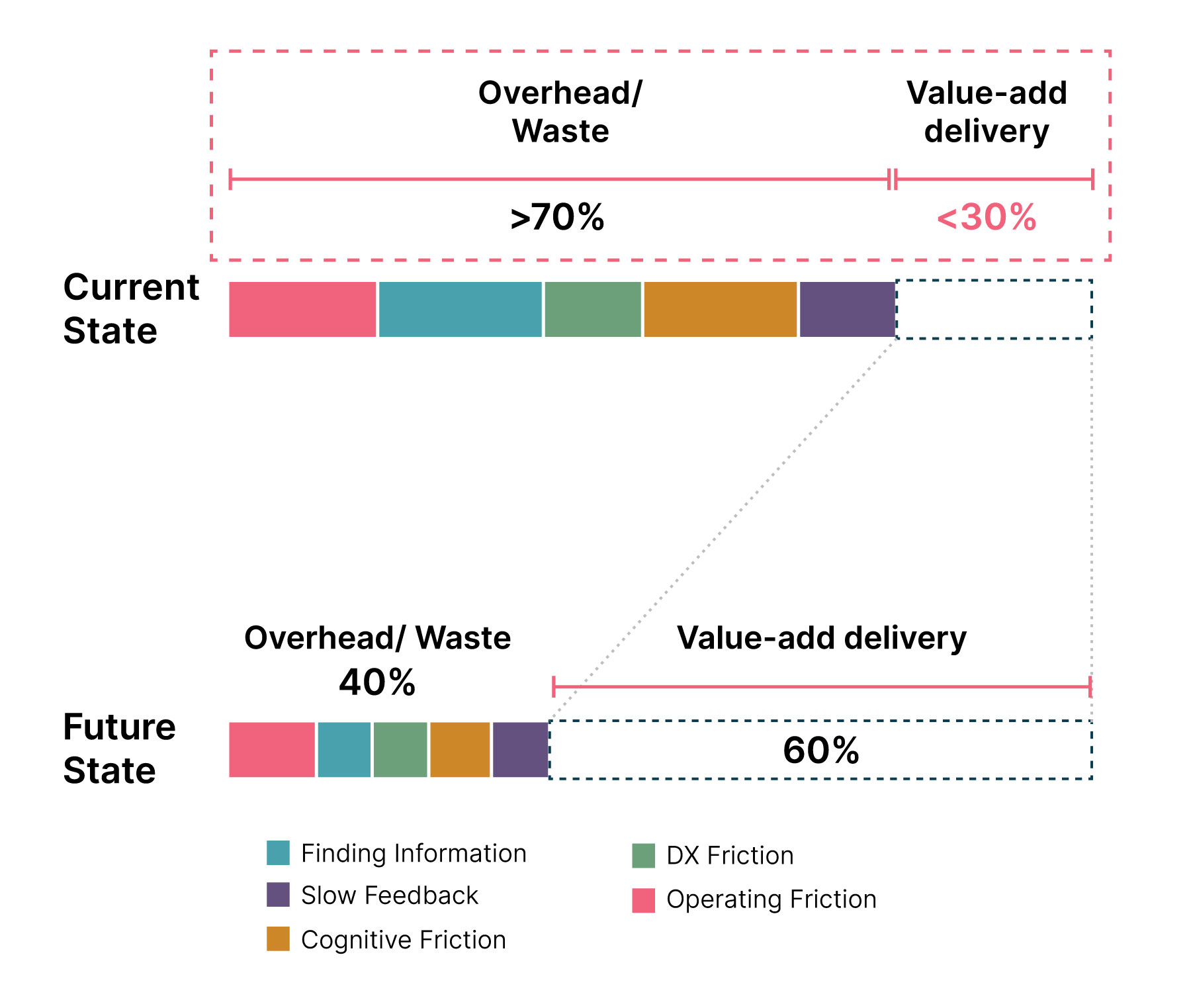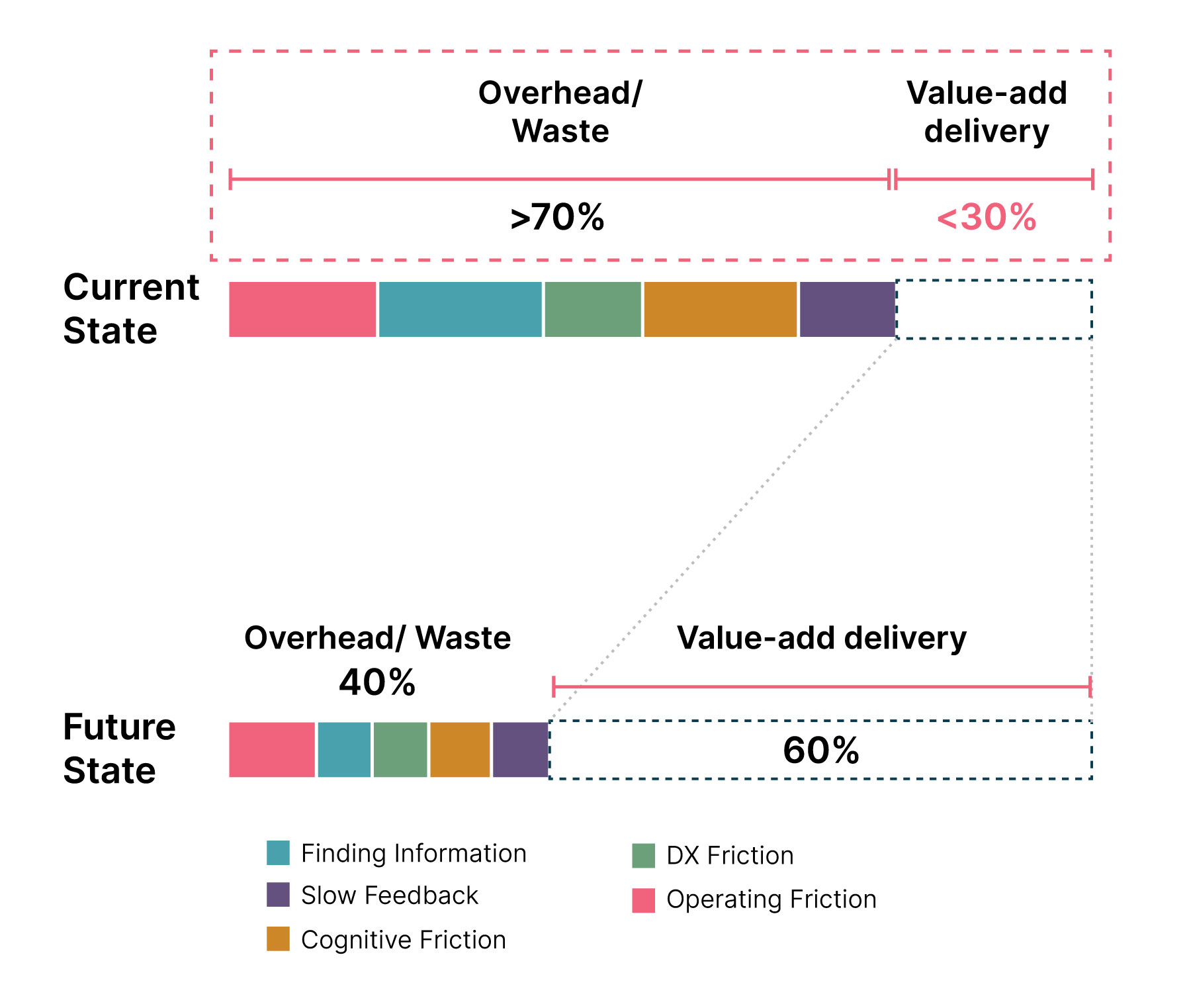 Everyone in the software industry "knows" that engineering waste is an issue, yet it's hard to quantify its impact. Consequently, the importance of 'engineering effectiveness' is largely undervalued at the business level as possible gains in efficiency are hard to translate into business value. 
That's not to say the true impact isn't significant. 
As a rule of thumb, process inefficiencies result in engineers being blocked upwards of 7 hours per week. That alone is ~15% average time waste. In an enterprise technology function with 100 developers, that's a loss of  $1.8 million per annum based on an average engineer wage of $120 thousand per year.
The downstream impact is low team morale. Eventually frustrated engineering talent vote with their feet, and turnover costs can have a significant impact on your bottom line. The total costs of replacing a software developer varies from 100-150% of their annual salary. Not to mention the compounding loss of productivity and culture erosion. 
At the end of the day, your organization must deliver value quickly – just to keep your current customer base. An inefficient software development lifecycle will impede your ability to improve your product, putting your organization at risk of falling behind market alternatives.
Your resulting losses from customer attrition could be enormous. For example, if there's a security vulnerability that you have to patch and your customers have to wait a long time for it, that's not a good experience. Would you want to explain to your CEO or Board that you're losing customers because you're too slow to fix critical bugs? 
What if you could increase your developer's productivity by at least 30%? What would that mean for your bottom line?
By partnering with specialists, many organizations have streamlined their software delivery, whilst accelerating speed to market and reducing engineering overheads.  At Thoughtworks, we're on a mission to elevate engineering effectiveness to the business level by demonstrating the business impact of inefficient software delivery. 
Our approach to engineering effectiveness creates a more agile software delivery environment to reduce organizational friction and deliver more value with less.
Over 30 years we have helped many organizations realize significant competitive advantages, including:
faster time to market (by up to 50%);

shorter and cleaner dev cycles (from bi-weekly to over 100 deployments a day); and 

happier team members who don't need to crunch to meet their deadlines.
Get in touch to discuss your engineering effectiveness strategy.