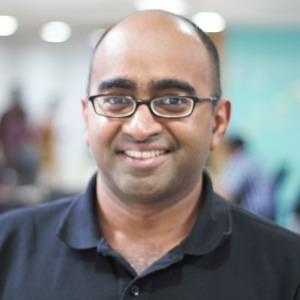 Sriram Narayan
VP ADVISORY
With more than 20 years of IT experience, Sriram helps clients improve the performance of their Digital, IT (build & run) and product management organizations with a focus on the "system" (systems influence behavior). He is the author of Agile IT Org Design, a book that describes a complete tech operating model (ways of working) for digital, organizational agility. Enterprisers Project​​—a joint initiative of Harvard Business Review and the CIO Magazine​​​—featured the book as a must-read for CIOs in 2016. It was also featured in a digital leaders reading list. 
In particular, Sriram helps:
Redesign budgets, org-structure, etc. to move from projects to products-mode with pull-based delivery.


Implement Cleararchy to organize hierarchy for the digital age.

 

Strategic in-sourcing advisory.

 

Redesign the so-called "software-factory" to optimize for delivery cycle time instead of utilization.

 

Get the business org on-board through benefits-audits and pilot programs.
Review chargeback mechanisms between departments and propose changes to avoid counterproductive behaviors.

Tear down walls between departments labeled as digital, product, tech, engineering and IT.

Reform staffing, tooling, governance, metrics, internal bureaucracy. Read why.

Address issues arising out of Bimodal IT, SAFe.

Earlier, he served as:

Director of innovation

Member of the Thoughtworks technology advisory board - the group that publishes the tech radar

. 



Leadership development coach

Market-facing Product Owner

Check out some of his articles below.

Contact: Please fill this form or email sriram.narayan@thoughtworks.com