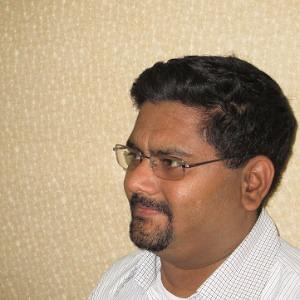 Vijay R Aravamudhan
Office Technology Principal
19 years of experience in the technology industry has seen Vijay accumulate in-depth expertise in the spaces of web application development, scaling infrastructure, DevOps and mobile app design and development. He has also amassed a significant understanding of tech's role in retail, financial and leasing domains.
As Thoughtworks' Office Technology Principal for Chennai, Vijay is engaged on both tactical and strategic initiatives that create and modernize the client's IT to help achieve their business goals. These include advising on and extending clients' DevOps capability, upgrading/rewriting systems to the latest technologies using architectural patterns.
Internally, Vijay collaboratively charts out career objectives and guides his teams on their growth as impactful technologists. His role also requires active participation and coordination of recruitment related activities for the Chennai office and other offices of Thoughtworks India. When it comes to working with clients teams, Vijay consults on the teams at an integrated architectural, technical/code and process level.
The global-facing part of Vijay's tech-leader role, sees him contributing Architecture Consulting for clients from Italy, U.S.A. while earlier doing the same for clients in the UK and APAC.
Vijay has also been identified as the Practice Head of Thoughtworks India's DevOps Practice. In this role, he personally, mines and mentors a core group of talented technologists whose passion lies in DevOps and whose skills require additional niche/specialised grooming.
Vijay's interests outside of work are also largely aligned to the technology world, where he regularly contributes to OSS projects and mentors budding technologists on engineering practices. He is currently working on a few pet projects like the "Assets Manager", an open hardware application and "Open Library", both of which are in use in Thoughtworks' Chennai office. He is also one of the co-organizers of the Chennai Ruby community and the Chennai Elixir community.
Education
Vijay has completed his education at Bachelor's in Mechanical Engineering from the Madras University and his Masters in Mechanical and Aerospace Engineering from the Oklahoma State University.