By Gary O'Brien, Thoughtworks Digital Transformation Director
In my first article on the Evolutionary Organization, I examined what we could learn from a disease that is optimized for chaotic change – and how these insights could help us overcome traditional roadblocks to transformation. Only when we accept the never-ending nature of evolution can we operate through the ambiguity of the COVID era – and prepare for the next phase, which I describe as a 'humanistic era'. In this era, enabled by technology, we work together in smaller community networks, with fewer boundaries and a greater purpose. 
Let's take a closer look at what evolutionary organizations do differently to unlock their potential and how they operate and create value.
1. Evolutionary organizations build collective value
The idea of creating an 'ecosystem' is not all that new – forming strategic partnerships across the supply chain has been core to automotive operating models for decades, while Lloyd's of London invented the insurance marketplace more than 400 years ago.
However, evolutionary organizations push the boundaries on this concept. They think beyond the value chain to build an open platform where everyone can benefit – creating value for broader networks of customers and partners, and also for the greater good. They build bridges, not deep moats, so any organization can participate. And their ultimate goal is to 'grow the pie' – not just grow their business at the heart of the hub.
The world's fastest-growing companies, from Alibaba to Amazon and Uber, overtly position themselves as ecosystems. But it's certainly not limited to recent tech entrants. John Deere is a 180-year old company with a digital farming ecosystem at its core. It connects equipment, people and data in near real time, helping primary producers manage their farms more efficiently and profitably – from anywhere. It employs more software engineers than mechanical engineers because it understands the power of data to realize the productivity, safety and sustainability potential of precision farming. It also has over 180 different service providers connected to its Operations Center through encrypted APIs.

The core of an evolutionary organization's ecosystem could be very small – as simple as an app. But it is surrounded by companies that provide all the services and functionalities its customers value and need – such as payments, logistics or marketing services. This is how Indonesia's first unicorn, Gojek, has become an on-demand giant powering South-east Asian micro-businesses. It now has 2 million driver partners and 11 million merchant partners servicing 100 million monthly active users, and it delivers almost anything – from food and parcels to laundry and payments.
2. Evolutionary organizations seek out change
In 2007, iPods represented 42% of Apple's revenue. But the tech giant still launched the iPhone – despite knowing it would cannibalize sales of its music player. This is an example of how evolutionary organizations continually seek out change. They operate without industry, market or customer segment constraints, and optimize their systems and structures for constant change. 
Barriers to entry into markets have never been lower. That threatens your competitive advantage – but also presents an opportunity if you are nimble and courageous enough to enter new markets and deliver on unmet needs. Gojek perfected a model that enabled it to deliver for customers that had been previously ignored by traditional players. In turn, that has created an incredibly sticky model, where everything their users need is available in one familiar mobile app.
Amazon Web Services may have started as a side business to simplify the digital marketplace's own software development and manage fluctuating computing and data storage demands. But today, it's the largest cloud infrastructure vendor by revenue and market share. It dominates incumbent tech players like Microsoft and Google, who would never have anticipated an online retailer could become their biggest competitor.
Evolutionary organizations look for opportunities to give customers value – no matter where that value is. They aren't defined by their sector – whether that's farming equipment or ride sharing. Instead of solving the same problems for the same people, they build a model, structure and platforms that can unearth and satisfy unmet needs.
3. Evolutionary organizations look forward, not back
Everything has changed as a result of the pandemic – from consumer expectations to how and where work gets done. So why would we rely on historic data to make strategic decisions? 
Evolutionary organizations have a forward-thinking mindset which allows them to operate in and through uncertainty and ambiguity. For example, using predictive learning they can filter out noise and complexity, and understand the pros and cons of potential scenarios. This gives them a completely different view of the risk of transformation. 
Traditionally, transformation might mean testing a new idea to 'see' if it will work – before eventually hedging bets and making compromises to sustain existing revenue or employment structures. Evolutionary organizations are willing to work through uncertainty and adapt to new behaviors, because they use machine learning to get a quick read on the potential impact of change. 
Ultimately, these insights can have a very human impact. They can free people to be more creative, making new connections and discoveries they might not have seen otherwise. In Finland, public broadcaster Yle's online streaming service Areena is more popular than Netflix – and is now the nation's leading internet brand. Its user experience is personalized down to the choice of imagery shown to individual viewers. With most streaming services, users are clustered into 'bubbles' based on characteristics or behaviors. These reinforce user preferences rather than provide a sense of discovery. But Areena's 'contextual bandit' learning algorithm can continually suggest new content through controlled exploration. This then guides the editorial team, providing new insights into viewing preferences and choices – and provides opportunities for the entire content pipeline to be automated. 
Making organizational transformation happen in this time of ongoing uncertainty takes courage, and it may mean making some difficult decisions. Yet this is the ideal time to do just that. Through pandemic lockdowns, almost every organization was granted the opportunity to stop old behaviors and cut back on work that only happened because the skills or budget was there. They were forced to focus on what matters most to their people and their customers. It was the closest we'll ever be to a greenfield environment – without the constraints of previous work or practices.
As we emerge from this period, what will your organization start up again? And what will you be willing to leave behind in the old world?
I hope these three guiding principles will help you move beyond hesitation or compromise and enable you to continually adapt. And as we've seen in so many species across the centuries, this is the secret to evolution in the face of existential threat and change.
In my third and final article of this series, I'll discuss the steps organizations can take to completely redesign their operating models, leave behind old behaviours and structures that no longer serve them, to lean into constant change.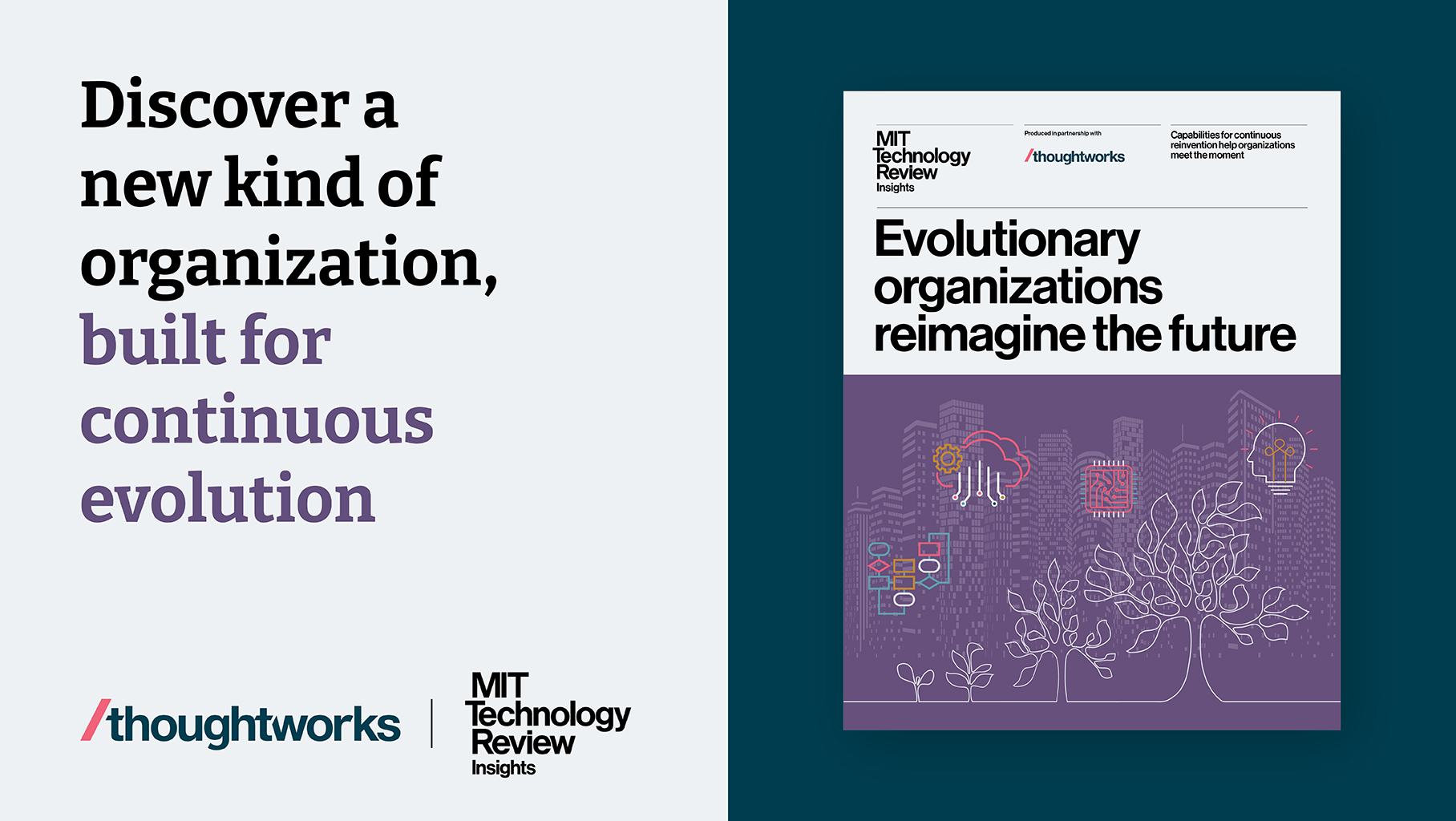 Evolutionary organizations reimagine the future
In this MIT Technology Review Insights report — created in collaboration with Thoughtworks — we unpack survey results from 275 corporate leaders to see how they're approaching digital transformation today and the obstacles in their way. The report reveals why digital transformation takes more than just implementing new technology, and why organizations need to broaden their lens on change and develop new core capabilities to become evolutionary organizations.