Sustainability has become a business essential, and it's a corporate shift that is happening globally as new technology increasingly enables companies to better plan, execute, measure and report on their sustainability initiatives. To share our views on this topic, Simon Lowden (Arnott's chief transformation officer and a former client of mine) and I were interviewed by Paul Smith, a technology editor at The Australian Financial Review. Below is a copy of the article which the AFR has kindly given us permission to republish. Read on to learn about how companies are shifting towards sustainability, and why technology can play a critical role in achieving your ESG goals.
Sustainability push means tech takes the biscuit at Arnott's
For a company best known for its biscuits, you would be excused for thinking that most of the talk about operational efficiency in the Arnott's boardroom would revolve around just how thin a layer of chocolate could be made, while still being described as thick; but Simon Lowden would quickly correct you. 
Lowden has been the company's chief transformation officer since the start of 2021 [https://www.afr.com/companies/manufacturing/arnott-s-draws-sustainability-lines-in-the-sand-20210525-p57v37], sitting within cooee of chief executive George Zoghbi in its Sydney headquarters, and he says sustainability and digital smarts are the crucial and everyday conversation between them.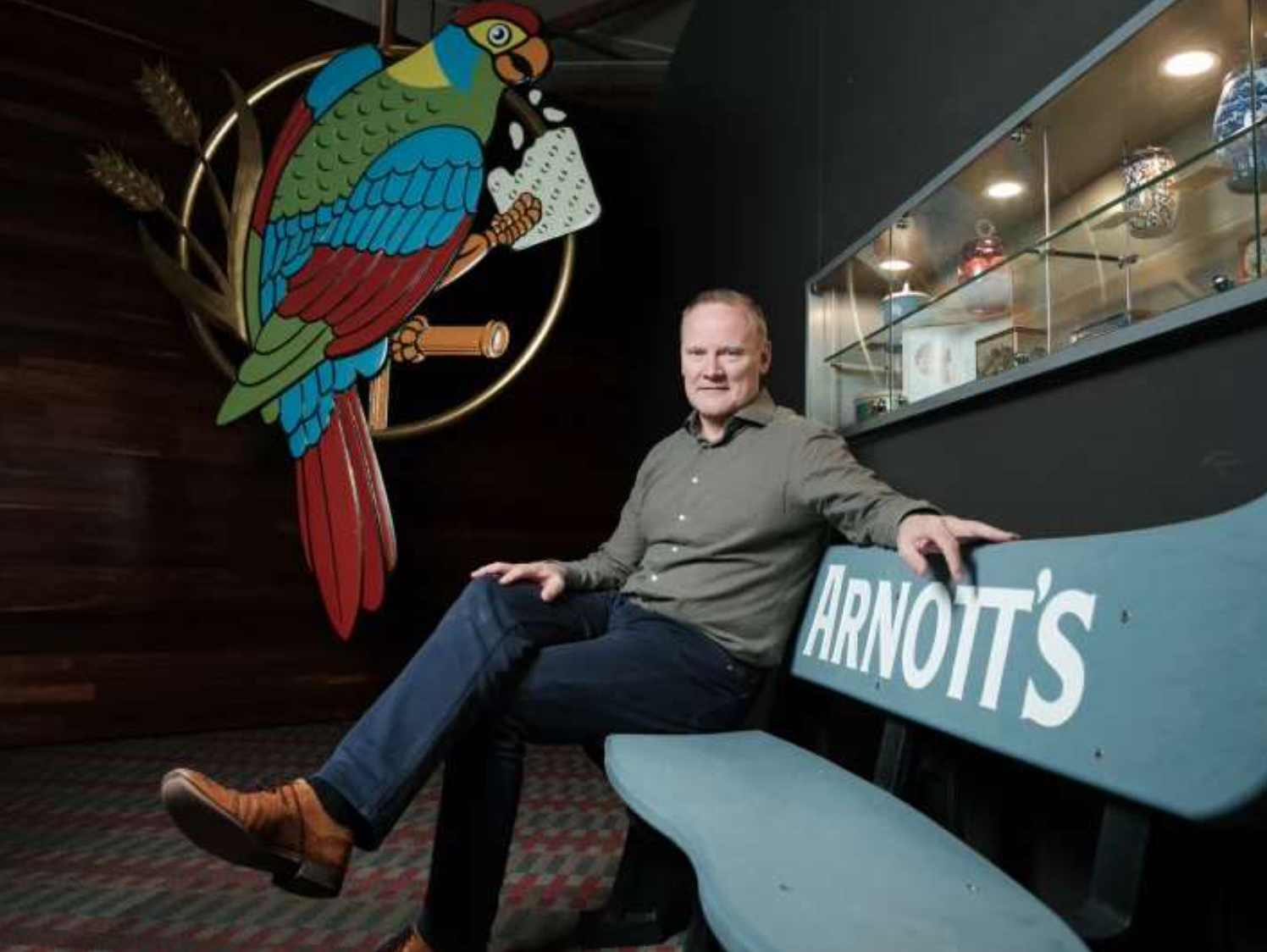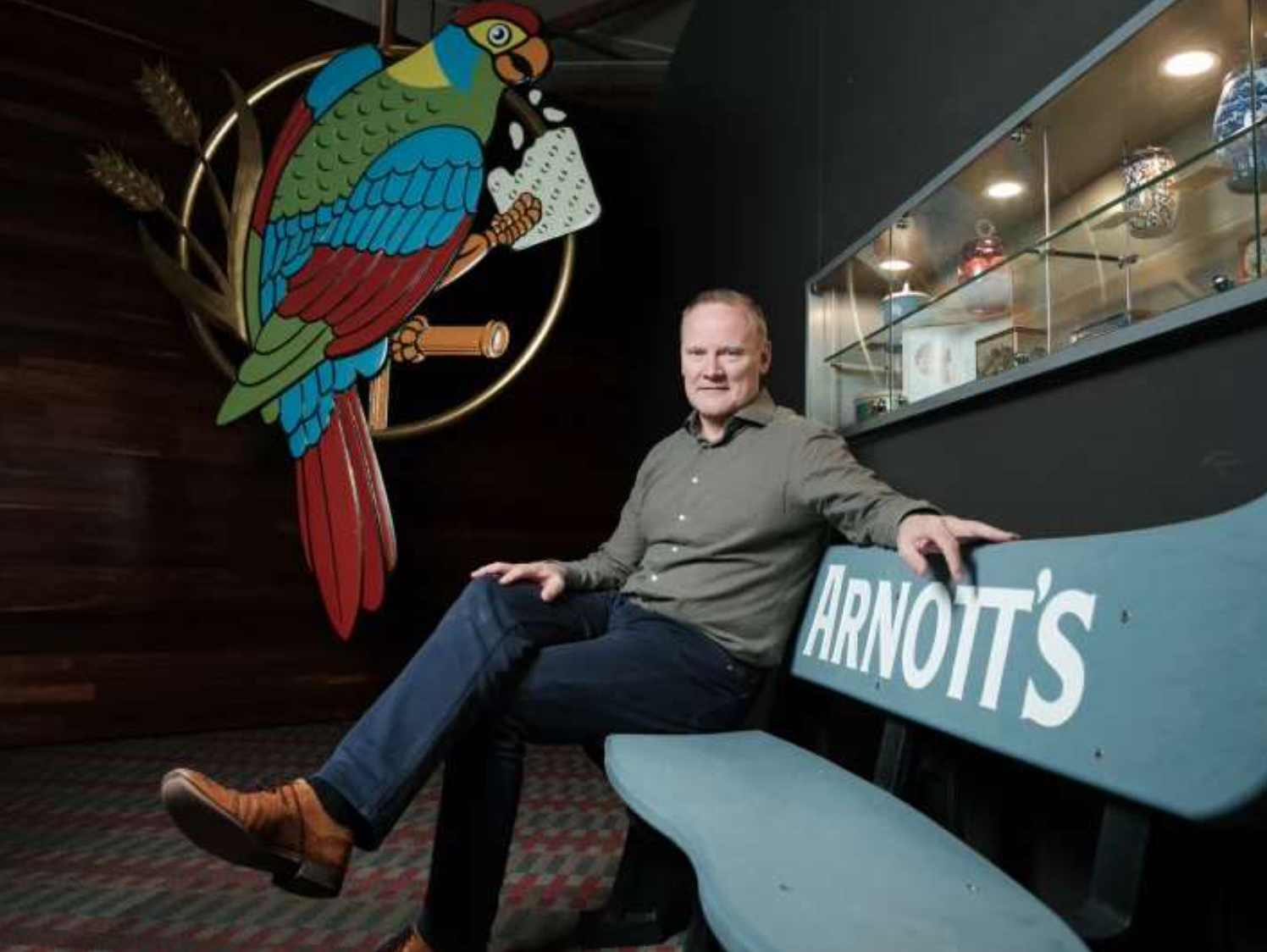 Arnott's Chief Transformation Officer Simon Lowden says technology prowess is a key driver of a more sustainable and efficient organisation. Oscar Colman 

Having finished off a 20-year executive career at PepsiCo as its chief sustainability officer, he says he has since made it a determined focus of his role at Arnott's, which incorporates responsibility for growth through building digital capabilities, research and development and mergers and acquisition strategy. 
While it is far from unusual to hear a senior executive espouse the virtues of sustainability, and other areas related to environmental, social, and governance (ESG) these days, Lowden differs from many in that he views it as a business essential, rather than a PR talking point. 
"It is a big part of my agenda, the whole digitisation of the organisation, both from typical commercial perspectives and also how this is now tied with sustainability," Lowden says. 
 "If we're going to start quoting publicly how we're reducing emissions and sourcing ingredients, then we better have a database with integrity that can be tracked consistently." 
Despite being something of an Aussie icon business, Arnott's is owned by US-based private equity heavyweight KKR, and Lowden says the company is run as if it were a public company from a governance and reporting perspective.
This includes clear targets related to sustainability, which are tied to executives' performance measures in the same way that more traditional financial metrics have always been. 
Lowden is on a working body that looks to drive best practice sustainability across KKR's portfolio companies, and says this has neutralised any arguments he had expected to face to implement new and costly systems, when he first joined the company. 
"I was honestly pleasantly surprised when I came here. I thought it would be more of a battle, but actually, they were open arms, and are actually encouraging us to go faster at this," he says, 
"If you think about them as an organisation, they aren't daft, they know that their portfolio businesses' value will be predicated not just on profitability and multiple metrics, but on the sustainability of the operation." 

It is a corporate shift that is occurring globally, as software systems increasingly enable green and other non-financial performance measures to be more accurately monitored.
An annual study by global technology research firm Gartner released earlier this month, encompassing responses from over 400 CEOs from North America, EMEA and Asia Pacific, found that environmental issues had become a top 10 business priority for the first time. 
It came in at number eight in the study, with 74 per cent saying that increasing ESG efforts attracts investors to their companies. 
Ambitious goals across Arnott's include a stated aim to achieve net-zero emissions in its operations by 2040 and across its value chain by 2050. 
It has pledged to reduce, reuse or repurpose plastic packaging in Australia and New Zealand by 10 per cent, and it intends to make 100 per cent of ANZ packaging reusable, recyclable or compostable by 2025. 
In addition, it says it will sustainably grow and source 100 per cent of its key ingredients by 2035, and is ahead of target at 85 per cent already. 
As he talks to The Australian Financial Review, Lowden is having a day working from home because the offices are having solar panels installed on the roof. He says it is a positive illustration of the successful progression of its goals, which will see the majority of its manufacturing sites and head offices primarily powered by renewable energy in six months.
To underpin Arnott's efforts, Lowden, along with a technology team led by chief digital and technology executive Sean McLintock, have put systems in place that make smarter use of data to track and model how the business is working, across its diverse supply chain. 
There is a sea change happening in this country now on this agenda, and the focus on technology and digital capabilities is going to be the biggest enabler for sustainability.
"This is all based upon creating a data lake, or a source of data which we understand, and we know we've got the right stacks and the right emphasis," Lowden says. 

"So we've now constructed that, and the biggest implications for us are improving the accuracy of supply and demand, which of course has huge benefits for sustainability, and for the operation of the business more broadly." 
In Arnott's world a recent megatrend in Australia has been an explosion of people looking for gluten-free products. Lowden describes it as the "sugar free issue of Europe" becoming a gluten free issue locally. 
He said its data systems picked up a huge emerging trend for Australians declaring themselves to suffer from celiac disease, and this enabled it to swing into action and launch five new gluten-free products way sooner than would have happened in the past. 
Gartner says there are numerous emerging environmental sustainability technologies [https://www.gartner.com/en/newsroom/press-releases/2022-04-21-gartner-says-three-emerging-environmental-sustainability-technologies-will-see-early-mainstream-adoption-by-2025] that will become increasingly common in mainstream businesses within the next three years. 
These include cloud sustainability initiatives to ensure externally hosted systems are as environmentally sound as possible and carbon footprint management, which will eventually see all organisations investing in carbon accounting tools. 
Andy Nolan, the director of emerging technologies at the Australian operations of multinational software and digital consulting firm Thoughtworks, says Arnott's is a strong example of how companies around the world are embracing new technology to try and match up their environmental goals with sound traditional business goals. 
Nolan has worked with Arnott's among a raft of other local and global clients and says many had been struggling to build tech platforms that track ESG performance because they either don't have the relevant data being tracked, or have had it locked up in separate silos in different business units. 
"There's this painful process they're going through where they need to reach into the silos, try and find that data and then extract it and bring it all together to create firstly, the baseline emissions that they will report in their ESG annual reports," Nolan says. 
"They are struggling because it's so time-consuming and manual. There are also data quality issues, and in fairness, it's information that they haven't had to collect in the past, so they don't have the infrastructure and systems in place to do it." 
Nolan says companies coming to Thoughtworks for help usually want to deploy tech to help with ESG for three reasons; risks to the business related to climate change or supply chains; reputational threats from being seen doing the wrong thing; and the rewards that come from having smarter systems and a reputation as an industry leader with clients and staff. 
Strategies used by companies include both "greening IT" by making sure systems run with the smallest environmental footprint possible, and building greener options into customer-facing products - such as giving an option to delay an e-commerce delivery until a delivery truck is in your area, rather than having the quickest possible option. 
"When we think about emissions with cloud computing, we call that green ops, and it means we are optimising the cloud for sustainability, and that can be really powerful alongside the financial drivers like optimising for cheapest usage," Nolan says. 
He says work is under way to develop a global energy rating system for software, which would be similar to the stars you see stuck on the side of a fridge in a shop. This includes software being smart enough to configure operations automatically based on energy considerations. 
"Cloud compute spans the globe, and different energy grids have different mixes of renewables within them. So there is an opportunity for organisations to actually consider the location in which they run their compute intensive workloads," Nolan says. 
"For instance, moving an Al training workload, which might be very energy-intensive to a region which has more renewables like Iceland. 
"As well as this spatial element there is a temporal one too, where you can consider running compute workloads at times of day when there's more renewables within the grid." 
Back at Arnott's, Lowden says this is all a part of the plan and that he is anxiously hoping that more organisations embed responsibility for sustainability with top executives, who can control investment in tech and other big ticket items, rather than leaving it as an isolated division. 
"I think there is a sea change happening in this country now on this agenda, and the focus on technology and digital capabilities is going to be the biggest enabler for sustainability," he says. 
"The reason that I cover both here is that we see them merging and marrying and supporting each other ... It very much works to have the transformation guy linking sustainability with some of these other changes." 
Disclaimer: The statements and opinions expressed in this article are those of the author(s) and do not necessarily reflect the positions of Thoughtworks.