As discussed in an earlier blog, kiranas in India are facing multiple challenges. Part two deep dives into what the ONDC offers and why kiranas should seriously consider ONDC if they intend on remaining relevant to the Indian consumer.
The Indian government launched ONDC with an aim to enable digital commerce on open networks. The focus is to create a shift in buyer and seller transactions from centralized platforms to a 'decentralized network' of interconnected ecosystem players. This is done by harnessing the power of Beckn protocols. Effectively, ONDC is expected to promote interoperability and create an open, inclusive and competitive digital commerce marketplace.

Simplifying digital commerce
Just as you can send an email from your Gmail id to someone with a Yahoo mail id (even if you don't have a yahoo id yourself) and can send money from your Google Pay to someone else's PhonePe account – one of the primary focuses of ONDC is breaking down digital commerce silos.
However, it is also a fairly complex value chain with multiple elements like listing, cataloging, search, stock management, order, payment, shipment/logistics, cancellations, refunds and ratings. ONDC is building the open protocol as a backbone to facilitate all these stages - by relying on two related constructs of 'unbundling' and 'interoperability.' 
Let us look at how ONDC is planning its bets around introducing a decentralized and interconnected ecosystem to help enable a shift away from today's siloed and centralized bunch of systems.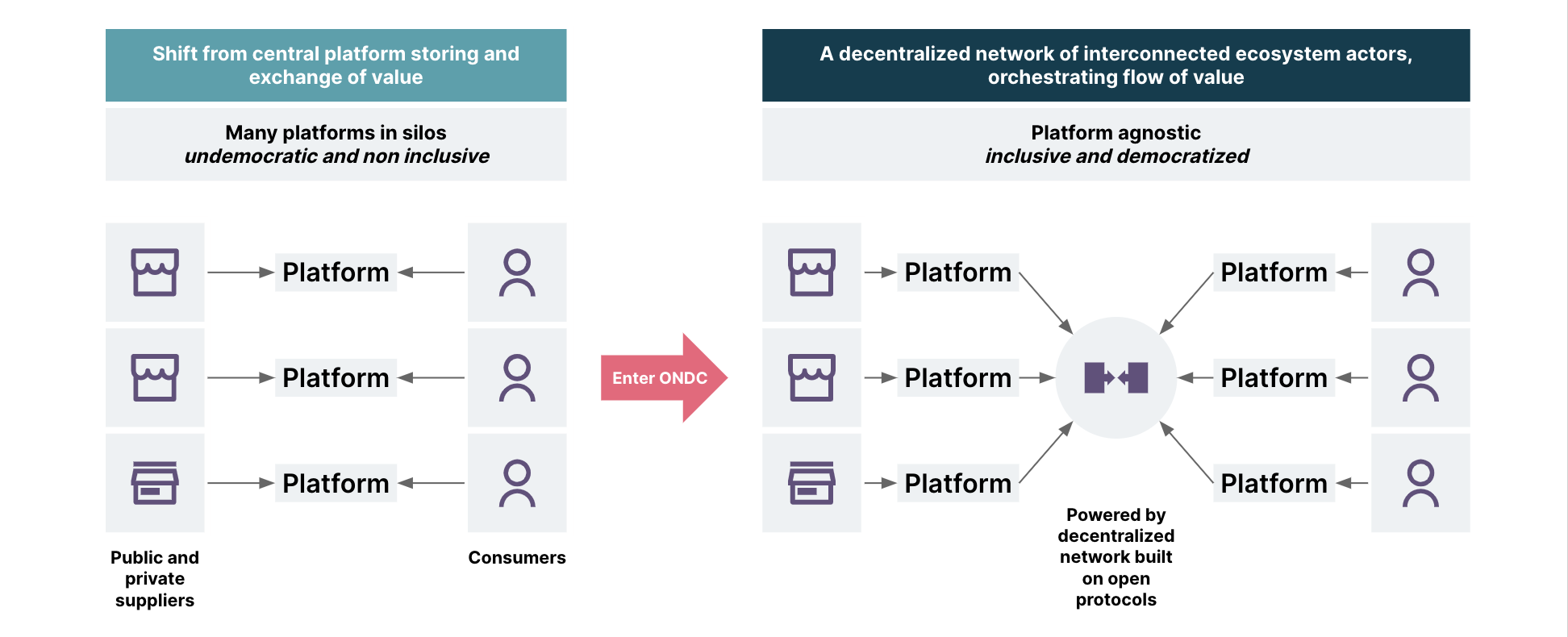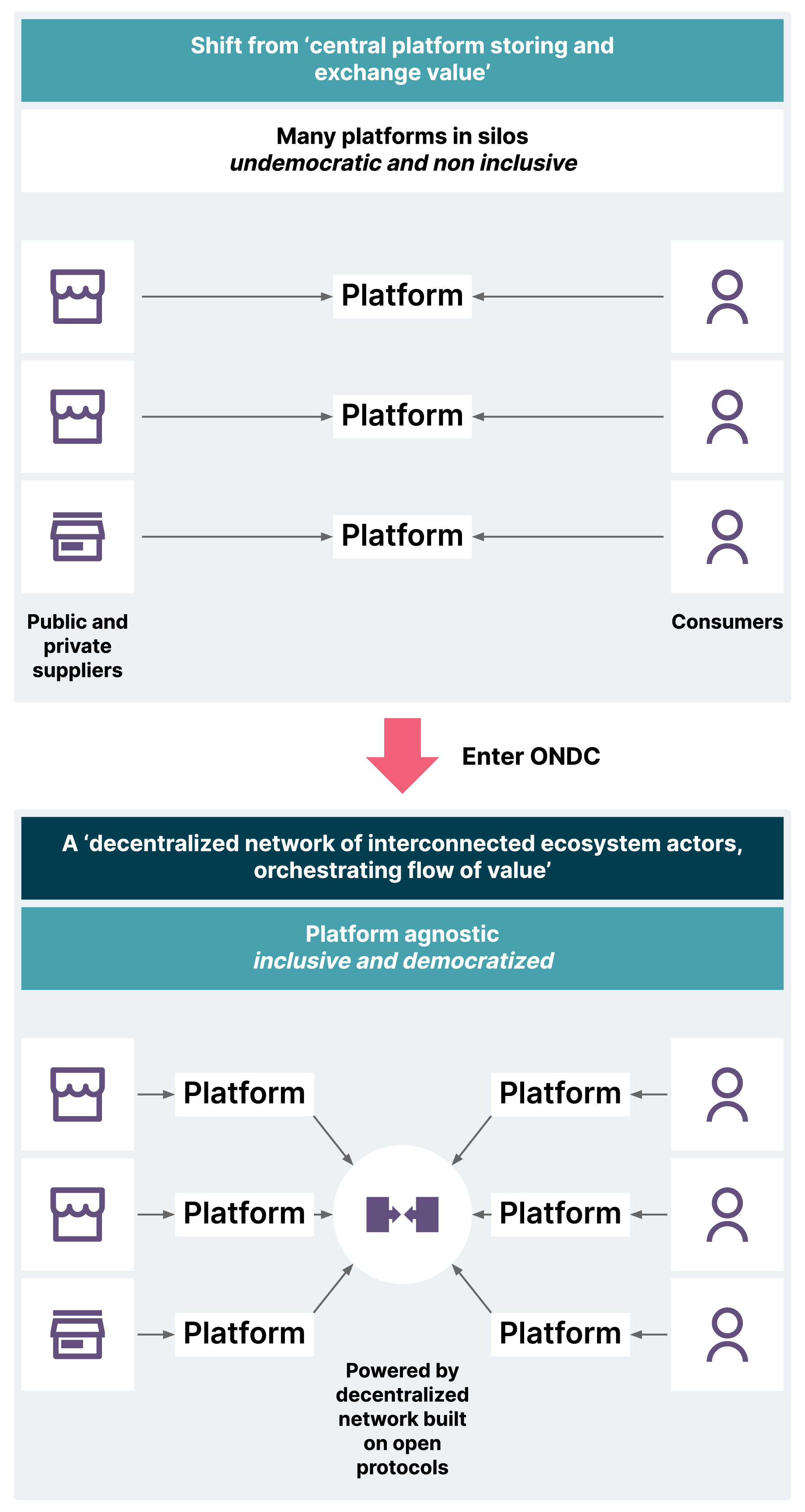 Fig.1: how ONDC could redefine digital commerce
As shown above, the 'unbundling' of components will ensure players are able to focus on core activities – buyer applications can focus on buyer acquisition and seller apps can bring sellers to the ONDC network. This will allow ONDC participants to fine tune existing capabilities and collaborate with others on the network to complete their required solutions. With 'unbundling', also comes 'interoperability,' for a seamless eCommerce experience throughout the ONDC network across different entities. 
Once strengthened, there are benefits the ONDC can provide to Indian kiranas. 
ONDC could be the kiranas' 'digital backbone'  
If bringing in more revenue is the only north star for kiranas, can ONDC address this need? The approximately 12mn kiranas across India are far from homogeneous. Not only in terms of size and scale but also in terms of mindset towards doing business. Daily operations at most kiranas remain largely the same - time spent on inventory procurement, inventory management, store management, maintaining the books, accessing credit, payments and managing staff. 
There are a series of digital players trying to reimagine one or more such activities of the kiranas. Open protocols like ONDC will enable the necessary underlying binding framework to nourish the ecosystem for kiranas to survive and thrive.
The following diagram illustrates how ONDC can transform the life of, for instance, 30-year-old kirana owner, Ashal Patel from Prahladnagar, Ahmedabad.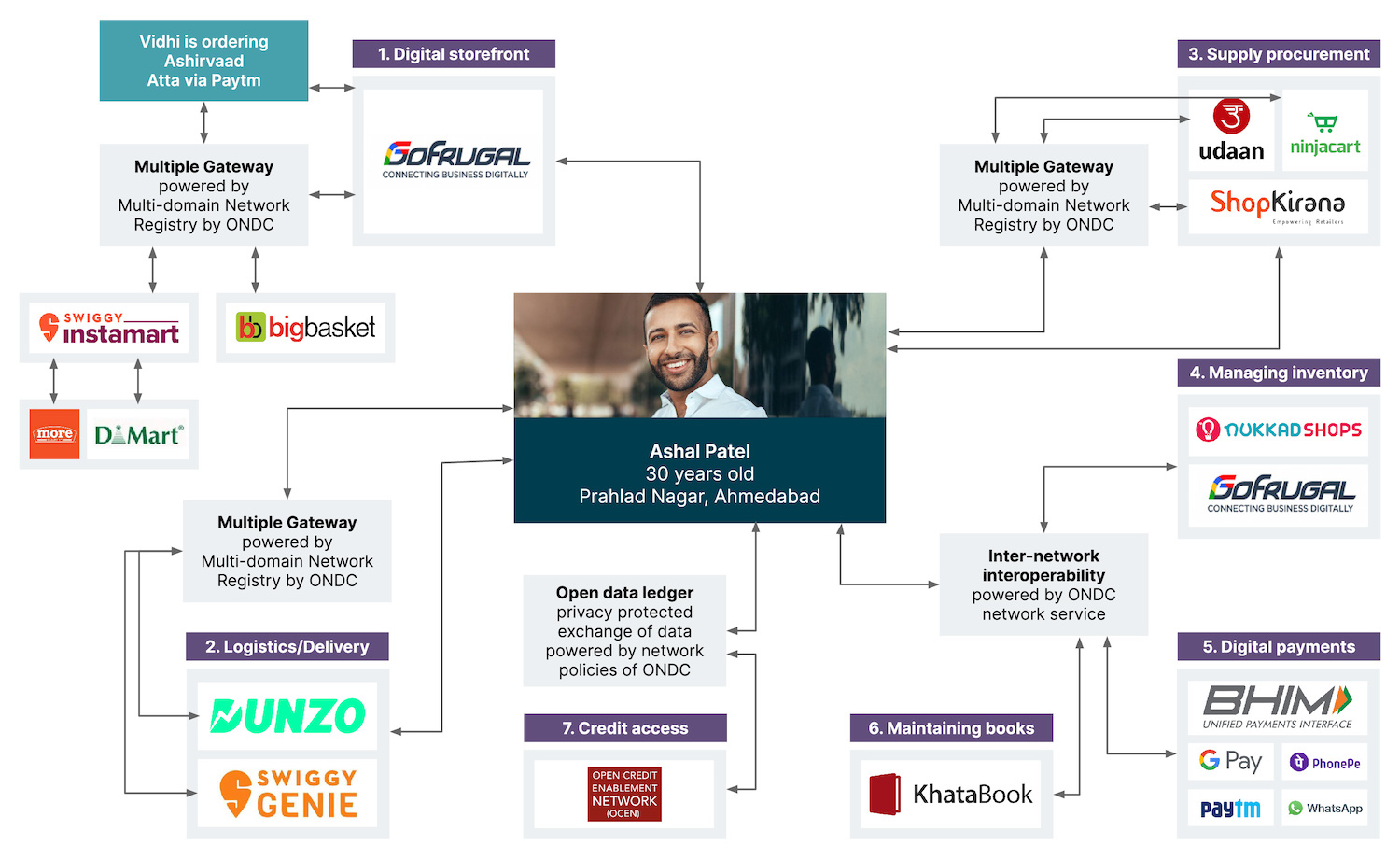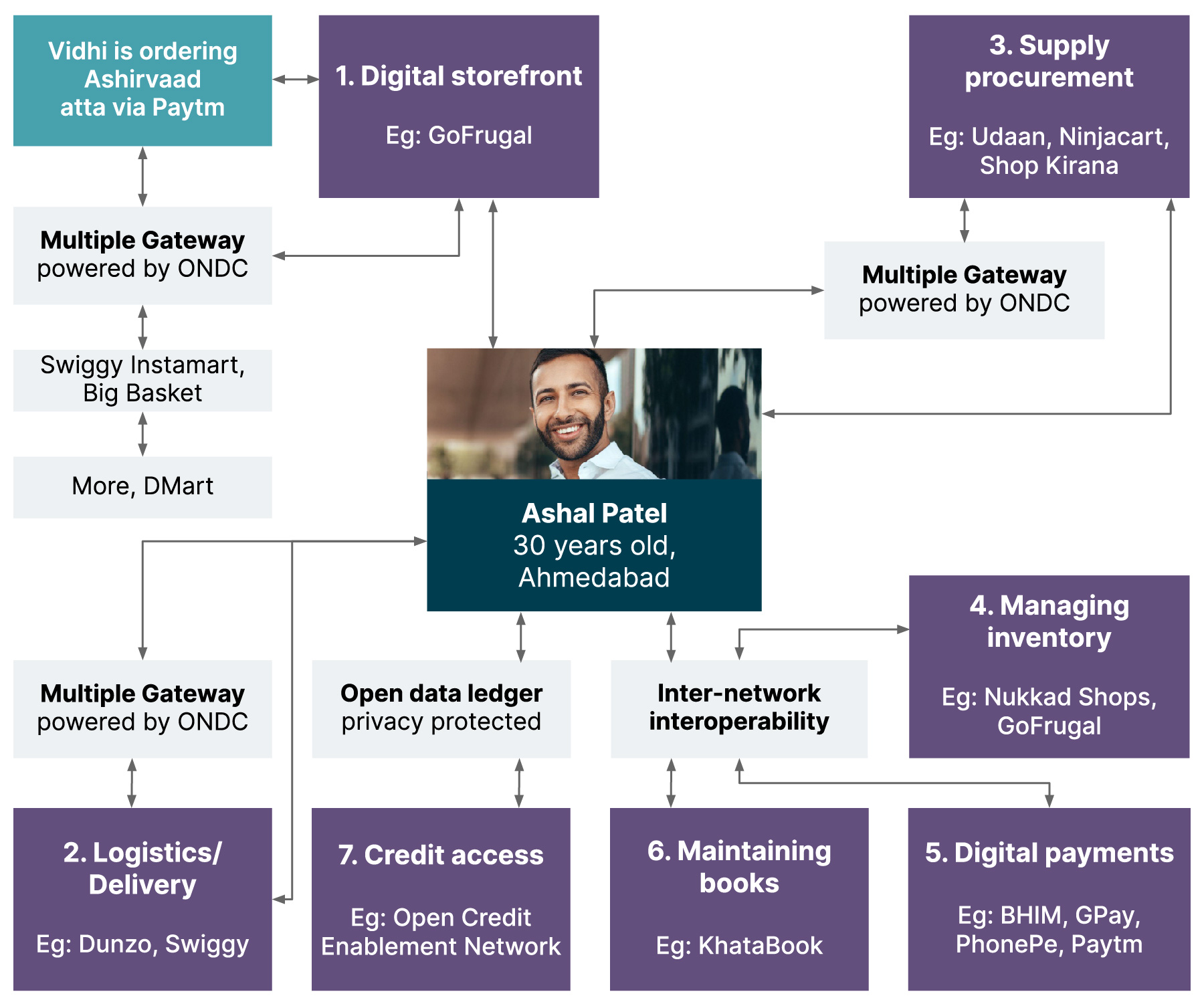 Fig.2: ONDC, the kirana's backbone
The key benefits Ashal could count on, include:
Increased discoverability by creating a digital storefront. With access to more buyers, store owners like him can tap into greater revenue opportunities without being part of a single platform like Amazon, Flipkart or Bigbasket
Kiranas will gain autonomy of choice. With digital options, Ashal could pick his own logistics partner to deliver Atta (the product) to Vidhi (the customer)
Store owners like Ashal could gain a far more effective and efficient method of executing inventory procurement. Ashal will view multiple suppliers' quotes to procure better pricing and margins for the long term
With the presence of other open networks built on ONDC, owners like Ashal could seamlessly integrate their inventory status and enable an SKU level visibility in real time
With the internetwork operability set by ONDC, Ashal could manage books using applications registered with ONDC – just as his universal UPI id works across all payment platforms. Maintaining credit dues and sending payment reminders to debtors could become much simpler
Instead of borrowing from informal sources with high interest rates, Ashal could gain access to established credit networks with much lower interest rates
The open data ledger and privacy protected exchange of data (powered by ONDC's network policies) could help small retailers like Ashal create their own credit scores using the information from transactions
ONDC has the potential to digitize the entire value chain, encourage seller involvement, add value to stakeholders and create a fair ecosystem – and one of the primary beneficiaries could be the kiranas. The transition from physical to digital has benefited customers, but SMEs continue to face problems. Government intervention in business is usually unnecessary, but today it could serve as a necessary enabler.  
However, while open platforms are being promoted, they can be monopolized by larger players. Take for example how BharatPe, PhonePe, Paytm and Google Pay are the main players in the UPI space.  Another hurdle is getting users to adopt open networks without giving them clear financial incentives. Open networks have to attract customers to keep growing. What will be interesting are the hyperlocal implementation and adoption strategies ONDC policy makers will use to help make kiranas  'Atmanirbhar' or self reliant.
Disclaimer: The statements and opinions expressed in this article are those of the author(s) and do not necessarily reflect the positions of Thoughtworks.