Payers and providers may have the data they need, and they may even have a clear view of the use cases they'd like to use that data for. But significant barriers still stand between them and data-driven healthcare success.
From enabling the delivery of satisfying digital healthcare experiences and personalized medicine, to understanding changing patient needs and accelerating core payment processes, the opportunities are virtually endless for organizations that can operationalize healthcare data.
But, for most healthcare payers and providers in the US, that's much easier said than done. They may have the data they need, and they may even have a clear view of the use cases they'd like to use that data for, but significant barriers still stand between them and data-driven healthcare success:
Increasingly complex data ecosystems remain a barrier to evolution, with more than half of organizations indicating that they have five or more active data platforms in place today.

Interoperability issues between new and traditional data sources are making it difficult to bring data together to power data-rich edge services and use cases.

Data silos and monolithic infrastructures continue to limit organizations' ability to operationalize their data and use it to power new data-driven use cases.

Blockages and bottlenecks caused by centralized data management structures like data lakes and data warehouses are slowing time to value and limiting organizations' ability to turn healthcare data into value at speed.
Investing in the data-driven future of healthcare
To help overcome those challenges, many healthcare organizations have started investing heavily in improving the extensibility, reusability, scalability, and speed to market delivered by their data infrastructure and capabilities. 
It will take more than technology alone to establish the fast, flexible, high-value data foundation required to support deeply personalized, hyper-connected healthcare journeys.
These investments are a great first step, as they'll support wider digital transformation, rather than applying point solutions to solve a single data challenge, and adding to overall complexity in the process. But it will take more than technology investments alone to establish the fast, flexible, high-value data foundation required to support deeply personalized, hyper-connected healthcare journeys.
To do that effectively, investments in data need to be paired with a change in how the organization thinks about, approaches, and manages its data. That's where Distributed Data Platforms come in. 
The distributed data platform approach
Distributed Data Platform approaches — such as Data Mesh — are architectural and organizational designs for distributed data strategy and implementation, advocated by Thoughtworks. 
Where a data warehouse or data lake brings all enterprise data together into a single, central pool, the distributed approach breaks data down into bespoke data products, each designed to meet a specific need, enable scaled adoption of data use cases, and support automation through API orchestration.
Those data products are then managed by the teams closest to those use cases, taking pressure off central data teams and improving the quality of that data product over time, while ensuring it delivers its intended outcomes.
For all those reasons and more, we've recently seen a significant increase in the adoption of the key 4 data mesh principles in the healthcare industry. But it can be challenging to articulate the value of an entirely new way of thinking about data management.
The challenges of articulating the value of distributed data platform investment
Adopting a distributed data platform strategy requires a significant investment of time and resources, so it's important to build a robust business case for it, showing the value it can bring to your organization. 
It's important to keep in mind that this is an entirely new standard of how data is managed and operationalized, so it can't easily be assessed using today's standards or KPIs. 
A decentralized approach will fundamentally transform how you manage and operationalize data. And it demands a change of culture — a shift from current practices to becoming a truly data-driven organization.
It will change the way your organization operates at multiple levels. It will fundamentally transform how you manage and operationalize data. And it will demand a change of culture — a shift from current practices to becoming a truly data-driven organization. 
Plus, you still have all of the challenges associated with traditional data investments to contend with. Fragmented data investments and shadow IT can cast doubt over your plans, and often the extreme complexity of an organization's existing data tech stack can deter organizations from making further investments. 
So, how can you articulate the value of something that represents such a significant, multi-faceted shift away from the way things are managed and evaluated today? The key is to refocus on the core data cycle and look at the impact this approach could have on essential success factors like data quality, time to insight, and data governance.
The 3+1 categories of data platform value
To fully understand and articulate the value delivered by the distributed data platform approach, it helps to start by looking at the enterprise cycle of intelligence.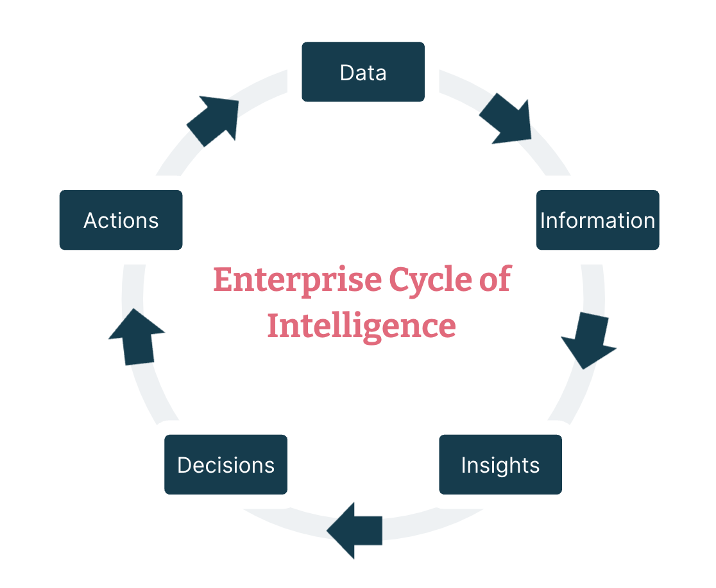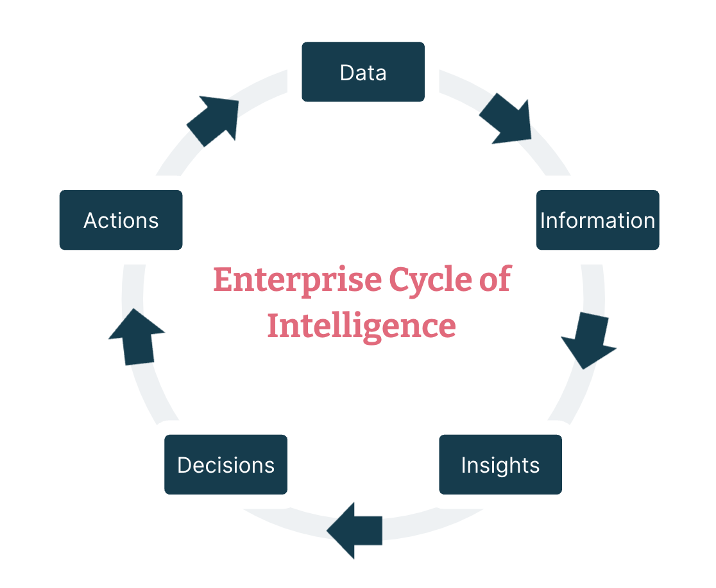 The cycle shows how — in a perfect environment — data is continuously translated into information and insights, then those insights are converted into informed decisions and actions, all while maintaining strong data governance and meeting all required standards.
The approach can help improve this cycle in three key areas in a distributed way: data supply (data's journey from acquisition to insight), data demand (the conversion of those insights into actions), and operations and governance. Here's how:
It helps significantly cut the time required to turn data into information and insights for healthcare teams. When those teams are empowered with bespoke data products enabled by the platform, they can source more valuable data in compliance, transform it faster, ask more questions of it, and generate reports faster — all without relying on core data engineering teams.
 

Top value realization to measure returns

 

Cost efficiency

Reduction in TCO of existing data platforms

Cost reduction through increased interoperability between data sources and platforms

Cost reduction in semi-automatic or manual process of data provisioning and curation

Capital efficiency

Capital savings from duplicated data capabilities

Higher utilization rate of data infrastructure in cloud

Higher ROI from faster 3rd party data onboarding at scale

Cost avoidance

Certain cost avoidance from retiring legacy EDW

Avoiding the penalties incurred for failing to respond to  regulatory changes

Reduced need for repeated data hydration work through native data products
On the demand side, a distributed data platform can also accelerate the time it takes to convert insights into meaningful actions. Because teams are closer to their data products, they can do things like create new machine learning models and outputs faster, reuse tailored data for new purposes, and create new use cases for their data when they need them. It puts control of data at the edge, where it's needed most, so teams can rapidly turn it into stronger healthcare outcomes for patients and the organization.
 
 
 
 
 
 
 
 
 
 

Top value realization to measure returns

 
 
 
 
 
 
 
 
 
 
 
 
 
Adjacent value to other internal data investments
 
 
 
 
 
 
 

Machine Learning Platform uplifting through self-service-based data working bench

Advanced Analytics Platform uplifting through available domain data products 

 
 
 
 

Long term and strategic program acceleration, e.g., Longitudinal Health Records, Healthcare Data Marketplace

 
 
 
 
 
 
 
 
 
 
 
 
 
 
 
 
 
 
 

Care cost avoidance

 
 
 
 
 
 
 

(Indirect) Faster adoption of clinical decision model

(Indirect) More timely care gap closing

 
 
 
 

(Indirect) More efficient healthcare resource allocation from population health insights

 
 
 
 
 
 
 
 
 
 
 
 
 
 
 
 
 
 
 

Member experience uplifting

 
 
 
 
 
 
 

(Indirect) Faster preauthorization

(Indirect) Less data input from patients

 
 
 
 

(Indirect) More connected personal health records with patient personal devices and trusted 3rd party providers

 
 
 
 
 
 
 
 
 
 
 
 
 
 
 
 
 
Operations and governance
The distributed, decentralized nature of the approach brings notable operational advantages, while also codifying data governance and compliance activities. Because teams own and maintain the data products they need, there's far less provisioning work to do. This ownership model also simplifies governance, as it keeps teams in control of their data and stops them needing to resort to shadow IT. It also improves privacy and security, as there's less need to move sensitive data around or duplicate it in numerous silos.
 
 
 
 
 
 
 
 
 
 
 
 
 
 
 

Top value realization to measure returns

 
 
 
 
 
 
 
 
 
 
 
 
 
 

Cost of governance

 
 
 
 

Reduced cost of data provisioning 

 
 
 
 

Reduced communication cost of data discoverability and accessibility 

 
 
 
 

Quicker time-to-market of models, applications, and reports

 
 
 
 
 
 
 
 
 
 
 
 
 
 
 
 
 
 
 
 
 
 
 
 

Risk avoidance

 
 
 
 

Avoided penalty of failing to responding regulatory changes 

 
 
 
 

Avoided misuage of PPI data and privacy violations

 
 
 
 
 
 
 
 
 
 
 
 
 
 
 
 
 
 
 
 
 
 
 
 
 
 
 
 
 

Employee experience

 
 
 
 

Quicker and better employee-facing data service experience 

 
 
 
 

Simplified data discoverability experience across thousands of data sources

 
 
 
 
 
 
 
 
 
The +1: Enabling a more flexible, better-connected future
Outside of the enterprise data cycle, there's another very important source of value to consider — one that's different to any other data transformation that's come before it. 
A distributed data platform approach is specifically designed to help meet the future data demands of organizations across industries — including healthcare — and is tuned to help organizations pursue data-driven initiatives that will define the future of healthcare services and delivery. 
In 2019, Thoughtworks started working with a top US healthcare payer on a major data platform paradigm shift project. In the two years since then, we've built more than 500 data products across multiple use cases, including population health, care delivery, patient and member management, and development of the provider network.
The key data assets we've created together are now significantly accelerating numerous initiatives that will shape the organization's future, and the services its patients receive. In the organization's key focus area of Longitudinal Health Record (LHR) strategy, the investment  has helped the company accelerate its agenda with a cloud-agnostic data infrastructure, enabled self-service data provisioning, codified data governance, and given them the chance to embed security controls into multiple clinical, patient, and member management use cases. Today, that all adds up to two clear LHR outcomes: simpler care journeys, and better patient experiences.
Adopting a distributed data platform in healthcare is an investment in the future of your organization, as it supports strategically-valuable initiatives including:
Cross-domain collaboration: When individual domain teams (clinical, patient engagement, administration, or customer service) have greater control over their data, and the ability to create highly-tailored data products, they can drive higher-quality outcomes from that data at speed. This domain-oriented mastery of data opens up new opportunities for cross-domain collaboration, where teams can work together to contextualize their own insights in new ways and make valuable new healthcare discoveries to improve care outcomes. 

 

Federated data innovation: Federated data systems enable the sustainable and transparent use of highly sensitive healthcare data across teams and organizations. This data will be critical to the creation and operation of data-driven healthcare services, and a distributed data platform can help organizations operationalize it in a compliant way, using a federated model. For example, teams can gain the ability to do things like share data sets to train smarter machine learning models for clinical decisions, or collaborate on the same models, without exposing their own sensitive data to the other parties involved.

 

Avoiding future data vendor lock-in: Nobody knows exactly what the future tech stack of data-driven healthcare will look like. But, from what we've seen in the past, flexibility is essential for any organization that wants to continue evolving as trends and conditions shift. This approach can help organizations avoid data vendor lock-in by promoting greater freedom and flexibility across domains, and ensuring each data product can evolve its own way.

 
Realizing future value from cloud: Legacy infrastructures prevent healthcare organizations from getting the maximum value from their data analytics investments.
A distributed data platform approach reorientates the entire organization around the cloud, introducing approaches that help realize future value from it. It's an evolution from cloud adoption to truly cloud-based thinking that will underpin digital success for decades to come.
 
 
 
 
 

Top strategic value to capture

 
 
 
 
 
 
 
 
 
 
 
 
 
 

Cross-domain collaboration

 
 
 
 

Network effect of collaborating with ecosystem partners

 
 
 
 

Lower cost of integrating data from M&A entities

 
 
 
 

Unlocked value from crowdsourcing innovation - e.g.,  crowdsourcing and open innovation in drug discovery

 
 
 
 
 
 
 
 
 
 
 
 
 
 
 
 
 
 
 
 
 
 
 
 

Federated data innovation

 
 
 
 

Scaled and flexible data-driven innovation (considering variety of data needs in terms of volume, variety, velocity and veracity, ) across teams and domains

 
 
 
 

Data talent retention and attraction

 
 
 
 

Eye-effect of market & industry leadership on data innovation

 
 
 
 
 
 
 
 
 
 
 
 
 
 
 
 
 
 
 
 
 
 
 
 

Avoided future data vendor lock-in

 
 
 
 

Reduced risk of future vendor lock-in

 
 
 
 

Increased buying power of negotiating with data / cloud tech providers

 
 
 
 

Flexible and independent tech decisions on data strategy & execution

 
 
 
 
 
 
 
 
 
 
 
 
 
 
 
 
 
 
 
 
 
 
 
 

Realized future value from cloud

 
 
 
 

Accelerated data or data-related workload modernization to cloud

 
 
 
 

Scaled and quicker adoption of newest dataOps, advanced analytics, and ML & AL solutions from cloud providers

 
 
 
 

Able to run healthcare digitally in a hybrid cloud environment by leveraging cloud services but protecting identity and strengthening brand uniqueness

 
 
 
 
 
 
 
 
 
 
 
 
 
 
 
 
 
 
 
 
 
 
 
 
Together, these benefits form a picture of a fast, data-driven healthcare organization where teams are empowered to access and operationalize insights to improve the speed, consistency, and quality of care and services they deliver.
Take an organization like a healthcare payer that's recently acquired a care provider, for example. For the new, larger organization, the 3+1 categories of value could combine to enable it to unlock the full value of becoming a connected 'payvider'. 
Here's how that value breaks down across the four categories:
Supply: With diverse data spread across existing systems, a distributed data platform  can provide a consistent foundation while making it easier for teams to operationalize datasets from both organizations together. Instead of standing one organization's systems up alongside the other, teams can bring domain-specific data from both sides together to create new, highly-valuable data products and enable powerful use cases that span payment services and care delivery.

 

Demand: One of the biggest goals of payviders is to use their combination of payment and delivery expertise to enable value-based care. a distributed data platform underpins that model by enabling the creation of finely-tuned data products and putting insights directly into the hands of the domain teams that need them. With the distributed approach, teams are empowered with visibility of how care options impact outcomes, and how that relates back to payment models and costs. 

 

Operations: Becoming an integrated payvider represents major shifts in operations for teams on both sides. The approach helps ensure that, as these teams develop a shared culture, data excellence sits at the heart of it, so knowledge can be shared across domains, while individual domain teams are empowered to collect and operationalize data their way.

 

Future strategy: As the payvider plans for its future, the approach enables it to build data-driven use cases and projects into its plans. Whether it wants to expand further through acquisition, collaborate with similar organizations to deliver services and care as part of a connected ecosystem, or just strive for excellence in data-driven healthcare delivery, it can help make those goals a reality.